I am always on the lookout for recipes to make using peaches. I absolutely love the last few weeks of July and the whole month of August because the peach displays in the grocery store are overflowing and perfectly ripe.
So of course I was on board to make a recipe using peaches for Foodie Extravaganza. #FoodieExtravaganza is blogging group where a theme is chosen each month from thenibble.com. We post on the first Wednesday of every month and bloggers take turns hosting. Our host for this month is Wendy of A Day in the Life on the Farm.
If you are a blogger and would like to join our group and blog along with us, come join our Facebook page Foodie Extravaganza. We would love to have you! If you're a spectator looking for delicious tid-bits check out our Foodie Extravaganza Pinterest Board! Looking for our previous parties? Check them out HERE.
When I mentioned needing a peach recipe to my coworker (the same one who suggested adding the whiskey buttercream to the molasses cookies), he said I should make a stuffed french toast.
I love french toast but I can never master the art of getting it stuffed to the point where there is enough filling, it photographs nicely and it doesn't fall apart so I decided to do the next best thing and make a stuffed french toast casserole. Which is still pretty hard to photograph nicely, but I tried my best. 😊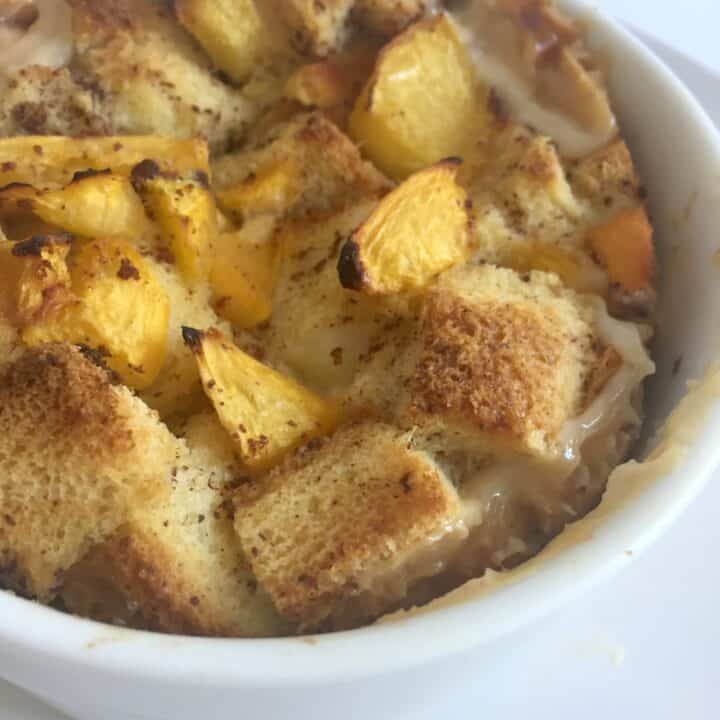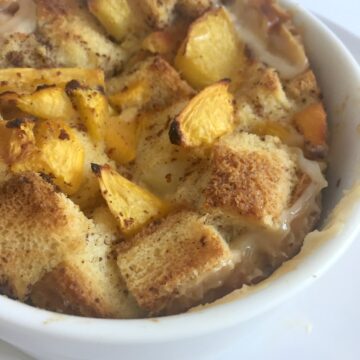 FoodieExtravaganza: Mini Peaches and Cream French Toast Casseroles
Individual french toast casseroles are full of fresh peaches.
Ingredients
2

cups

thick cut bread

cut into cubes

2

cups

peaches

chopped

4

oz.

cream cheese

softened

4

eggs

1 ½

cups

milk

½

cup

sugar

1

tsp

cinnamon
Directions
1. Grease 2 8 oz. ramekins with non-stick cooking spray and set aside. Line a baking sheet with foil or parchment paper for easy clean up if the casseroles bubble over.

2. Add cream cheese and sugar to a mixing bowl and beat with an electric mixer until smooth and fully combined.

3. Press a handful of bread cubes into each ramekin and top with ½ cup of peaches in each. Divide the cream cheese mixture between the ramekins and press into the bread and peaches. Add the remaining peaches and top with the last of the bread cubes.

4. In a bowl, whisk together the eggs, milk and cinnamon. Pour half into each ramekin.

5. Refrigerate for 30 minutes to an hour. Preheat the oven to 400 degrees.

6. Place the ramekins on the prepared baking sheet and bake for 30-35 minutes or until set. Serve immediately.
Notes
*To make a 9x13 dish portion: double the recipe
Recipes on Cookaholic Wife are for information purposes only. Nutritional Data provided has not been evaluated by a nutritionist.
I initially made this as a larger casserole in a 9×13 baking dish to take into my coworkers, but Tom was so upset that I didn't leave any home for him that I decided to make it again in individual portions.
*To make a 9×13 dish portion: double the recipe
If fresh peaches aren't available in your area, you can make this using frozen peaches as well. Allow them to thaw slightly before chopping.
Check out what everyone else made!