'Tis the football season, which to me, means hearty appetizers, gooey dips and my husband yelling at the television. I'm not really a football person;  I'm kind of Switzerland when it comes to the sport. Tom is from PA and a Steelers fan. But we live in Maryland, which is Ravens country. Of course there's a huge competitiveness between both teams and because I don't really get football, I prefer to remain neutral.
If Tom is happy because the Steelers are winning, great. If the Ravens are winning, great. If neither are winning, still great as far as I'm concerned.
So while I don't care for the sport, I am all for any event that allows me to make appetizers and today I am joining in with the other Festive Foodie bloggers and sharing a recipe with you that is perfect for game day.
I looked online for some recipes and when I saw cheeseburger bombs, I knew it would be something Tom loved. I opted not to even look at the ingredients for any of the recipes I found and just wing it instead.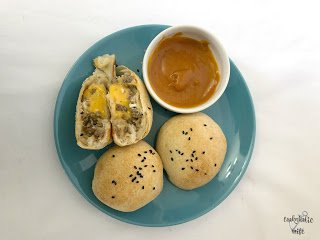 #FootballFoods: Cheeseburger Bombs
Cheeseburger bombs are a delicious, juicy appetizer, made with ground beef and cheese, baked up in a biscuit and dipped into your favorite burger condiments.
Ingredients
2

packages refrigerated biscuit dough

8-10 per package

1

lb

lean ground beef

1

small onion

diced

1

garlic clove

minced

1

teaspoon

dried parsley

½

teaspoon

paprika

½

teaspoon

each salt and pepper

¼

cup

ketchup

2

tablespoon

mayo

2

tablespoon

mustard

1

teaspoon

worcestershire sauce

5

oz.

Velveeta cheese

cut into cubes

1

egg

lightly beaten

sesame seeds
Directions
Preheat the oven to 375 degrees. Line two baking sheets with parchment paper.

Heat a large skillet over medium high heat. Add the ground beef, onion and garlic and cook until the beef is browned. Drain any excess grease.

In a medium bowl, whisk together the ketchup, mayo, mustard, Worcestershire sauce, parsley, paprika, salt and pepper. Set aside.

Once the beef is cooked, reduce the heat to low and add in the ketchup mixture, stirring until all of the meat is coated.

Meanwhile, roll out each of the biscuits until it is ¼ inch thick.

Add 2 tablespoons of the meat mixture into the center of each biscuit. Top with a cube of cheese and wrap the biscuit dough around the mixture into a ball, pinching to seal the seams together.

Repeat with remaining biscuit and meat mixture, placing 1 inch apart on the prepared baking sheets.

Brush the beaten egg over the tops of each biscuit ball and sprinkle with sesame seeds.

Bake for 15 minutes or until the tops of each bomb is lightly golden. Allow to cool slightly before serving as the cheese is near bubbling when they first come out of the oven.

Optional: stir together additional ketchup, mayo and mustard to create as a dipping sauce.
Recipes on Cookaholic Wife are for information purposes only. Nutritional Data provided has not been evaluated by a nutritionist.
I was really bummed when I pulled down my container of spices and found that my regular sesame seed container was empty and all I had were black sesame seeds. I hope that them not being the standard tan color doesn't turn you off this recipe because it's SO good.
I'd honestly rather make these than make regular burgers. Since it's only two of us, I end up freezing the remaining burger buns and they just aren't as good when they've been frozen and thawed. This way all I'd need to do is keep a can of biscuits in the fridge.