It's the end of Holiday Side Dish week for me! I hope you've enjoyed the recipes I've shared with you this week and that you've checked out what the other bloggers have made and that we've helped you add some great dishes to your Thanksgiving menu.
I saw an article recently that the creator of green bean casserole had passed away. Dorcas Reilly worked for Campbell's in the 1950's and combined green beans with cream of mushroom soup, calling the dish Green Bean Bake. Eventually the dish was turned into green bean casserole, a side dish served on Thanksgiving by the masses.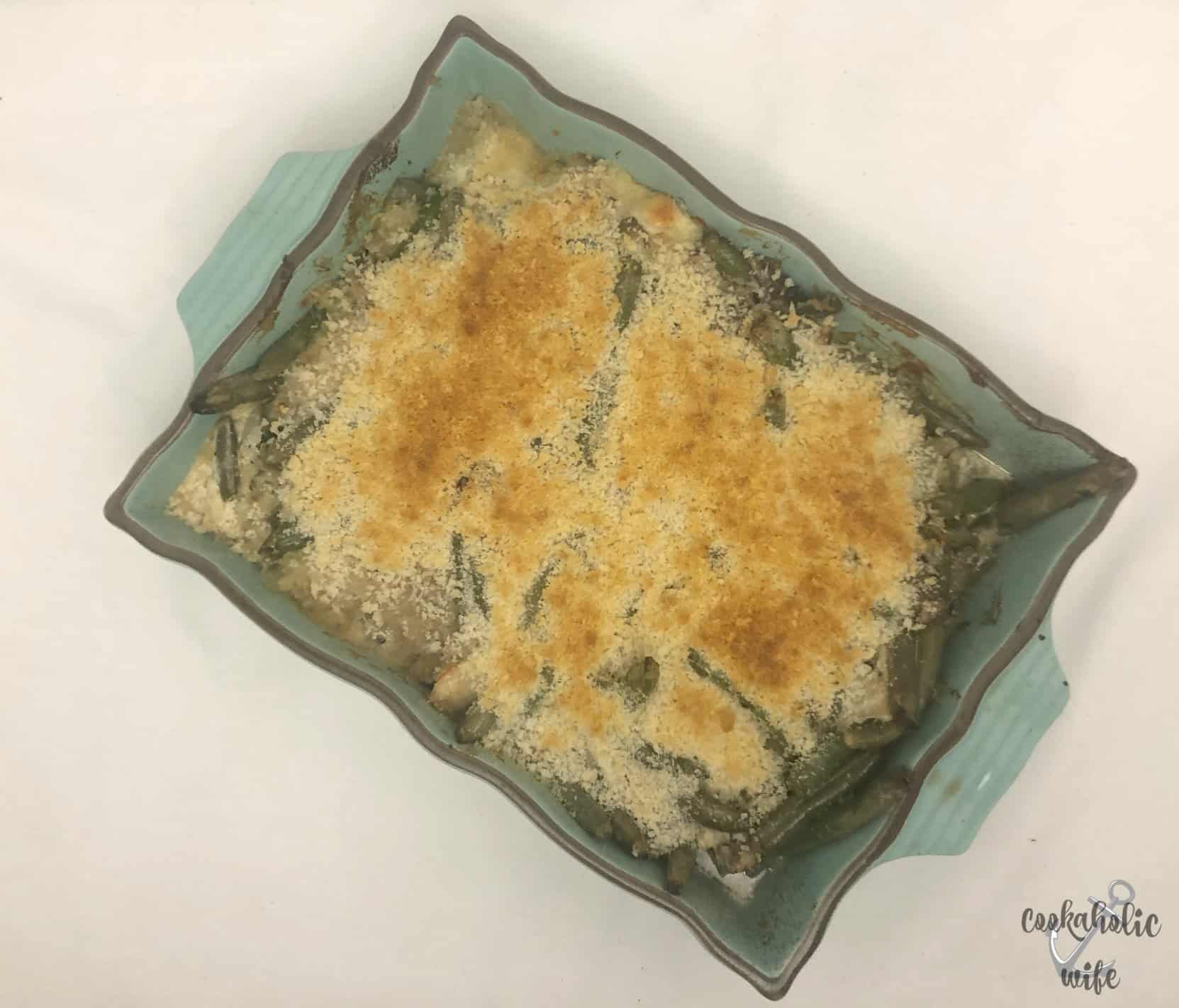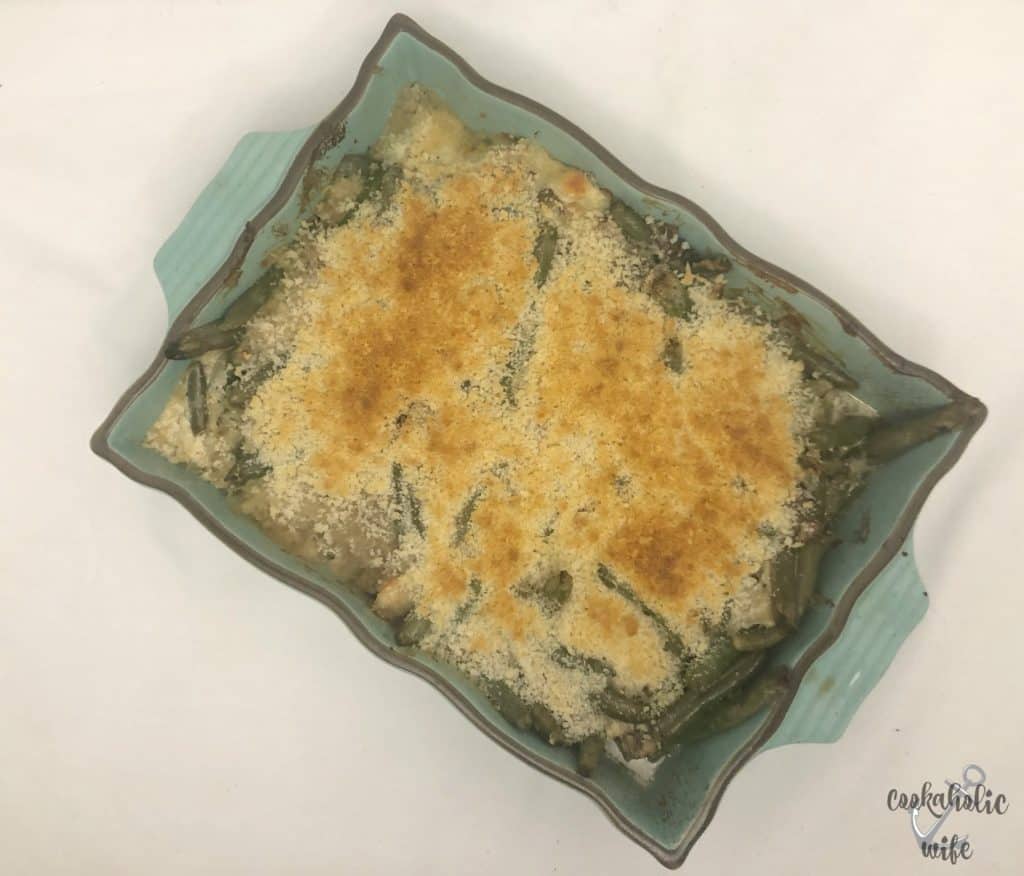 Or not, actually. I thought everyone had green bean casserole on Thanksgiving, but apparently that isn't the case. A lot of people completely despise the dish and have no interest in eating it at all. To be honest, I'm not really a fan of the original version using the canned soup and french fried green beans, but I do like the combination of green beans and mushrooms so I made this lighter version of the dish.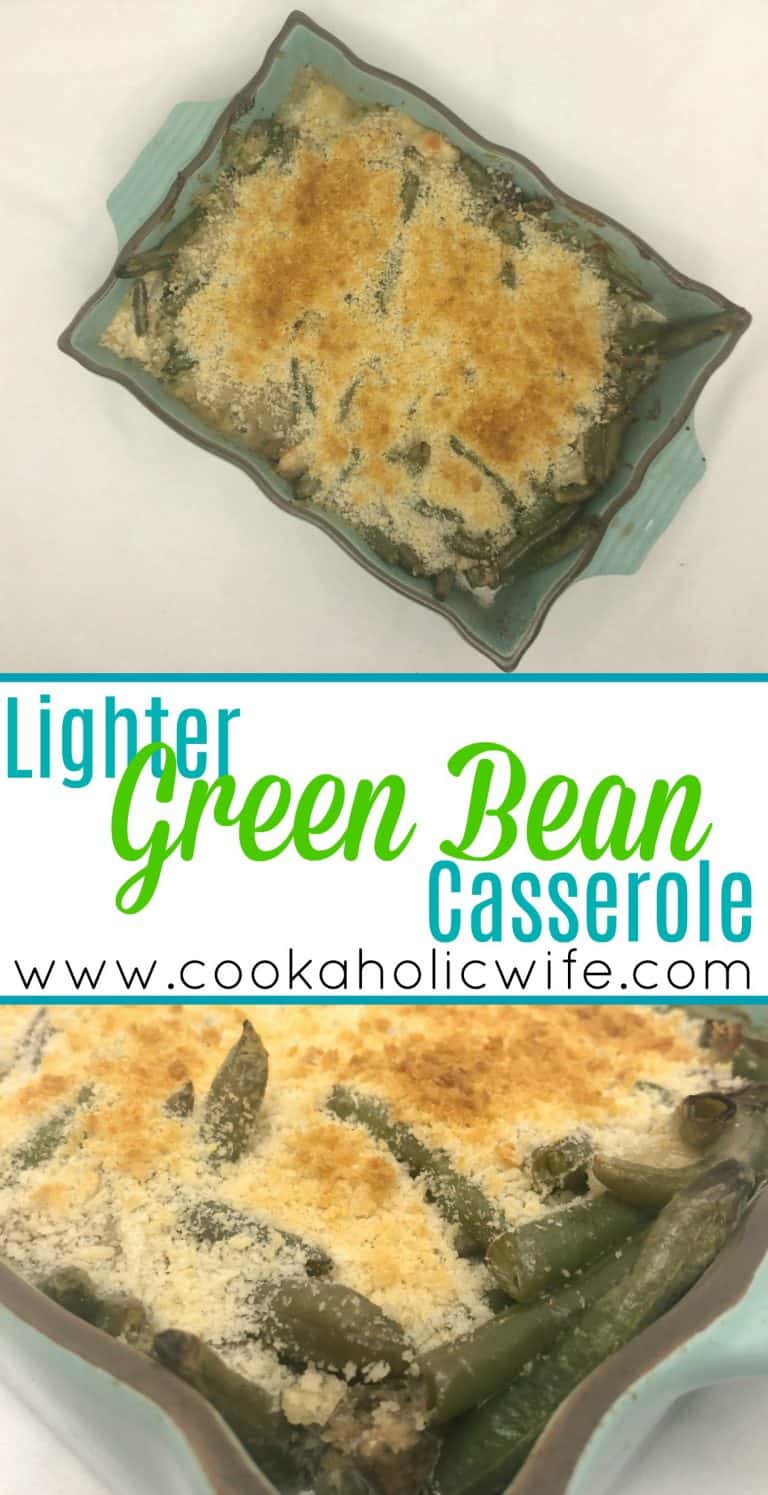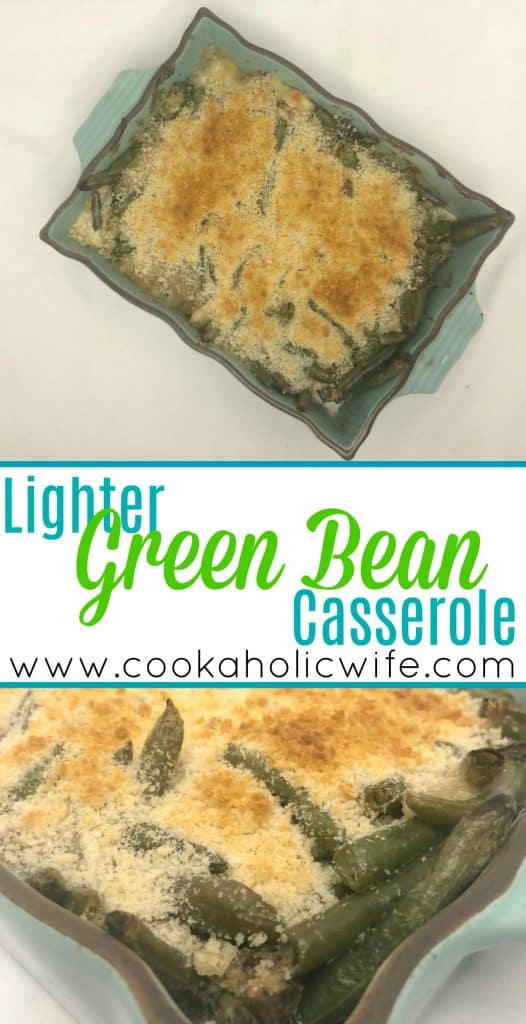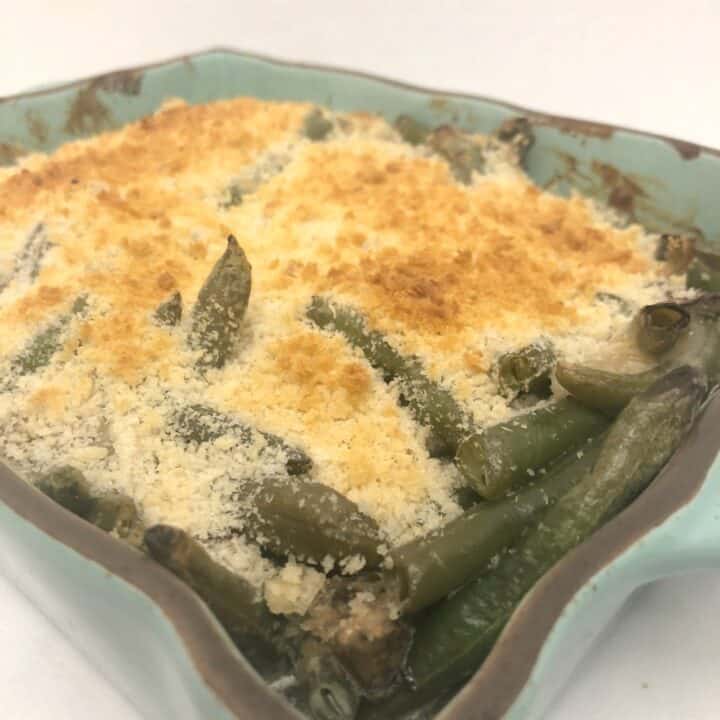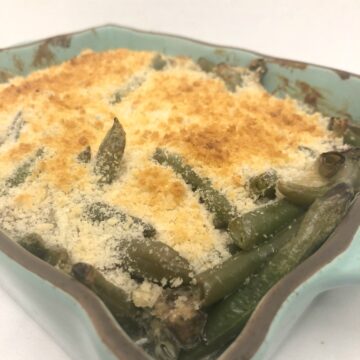 Lighter Green Bean Casserole
A lighter version of the classic green bean casserole dish.
Ingredients
1

lb.

fresh green beans

1

tbsp

olive oil

12

oz.

mushrooms

roughly chopped

1

medium onion

diced

¾

cup

reduced fat sour cream

¼

cup

milk

half-and-half or cream

1

tsp

garlic powder

1

tsp

kosher salt

1

tsp

black pepper

⅓

cup

shaved Parmesan cheese

⅓

cup

Panko bread crumbs
Directions
Preheat the oven to 425 degrees. Spray an 8x8 baking dish with cooking spray.

Bring a large pot of heavily salted water to a boil. Add in the green beans.

Fill a bowl with ice cubes and water, set aside.

Cook the green beans for 2-3 minutes and then transfer immediately to the bowl of ice water.

Allow to sit for 2-3 minutes, then transfer to a colander, draining excess water.

Heat the olive oil in a medium skillet over medium high heat. Add the mushrooms and onions and cook for 3-4 minutes or until just softened.

In a large bowl, whisk together the sour cream, milk, garlic powder, salt and pepper. Transfer the green beans and mushroom mixture into the bowl and stir until everything is coated.

Pour the mixture into the prepared baking dish. Sprinkle a layer of the shaved Parmesan on top, followed by the Panko bread crumbs.

Bake, uncovered for 25-30 minutes or until bread crumbs are toasted and the cheese has melted. Serve immediately.
Notes
Parmesan can be replaced with Gruyere or Asiago. For a cheesier casserole, use Provolone, Swiss or white cheddar.
Recipes on Cookaholic Wife are for information purposes only. Nutritional Data provided has not been evaluated by a nutritionist.
Considering this has milk, cheese and bread crumbs, I wouldn't exactly call it healthy but it definitely is lighter than the original version. I prefer the panko on top to french fried onions because they still provide the crunchy aspect. I had planned on making this again for Thanksgiving, but I tried out another variety of green bean casserole that Tom absolutely loved so I'll be making that instead. I hope to get it blogged and shared with you soon.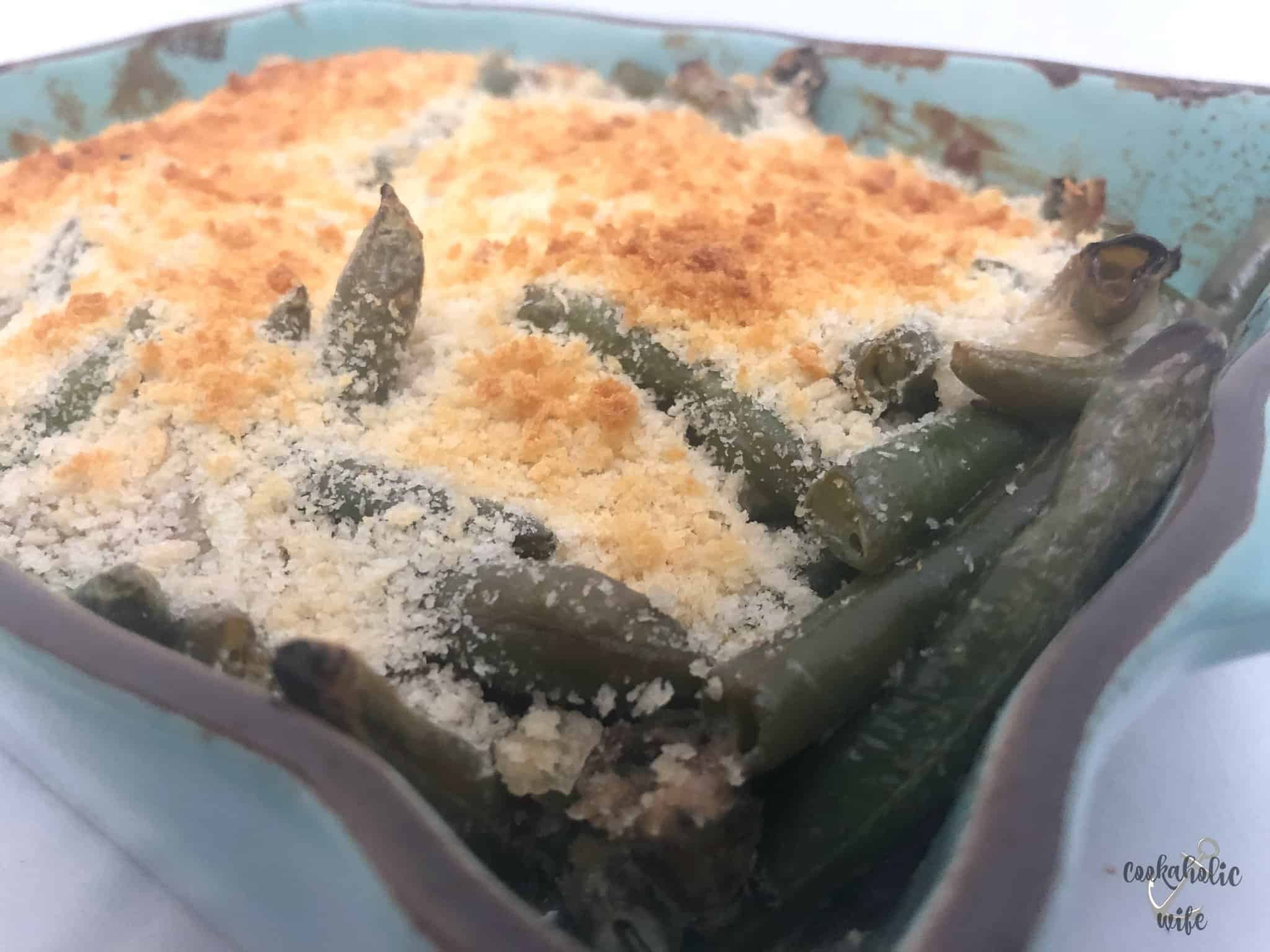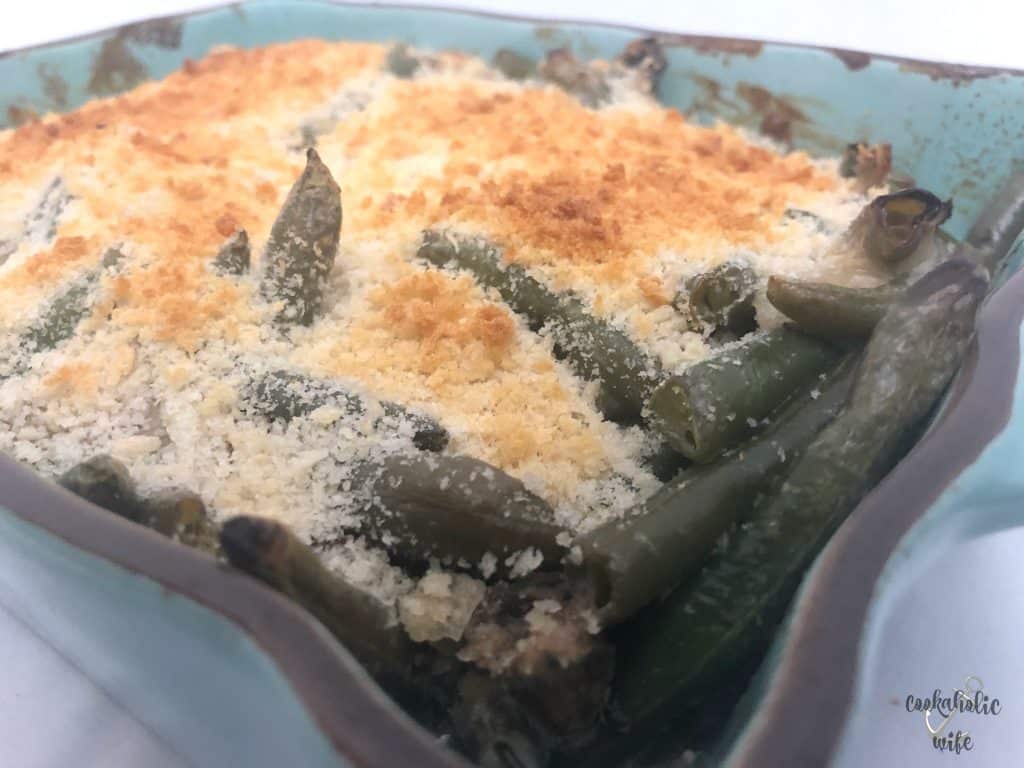 More delicious holiday side dish recipes: