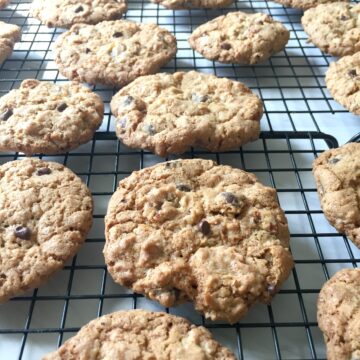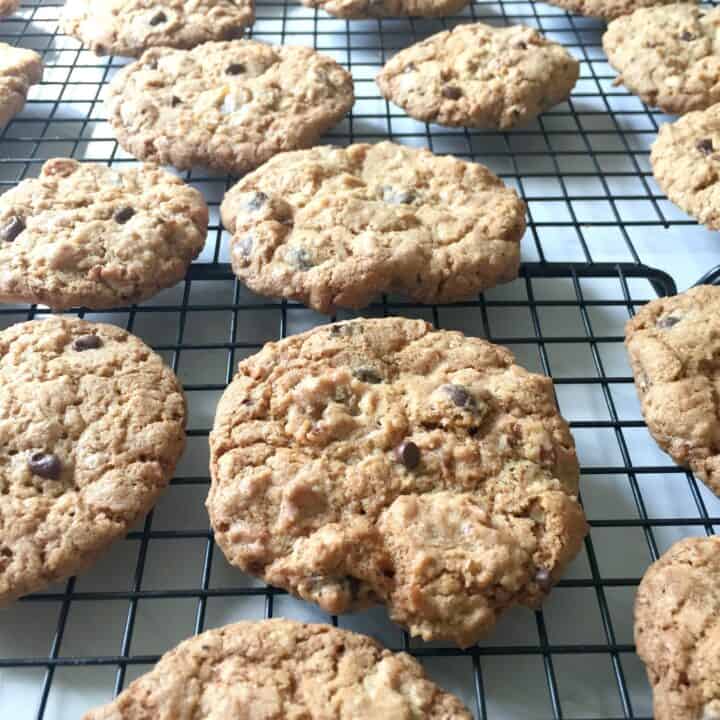 #FoodBloggers4TX: Governor's Mansion Cookies
Governor's Mansion Cookies were created by former first lady Laura Bush and are hearty enough to fill up even the hungriest of Texas cowboys as they're chock full of oats, chocolate chips, pecans and shredded coconut.
1. Preheat the oven to 350. Line two large baking sheets with parchment paper or silpats.

2. In a medium bowl whisk together the flour, baking soda, baking powder, cinnamon and salt.

3. In the bowl of your stand mixer, beat the butter on medium speed until light and fluffy. Add in both sugars and mix until fully combined.

4. Add in the egg then egg yolk, waiting until each are incorporated then add in the vanilla. Slowly add in the flour until fully mixed.

5. Add old-fashioned oats, chocolate chips, chopped pecans and shredded coconut. You may need to mix some in by hand if the mixer is struggling.

6. Scoop ¼ cup portions of the dough and place on a cookie sheet 3 inches apart. Bake for 18-22 minutes or until lightly golden.

7. Allow to cool on the baking sheet for 2 minutes before transferring to a wire rack to continue cooking.
Recipes on Cookaholic Wife are for information purposes only. Nutritional Data provided has not been evaluated by a nutritionist.