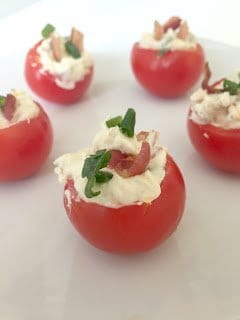 #BrunchWeek: Bacon Stuffed Cherry Tomatoes
A great appetizer for spring, these cherry tomatoes are stuffed with a cheese filling and topped with bacon.
1. Slice off the tops of each tomato then use a melon baller or small spoon to scoop out the inside.

2. In a medium bowl, stir together cream cheese, grated cheddar cheese, garlic powder and onion powder until combined. Add in crumbled bacon and chopped green onions, reserving a small amount of both as an additional garnish.

3. Spoon or pipe the mixture into each of the tomatoes, garnishing each with remaining crumbled bacon and green onions.

4. Refrigerate until ready to serve. Can be made 1 day in advance and kept covered in the refrigerator.
Recipes on Cookaholic Wife are for information purposes only. Nutritional Data provided has not been evaluated by a nutritionist.