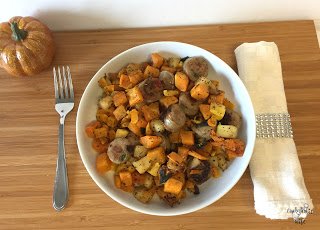 Butternut Squash, Sausage and Apple Hash
Full of fall flavors, this hash includes butternut squash, sausage, apples, onions and sage.
1. Preheat the oven to 425 degrees. Spread out butternut squash on the sheet and drizzle with 1 ½ tablespoons of olive oil.

2. Roast for 25 minutes, turning over once halfway through or until fork tender.

3. Meanwhile, melt butter in a skillet over medium heat. Add sage leaves and cook for 1-2 minutes or until just browned. Transfer from the skillet to a large bowl.

4. Slice the chicken sausage into rounds. Add ½ tablespoon of olive oil to the skillet and cook the sausage until browned on both sides, 2-3 minutes. Transfer from the skillet to the bowl.

5. Add the remaining olive oil to the skillet. Add apples and onion and cook for 5-7 minutes or until softened.

6. Transfer to the large bowl. Toss in roasted squash and season to taste with salt and pepper.

7. Divide between 4 bowls and serve immediately.
Recipes on Cookaholic Wife are for information purposes only. Nutritional Data provided has not been evaluated by a nutritionist.