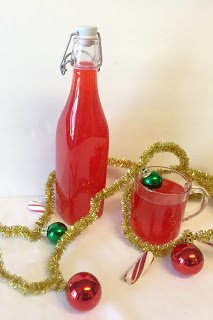 Candy Cane Vodka - (The Final) Secret Recipe Club Reveal
Candy canes are steeped in vodka for a great holiday flavored vodka.
12

full-size candy canes

750

ml

bottle plain vodka
1. Remove the wrappers from the candy canes and place them into a food processor or coffee grinder.

2. Grind into a fine powder.

3. Pour the powdered candy canes into a jar with a sealable lid.

4. Pour the vodka on top and shake to mix.

5. Let the mixture sit, shaking occasionally to dissolve the candy, until the vodka turns red, about 30 minutes.

6. Strain the mixture through a fine sieve to remove any large pieces of candy cane that did not dissolve.
Recipes on Cookaholic Wife are for information purposes only. Nutritional Data provided has not been evaluated by a nutritionist.