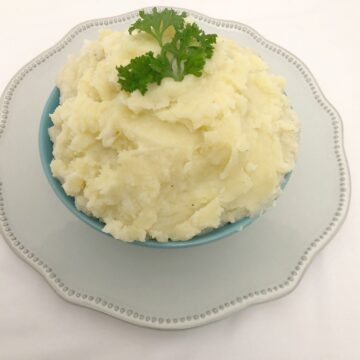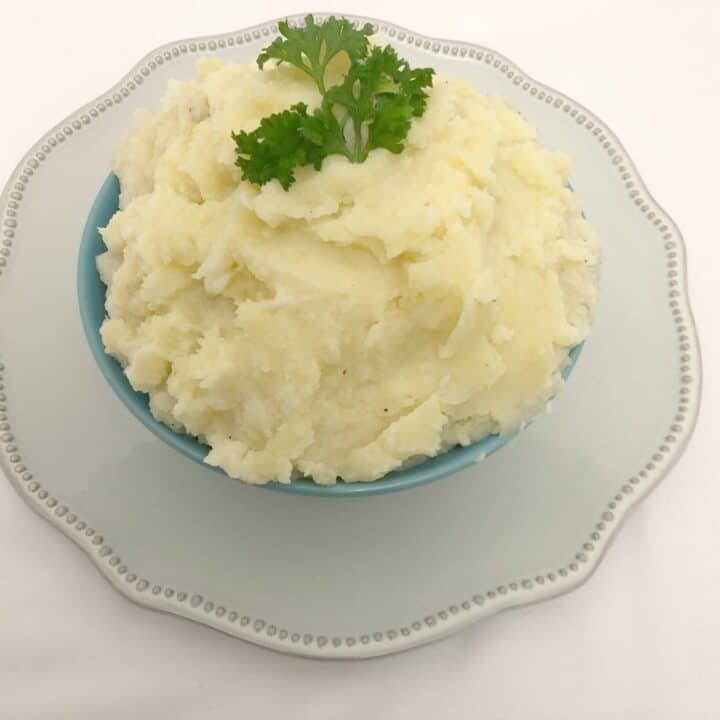 Mashed Potatoes for a Crowd
Fluffy, creamy homemade mashed potatoes for a crowd that can be made ahead of time.
Peel and cut potatoes into 1 inch cubes.

Place potatoes in a large pot and cover with cold water. (You may need to cook in two batches depending on the size of your pot) Generously salt the water.

Bring to a boil over high heat and cook for 15-18 minutes or until potatoes are fork tender.

Drain and transfer potatoes to a large bowl. Add milk, butter and salt and mash until you reach your desired consistency.
Tip:
Put the boiled potatoes, milk, butter and salt in the bowl of your stand mixer with the beater attachment. Beat on low speed for 2 minutes, then increase to medium speed for 4 minutes. You'll get perfectly whipped potatoes.

5. Season to taste with additional salt. Add more milk/cream if you like a creamier consistency.

6. Spray the insert of a slow cooker with cooking spray or put a liner in it. Transfer potatoes to the slow cooker and turn on keep warm until ready to serve.

Note: Potatoes will thin out in the slow cooker so make them a little thicker than you'd typically serve them.
To cook from refrigerated:
Transfer mashed potatoes to a slow cooker. Cook on high heat for 30 minutes.

Stir and reduce heat to low.

Potatoes can be kept on low for 2-4 hours prior to serving. Stir every 30-60 minutes.

If potatoes are too thick, add up to ¼ cup milk/cream and 4 tablespoons butter 30 minutes before serving to thin them out.
Yukon Gold potatoes have a thin, buttery skin. You can save time by not peeling them if you don't mind a chunkier mashed potato.
For creamier potatoes, add in 4 tablespoons of cream cheese.
Roasted garlic, chives, parsley and cheese are great additions to these potatoes.
Make Ahead Tips:
Peeled and chopped potatoes will keep if covered completely in water 24 hours before cooking, or you can boil and mash the potatoes, cool them for 1 hour and then refrigerate overnight.
Refrigerated mashed potatoes will dry out a little overnight but the condensation from the slow cooker will help. Add up to ¼ cup milk/cream and 4 tablespoons butter 30 minutes before serving to reach your desired consistency.
Recipes on Cookaholic Wife are for information purposes only. Nutritional Data provided has not been evaluated by a nutritionist.