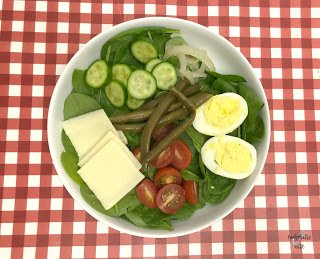 Irish Pub Salad
Irish food is not just potatoes and cabbage. This Irish Pub Salad has picked green beans, hard-boiled eggs, veggies and of course, cheese, making for one filling meal!
For the Pickled Green Beans:
Add the vinegar, water, sugar, salt and garlic to a small saucepan. Bring to a boil, then remove from the heat and let it cool.

Measure green beans to the length that will fit into a 16 oz. mason jar. Trim ends if needed.

Bring a large pot of water to a boil. Meanwhile, fill a bowl with cold water and ice cubes. When the water is boiling, add the green beans and cook for 1 minute before transferring them directly to the ice bath to stop the cooling process. Drain and set aside.

Add the peppercorns, crushed red pepper, dill and onion slice to the mason jar. Place the green beans on top and pour in the brining liquid, leaving ¼ inch of space. Cover and refrigerate for at least 2 days to allow the flavors to develop.

Prepare the salad by adding the lettuce to a bowl. Top with the tomatoes, cucumber, hard boiled eggs, pickled green beans, and slices of Irish cheddar cheese. Drizzle salad dressing on top.
Note: Pickled green beans should be kept in the refrigerator for 2 days prior to eating to really allow the flavors to develop.
Source: Reluctant Entertainer
Recipes on Cookaholic Wife are for information purposes only. Nutritional Data provided has not been evaluated by a nutritionist.