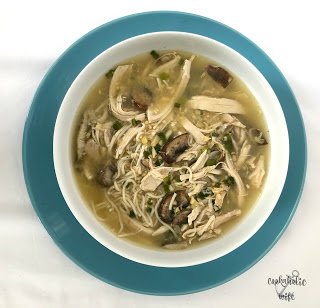 Ginger Chicken Noodle Soup
Ginger Chicken Noodle Soup is warming and healthy and comes together in less than 30 minutes by using a rotisserie chicken and ramen-style noodles.
Add the olive oil over medium high heat in a large saucepan.

Add the green onions, garlic, ginger and mushrooms and cook for 4 minutes, stirring frequently.

Add the shredded chicken and broth and bring to a boil.

Reduce the heat to a simmer and season to taste with salt and pepper. Simmer for 10 minutes.

Divide cooked noodles among bowls and ladle soup on top.
Recipes on Cookaholic Wife are for information purposes only. Nutritional Data provided has not been evaluated by a nutritionist.