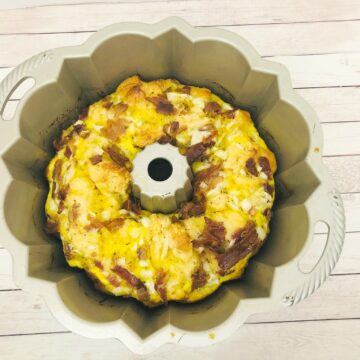 Bacon, Egg and Cheese Biscuit Bundt
Bacon, Egg and Cheese Biscuit Bundt is a savory breakfast take made with only a few ingredients and baked in a Bundt Pan.
Preheat the oven to 350 degrees. Liberally grease your Bundt pan with butter or use cooking spray.

Tear the biscuits into pieces (about 4 pieces per biscuit) and place into a large bowl.

In a medium bowl, whisk the eggs and milk until combined.

Pour the egg mixture over the biscuit pieces. Add the crumbled bacon, cheese, salt and pepper and toss with a spoon to combine.

Pour the mixture into the prepared bundt pan.

Bake for 40 minutes.

Let cool for 5 minutes, then flip the bundt pan over onto a plate. Slice and serve.
Recipes on Cookaholic Wife are for information purposes only. Nutritional Data provided has not been evaluated by a nutritionist.