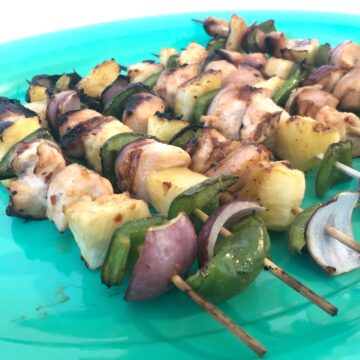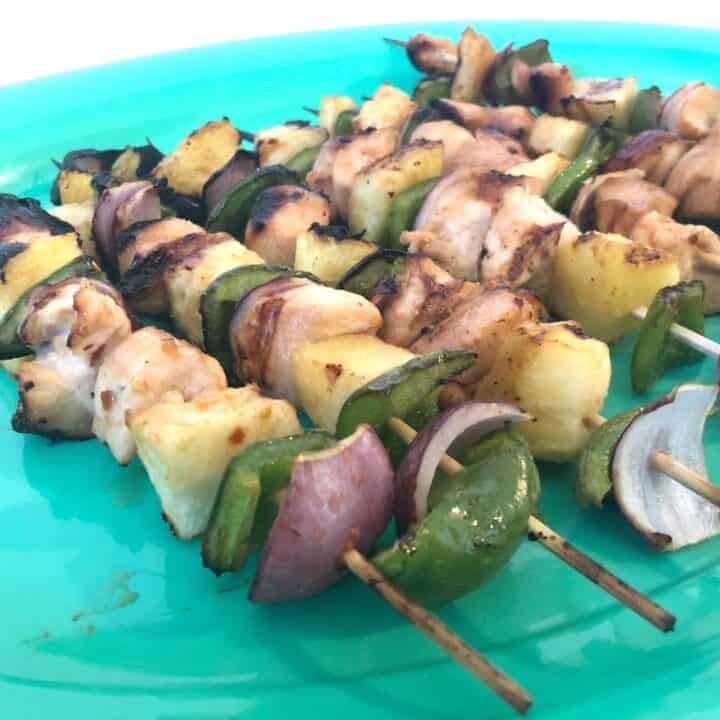 #CookoutWeek: Sweet and Spicy Hawaiian Chicken Skewers
The perfect pairing of chicken, pineapple and bell peppers covered in a sweet and spicy marinade and grilled to perfection.
For the Skewers:
1

lb.

chicken breast

cut into 1 ½ inch pieces

2

cups

pineapple

cut into 1 ½ inch pieces

2

green peppers

cut into 1 ½ inch pieces

1

large red onion

cut into 1 ½ inch pieces

salt and pepper to taste
1. Combine the ingredients for the marinade and set half aside.

2. Place the cubed chicken into a sealable bag and pour half the marinade on top. Refrigerate for 1 hour, but up to overnight.

3. Soak 6-8 skewers in cold water for 30 minutes.

4. Heat the grill or grill pan to medium high heat, around 425 degrees.

5. Alternate threading the onion, bell peppers, pineapple and chicken onto the skewers.

6. Grill the skewers for 5 minutes on each side, then baste with the reserved marinade and cook for 1-2 minutes more on each side. Serve immediately.
Recipes on Cookaholic Wife are for information purposes only. Nutritional Data provided has not been evaluated by a nutritionist.