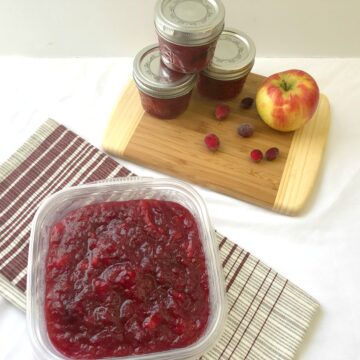 #CranberryWeek: Apple Cranberry Jam
An easy canning recipe using up apples and cranberries.
Combine the apples, cranberries, sugar and ½ cup of water in a large pot. Bring to a boil over high heat and skim off the foam that develops on the top.

Boil for 15-20 minutes or until cranberries have popped and the apples are soft.

Add in the lemon juice and zest, the reduce the heat to a simmer and allow to simmer for 10 minutes or until the mixture has thickened.

Remove from the pot and ladle the jam into the prepared jars. Wipe any spillage from around the jars, add lids and rings and process in a boiling water bath for 10 minutes.
*Prepare canning jars by placing a canning rack into a large pot. Place jars in the rack and fill both the pot with water until the jars are filled and covered. Bring to a boil. Simmer the lids in a small saucepan. Remove after around 10 minutes and place on a towel.
Source:
Food in Jars
Recipes on Cookaholic Wife are for information purposes only. Nutritional Data provided has not been evaluated by a nutritionist.