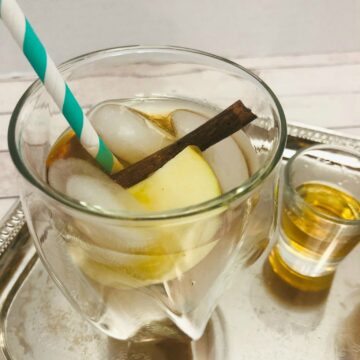 Spiked Apple Cider Iced Tea
Spiked Apple Cider Iced Tea is a delicious fall cocktail, made with apple cider tea and whiskey. 
Bring water to a boil in a medium saucepan over medium high heat.

Once boiling, turn off heat and stir in the sugar until it dissolves.

Add the tea bags and allow to steep for 10 minutes.

Remove tea bags and pour mixture into a pitcher.

Chill for 1-2 hours or until cold.

Pour in bourbon or liquor of your choice.

Fill 4 glasses with ice and pour 8 oz. into each cup.
Recipes on Cookaholic Wife are for information purposes only. Nutritional Data provided has not been evaluated by a nutritionist.