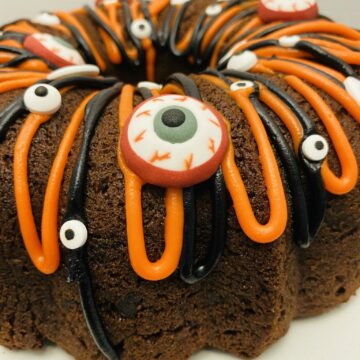 Eye See You Bundt Cake
Eye See You Bundt Cake is an easy to make chocolate cake, perfect for Halloween. It's coated in orange frosting, colorful sprinkles and is always keeping an eye on you because of it's various candy eyes. 
Preheat the oven to 350 degrees. Liberally spray a Bundt pan with baking spray.

Combine cake mix, egg, sour cream, water, vanilla, pudding and oil together in a mixer.

Mix until combined. Fold in the mini chocolate chips by hand.

Pour batter into the prepared Bundt pan.

Bake for 45-50 minutes. Remove from the oven and let cool for 10 minutes.

Flip over Bundt pan onto a plate or cake stand.

Decorate with icing tube, going back and forth to create a zigzag pattern.

Place various sized candy eyeballs on the cake.
Recipes on Cookaholic Wife are for information purposes only. Nutritional Data provided has not been evaluated by a nutritionist.