Thanksgiving leftovers. Either you have tons of them and your fridge is just as full as it was on the holiday or you have none at all and are kind of sad that you can't at least make yourself a sandwich with the leftover turkey.
I ended up with a fridge-full of leftovers this year and I spent the weekend making recipes using them up. By now you've probably tossed whatever was left in your fridge, but these will all be here for you next year.
This recipe is one of my favorites because it uses up the most amount of leftovers that could be hanging around waiting to either be eaten or tossed. You can easily add in other leftovers you might have (corn, lima beans, sweet potatoes, green beans) or if you don't have any leftovers at all, you could still make this using with pretty minimal prep.
Recipe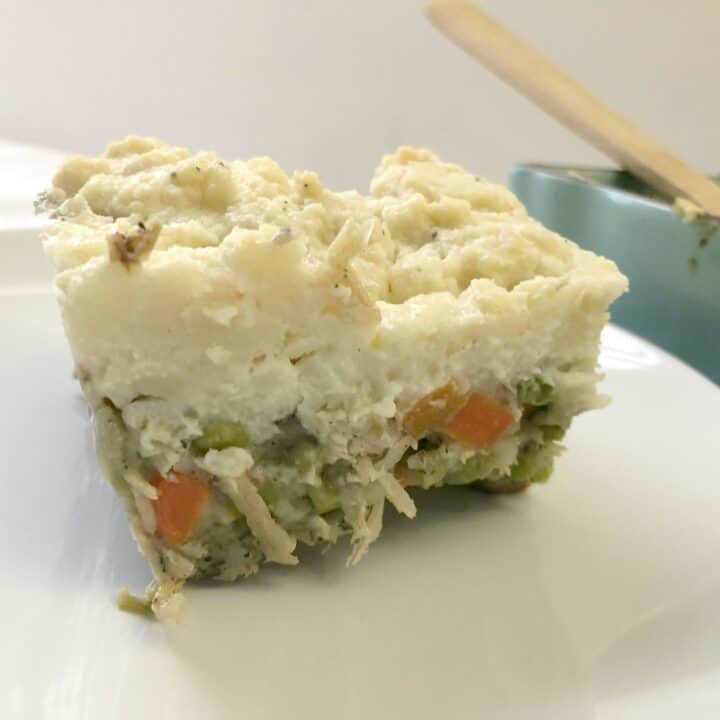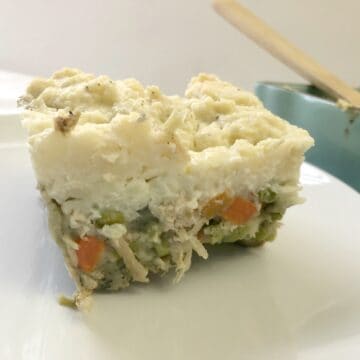 Thanksgiving Leftover Shepherd's Pie
Shepherd's pie is a great way to use up that leftover turkey, veggies and mashed potatoes from Thanksgiving dinner.
Ingredients
2 ½

cups

prepared stuffing/dressing

3

tablespoon

unsalted butter

1

cup

peas

1

cup

carrots

diced

1

medium onion

diced

1

teaspoon

garlic

minced

1

teaspoon

ground sage

½

teaspoon

rosemary

½

teaspoon

thyme

½

teaspoon

each

salt and pepper

3

tablespoon

all purpose flour

1 ½

cups

chicken/turkey/vegetable stock

1 ¼

cup

cooked turkey

shredded

2 ½

cups

prepared mashed potatoes
Directions
Preheat the oven to 375 degrees. Spray an 8x8 baking dish with non-stick spray.

Press the stuffing mixture into the bottom of the dish, covering it entirely.

Melt the butter in a large skillet over medium high heat. Add the peas, carrots and onions and cook for 5 minutes, or until softened. Add the garlic and cook 1 minute more.

Stir in the sage, rosemary, thyme, salt and pepper. Sprinkle the flour over the mixture and stir until the vegetables are coated.

Pour in the stock and stir frequently, until the mixture has thickened. Stir in the turkey until combined.

Pour the mixture over the stuffing and then top with mashed potatoes.

Bake for 45 minutes or until heated through.
Notes
Substitutions: 12 oz. bag frozen peas and carrots, 1 package prepared mashed potatoes or sweet potatoes
Recipe ingredients can be doubled to fit into a 9x13 baking dish
Recipes on Cookaholic Wife are for information purposes only. Nutritional Data provided has not been evaluated by a nutritionist.
It's like one big bite of all things Thanksgiving in one dish. How could you ever go wrong with that?