Back in September, my friend Jenn and I took a very unplanned trip to the beach over Labor Day weekend. We both love the beach but didn't have any plans to go down for the holiday weekend, because traffic is usually a nightmare. But then Jenn posted some image about wanting to live at the beach, I commented and then my aunt who lives down there commented about not having any guests so we were more than welcome. So Jenn and I had a "hypothetical" conversation about when we could leave, what we'd do and when we'd come home to avoid the traffic. And then you know, we actually went because we both have a problem called "if we can go to the beach, we do."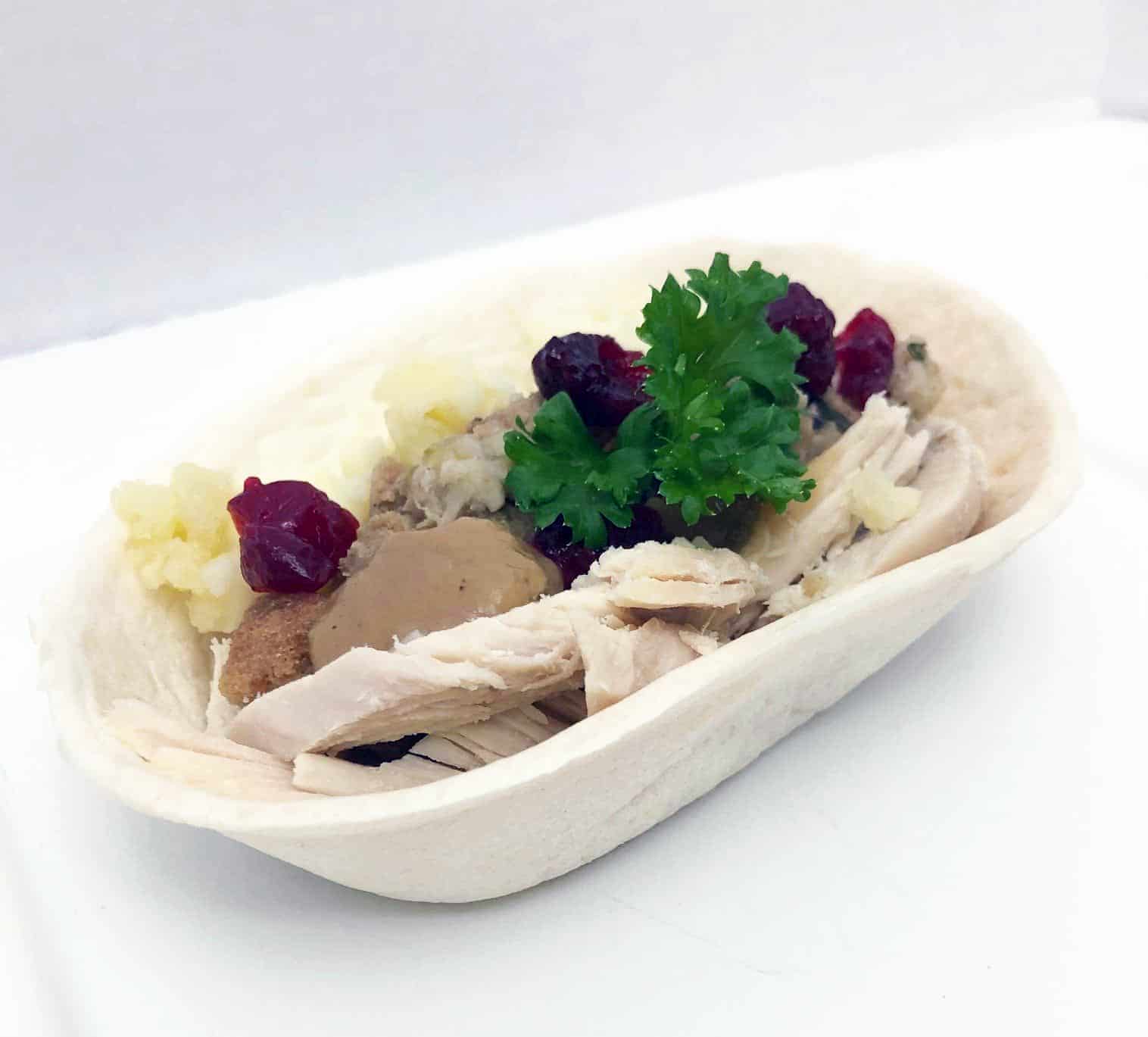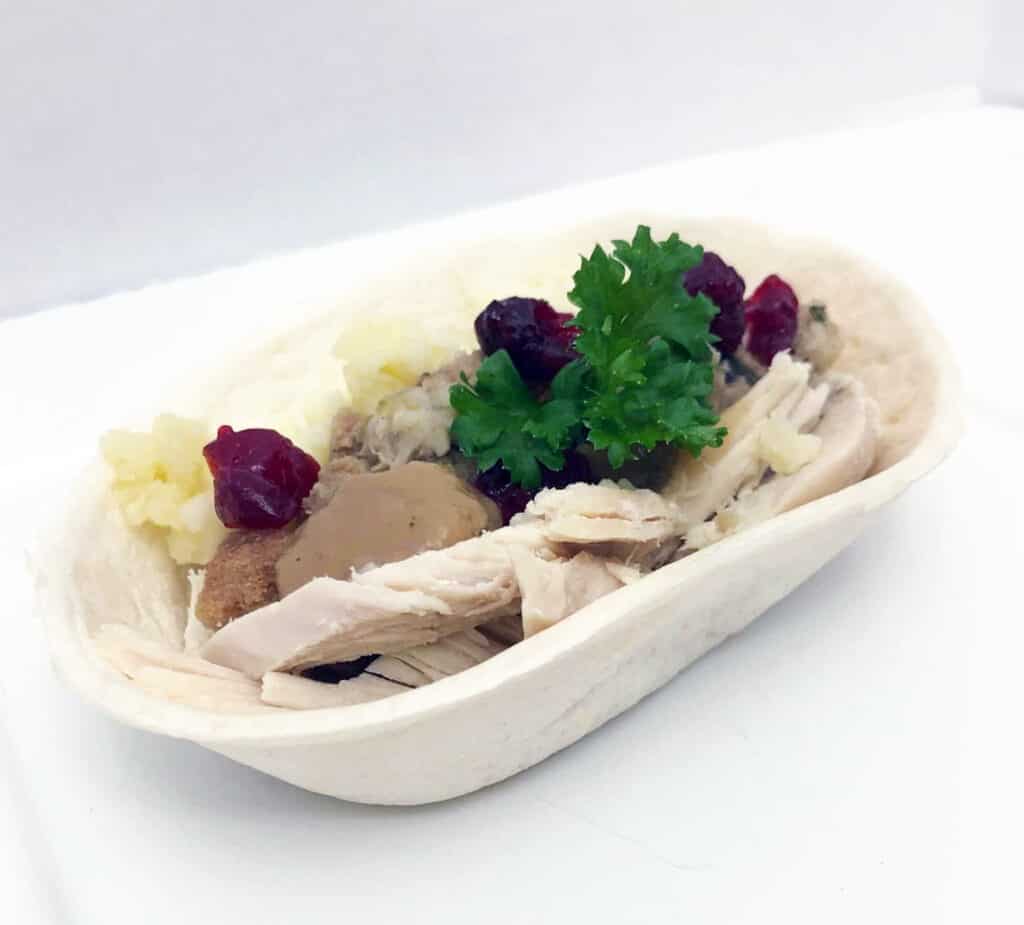 So what does that have to do with Thanksgiving tacos? Well, on the way down there we were talking about the Friendsgiving Jenn was going to host in November and trying to figure out what foods she should serve. I said something like "you could do miniature versions of Thanksgiving foods" and then out of no where I said "what about tacos? We could put all of the traditional Thanksgiving foods into a taco shell."
And there you have the creation of the Thanksgiving taco. The idea is genius, if I do say so myself. It works for a Thanksgiving, a Thanksgiving where you don't feel like eating everything separately on your plate or something that I feel like everyone hosting Thanksgiving needs to deal with...what to do with all of the leftovers!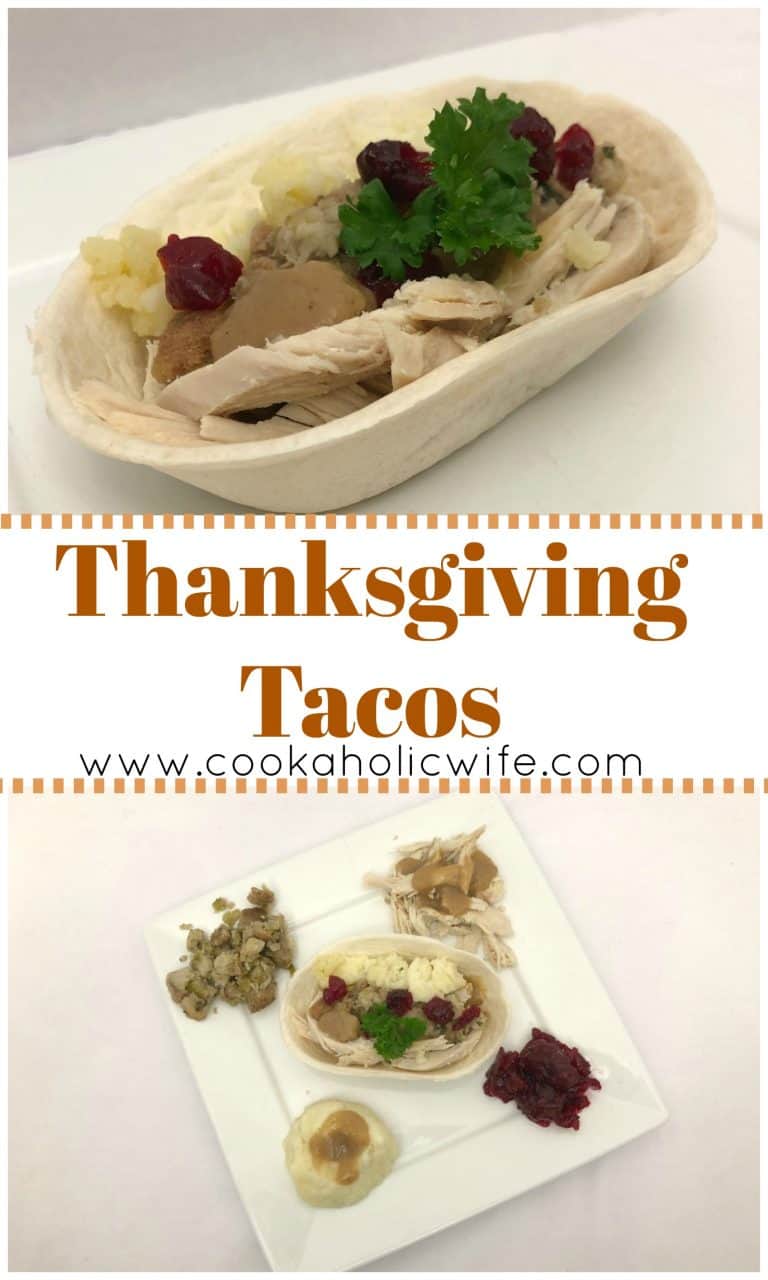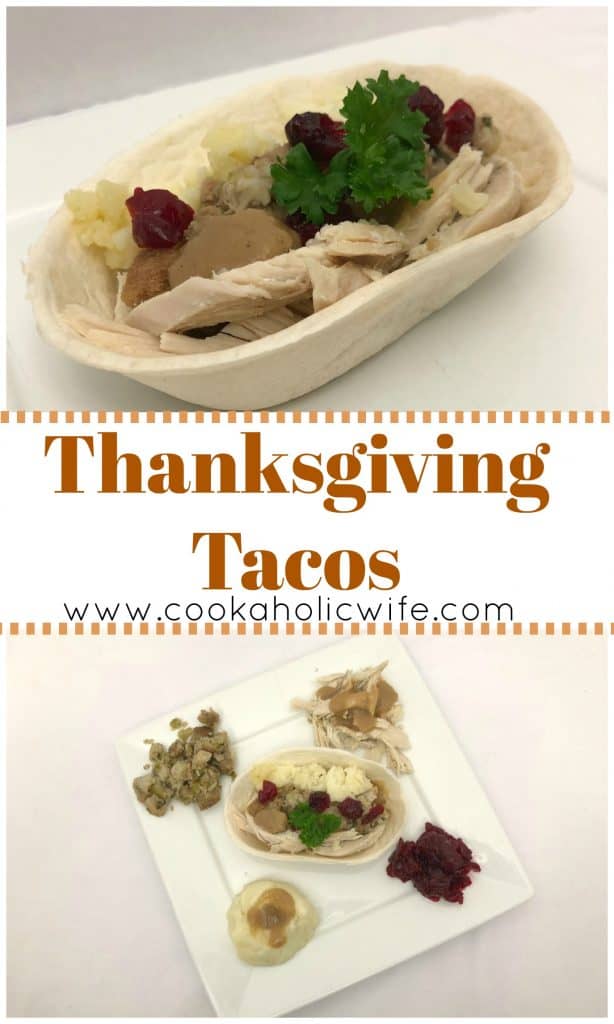 Recipe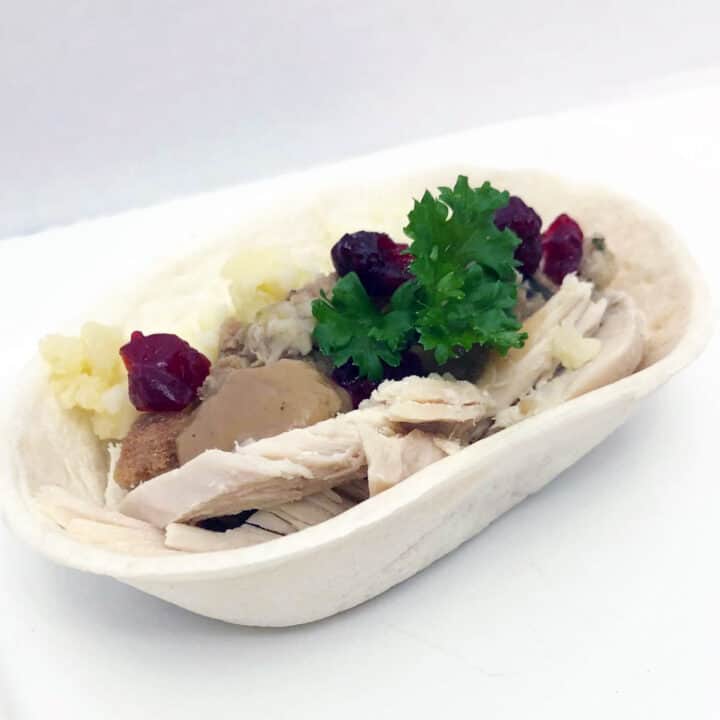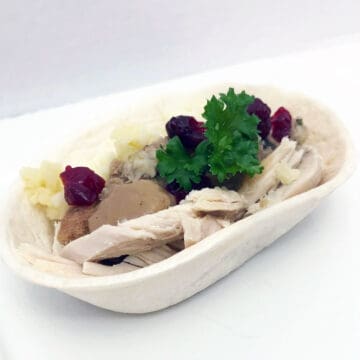 Thanksgiving Tacos
Turkey, mashed potatoes, stuffing, gravy and cranberry sauce are served in a taco shell, perfect for using up those Thanksgiving leftovers.
Directions
Lay out your choice of taco shell.

Divide turkey, mashed potatoes, stuffing, gravy and cranberry sauce between taco shells.

Serve and enjoy!
Notes
Deli turkey meat can be used in place of fresh turkey breast.
We found that using the Old El Paso Stand 'N Stuff Soft Tortilla Bowls held up best to all of the ingredients and was the easiest to eat without adding utensils.
Links have been provided for turkey, mashed potatoes, stuffing and cranberry sauce if you wanted to make them from scratch. (Portion sizes may not match this recipe, you'll need to adjust accordingly)
I have multiple recipes for turkey breast, cranberry sauce and stuffing on my blog. If you do not like the ones linked, please use the search function to find the others!
Recipes on Cookaholic Wife are for information purposes only. Nutritional Data provided has not been evaluated by a nutritionist.
Figuring out what to do with the leftovers from Thanksgiving is more stressful to me than creating the menu and preparing all of the food. I'm not even joking. I dread the days after Thanksgiving where I open up the fridge and see nothing but a sea of containers of various foods that need to be used up before they go bad.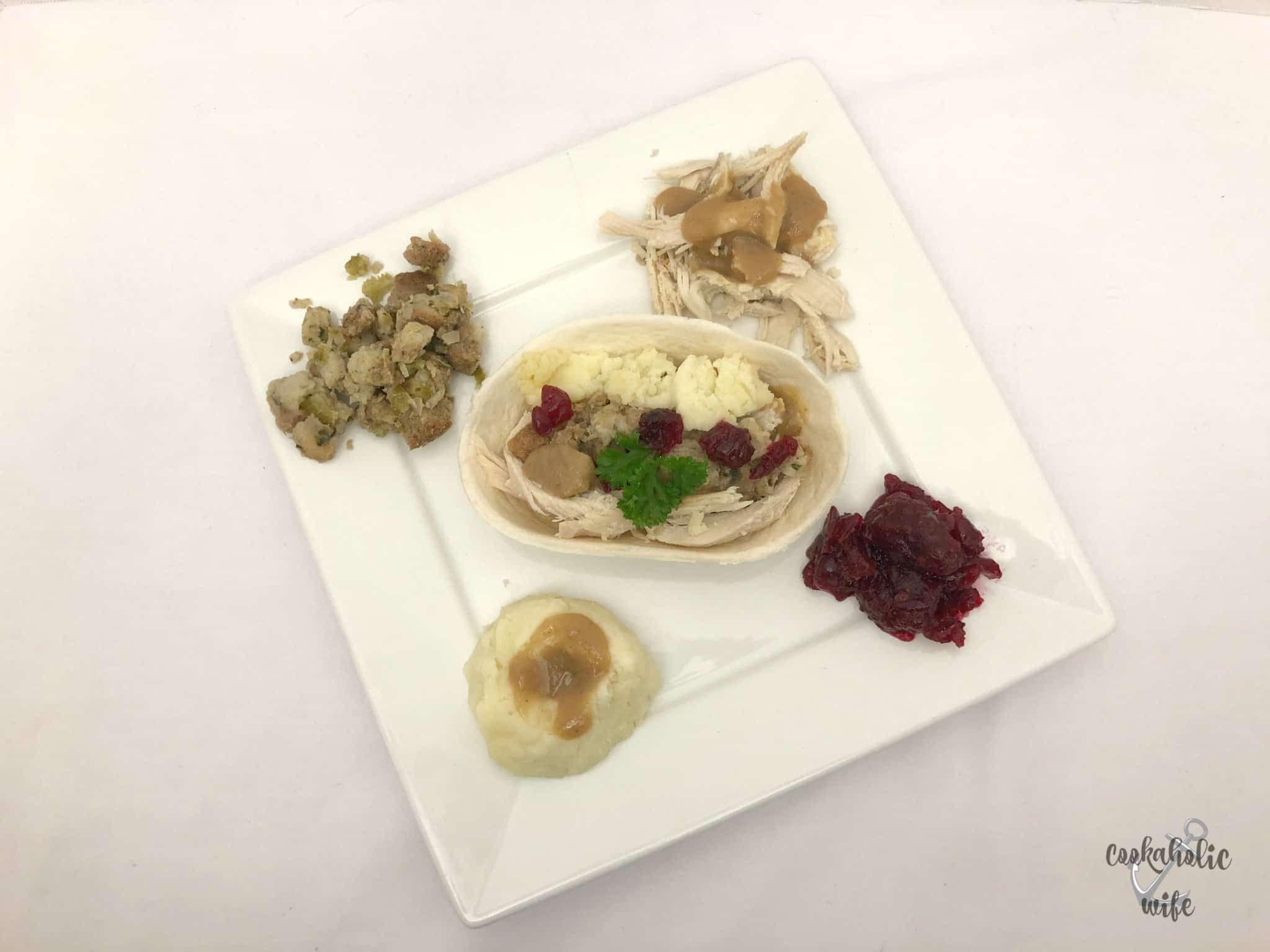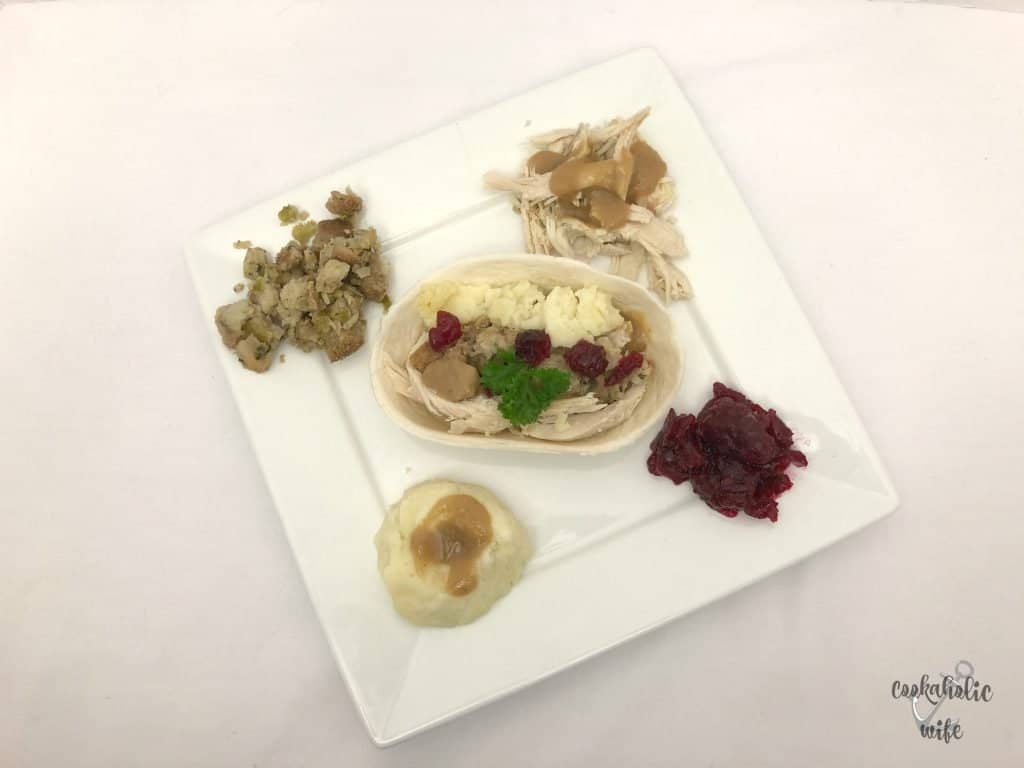 The best thing about this recipe is it's very easy to adjust to your tastes. If you just want a taco shell with turkey, mashed potatoes and gravy, go for it! Or maybe you'd like to add in some green beans or other leftover veggies. Or maybe cheese. The options are endless depending on what you have and what you like!
I hosted my own Friendsgiving a week after Jenn did and I made everything to serve these Thanksgiving tacos. It was a big hit and I know that from now one, tortilla shells will become part of the Thanksgiving shopping list so we can use up the leftovers in taco format.