Turn that abundance of summer squash into Air Fryer Parmesan Squash Fries - summer squash is cut into wedges and coated with Parmesan cheese before being air fried for a delicious summer side dish.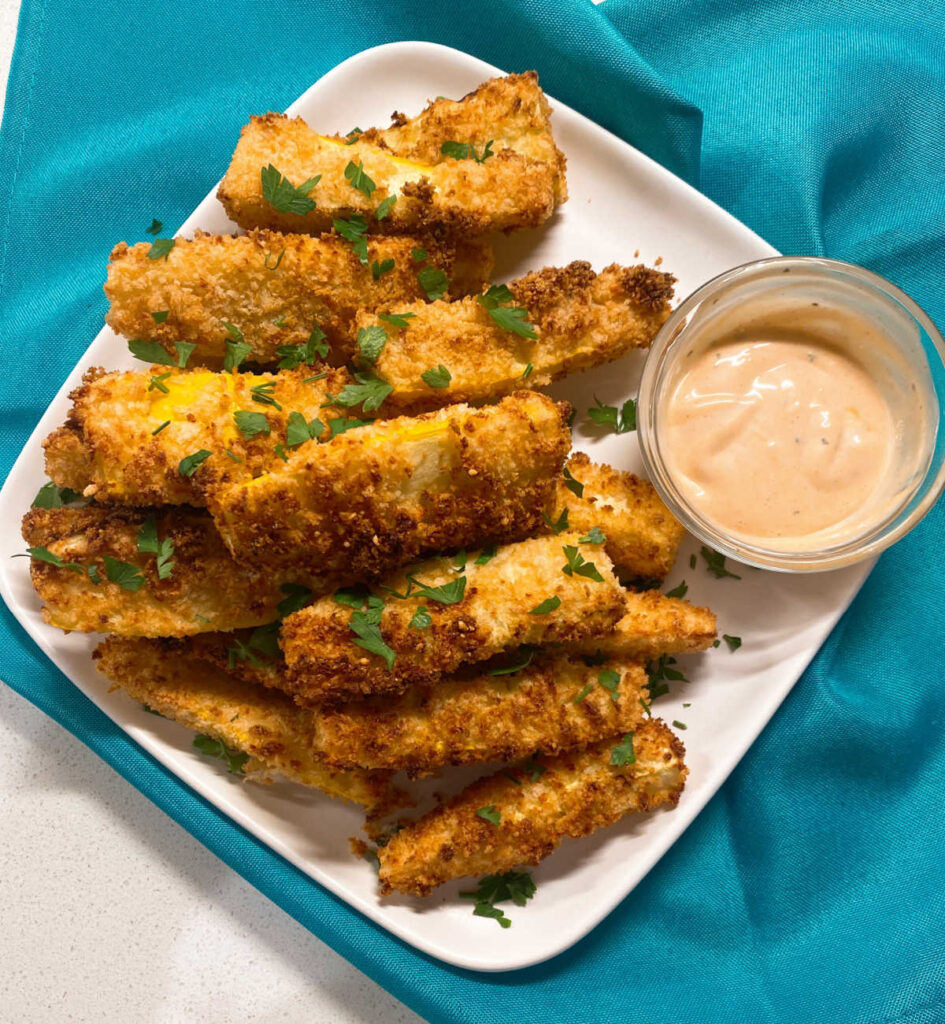 I cannot believe I waited as long as I did to hop on the bandwagon known as air fryers. I had thought "eh, I can just use the oven, it can't be that great." Boy was I ever wrong! Especially for this recipe.
What is air fryer parmesan squash fries?
For this recipe, I sliced yellow squash into wedges (fries) and then coated it in a flour-egg wash-Parmesan/Panko mixture and cooked them in the air fryer. I like serving these with a spicy ranch dip, but a marinara or a pesto would also be a great dipping choice.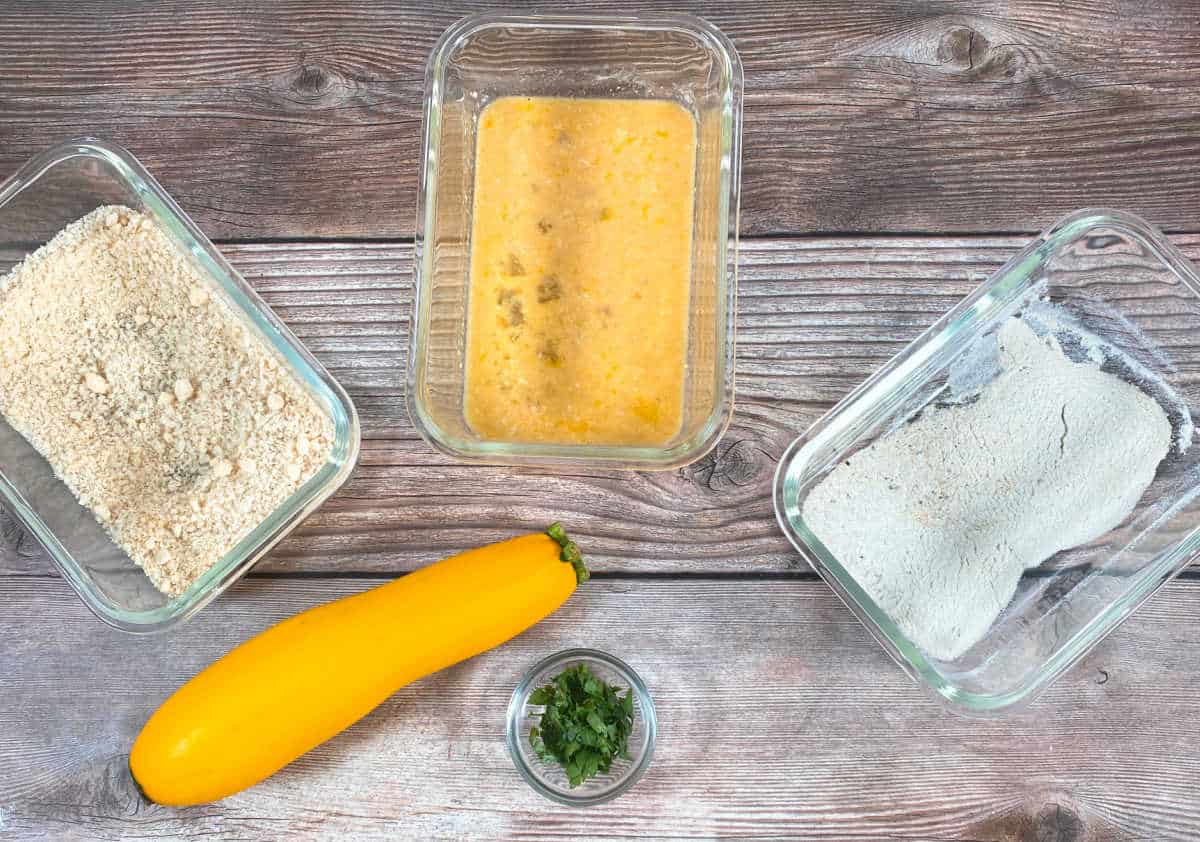 🥘 Ingredients for this recipe
large yellow squash
Wondra flour
egg
hot sauce
milk
grated Parmesan cheese
Panko bread crumbs
salt and pepper
spicy ranch dipping sauce, optional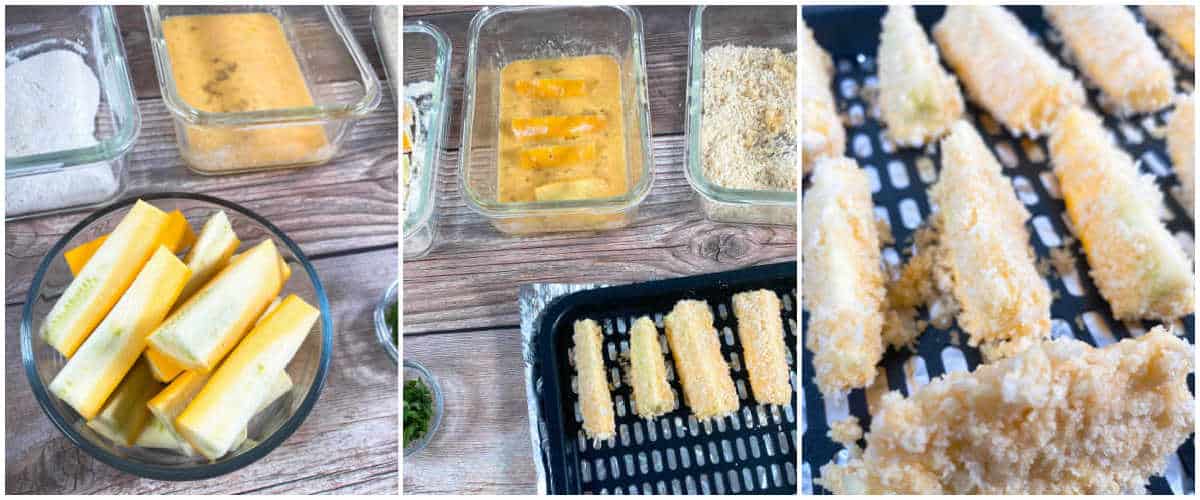 🔪Instructions for this recipe
Start by slicing the squash. Slice off both ends of the squash, and then depending on the size, slice in half or into thirds, creating 2 ½ -3 inch rounds. Next, slice each of the rounds in half, then slice those, creating a wedge (or fry) shape.
Next, mix up your dipping stations. In one bowl, combine Wondra flour with salt and pepper. In another bowl, whisk together the egg, milk and hot sauce. And finally, in the third bowl, combine the grated Parmesan cheese and the Panko bread crumbs.
Then prepare the squash. Dip each wedge of squash into the flour, then egg, then Panko mixture, making sure to coat on all sides and shake off the excess. Place on a plate and repeat until finished.
Then get your air fryer ready to make deliciousness! Set your air fryer to Air Fry with a temperature of 375 and a time of 10 minutes. Once it has preheated (if your model has that function) place the squash in the basket in a single layer and cook. If your air fryer has a "turn food option" shake them around in the basket or use tongs to gently move them.
Finally, prepare a dipping sauce. While the squash fries are air frying, whip something up to dip them in. I love a spicy ranch dipping sauce which is made with two parts ranch dressing to one part hot sauce/sriracha. Or warm up some marinara sauce, or pull out a pesto.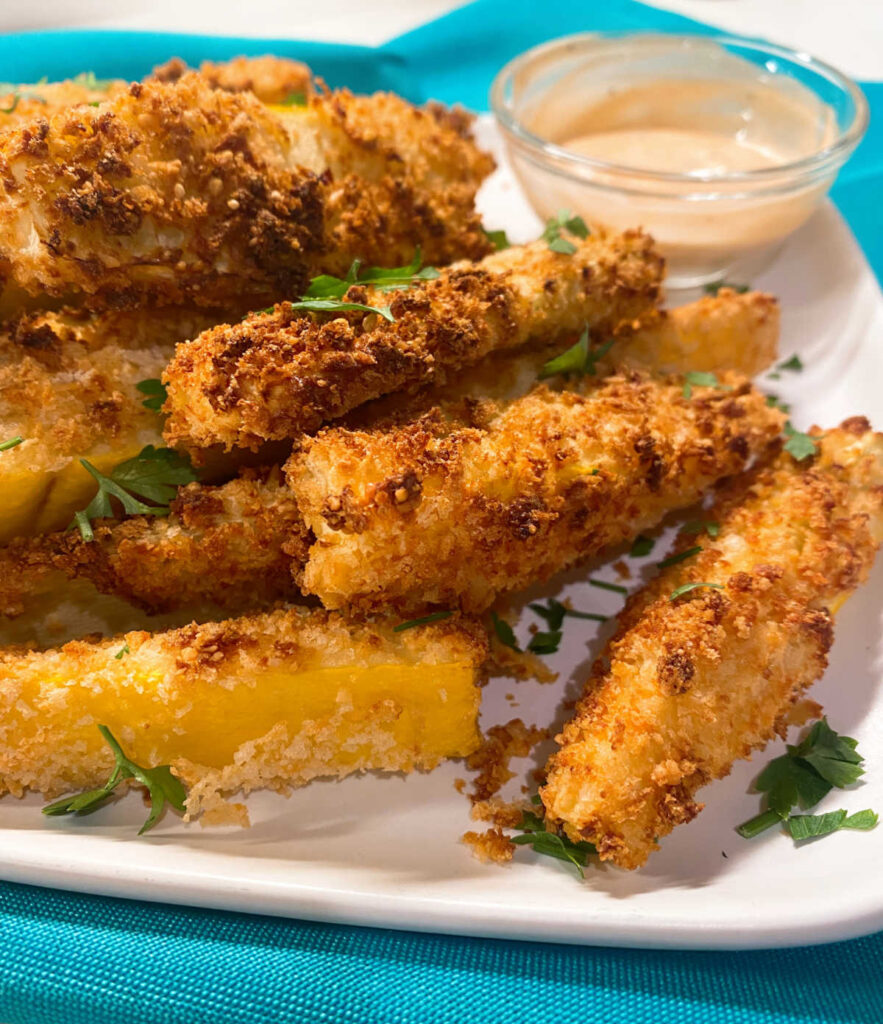 FAQ's and substitutions
Why is my food in the air fryer soggy? Three options or a combination of them - you either used too much oil on the food, the temperature wasn't high enough or the food was layered and there wasn't enough air flow to get through to make the food crispy. Squash already has a higher moisture content than potatoes so make sure you don't have more than one layer of them in the basket/on the rack of your air fryer.
Can I substitute zucchini for yellow squash? Not in every recipe, but definitely in this one! Squash and zucchini are similar enough that for the purpose of this recipe, you can use them interchangeably.
What is Wondra flour? It's a very finely ground wheat flour sold in a blue can next to the bagged flour options. While most people use it to thicken up gravies or sauces, you can also use it to provide a very light coat on something that is being fried (or air fried).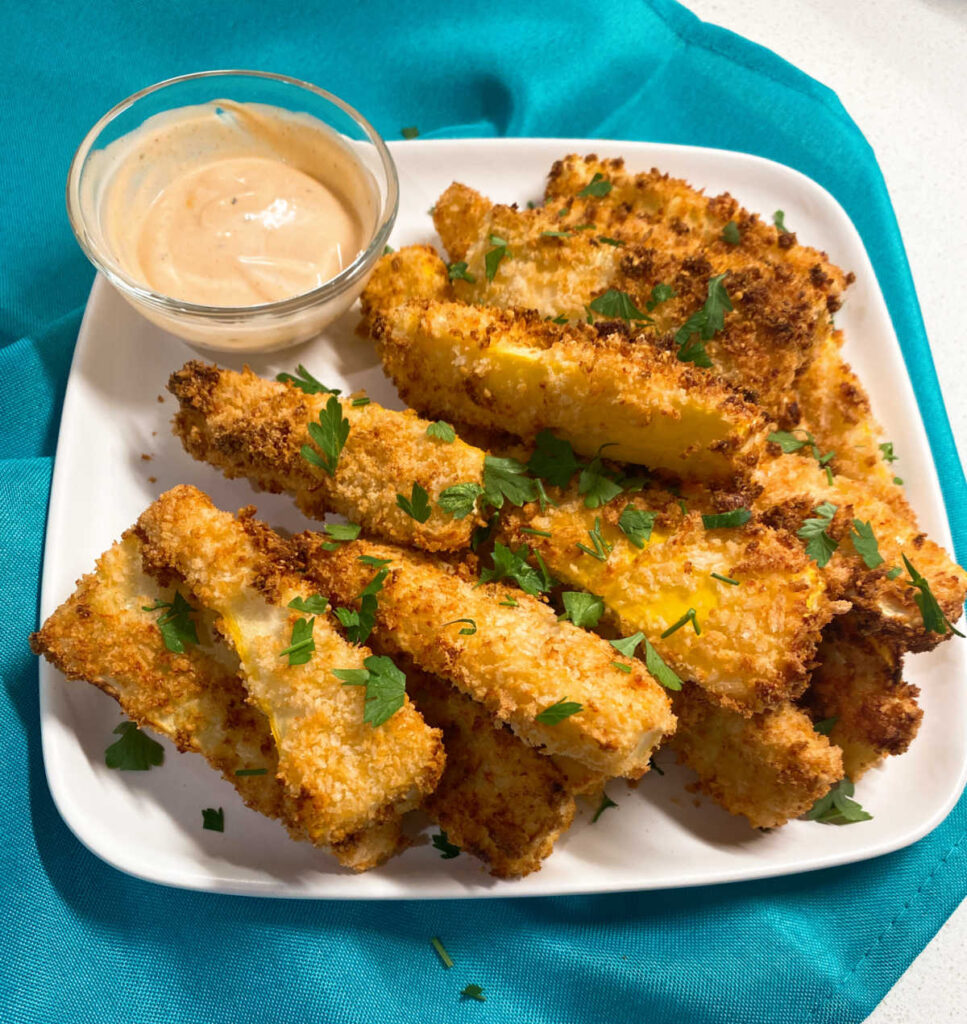 Farmer's Market Week is always the first week in August. Whether you have a great local farm stand or market, are a member of a CSA or purchase your fruits and vegetables at the supermarket, follow our Pinterest board, for great recipes including those for appetizers, drinks, breakfast, lunch, dinner, dessert and more.
Here's more Farmer's Market Week Recipes
Starters and Drinks Recipes
Side Dishes Recipes
Main Dish Recipes
Dessert Recipes
Want to save this recipe for later? Follow me on Pinterest! Rather watch a video? See if I've made this recipe by following me on Tiktok!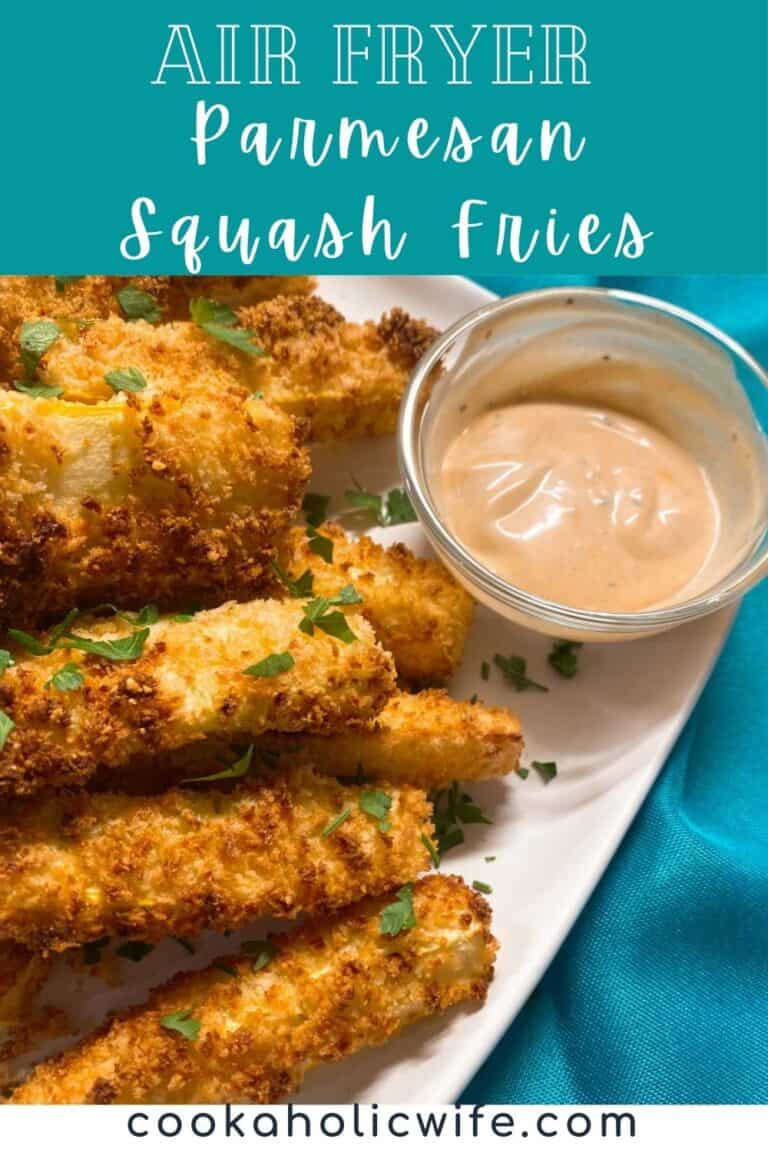 Recipe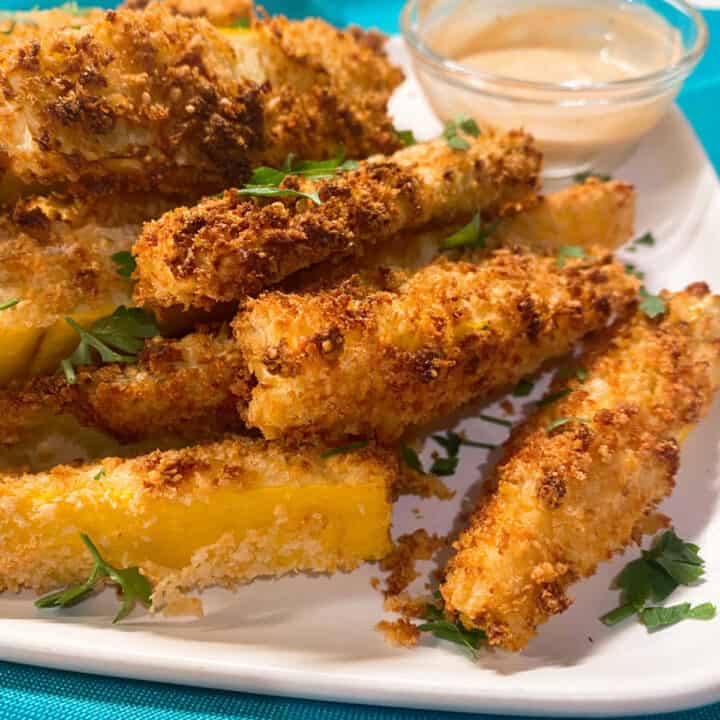 Air Fryer Parmesan Squash Fries
Yellow squash gets a quick Parmesan Panko coating and is cooked up in the air fryer for a delicious healthy side dish.
Ingredients
1

large

yellow squash

¼

cup

Wondra flour

1

large

egg

1

tablespoon

milk

1

teaspoon

hot sauce

¼

cup

grated Parmesan cheese

⅔

cup

Panko bread crumbs

½

teaspoon

kosher salt

½

teaspoon

black pepper

¼

cup

ranch dressing

1

tablespoon

hot sauce
Directions
Slice off the ends of the squash and then cut it into 2 ½-3 inch rounds. Slice those in half, then in half again to create wedges.

In one dish combine the Wondra flour with salt and pepper. In another dish whisk together the egg, milk and hot sauce. In the third dish, combine the grated Parmesan cheese and Panko bread crumbs.

Dip the squash wedges in the flour, then the egg mixture and finally into the Parmesan-panko mixture, shaking to remove excess after each. Repeat with all squash wedges.

Set the air fryer to Air Fry at 375 degrees for 10 minutes. Add the squash fries in an even layer into the basket (or on the rack) and cook. If your air fryer has a "turn food" option, use tongs to gently move them around, or gently shake them in the basket.

While they're cooking, make up the dipping sauce by combining ranch dressing and hot sauce until fully combined.
Notes
Parmesan Squash Fries can be served with a spicy ranch dipping sauce, warmed up marinara sauce or a pesto. 
I cooked these in an Instant Vortex 6 quart air fryer. Temperatures and cook times may vary depending on the brand of air fryer you have. 
Nutrition
Serving:
1
serving
Calories:
198
kcal
Carbohydrates:
17
g
Protein:
7
g
Fat:
12
g
Saturated Fat:
3
g
Polyunsaturated Fat:
5
g
Monounsaturated Fat:
3
g
Trans Fat:
1
g
Cholesterol:
57
mg
Sodium:
757
mg
Potassium:
280
mg
Fiber:
2
g
Sugar:
3
g
Vitamin A:
303
IU
Vitamin C:
17
mg
Calcium:
117
mg
Iron:
1
mg
Recipes on Cookaholic Wife are for information purposes only. Nutritional Data provided has not been evaluated by a nutritionist.