The pasta attachments for the Kitchenaid mixer have been on my "OMG I need those now!" list for quite some time. Like, since I got the mixer, which was back in 2010. But I finally got them this year for Christmas. And promptly stuffed them into the back of the cabinet.
I don't know why. I did the same thing with the ice cream maker attachment. Got it for Christmas and left it sit in the box for a year or so. Luckily, the pasta attachment didn't need to hide in the cabinet for that long because for this Recipe Swap, the category was Blogger's Choice.
Sarah
, the host of our swaps, assigned me
Delicious Meliscious
. I've had Melissa's blog before, where I made these incredible Asian Turkey Meatballs, which ironically I slightly adapted to turn into a different recipe this week.
I was clicking through her recipes, drooling over cookies, and I ended up looking at a post for
Homemade Pasta
. I immediately knew it was time to pull the pasta attachments out of the back of the cabinet and make this immediately!
I read the ingredients for making homemade pasta and became a bit wary. I've tried making various doughs before where you make a well in the flour and then just add in the eggs until a dough forms and I have never once been successful. Egg-goo covered hands? Been there. Super dry dough that falls apart? Done that. Dough that gets gooey and refuses to accept any more flour? Oh yeah, experienced that one. However, I was determined to use the attachments so I forged on.
Recipe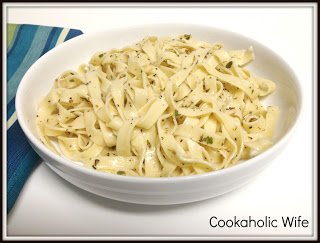 Blogger's Choice: Homemade Pasta
Fresh, homemade pasta comes together with only a few ingredients and the use of a pasta attachment.
Ingredients
2

cups

all purpose flour

2

teaspoon

salt

3

egg yolks

1

whole egg

¼ - ½

cup

water
Directions
1. Sift flour and salt together in a large bowl. Make a well and add in the eggs.

2. Using one hand, gently push small amounts of the flour into the eggs until a rough dough forms. Add in the water, 1 tablespoon at a time until the dough is pliable, but tough. (I used ¼ cup + 1 tbsp. water)

3. Turn out the dough onto a lightly floured surface and knead for 10 minutes. The dough should still be dough, but smooth.

4. Wrap the dough in plastic wrap and refrigerate for 30 minutes.

5. Divide the dough into 4 pieces and roll out as thinly as possible, preferably 1 cm thick.

6. Put the dough through the pasta roller at the largest setting, folding it over a few times. Then increase the setting until the dough reaches your desired thickness. (I ran each piece of dough through settings 1-4 three times each and I could just barely see my fingers through it.)

7. Use a knife or a pasta attachment to cut the dough.

8. Dough can either be dried, frozen or cooked immediately. Fresh pasta takes 5 minutes to cook, dry pasta 8 minutes.
Recipes on Cookaholic Wife are for information purposes only. Nutritional Data provided has not been evaluated by a nutritionist.
Warning: if you decided to make today the first day to work out your arms in a while, you shouldn't make this recipe. I overdid it a bit at the gym and getting the dough to roll out to 1 cm thick was pretty close to torture. My arms feel like jello.
However, homemade pasta is really easy to make when you have these cool attachments. I opted to cut my pasta with the fettuccine cutter and freeze half of it. I also have the patience of a 4 year old, so I cooked my pasta immediately. But, since I honestly wasn't expecting this to turn out, I had nothing to serve with the pasta, so I just tossed it with some butter, dried basil and oregano and some garlic powder. And it was incredible. I definitely prefer fresh pasta to the packaged stuff now.
Now I just need some freezer space so I can spend an entire weekend making pasta...