Ultra Creamy Macaroni and Cheese is the creamiest, cheesiest slow cooker macaroni you can make.
I've been making this macaroni and cheese recipe for years, but I've never managed to share it with you. I'm really sorry about that! Seeing as you need this macaroni and cheese in you life, pronto!
It's actually a family joke to call this "Naptime Macaroni and Cheese" because it's so cheesy and delicious that it fills you up and you just want to take a nap afterwards.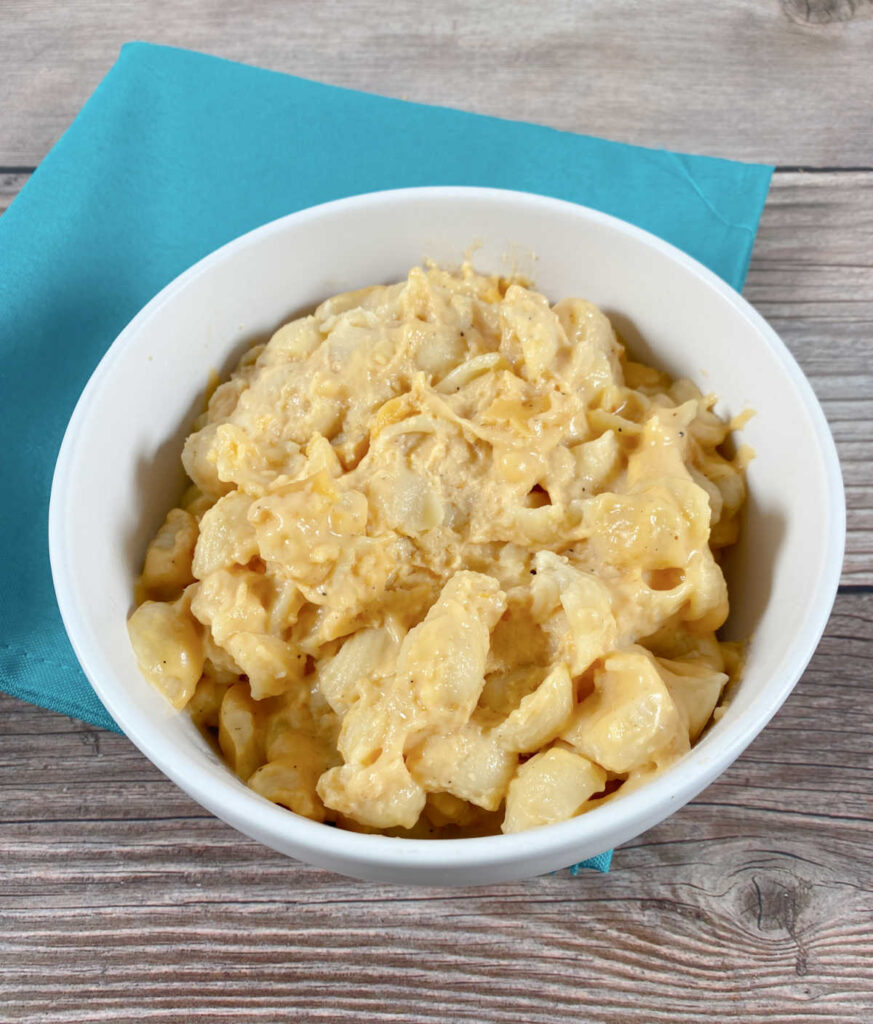 What is ultra creamy macaroni and cheese?
This is a slow cooker version, made with shredded cheese, evaporated milk, regular milk, Velveeta cheese and noodles of your choice. I prefer to either use elbows or shells in this recipe. The combination of Velveeta and shredded cheese makes this ultra cheesy and the two types of milk is what makes its ultra creamy.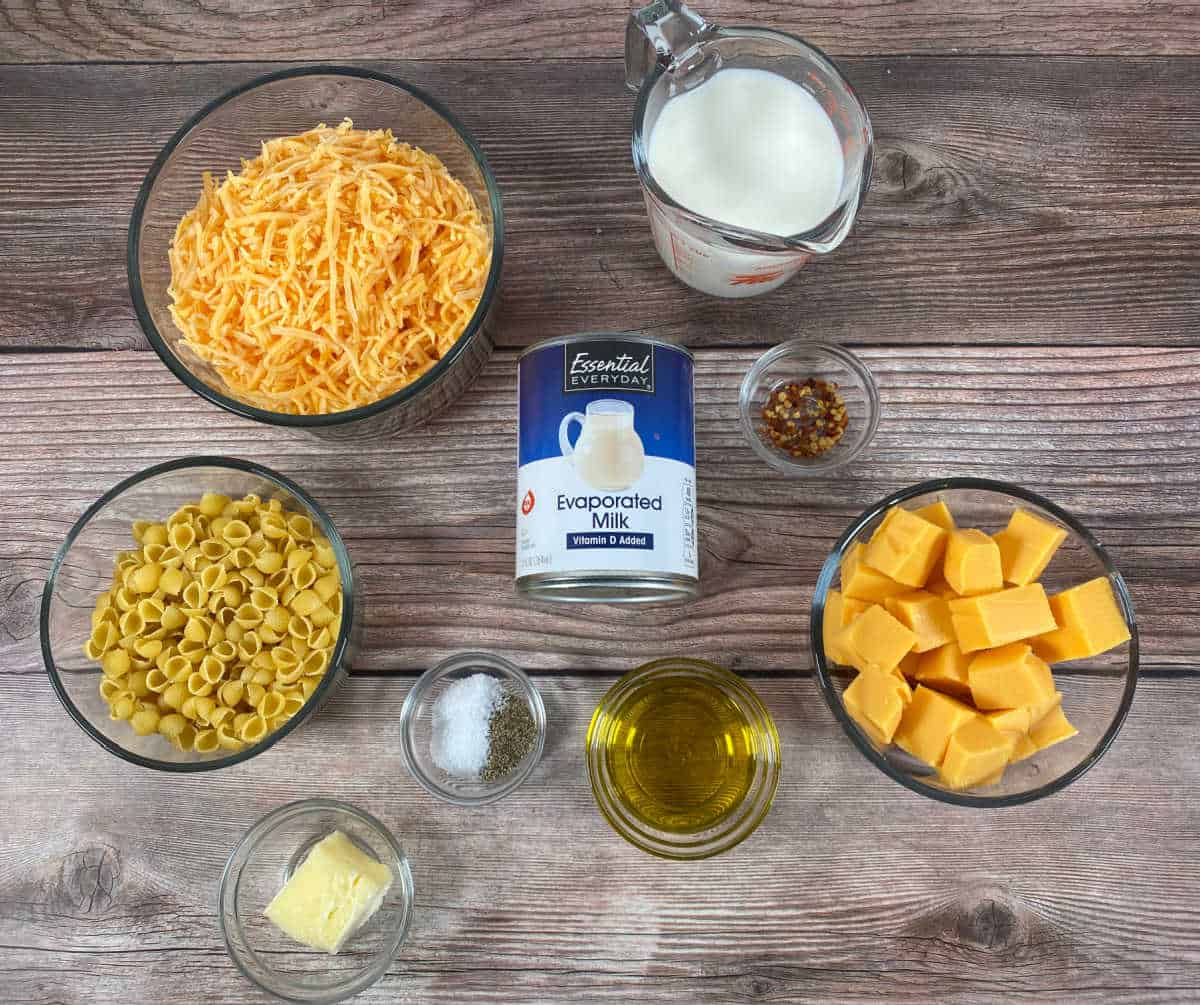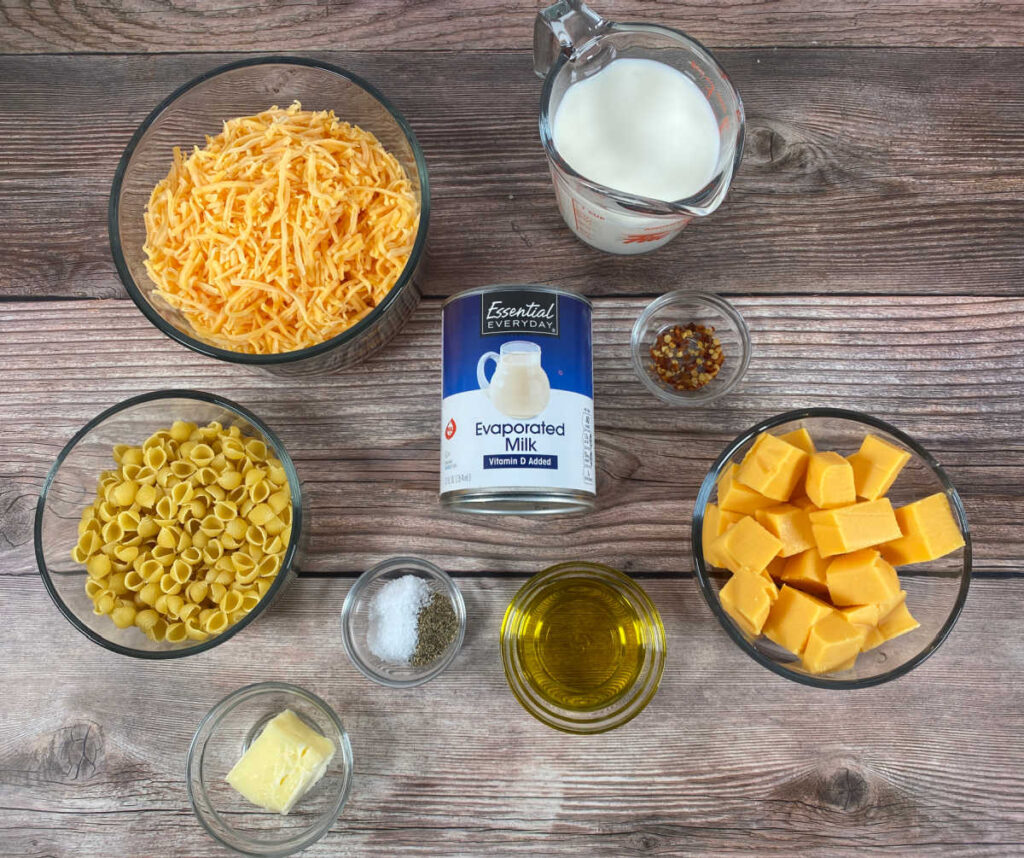 🥘 Ingredients for this recipe
Macaroni noodles: elbows, small shells or large shells are my preferred choices for this recipe, but you could also use a penne, rotini or farfelle pasta if you preferred.
Velveeta cheese: I know, I know, it's not "really" cheese, but it does make for a super creamy dish, so just go with me on this one.
Shredded cheddar cheese: you can use the pre-shredded stuff or buy a block of sharp cheddar and shred it on your own.
Evaporated milk: evaporated milk has a higher milk to water content, which adds to the creaminess of this recipe.
2% milk: skim or 1% would also work in this recipe. I'm sure you could use whole milk too, but that would be really rick.
Butter and olive oil: you don't want your pasta to stick together so a little butter and olive oil make sure that doesn't happen.
Seasonings: salt, pepper and crushed red pepper are my choices, but feel free to add in some dry ground mustard, paprika or even Italian seasoning.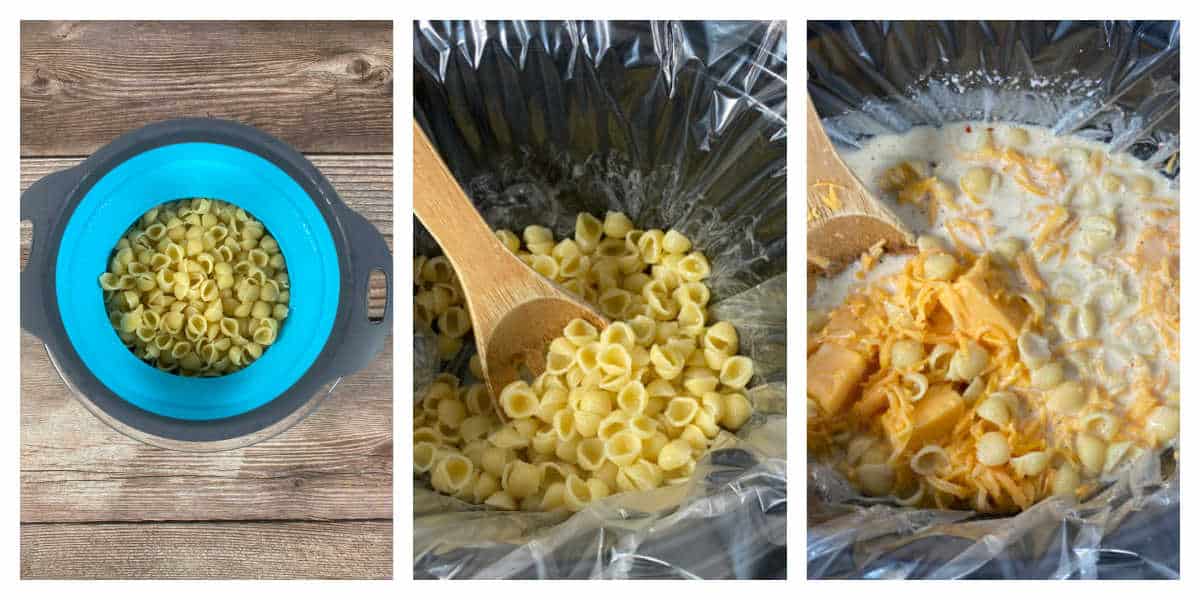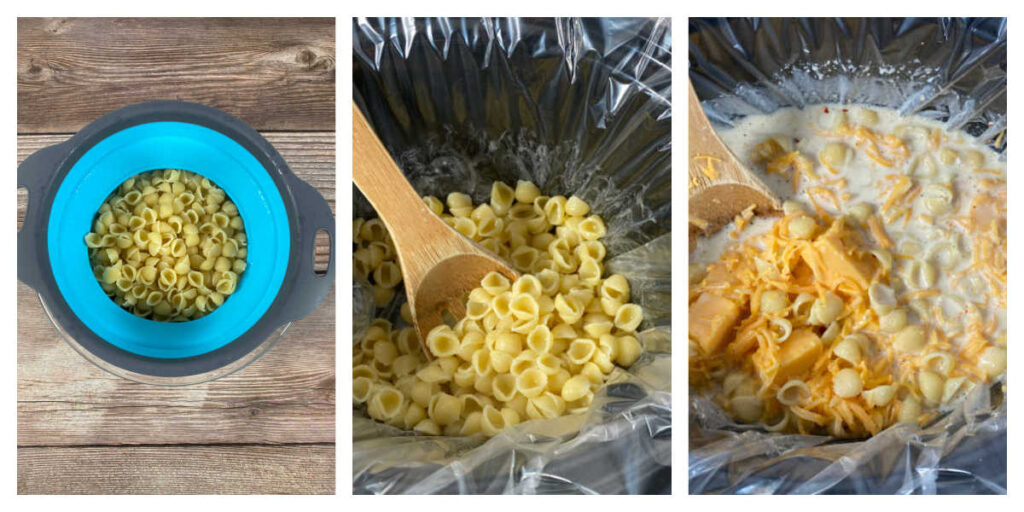 how to make mac and cheese from scratch
Start off with your pasta. Add 8 cups of water to a large stock pot, salt it, and bring it to a boil. Once boiling, add in the pasta and cook until al dente. Drain and set aside.
Prepare the slow cooker. For easier clean up, use a liner in your slow cooker. Add the pasta, olive oil and butter and stir to combine.
Then add in the cheese and milk. Stir in the Velveeta, shredded cheddar, evaporated milk and 2% milk.
Finally, let the slow cooker do it's magic. Sprinkle the seasonings on top, cover with the lid and cook on low for 2 hours, stirring after 1 hour.
How do you store leftover mac and cheese? Transfer this to a container and keep in the fridge for 3-4 days.
FAQ's for macaroni and cheese
What's the secret to creamy macaroni and cheese? There's a few! Cook the pasta to al dente, using melty cheeses like cheddar and a higher fat content milk like evaporated milk.
How do you keep macaroni noodles most? That's where the olive oil comes in! Not only does it prevent the noodles from sticking together, it makes the whole dish creamier.
What is the best cheese combination for mac and cheese? Cheddar is usually the first choice because of how nicely it melts. Velveeta adds to that as well. But, you could add in some Colby Jack or Gouda cheese if you wanted.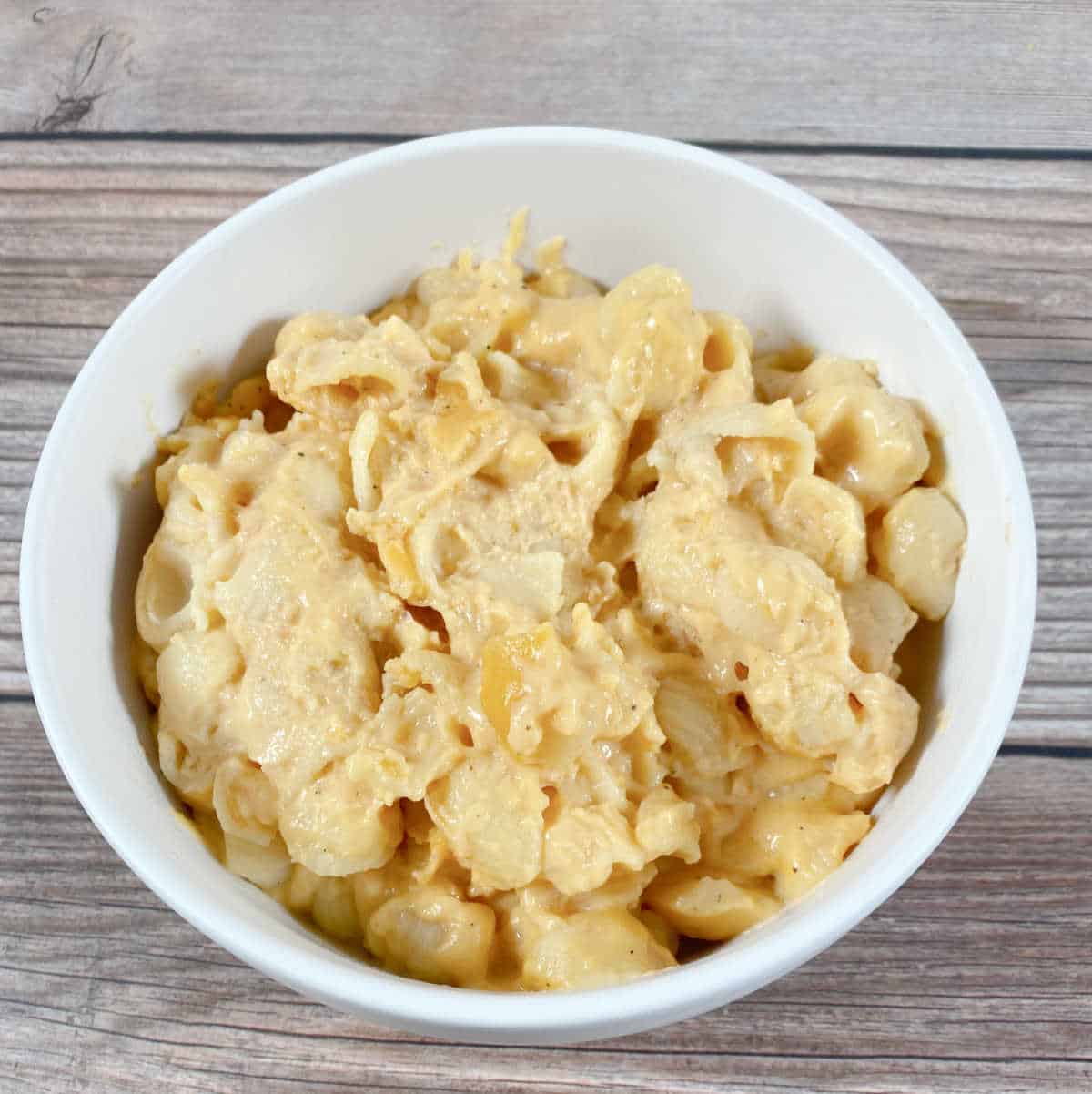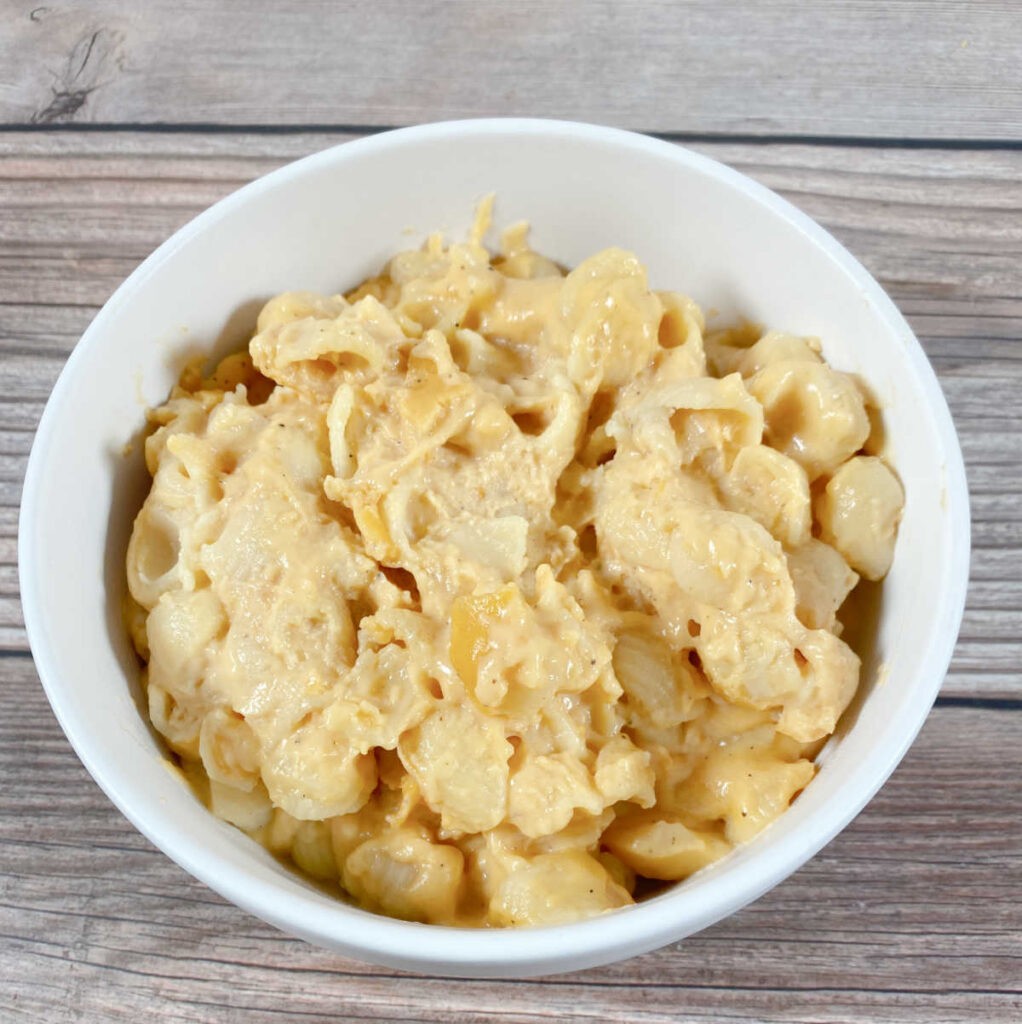 Serving Suggestions
Want to save this recipe for later? Follow me on Pinterest! Rather watch a video? See if I've made this recipe by following me on Tiktok!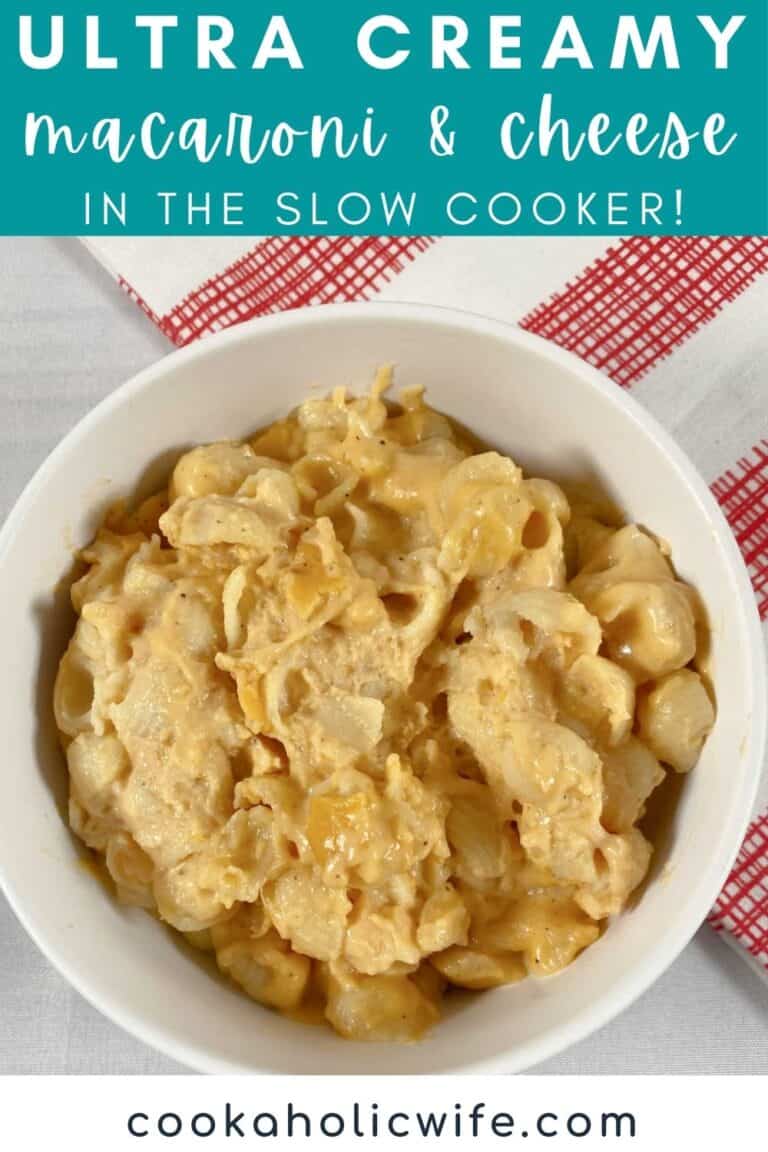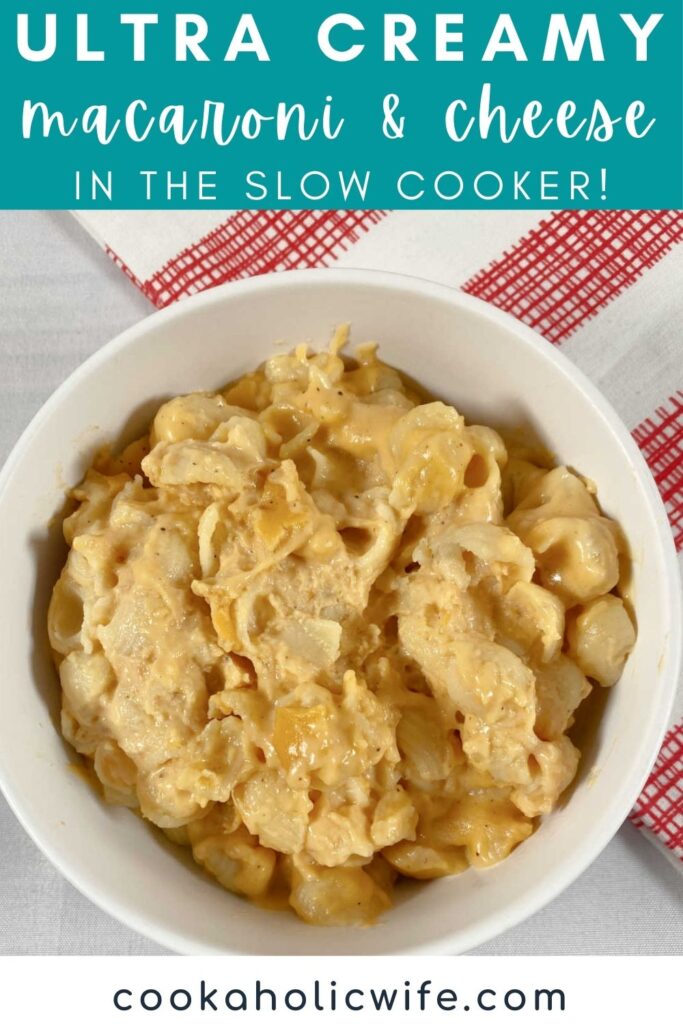 Recipe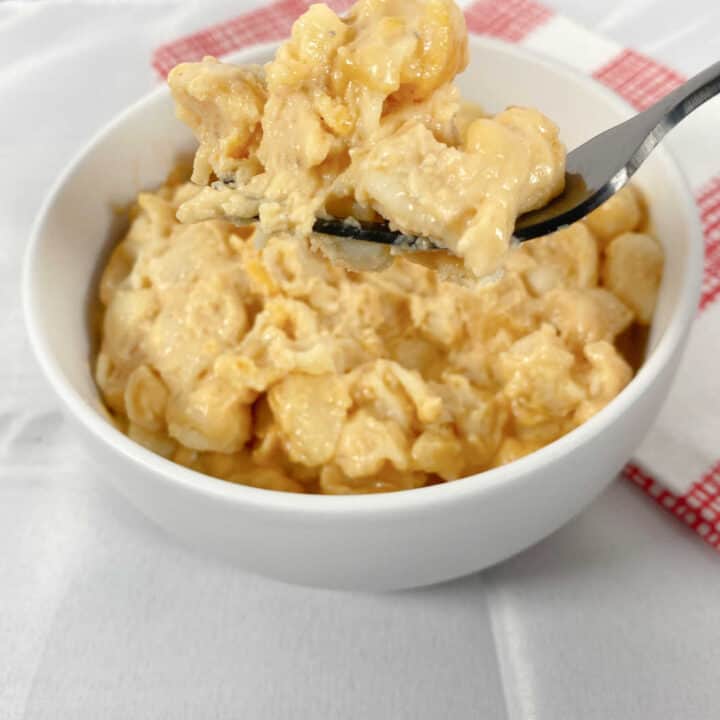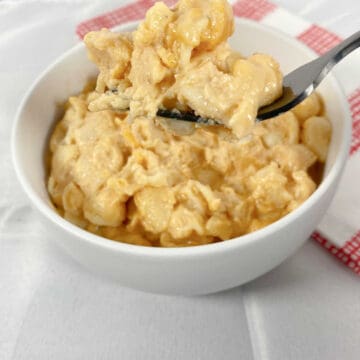 Ultra Creamy Macaroni and Cheese
Ultra Creamy Macaroni and Cheese is the creamiest, cheesiest slow cooker macaroni you can make.
Ingredients
1 ½

cups

pasta shells

2

tablespoon

unsalted butter

1

tablespoon

olive oil

2

cups

shredded cheddar cheese

8

oz

Velveeta cheese

cut into cubes

12

oz

evaporated milk

1

cup

2% milk

1

teaspoon

salt

1

teaspoon

pepper

1

teaspoon

crushed red pepper

or less, to taste
Directions
Bring a large pot of salted water to a boil. Add in the pasta and cook until al dente. Drain and set aside.

For easier clean up, place a liner in the slow cooker. Pour pasta into slow cooker along with butter and olive oil and stir to coat.

Add shredded cheese, Velveeta cubes, evaporated milk, 2% milk and seasonings. Stir to combine.

Cook on low for 1 hour, stir and cook for another hour.
Nutrition
Serving:
0.6
serving
Calories:
481
kcal
Carbohydrates:
32
g
Protein:
25
g
Fat:
28
g
Saturated Fat:
17
g
Polyunsaturated Fat:
1
g
Monounsaturated Fat:
8
g
Trans Fat:
1
g
Cholesterol:
85
mg
Sodium:
1307
mg
Potassium:
462
mg
Fiber:
1
g
Sugar:
12
g
Vitamin A:
1142
IU
Vitamin C:
1
mg
Calcium:
693
mg
Iron:
1
mg
Recipes on Cookaholic Wife are for information purposes only. Nutritional Data provided has not been evaluated by a nutritionist.