I had to start off the week right and add another cranberry sauce to my recipe collection. Once I found out how easy it is to make homemade cranberry sauce and how much more I liked it compared to the canned version, I've been trying out new options ever since.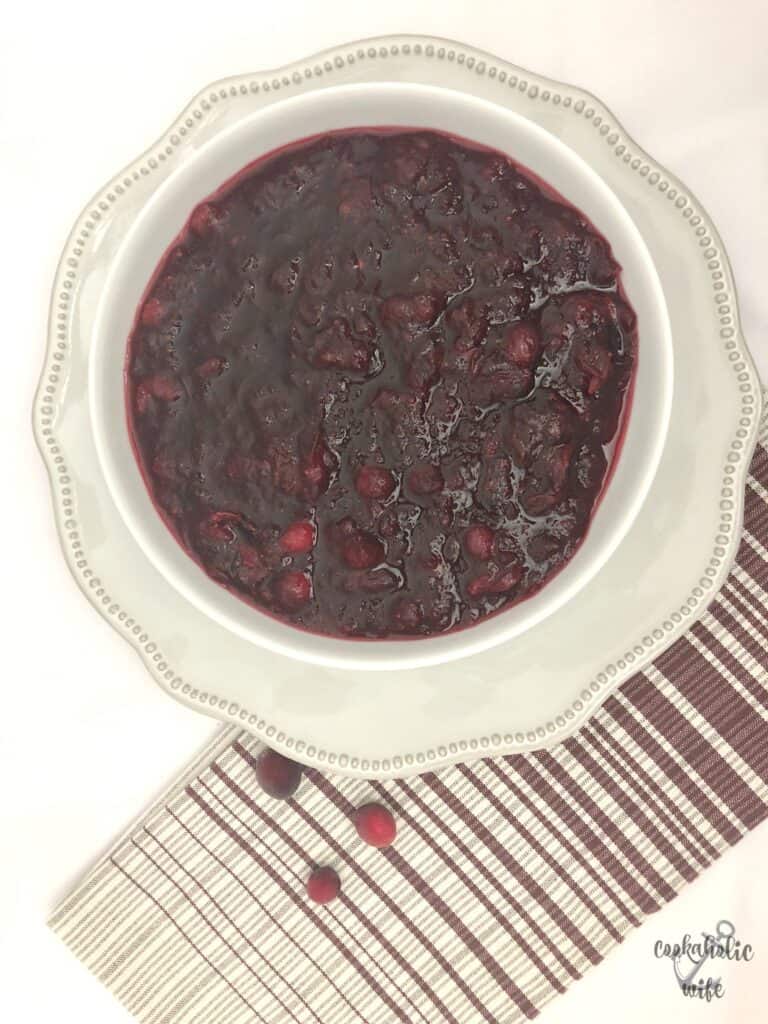 My first cranberry sauce was a
pomegranate cranberry
sauce. Pomegranates were super popular back in 2010 when I made the recipe and I absolutely loved pomegranate juice so it seemed like the perfect pairing. But then, I found a recipe for a
pear honey cranberry
sauce and my family loved it because it was just a little bit sweeter than your usual homemade cranberry sauce. I ended up making that one for years, but then a few years ago I was getting all of my Thanksgiving make-ahead recipes together and I decided I was bored of the pear honey version and wanted to create something else.
I looked around the kitchen and saw apples and a bunch of holiday spices. I didn't even measure my first batch, I just threw everything into the pot with the cranberries and hoped for the best while creating a
spiced apple cranberry sauce
. Personally, it was my favorite ever and I made it for the following years. But I wanted something different again and was trying to come up with something creative.
I wish I could tell you there was some ah-ha moment where I came up with the idea to add bourbon to my cranberry sauce, but there wasn't. A bottle of Everclear was sitting on my kitchen island back from the last batch of moonshine I made. I thought "adding liquor to cranberry sauce could be a good idea..." and then without thinking about it further, I grabbed my go-to liquor, bourbon.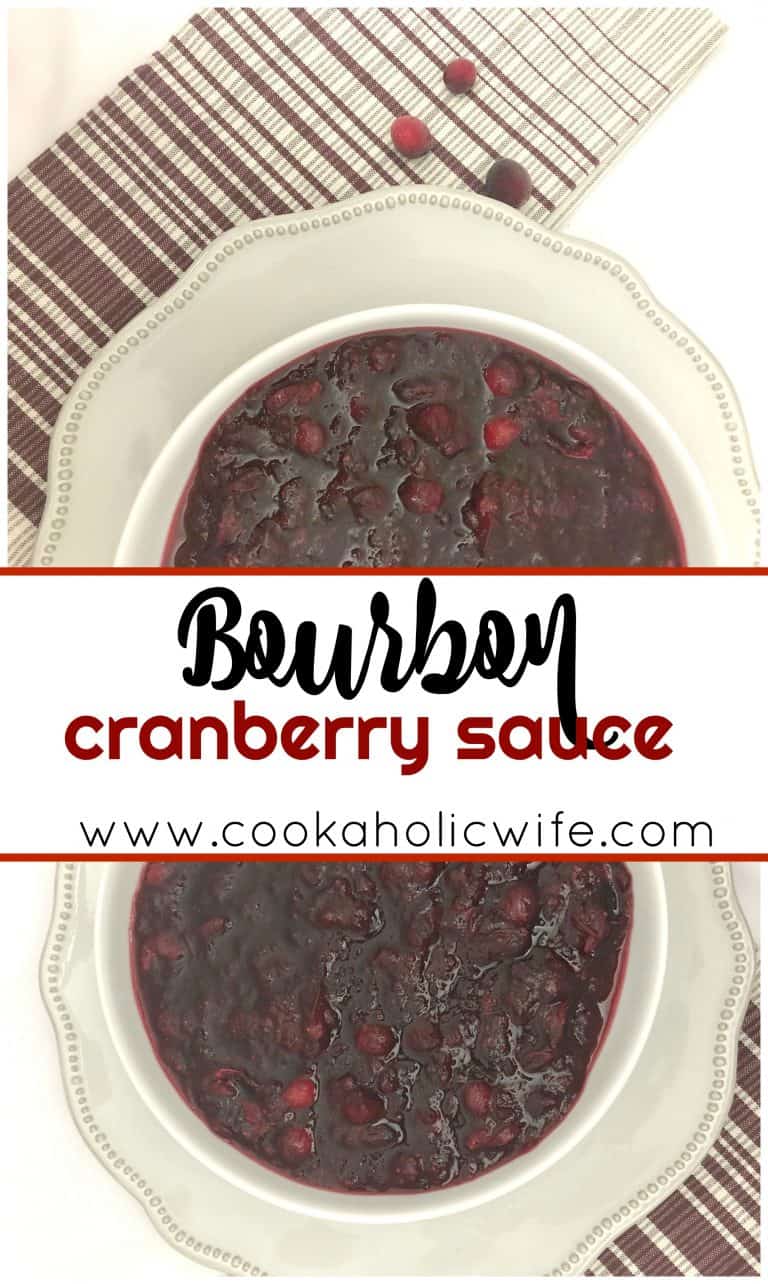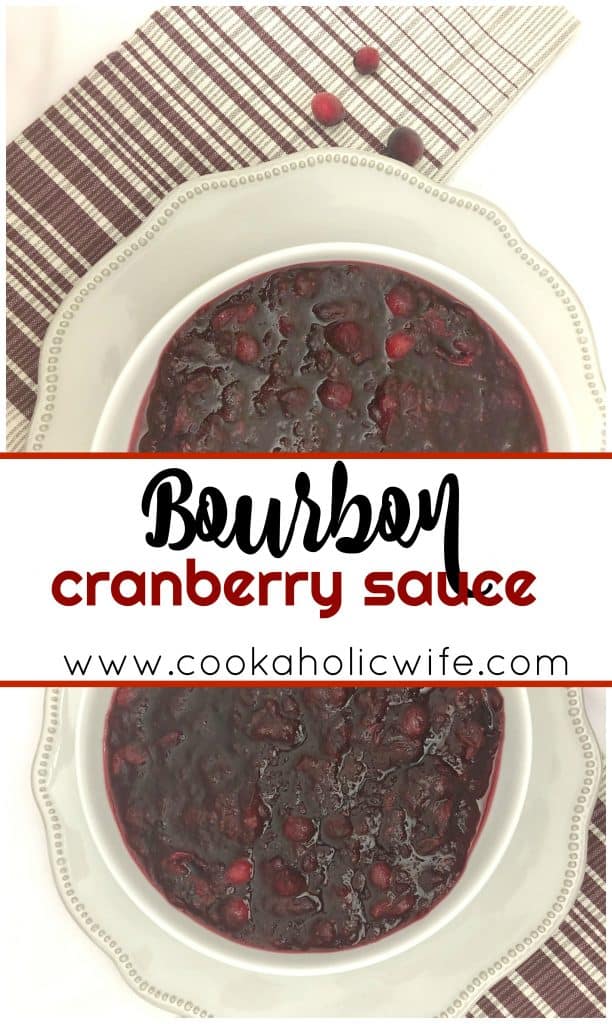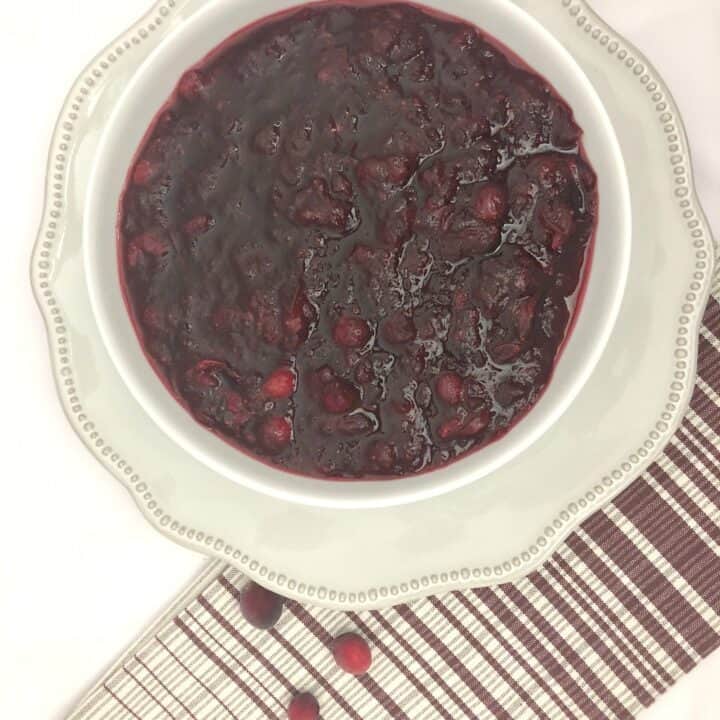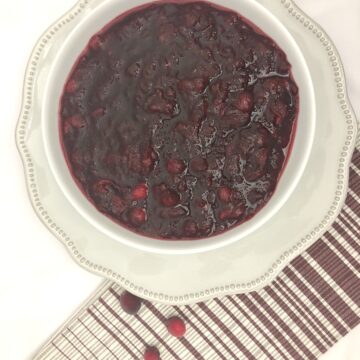 Bourbon Cranberry Sauce
Homemade cranberry sauce is so easy to make and sure to please when it includes bourbon!
Ingredients
¾

cup

sugar

¼

cup

brown sugar

1

cup

water

1 12

oz.

package fresh cranberries

2

tablespoon

bourbon
Directions
In a large saucepan whisk together the sugar, brown sugar and water until the sugar mostly dissolves. Add in the cranberries and heat over medium high heat.

Bring the mixture to a boil and the cranberries start popping, then reduce to a simmer and simmer for 15-20 minutes.

Remove from the heat and whisk in the bourbon. Use a potato masher to break up the cranberries. The mixture will thicken up as it cools.
Notes
Cranberry sauce can be frozen for up to 1 month.
Recipes on Cookaholic Wife are for information purposes only. Nutritional Data provided has not been evaluated by a nutritionist.
Adding liquor to a sauce pan over heat can cause the mixture to catch on fire, as I'm sure you've seen from watching cooking television shows before. I didn't want to have that happen, but I was also worried that adding the bourbon into the pan after it was removed from the heat would make the bourbon flavor too strong as usually the liquor is allowed to cook off.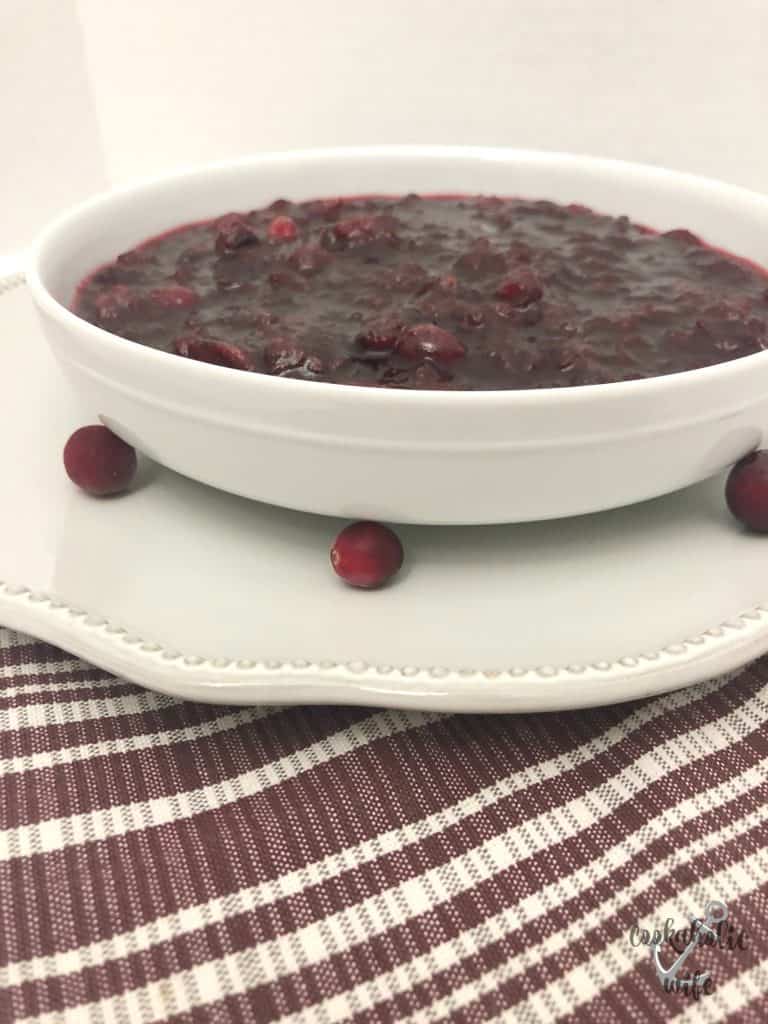 I took my chances and kept the saucepan on the hot stove while it cooled down before I taste tested it and was pleasantly surprised to find a very mild bourbon flavor throughout. So, keep that in mind if you prefer a stronger flavor. This cranberry sauce is definitely delicious and it will be gracing my table at least twice this year, as in addition to Thanksgiving, I'm also hosting a Friendsgiving.