Eggs Benedict is one of my favorite breakfast/brunch recipes but I rarely ever make it at home. My poached eggs never turn out pretty enough and making hollandaise is a real pain. So instead, I choose to enjoy the treat when we go out for breakfast or brunch.
Until now, that is.
The final recipe I'm sharing with you for #EasterWeek is an eggs benedict overnight casserole that comes together pretty quickly, gets all nice and happy in your fridge and bakes up in less than an hour.
Oh, and that pain in the ass hollandaise sauce? Yeah, that's even made simpler by preparing it in your blender.
Recipe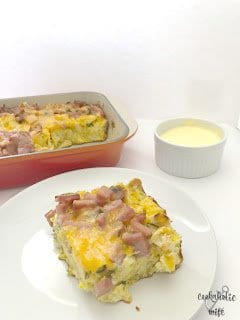 Eggs Benedict Breakfast Bake
Eggs Benedict Breakfast Bake tastes very similar to eggs benedict but comes without the stress of poaching eggs and perfecting the hollandaise sauce.
Ingredients
For the Eggs Benedict:
1

package

6 English muffins

3

tbsp.

butter

divided

8

thick slices cooked ham

4

green onions

8

large eggs

1

cup

whole milk

2

tablespoon

prepared yellow mustard

1

teaspoon

onion powder

½

teaspoon

cayenne pepper

1

cup

shredded cheddar cheese
For the Hollandaise:
3

egg yolks

2

tablespoon

fresh lemon juice

½

teaspoon

salt

pinch

of cayenne pepper

1

stick unsalted butter

melted
Directions
Preheat the oven to 350 degrees. Line a baking sheet with foil. Spray a 9x13 baking dish with cooking spray.

Slice the English muffins in half and place on the prepared baking sheet. Use 2 of the tablespoons of butter to butter the muffin side facing up. Bake for 10 minutes, then set aside.

Add the remaining tablespoon of butter to a large skillet over medium heat. Dice the ham and green onions and add to the skillet, cooking for 5-7 minutes or until the ham is browned.

Meanwhile, cut the toasted English muffins into 1 inch cubes and place in the prepared 9x13 baking dish. Add the ham and green onions on top.

Sprinkle the cheddar cheese on top of the ham mixture.

In a medium bowl, whisk together the eggs, milk, mustard, onion powder, cayenne and salt. Pour over the ham mixture and cover with foil. Refrigerate overnight.

Place the baking dish on the counter one hour before you intent to bake it, allowing the ingredients to come up to room temperature. Preheat the oven to 350.

Bake, covered with foil, for 30 minutes. Remove the foil and bake for another 10 minutes.

Remove from the oven and let cool slightly on a wire rack.

While the mixture is cooling, add the egg yolks, lemon juice, salt and cayenne pepper to your blender. Blend on low speed for 30 seconds, then begin drizzling in the melted butter and blend for 1 minute until fully combined and pale yellow in color. Taste, and adjust lemon juice or cayenne as needed.

Cut the eggs benedict bake into 6 portions and plate. Drizzle the hollandaise sauce on top and garnish with chives or green onions if desired. Serve immediately.
Notes
Slightly Adapted From: Foodtastic Mom
Note: this recipe needs to be prepped and refrigerated overnight. 
Recipes on Cookaholic Wife are for information purposes only. Nutritional Data provided has not been evaluated by a nutritionist.
This is really similar to a traditional eggs benedict dish that you would get at a restaurant. I couldn't believe how easily the hollandaise sauce came together with the help of my Vitamix. I think I'll definitely start making more eggs benedict just because the sauce is so easy to make!
The only change I would make to this dish is I would leave the English muffins whole and arrange the ham and green onions on top of them and pour the egg mixture over and around them. I think it would make for a better presentation and the muffin would be fully saturated in the egg mixture.
Friday Easter Week Recipes