I've switched out pasta for zucchini noodles and spaghetti squash tons of times, but I never thought that you could do it with a butternut squash until I saw a recipe for noodled squash on Pinterest. I had just received a butternut squash from Melissa's Produce a few days before.
I don't know about you, but that kind of sounds to me like I was supposed to turn a butternut squash into noodles. Which, I'll be honest with you is not the easiest thing I've ever done and I should probably get back to a gym.
To turn a butternut squash into noodles, first purchase one with a long neck as that is the only part you can use. The bottom half can be saved for another recipe, such as soup. I found it easiest to slice off the thick outer skin, the slice the piece into 4 wedges and put those onto my spiralizer.
If that sounds like way more than you are interested in dealing with (which I get!) most stores are now carrying butternut squash already cut into noodles. It's right next to the sweet potato noodles in the both of the stores I go to and I've seen it since July so I'm thinking it might end up being a year round thing that they offer. (Which would be great!)
Recipe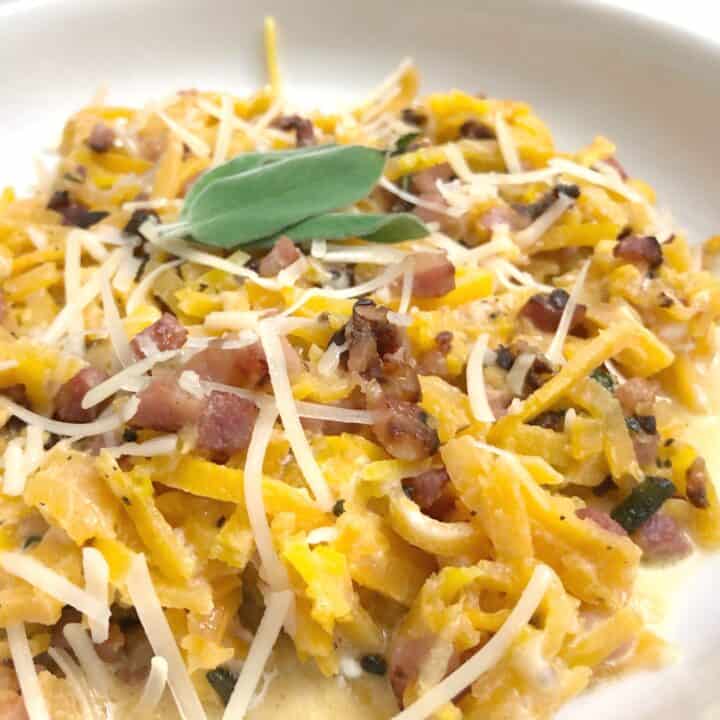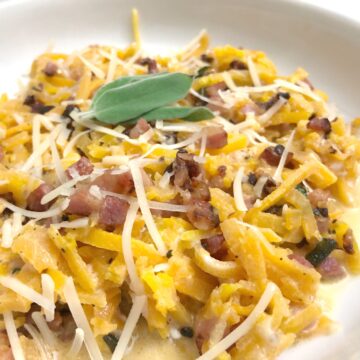 #FabulousFallBounty: Butternut Squash Noodles with Sage and Pancetta
Butternut squash replaces pasta in this hearty and filling fall dish full of flavor.
Ingredients
1

large butternut squash with a skinny neck

2

tablespoon

olive oil

salt and pepper

to taste

4

oz.

pancetta

diced

2

shallots

diced

2

cloves

garlic

minced

2

tablespoon

cream cheese

½

cup

vegetable or chicken stock

pinch

of crushed red pepper flakes

fresh sage

chopped
Directions
Preheat the oven to 425 degrees. Line a large baking sheet with a Silpat or parchment paper.

Cut a butternut squash at the neck, saving the end for another use. Peel off the skin and place the squash on a spiralizer, set to make large ribbon noodles.

Arrange the butternut squash noodles on the prepared baking sheet. Drizzle with olive oil and season with salt and pepper. Bake for 8-10 minutes or until al dente.

Meanwhile, in a medium skillet over medium-high heat, add the pancetta and cook until crisp. Use a slotted spoon to remove the pancetta to a paper towel lined plate.

Lower the heat to medium and cook the shallot and the garlic in the remaining grease from the pancetta (1 teaspoon olive oil if there is not enough) for 3 minutes.

Transfer the shallot and garlic to the plate with the pancetta. Add a splash of vegetable stock to the skillet and the cream cheese. Stir until the cream cheese has melted and then whisk in the remaining vegetable stock.

Add the pancetta mixture back to the skillet, along with the al dente noodles.

Toss to combine and serve, garnished with fresh sage.
Recipes on Cookaholic Wife are for information purposes only. Nutritional Data provided has not been evaluated by a nutritionist.
If you've never baked on a
Silpat
before, I really recommend getting one. Silpat was generous enough to ship all of us one for this event. Baking on Silpat just makes things so much easier. The noodles slid right off the mat perfectly.