Mother Nature has not been kind to the south in the past week or so. First there was Hurricane Harvey which devastated Texas and then along came Hurricane Irma who wreaked havoc on Florida. I know it's hurricane season and these things are to be expected when you live in those areas, but two back to back major hurricanes has me wanting to help out however I can.
Susanne, of New South Charm, had the wonderful idea that a group of bloggers could get together and share Texas-style recipes on the same day, linking our blogs together as a way to virtually show our support for those affected by Hurricane Harvey.
Right away I sought out a recipe to make and it didn't take long to decide on these cookies. As I've learned, there is a women's magazine that encourages the wives of presidential nominees to submit a cookie recipe and then the readers make them and a winner is declared. That right there, is the epitome of the south to me. These cookies were created by Laura Bush and are large and hearty enough to fill up even the hungriest of Texas cowboys.
Recipe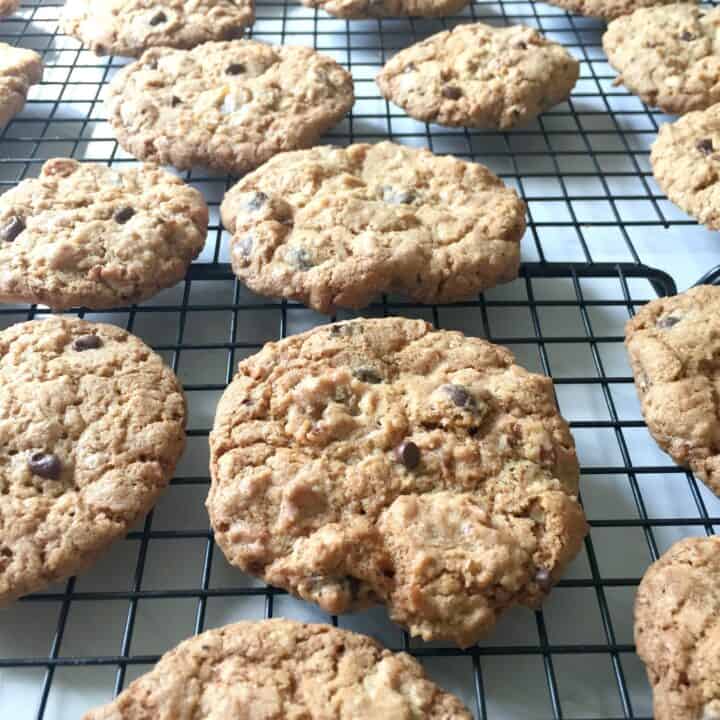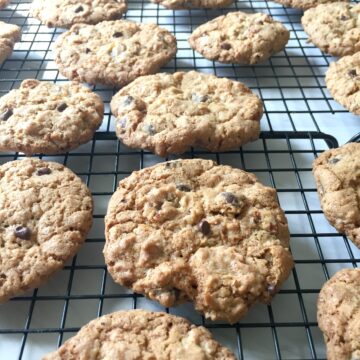 #FoodBloggers4TX: Governor's Mansion Cookies
Governor's Mansion Cookies were created by former first lady Laura Bush and are hearty enough to fill up even the hungriest of Texas cowboys as they're chock full of oats, chocolate chips, pecans and shredded coconut.
Ingredients
1 ½

cups

all purpose flour

1 ½

teaspoon

baking soda

1 ½

teaspoon

baking powder

1 ½

teaspoon

cinnamon

½

teaspoon

salt

1 ½

sticks unsalted butter

softened

¾

cup

sugar

¾

cup

brown sugar

1

egg + 1 egg yolk

1

teaspoon

vanilla

1 ½

cup

old fashioned oats

1 ½

cups

chocolate chips

1

cup

pecans

chopped

1

cup

sweetened shredded coconut
Directions
1. Preheat the oven to 350. Line two large baking sheets with parchment paper or silpats.

2. In a medium bowl whisk together the flour, baking soda, baking powder, cinnamon and salt.

3. In the bowl of your stand mixer, beat the butter on medium speed until light and fluffy. Add in both sugars and mix until fully combined.

4. Add in the egg then egg yolk, waiting until each are incorporated then add in the vanilla. Slowly add in the flour until fully mixed.

5. Add old-fashioned oats, chocolate chips, chopped pecans and shredded coconut. You may need to mix some in by hand if the mixer is struggling.

6. Scoop ¼ cup portions of the dough and place on a cookie sheet 3 inches apart. Bake for 18-22 minutes or until lightly golden.

7. Allow to cool on the baking sheet for 2 minutes before transferring to a wire rack to continue cooking.
Recipes on Cookaholic Wife are for information purposes only. Nutritional Data provided has not been evaluated by a nutritionist.
When I was making these cookies I was a bit concerned that because they have so many ingredients that it would be too much and the flavors would overpower each other. I was very, very wrong. I rarely eat the baked goods that I make but I ended up having three of these. Tom had four and then I took 2 ½ dozen into work which disappeared in a few hours. Everyone said how good they were. It's the perfect amount of sweet, crunchy and buttery.
So thank you Laura Bush and Texas, for these wonderful cookies that a dozen or so Maryland residents got to enjoy. I've been thinking of y'all (I had to) and I hope you know we're all here to help however we can.
If you are interested in donating to help anyone affected by Hurricane Harvey, here are a few charities:
Houston Food Bank - http://www.houstonfoodbank.org
Salvation Army - Houston - http://salvationarmyhouston.org
Samaritan's Purse - https://www.samaritanspurse.org/disaster/hurricane-harvey/
Houston Humane Society - http://www.houstonhumane.org
Stay Strong Texas. We 💗 you!