Can you believe it is February already? 2017 is going by rather quickly. On one hand I'm thrilled because it means we're that much closer to my cruise and then I'm also bummed because it means we're that much closer to my cruise being over with. #firstworldproblems
Anyway, it's time for #FoodieExtravaganza! This month is being hosted by Wendy of A Day in the Life on the Farm and the theme for February is heart-healthy fiber-rich foods. I debated on going savory and making a dish that uses beans or lentils but in the end, my sweet tooth won out and I decided to combine apples and oats into a breakfast bake.
Although, it could easily be topped with a scoop of vanilla ice cream and served for dessert if you'd rather go that route!
Recipe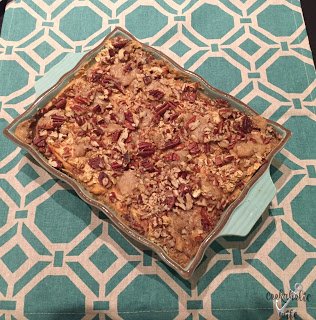 #FoodieExtravaganza: Apple Oatmeal Breakfast Bake
Apples and oatmeal make up these delicious breakfast bake that you can prepare on the weekend and enjoy throughout the week.
Ingredients
Granny Smith apples

peeled, cored and thinly sliced

1 ½

cups

brown sugar

divided

¼

cup

granulated sugar

1

tablespoon

cinnamon

½

teaspoon

nutmeg

½

teaspoon

cardamom

2

tablespoon

all-purpose flour

2

tablespoon

unsalted butter

softened

2

cups

old-fashioned oats

2

teaspoon

baking powder

1

teaspoon

salt

1

cup

milk

or non-dairy milk

1

egg

1

teaspoon

vanilla extract

⅓

cup

toasted pecans

chopped
Directions
1. Preheat the oven to 350. Spray a 9x6 baking dish with cooking spray.

2. Toss the apple slices in a bowl with ½ cup of brown sugar, granulated sugar, cinnamon, nutmeg and cardamom. Set aside.

3. In a small bowl mix together 3 tablespoons of the brown sugar with the all-purpose flour and butter with a fork. Set aside.

4. In a medium bowl, combine the remaining brown sugar with the oats, baking powder and salt. Pour the milk into a cup and whisk in the egg and vanilla. Pour over the oat mixture and stir until combined.

5. Arrange a layer (approximately ¼ of the apples) of apples on the bottom of the prepared baking dish and top with ¼ of the oatmeal mixture. Repeat, finishing with the oatmeal layer.

6. Drop dollops of the brown sugar-flour-butter mixture on top and then sprinkle the chopped pecans on top.

7. Bake for 35-45 minutes or until golden brown and the top layer is crispy. Allow to cool in the pan for 5-10 minutes before serving.
Recipes on Cookaholic Wife are for information purposes only. Nutritional Data provided has not been evaluated by a nutritionist.
I'm not a huge fan of baked oatmeals because I think they can tend to get mushy, which is why I didn't use very much liquid in this dish, knowing that the apples would provide a decent amount on their own. I managed to hit the mark as this is soft, but not mushy and the top studded with brown sugar crumbles and chopped pecans provides enough crunch if even soft oatmeal isn't your thing.
Check out what everyone else made!