Funfetti Cinnamon Rolls are a quick, small batch of cinnamon rolls dressed up with sprinkles; perfect for holidays, birthdays or any breakfast or brunch you want to make special.
So, how was your Easter? We decided to celebrate on Saturday (since I don't get off on Monday and typically need a day to recover after hosting holidays and events) and decided to play up being from Maryland. For weeks now, my aunt, mom and I have been talking about wanting steamed crabs so we decided to get them for Easter. They were incredible! And I believe that's going to become a new tradition.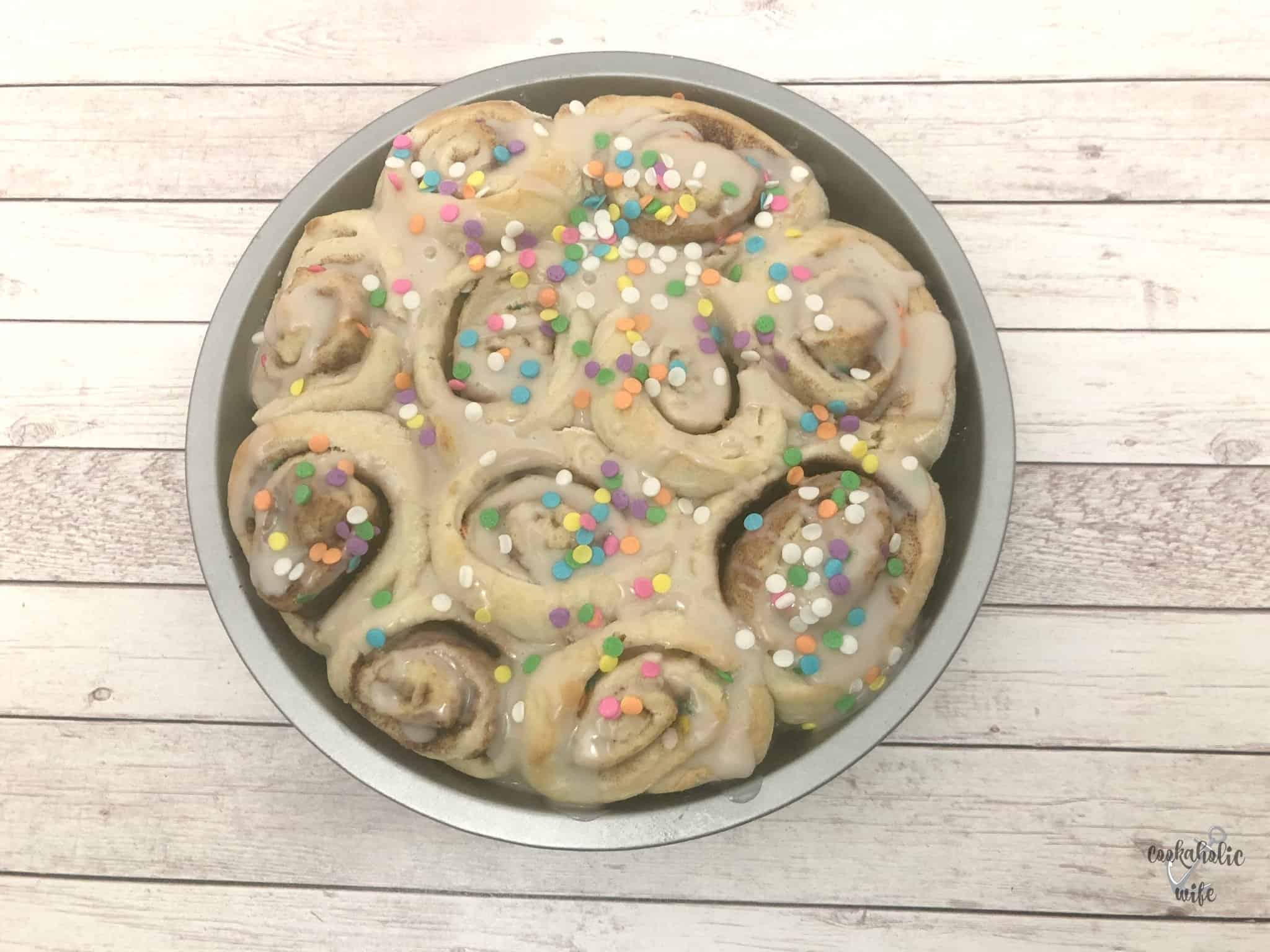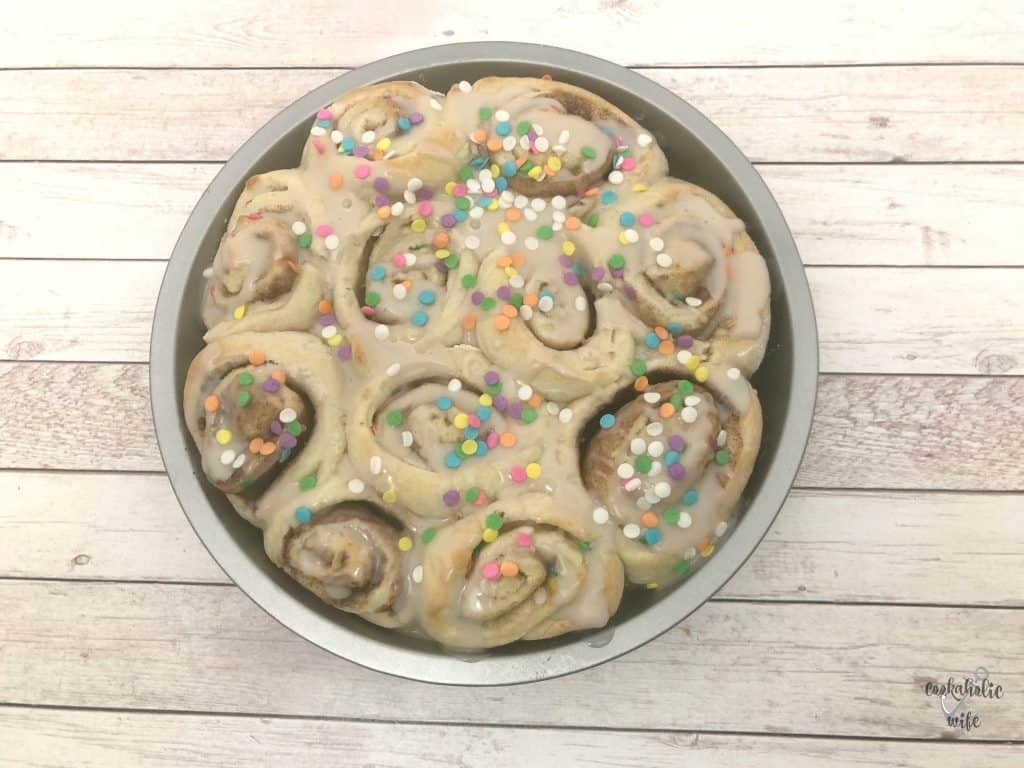 But enough about steamed crabs. I'm here to talk about brunch this week. There are a ton of amazing recipes coming your way and I hope you'll check out what everyone else has made as well.
These cinnamon rolls are so easy to make that I don't even know why you would by a can of them from the refrigerated section anymore. Seriously, you can prep the dough in about the time it takes to preheat your oven and then it's only a few minutes more of resting time before these are going in the oven! Then there's the fact that you can change up the filling to be whatever you want.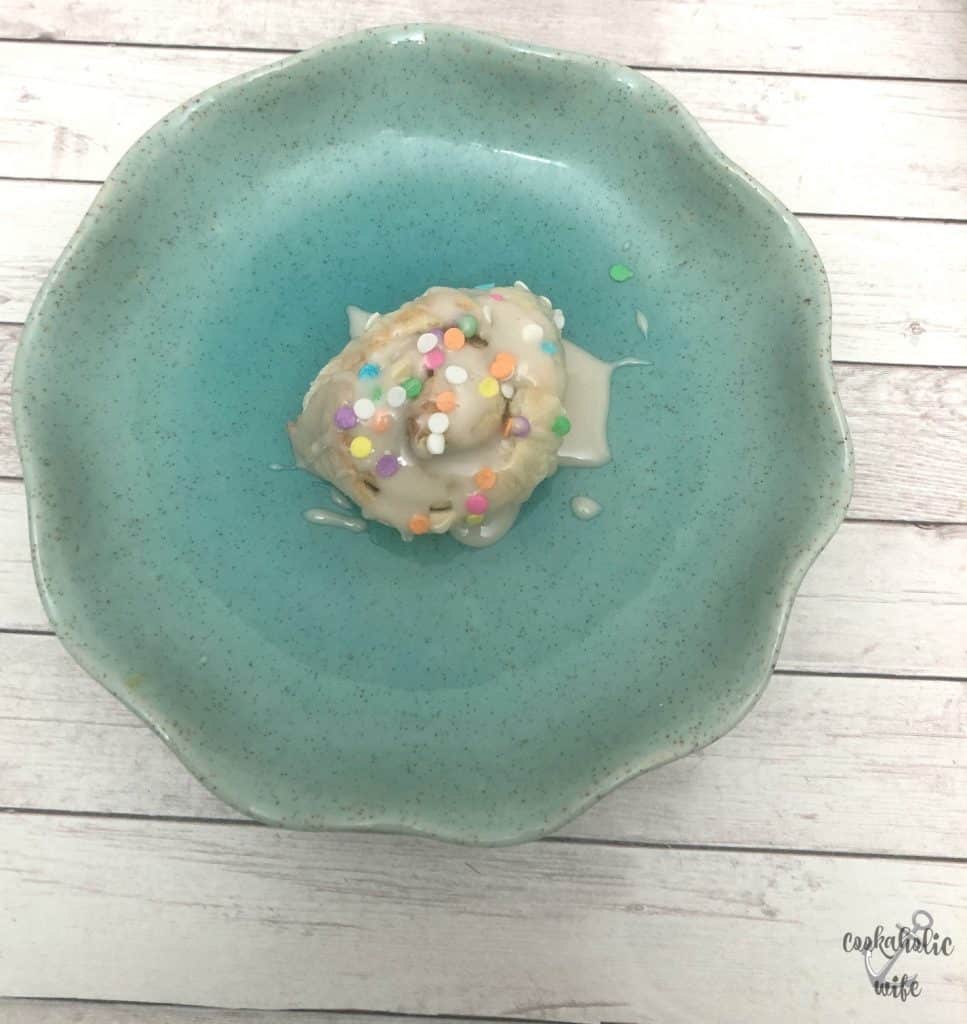 Cinnamon Roll Filling Ideas:
classic cinnamon sugar

apples and cinnamon

berries (strawberries, blackberries, raspberries)

nuts (almonds, walnuts, cashews)

peaches, pumpkin, banana
You can also change up the glaze options as well.
Cinnamon Roll Glaze Ideas:
cream cheese

vanilla

lemon
There are tons of other flavor combinations out there. Are there any different ones you have tried? Let me know in the comments!
I decided to stick with the classic cinnamon/sugar filling for these cinnamon rolls and simply let the Confetti Pastel Sprinkles from Sweets & Treats be what made them extra special. If you wanted to surprise someone for their birthday these would be adorable! As would simply making them just because.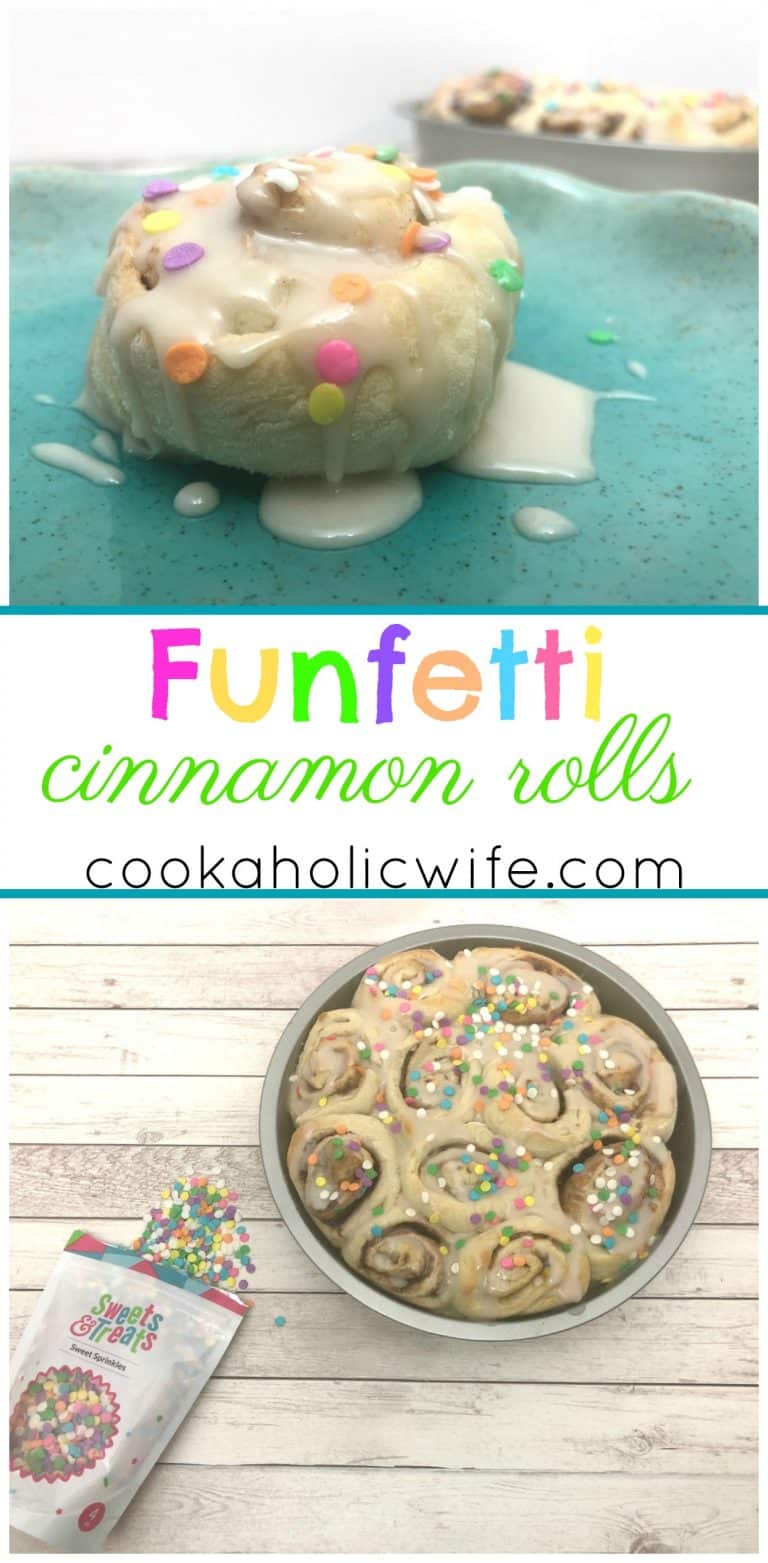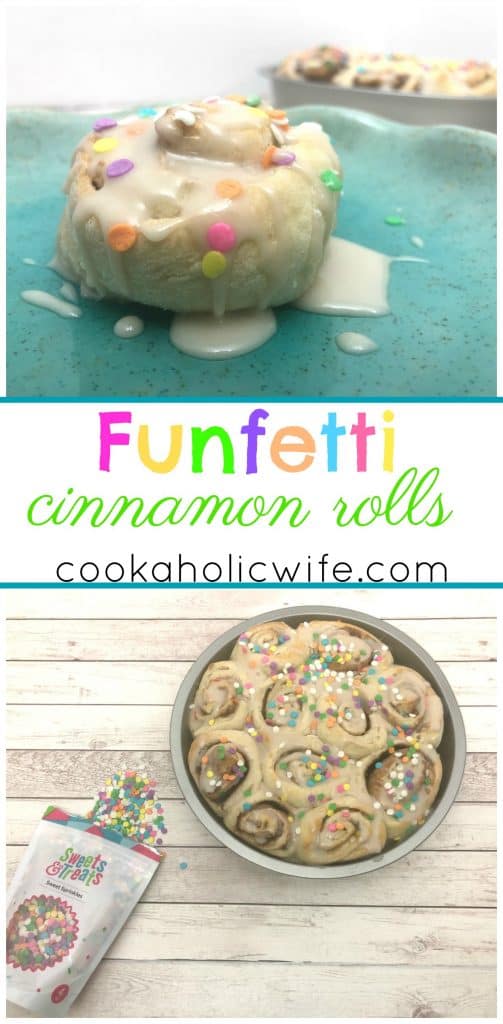 Recipe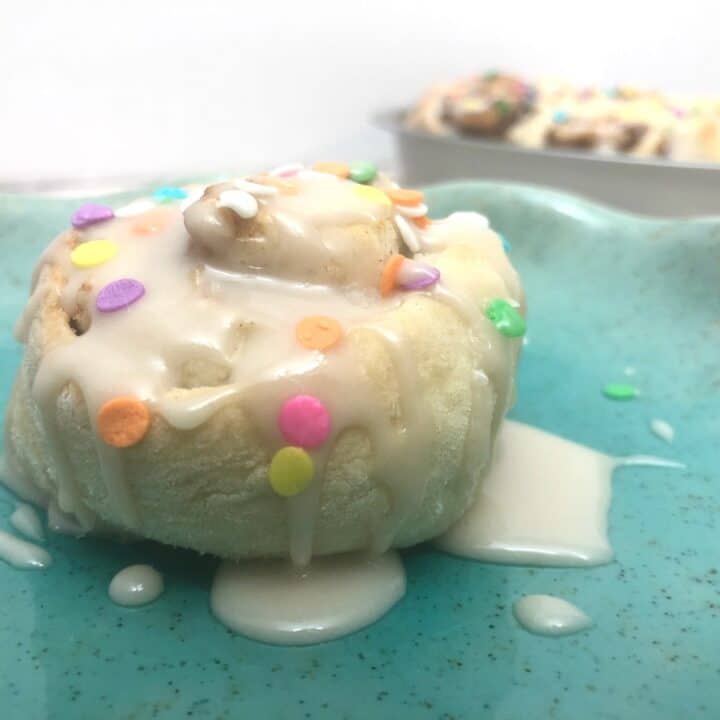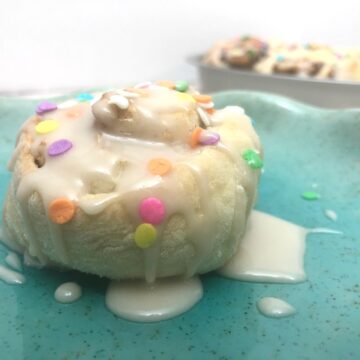 Funfetti Cinnamon Rolls
Funfetti Cinnamon Rolls
are a quick, small batch of cinnamon rolls dressed up with sprinkles; perfect for holidays, birthdays or any breakfast or brunch you want to make special.
Ingredients
For the Rolls:
1

cup

warm water

110 degrees

1

packet dry active yeast

2

tablespoon

sugar

1

teaspoon

salt

6

tablespoon

unsalted butter

softened

3

cups

all-purpose flour
For the Glaze:
1

cup

powdered sugar

2-3

tablespoon

milk

additional Confetti Pastel sprinkles
Directions
Preheat the oven to 400 degrees.

Cut out a parchment circle to fit inside an 8 inch cake pan. Spray with baking spray.

In the bowl of your stand mixer sprinkle the yeast and sugar on top of the water. Let stand for 10-15 minutes.

Add the salt, butter and flour to the bowl of your stand mixer and mix until a soft dough forms.

Roll out the dough on a lightly floured surface into a 9x11 rectangle.

Spread softened butter from edge to edge of the dough. Mix together cinnamon and sugar and sprinkle evenly over the dough, leaving a ½ inch border on all sides. Add sprinkles.

Roll up lengthwise tightly into a log. Cut off either end and then cut the remainder into 12 evenly sized rolls.

Place the rolls into the prepared cake pan. Let dough rest for 10 minutes.

Bake for 15-18 minutes or until lightly golden.

Meanwhile, whisk powdered sugar and milk together until it forms a thick but pourable glaze.

Remove cinnamon rolls from the oven and let cool slightly.

Pour the glaze on top and decorate with additional sprinkles. Serve immediately.
Recipes on Cookaholic Wife are for information purposes only. Nutritional Data provided has not been evaluated by a nutritionist.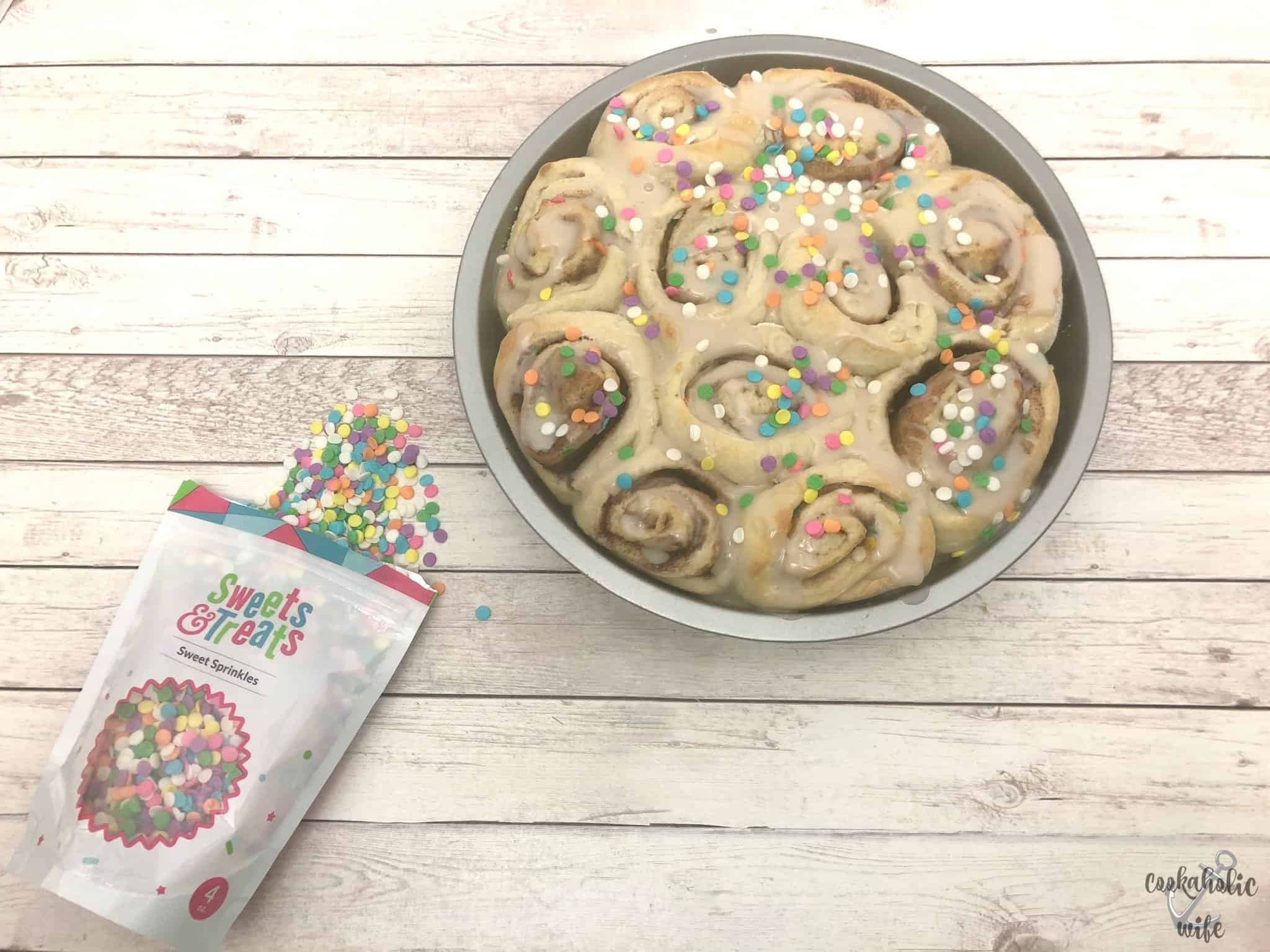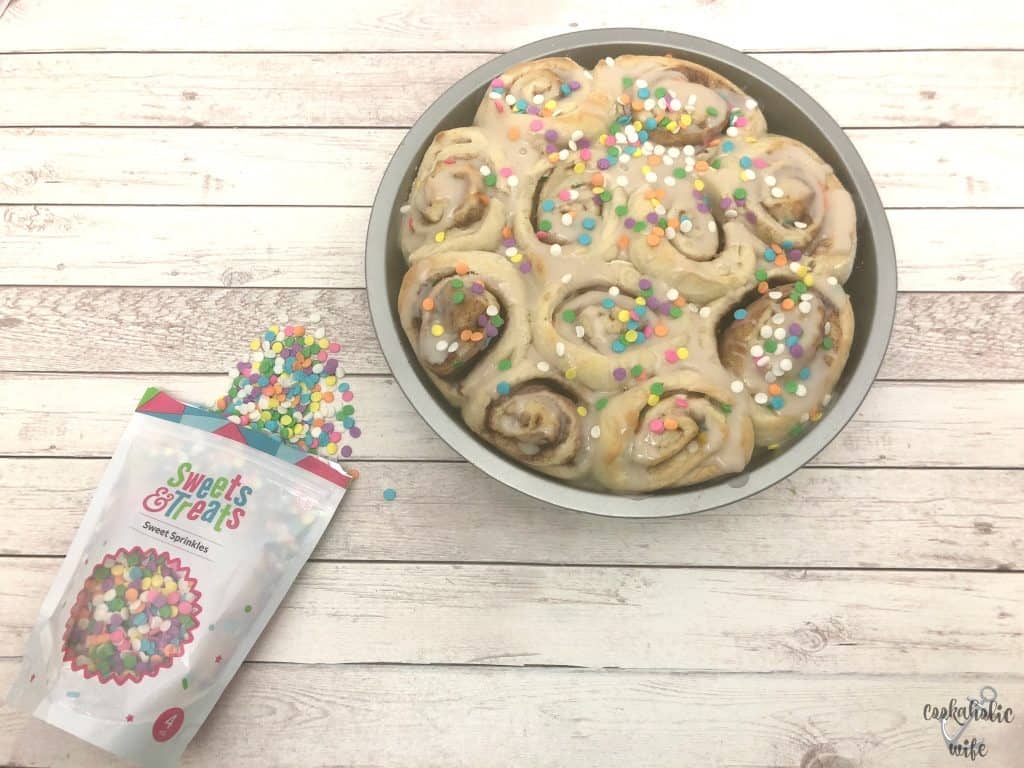 Sweets & Treats has a huge variety of sprinkles (as well as other supplies) on their website so you could make holiday themed cinnamon rolls, pick the favorite color of whoever you are making them for, or anything that you desire. In addition to sprinkles, they also offer cupcake liners, paper straws, piping tips and basically anything you need for a fun, colorful baked good. Check out their site or social media:
Facebook | Twitter | Pinterest | Instagram |
My coworkers will devour any cinnamon rolls that I bring in, no questions asked but I wondered for a second if the smattering of brightly colored confetti sprinkles would turn them off at all. Yeah, I should have known better. There is no such thing. They didn't even bother to ask me why I added sprinkles, they just devoured them.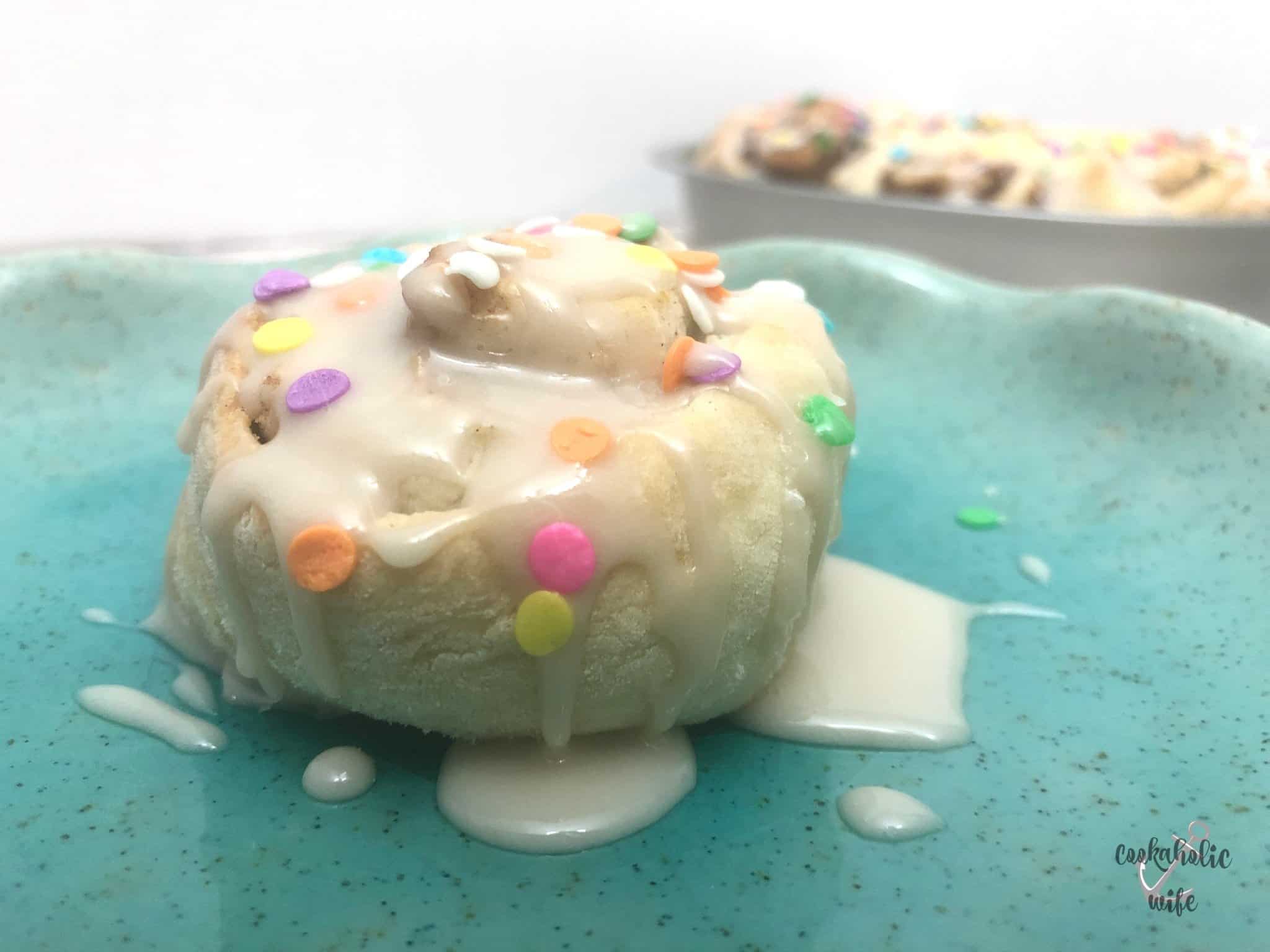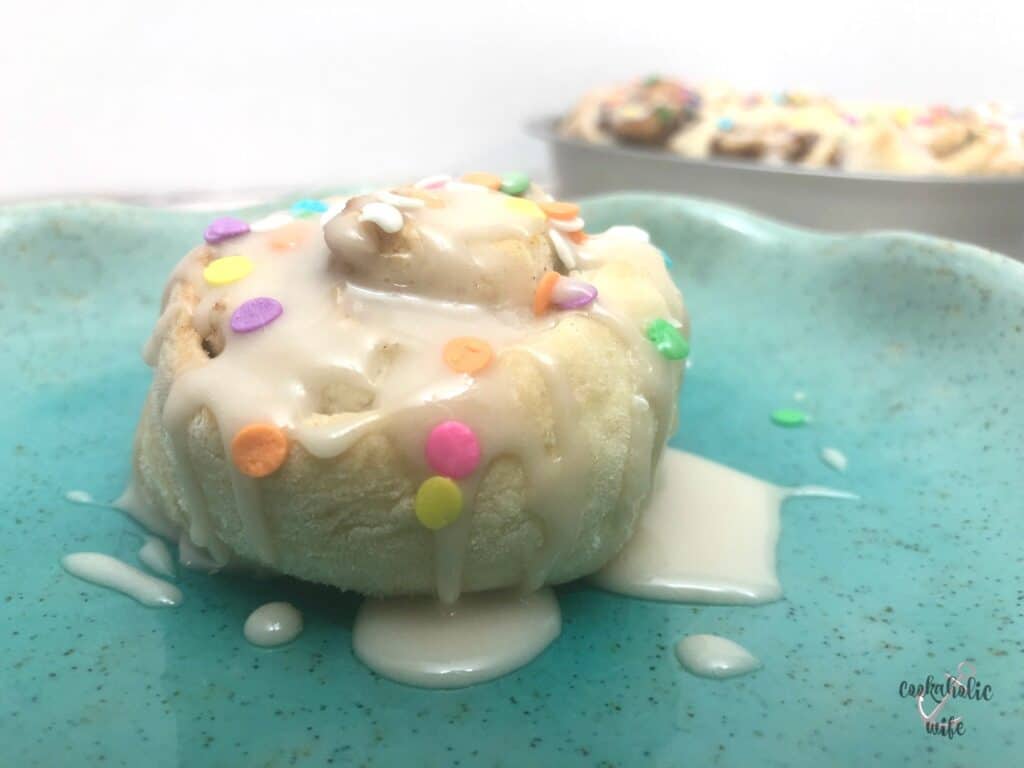 T