I've always loved pretzels. Soft pretzels or hard pretzels, it doesn't matter. I love them both just the same. I am, however, a bit particular on my brand of pretzels for the hard variety. I only like Utz. Utz is located in Hanover, PA and they only distribute to a few states. Which means I'll never be able to move too far north, south or west. Well, considering you can order online, I guess I could, but that's beside the point.
As for soft pretzels, I'm not nearly as picky. I just prefer them to have a reasonable amount of salt and not be so chewy that you can tell they were previously frozen.
There seem to be trends of foods going around in the blog world, no doubt caused by Pinterest and soft pretzels was recently one of them. (I rarely ever get a chance to make and blog something while its still in its super popular phase, but I'm okay with that.)
Recipe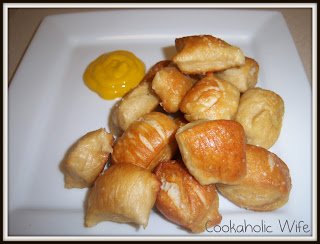 Soft Pretzel Bites
Ingredients
5 ¼

cups

all purpose flour

plus more for dusting

2 ½

tsp.

salt

1 ½

cups

warm water

6

tbsp.

unsalted butter

melted

2

tbsp.

brown sugar

1

envelope dry active yeast

not rapid rise

8-10

cups

water

¼

cup

baking soda

1

egg

beaten with 1 tbs. water

sea salt
Directions
1. In a medium bowl, combine 5 cups of flour and the salt.

2. In the bowl of your stand mixer with the dough hook attached, combine the water, butter, brown sugar and yeast. Stir and then let sit for 5 minutes.

3. Add the flour and salt to your stand mixer and mix on low speed until just combined, then increase to medium speed and continue mixing until the dough starts to pull away from the sides of the bowl.

4. Add the additional ¼ cup of flour. If dough is still sticky, add more flour. Lightly dust a work surface with flour and knead dough by hand for 5 minutes, shaping into a ball.

5. Grease a large bowl with oil. Place the dough in the bowl and toss to coat. Cover with plastic wrap and let sit in a warm area until the dough has doubled in size, about 1 hour.

6. Preheat the oven to 425. Line a baking sheet with parchment paper or a silpat.

7. Divide the dough into 8 equally sized portions. Roll each portion into a rope about 1 ½ inches thick. Cover the remaining dough while working. *You can also freeze the dough at this point. I frozen half.*

8. Cut each dough rope into approximately 1" pieces and place on the baking sheet.

9. Add the water to a large stock pot and bring to a boil. Carefully add the baking soda (it will foam up). Whisk together the egg and water and set aside.

10. Drop 10-15 dough pieces into the water at a time, turning over once and cooking for 30-45 seconds each. Use a slotted spoon to remove the dough pieces and place back onto the prepared baking sheet. Repeat until all pieces have been cooked.

11. Spread out the pretzel bites and brush with egg wash. Sprinkle with the sea salt and bake for 15 minutes or until golden brown. Cool on a wire rack.

12. Serve with mustard, cheese or other dipping sauces.
Recipes on Cookaholic Wife are for information purposes only. Nutritional Data provided has not been evaluated by a nutritionist.
These soft pretzel bites are delicious! Tom repeatedly asked me where I found the recipe and what I did differently because they tasted just so...pretzel-y. I honestly don't have a clue but I'm not complaining and I'm definitely glad there is another half batch of dough in the freezer just waiting for me to make!