Is there anything better than the smell of freshly baked bread? Probably not. I haven't made bread in ages and the thought of a honey oatmeal bread sounded perfect for a chilly day.
Have you ever drizzled honey on bread? I tried this for the first time, thinking a bread made with honey might taste good with more honey.
Might taste good. 
Legit LOL. No, like really. After I got over how freaking incredible it is to drizzle honey on bread, I started laughing. Because how had I never thought of this before? And why was this not a thing? Or was it and I'm just the last to know?
Either way, get yourself a slice of this bread and drizzle some honey on it and tell me if you're a fan or if your life changes. Or, you know, you just think it's delicious. But if you're not a fan of honey, I have it on good authority that this is just as good with a generous smear of apple butter or your favorite jam/jelly.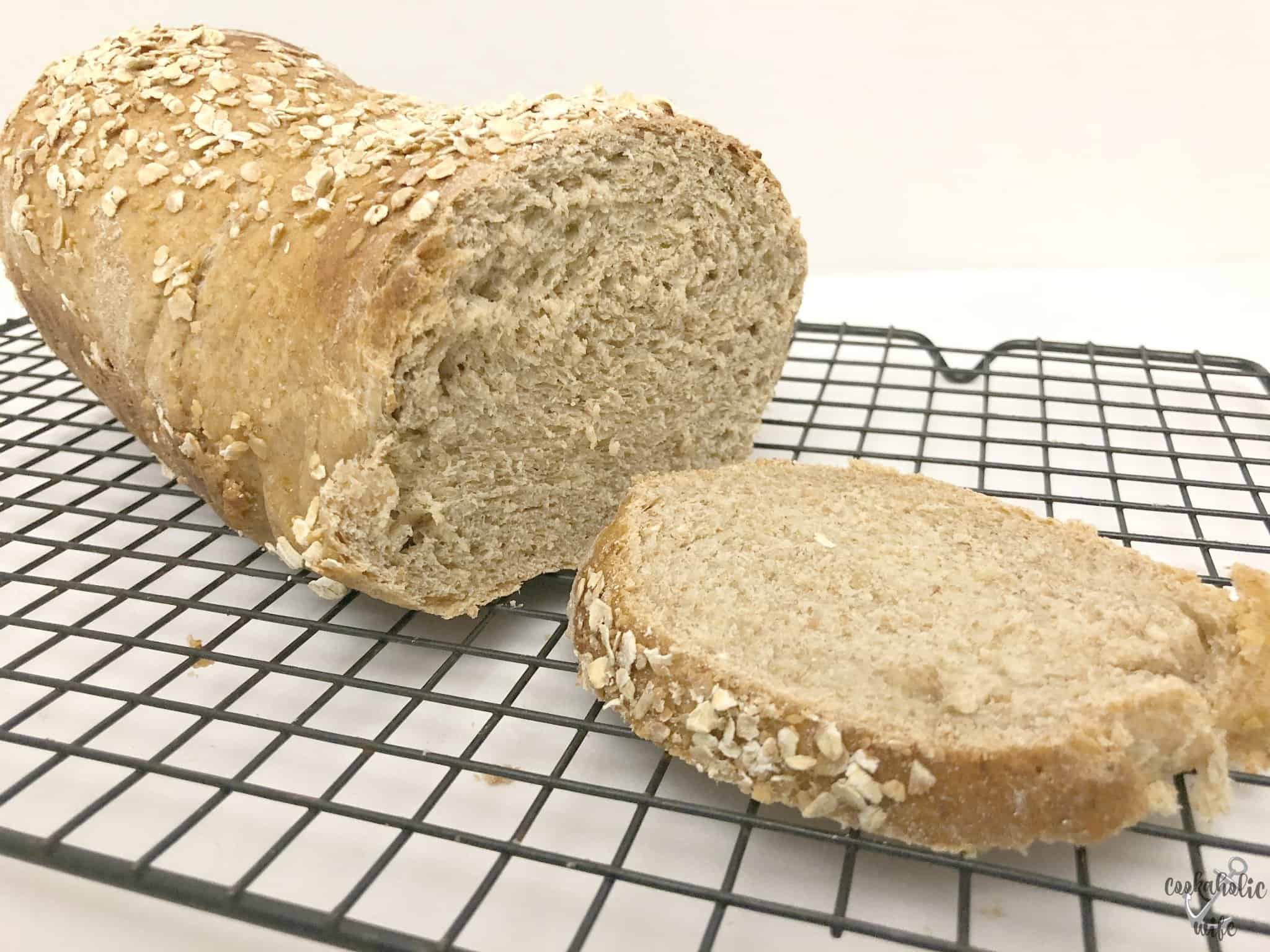 So the ingredients for this month's Improv Cooking Challenge were honey and oatmeal, hence the creation of this bread.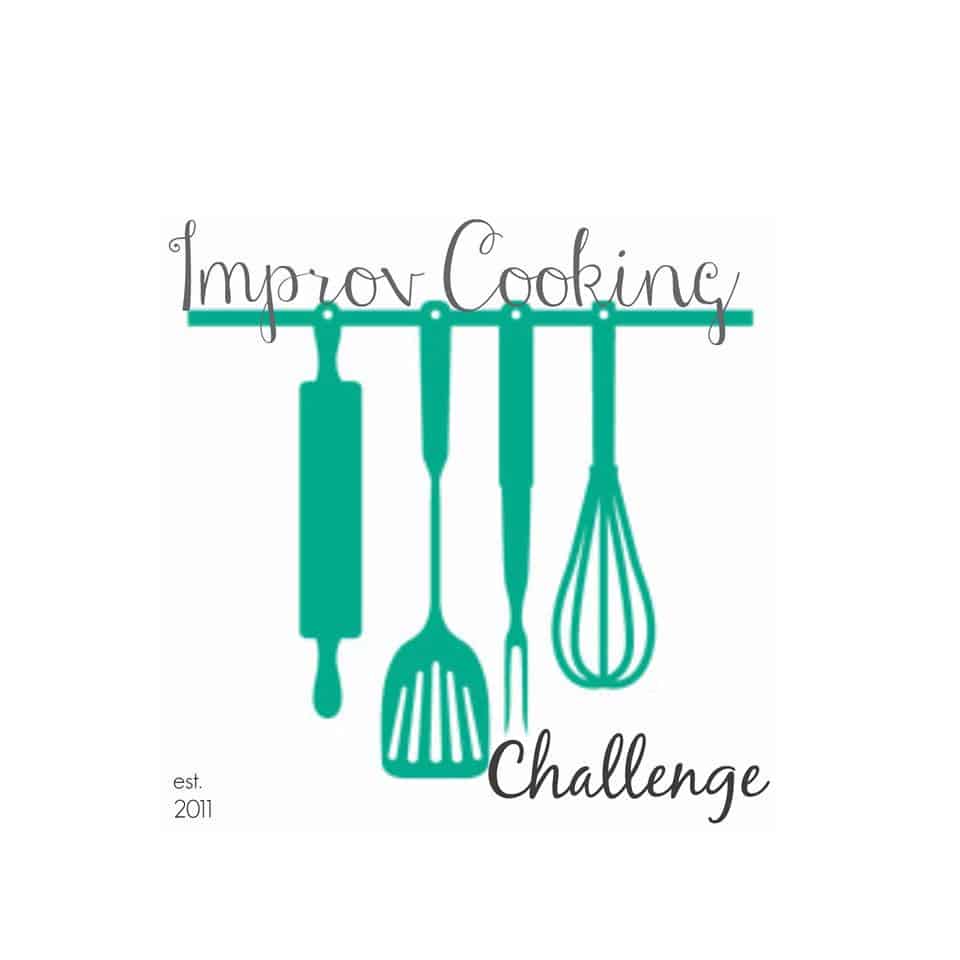 The Improv Cooking Challenge is a monthly blogging event where two ingredients are assigned and bloggers can make any recipe they like as long as it includes those ingredients. If you're a blogger and would like to join us, please visit our Facebook page, or if you'd like to see previous recipes we've made, please visit our Pinterest page.
Recipe
Honey Oatmeal Bread
Slightly chewy and sweet, Honey Oatmeal Bread is easy to make and tastes delicious with a drizzle of honey.
Ingredients
For the Bread:
1

cup

whole milk

¼

cup

water

¼

cup

honey

2

tablespoon

unsalted butter

softened

1

packet instant

rapid rise yeast

1 ½

teaspoon

salt

¾

cup

rolled oats

1 ½

cups

all-purpose flour

1 ½

cups

whole wheat flour

½

teaspoon

oil
Topping:
3

tablespoon

honey

⅛ - ¼

cup

rolled oats
Directions
Combine milk and water in a small saucepan and heat to 110 degrees.

In the bowl of a stand mixer, add the honey, butter, yeast and salt and oats. Pour the milk and water into the stand mixer and let stand for 5 minutes.

Add in the all-purpose flour and whole wheat flour and mix on low speed until just combined, then switch to a dough hook and mix on medium speed for 7-10 minutes or until the dough is smooth and elastic.

Add oil to a large bowl and smear with a paper towel to coat. Turn out the dough into the bowl, turn over to cover in oil, then cover the bowl with a kitchen towel or plastic wrap and place in a warm location until the dough doubles in size, about 1 hour.

Place a piece of parchment into a loaf pan, leaving excess on the edges to easily remove.

Lightly flour a workspace and turn out the dough. Roll into a 9×13 rectangle and place into the prepared loaf pan, tucking the ends under. Cover and let rest for 45 minutes.

Once rested, preheat the oven to 350 degrees.

Add the topping honey to a microwave safe dish and microwave for 30 seconds or until just able to be easily drizzled.

Drizzle the honey on top of the dough and sprinkle the rolled oats on top.

Bake for 45-50 minutes or until lightly golden.

Remove from the oven and place loaf pan on a wire rack. Let cool for 15 minutes, then remove bread from the loaf pan and continue cooling on the wire rack.
Recipes on Cookaholic Wife are for information purposes only. Nutritional Data provided has not been evaluated by a nutritionist.
Not wanting to just bring a loaf of homemade bread into work, I opted to make my crock pot apple butter as I had a bunch of apples this week.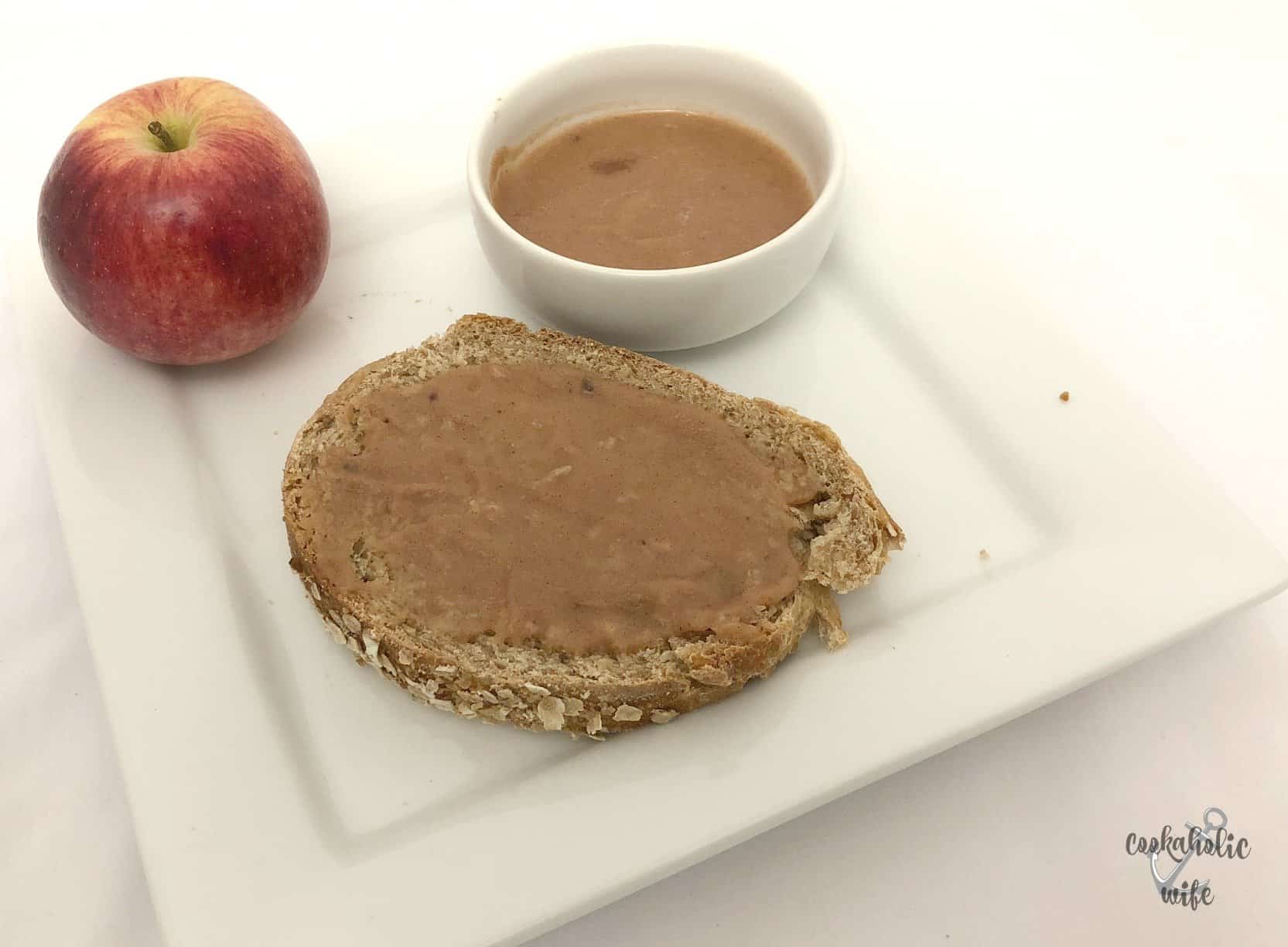 It's kind of hard to see from the pictures, but when I tucked the ends of the dough under each other, it created a bit of a "j" shape to the loaf, which is why it's indented in the center. You can avoid this by making sure you get the ends tucked under entirely. Or, don't worry about it because it has no effect on the bread overall. 🤷
And one last thing, the Improv Cooking Challenge is no longer using Inlinkz to share our recipes. Instead we'll have direct links within each our of posts to the other participants. Check out what they all made!