It's been an interesting couple of days for the east coast. Mineral, Virginia experienced a 5.8 magnitude earthquake which was felt from North Carolina to New York. We definitely felt it here and it took a few minutes for us to realize exactly what it was. It's not like Maryland is known for their earthquakes or anything.
And this weekend, Hurricane Irene is coming up the east coast and heading right for the New Jersey beaches and New York City. Tom and I have quite a bit of family who live by the Maryland and Delaware beaches. I gotta say it was quite scary when Ocean City, MD did a mandatory evacuation. I've lived in Maryland all of my life and I don't remember this happening before.
Right now Irene is slowing down to a category 1 storm before she beats up my favorite beach towns, but that still isn't very comforting to me. Back in 2003 there was Isabel, which didn't come nearly as close as Irene is planning and she still caused a ton of damage. I remember driving to my high school the day after the storm and all of the homes surrounding it were flooded. The water came all the way up to the intersection past the high school, at least a mile in. Annapolis, the Inner Harbor, and Fells Point flooded as well.
I honestly don't know whats going to happen with this storm but I'm not looking forward to it. We're not located too close to the water but we're pretty prone to power outages during thunderstorms so I'm not taking any chances. We have candles, flashlights, 3 cases of water and enough junk food to feed any army for a few days. Part of me thinks I'm crazy for even getting that much stuff, but since this is still a hurricane and all we experienced with Isabel was barely a tropical storm, I'm not taking this lightly.
So, what better to do when you think the power might go out for days? Make cookies!
Recipe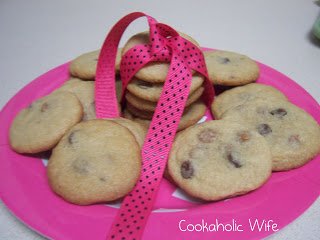 Hurricane Cookies: Peanut Butter Chocolate Chip
Peanut butter chip and chocolate chip cookies.
Ingredients
2

sticks unsalted butter

softened

¾

cup

sugar

¾

cup

light brown sugar

2

eggs

1

teaspoon

vanilla

2 ¼

cups

all-purpose flour

1

teaspoon

salt

1

teaspoon

baking soda

¾

bag Nestle Peanut Butter and Chocolate Chip morsels
Directions
1. In the bowl of your stand mixer using the paddle attachment, cream together the butter and sugars until smooth.

2. Add in the eggs one at a time and then the vanilla extract.

3. In a medium bowl, combine the flour, salt, and baking soda.

4. Slowly pour the flour mixture into the stand mixer until fully incorporated.

5. Sprinkle in the morsels until combined.

6. Refrigerate the dough for 20 minutes.

7. Preheat the oven to 375. Roll the dough into small balls and place on an ungreased baking sheet. Bake for 9-11 minutes.

8. Let cool on the cookie sheet for 2 minutes and then transfer to wire racks to continue cooling.
Recipes on Cookaholic Wife are for information purposes only. Nutritional Data provided has not been evaluated by a nutritionist.
So while I do feel a bit bad making light of a serious situation by making "hurricane" cookies, I hope everyone up the east coast stays safe and dry this weekend. And as someone who worked for a disaster restoration company, get the belongings you want to keep in rubber totes or up as high as you can get them. Good luck east coast!