It's apple season! I absolutely love baking with apples and have tons and tons of recipes to show for it, but that never means that I'm not looking for something new to make with them.
A couple of years ago I created a list of recipes I wanted to make before I turned 28. One thing that was on that list that never got made was challah bread. I don't find working with yeast all that intimidating but for some reason this bread just never got on my weekly menu to get made.
Until the other weekend. The ingredients for September's Improv Cooking Challenge are apple and honey. The Improv Cooking Challenge is a blogging event with two paired ingredients each month and bloggers can make anything they choose using those ingredients. If you're interested in joining us, read more about it here.
Recipe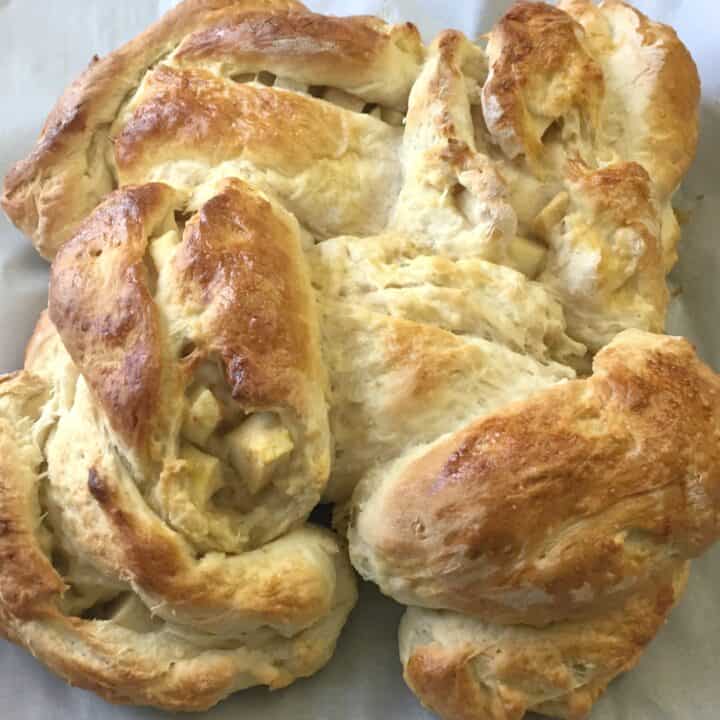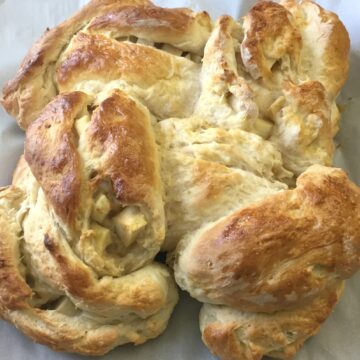 Improv Cooking Challenge: Apple Honey Challah Bread
Challah bread is flavored with fresh apples and local honey.
Ingredients
2

packets yeast

1 ½

cups

warm water

½

cup

sugar

6

cups

all purpose flour

divided

3

eggs

divided

2

medium apples

peeled and diced

3

tablespoon

honey
Directions
1. Add yeast, water and sugar to the bowl of your stand mixer. Once the yeast has started to bubble, use the paddle attachment to mix in two cups of flour and the salt.

2. Cover and let rise in a warm place for 1 hour or until it has doubled in size.

3. Using the dough hook attachment slowly mix in the remaining 4 cups of flour and 2 whole eggs. Mix on medium until the dough pulls away from the side of the bowl. Let rise for 1 more hour.

4. Turn out the dough on a lightly floured surface and knead it until it is smooth and elastic. Divide the dough into half and then divide each half into four pieces (8 pieces total).

5. Roll out each of the four balls into flat rectangles. Place half of the the diced apples down the center of each piece of dough. Drizzle honey on top of each.

6. Bring up both of the long ends of the dough over the apples and pinch to seal it closed.Take the roll on your far left and turn it lengthwise, tucking one of the ends under the right-middle piece of dough. Take the roll on your far right and turn it lengthwise tucking it under the roll closest to it and under the left-middle roll, creating a weaved square look. Twist each of the ends around each other and tuck under until the dough forms a circle-like shape.

7. Repeat steps 5 and 6 with the second set of 4 pieces of dough.

8. Preheat the oven to 350 degrees. Line a large baking sheet with parchment paper. Lightly beat the remaining egg.

9. Place each of the loaves on the parchment paper. Brush with the beaten egg. Bake for 25 minutes or until golden brown.
Recipes on Cookaholic Wife are for information purposes only. Nutritional Data provided has not been evaluated by a nutritionist.
I think I could have kneaded my dough a little longer because it didn't come out as smooth as challah bread is supposed to, but the taste was definitely spot on. The apples and honey add just a little bit of sweetness to this bread. I found that serving it with apple butter made my coworkers practically inhale it.