Individual Italian Easter Breads are adorable little twisted bread rings, baked with a dyed Easter egg in the center and coated with a sweet glaze and sprinkles.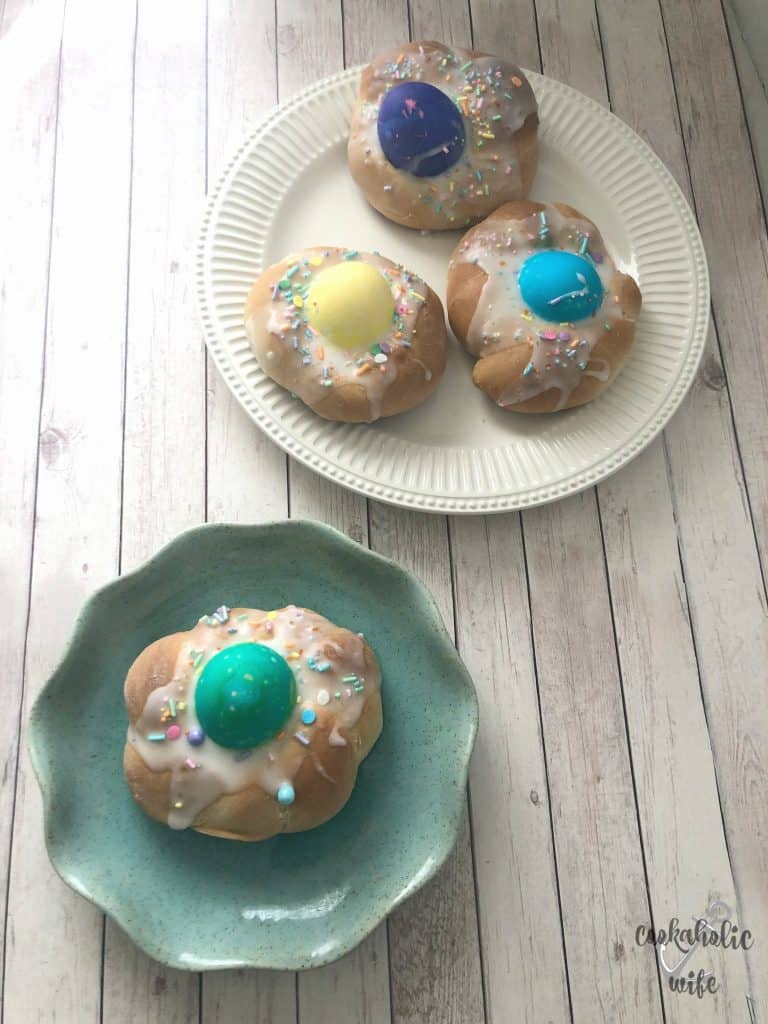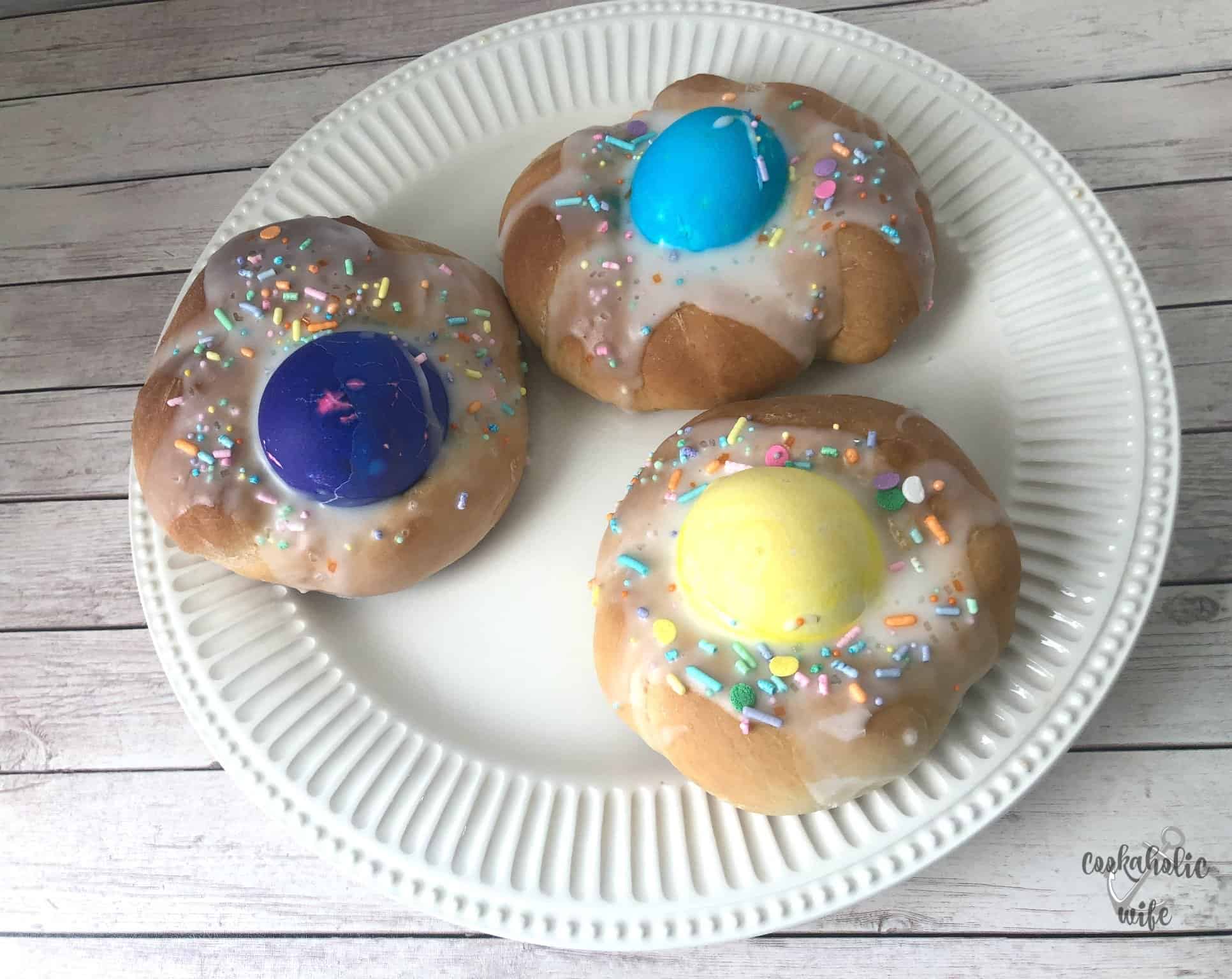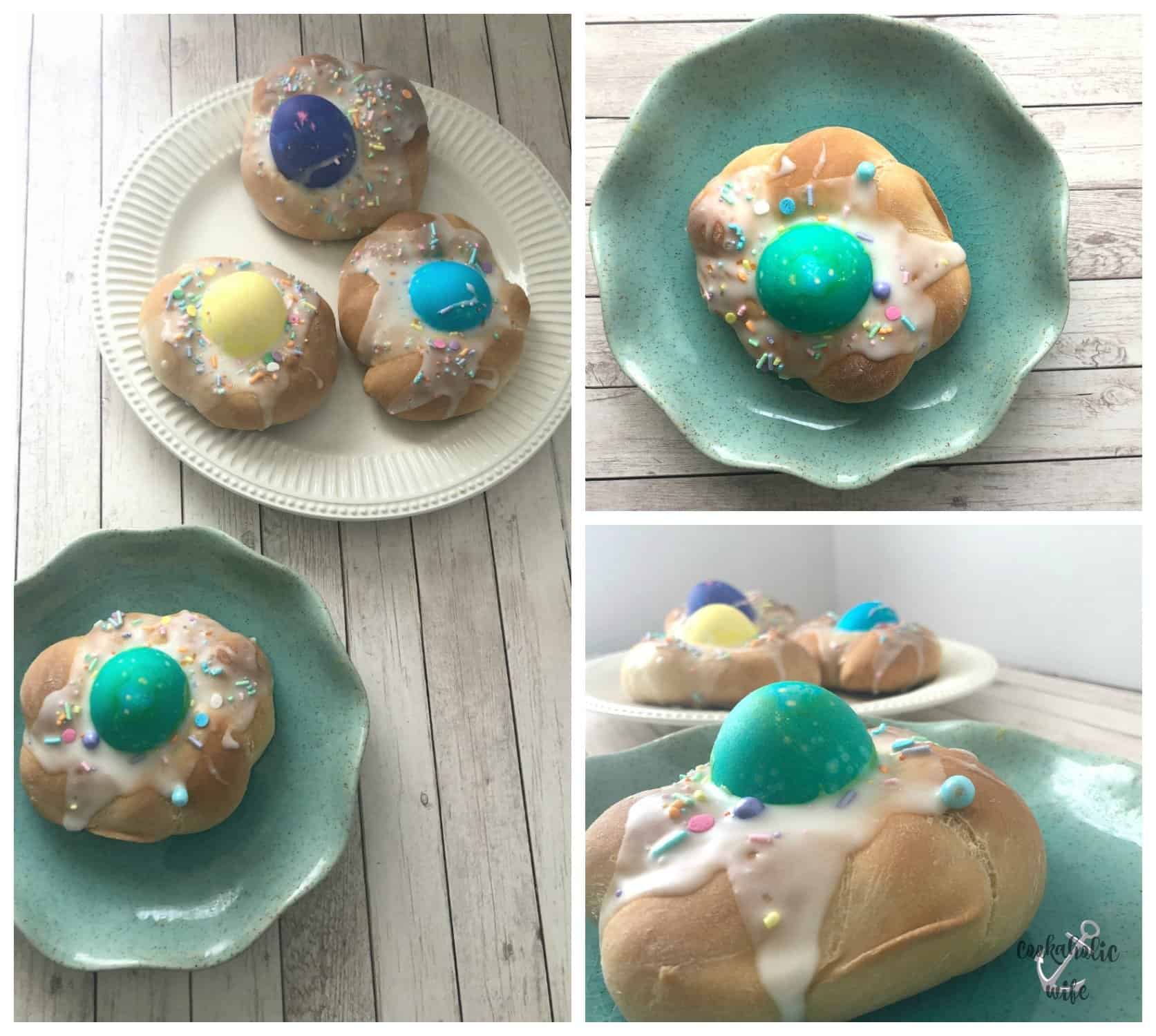 Tom's grandmother used to make this iconic Easter bread. It used something like 10 pounds of flour and practically required a kitchen trash can to mix all of the dough, but out came these beautiful, delicious loaves of bread. Now, she stopped making it before Tom and I got together, but we were able to get the recipe from her and try to recreate it. Except, his grandmother likes to leave things out. I personally think she sabotages the recipe just a little bit so no one will ever be able to make it as good as she does. Which cracks me up. Anyway, Tom has gotten pretty close and has plans to take over my entire kitchen soon and keep churning out more versions of the recipe to try.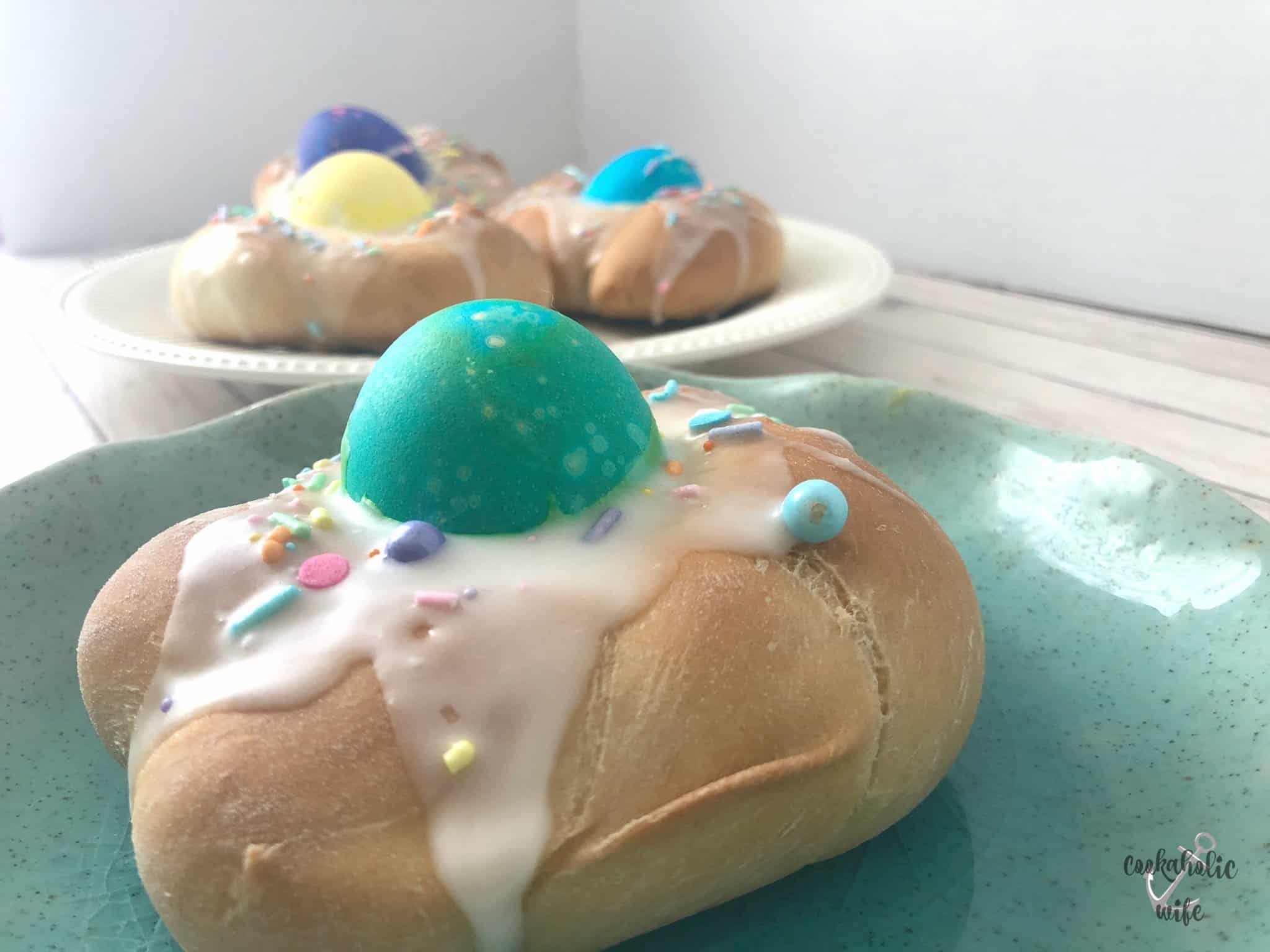 While he can have fun with that, I decided to make these adorably cute individual Italian Easter breads. I like my desserts coming in pre-portioned sizes and the sweet glaze and spring-colored sprinkles on top of these braided bread rings is just too adorable to pass up!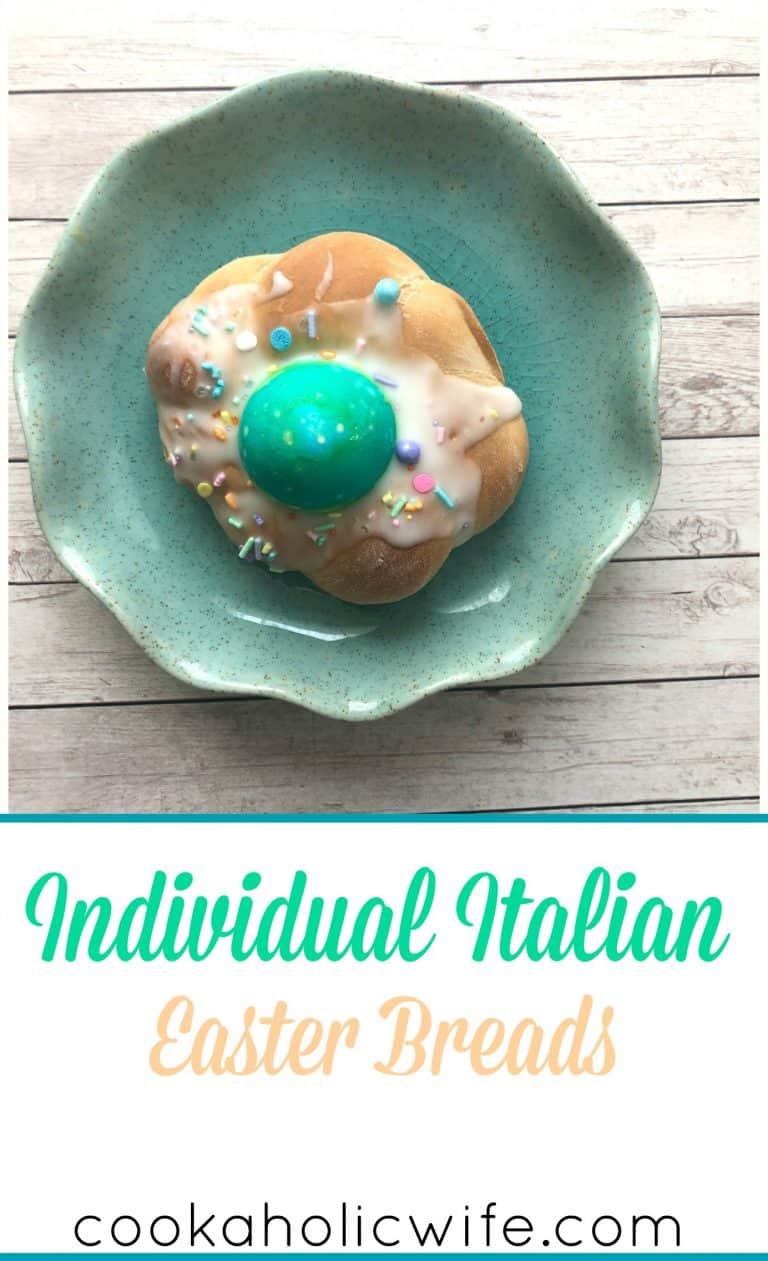 Recipe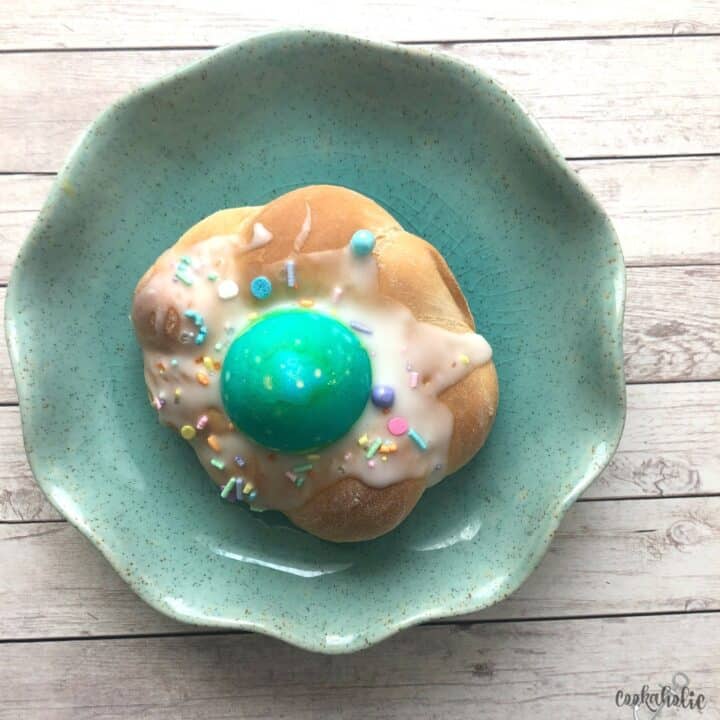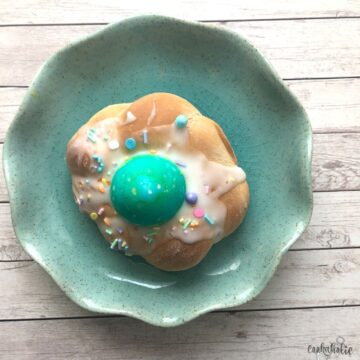 Individual Italian Easter Breads
Individual Italian Easter Breads are adorable little twisted bread rings, baked with a dyed Easter egg in the center and coated with a sweet glaze and sprinkles.
Ingredients
For the Bread:
3 - 3 ½

cups

all purpose flour

¼

cup

sugar + 1 pinch

such as Dixie Crystals

1

teaspoon

salt

⅔

cup

warm milk

110 degrees

1 ½

teaspoon

dry active yeast

2

tablespoon

butter

melted and cooled slightly

2

eggs

lightly beaten
For the Eggs:
6

raw eggs

1

package Easter egg dye
For the Glaze:
1

cup

powdered sugar

1 ½

tablespoon

milk

1

teaspoon

vanilla

sprinkles
Directions
For the Bread:
Combine 3 cups of flour, ¼ cup of sugar and salt together in the bowl of your stand mixer. Make a well in the center.

In a small bowl, sprinkle the yeast over the warm milk and add the pinch of sugar. Let sit for 5 minutes.

After the yeast is foamy, pour it into the center of the flour. Add the melted butter and beaten eggs. Attach the dough hook and mix on low speed until a soft dough forms. The dough should be tacky, but not sticky. Add additional flour if it is too sticky.

Turn out the dough onto a lightly floured surface and knead for 1-2 minutes more.

Grease a bowl and place the dough in it, turning it over once to coat. Cover with plastic wrap or a kitchen towel and allow to rise in a warm area until it doubles in size, about 1 hour. (When the bread is rising, prepare the dyed eggs)

Turn the dough out onto a lightly floured surface again. Divide the dough into 12 equal pieces.

Roll each piece out into a 8-10 inch long rope. Pinch the ends of two ropes together and twist over each other like, a braid, then twist the opposite ends together and pinch to seal. This will create a ring-like shape where the egg can sit in the center.

Place on a parchment lined baking sheet and repeat with the remaining dough until you have 6 of them.

Place the dyed eggs inside of each hole and allow to rise again for 1 hour.

Preheat the oven to 350 degrees. Bake for 22-25 minutes or until golden brown.

Remove from the oven and allow to cool on a wire rack.
For the Dyed Eggs:
Follow the directions on the dye package, mixing the tablets into the water and adding vinegar.

Carefully dip the eggs into the dye and let sit for 10-15 minutes each for a dark color.

Transfer the eggs to a drying rack to let dye dry completely.
For the Glaze:
In a medium bowl, whisk together the powdered sugar, milk and vanilla until it reaches drizzling consistency.

Drizzle the glaze over the bread and add sprinkles.
Recipes on Cookaholic Wife are for information purposes only. Nutritional Data provided has not been evaluated by a nutritionist.
I know that not hard-boiling the eggs before putting them in the dye can make people nervous, but you just need to very carefully lift the egg in and out of the dye and you won't have any problems. I'm not sure why mine ended up with a speckled and crackled effect on them; it wasn't something that I planned on. But I just love the character it adds to them!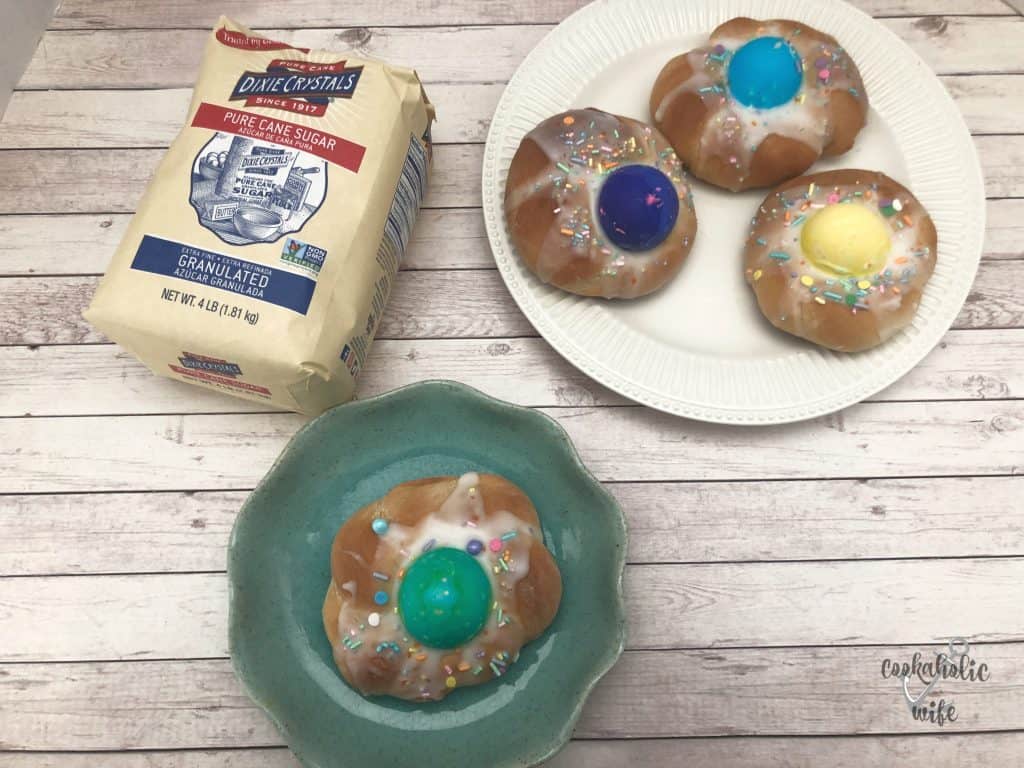 While this is a little time consuming, you'll want to make this recipe within 1-2 days of serving as the bread can tend to get a little dense if it sits longer than that.