New Orleans Oyster Dressing is a hearty dressing (stuffing) made with bread, cajun seasonings, veggies and oysters. It's a great savory side dish for Thanksgiving or Christmas. 
I've always been a classic stuffing kind of girl. Celery, onion, bread and seasonings is all I need to enjoy a heaping spoonful of stuffing on Thanksgiving. But it's common in the Northeast and south to add oysters to stuffing. Then it's usually called dressing. Regardless of what type of bread you use and what you put in it, stuffing (or dressing) is a must for any Thanksgiving table.
I made this New Orleans Oyster Dressing to go along with a Cajun Roasted Turkey Breast when we decided to have a mini New Orleans style Thanksgiving last weekend. We all thought it was pretty tasty! But my aunt, who I invited over to grab a plate of leftovers, absolutely loved it.
WHAT'S THE DIFFERENCE BETWEEN STUFFING AND DRESSING?
Stuffing (or dressing) is a classic American side dish on Thanksgiving. It's typically made from cut up pieces of bread mixed with cooked celery and onion. Seasonings usually include salt, pepper and sage. Sometimes thyme and rosemary are included. The mixture is soaked with a stock or broth and baked.
The difference between the two is mainly geographical. Those above the Mason Dixon line tend to refer to it as stuffing and those below refer to it as dressing.  Dressing is always baked in a baking dish. Stuffing can either be baked in a bird or outside of the bird.
My family is the abnormality to all of this. We're below the Mason Dixon line (barely, as it runs across the top of Maryland) but we call it stuffing. Even if we don't stuff it in a bird to bake it. Baking stuffing in a turkey grosses me out to no end, so you're never going to see that here on Cookaholic Wife. (In case you were curious)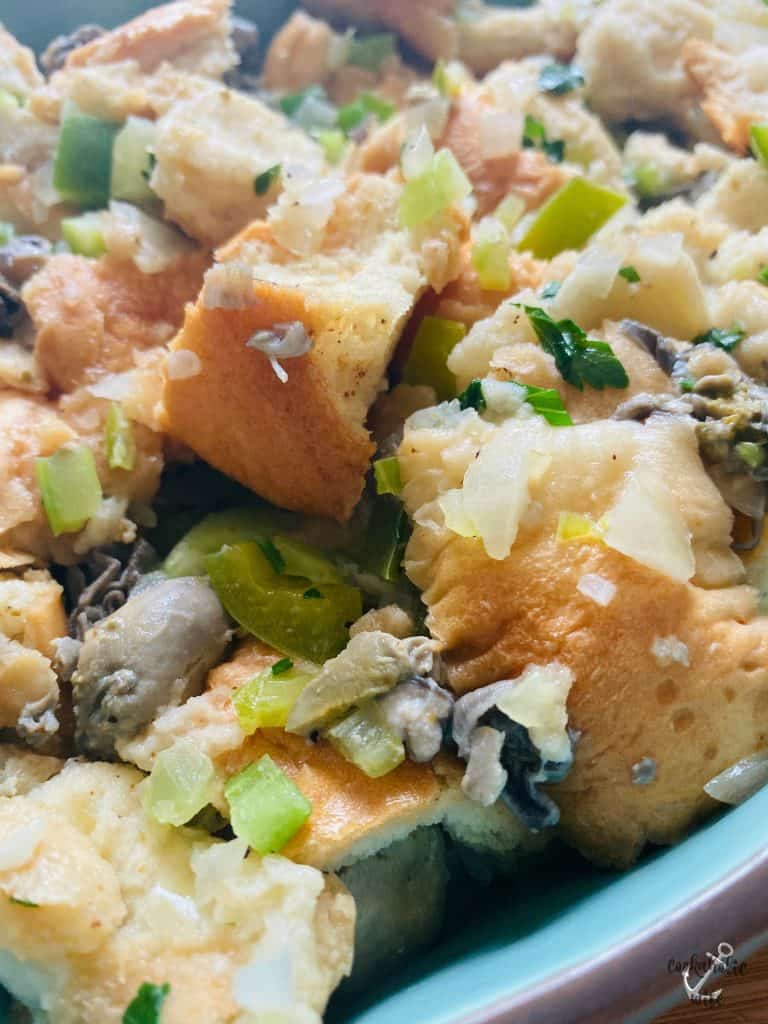 DO YOU NEED TO USE FRESH OYSTERS?
Oysters are generally available year-round. But in Maryland, we say that they are the best in months that end in an "R", meaning September through December. Since Thanksgiving falls in November, it's pretty easy to find fresh oysters if you're not in a land-locked state. That statement came back to bite me in the butt as I was buying ingredients for this recipe. The grocery store had fresh oysters but they needed to be shucked. Which I was not interested, nor did I have the time, to do. So, no, you don't need to use fresh oysters in this recipe. If you can find them, go for it! If not, the canned ones work as well.
CAN YOU FREEZE OYSTER DRESSING?
Yes! Like any good stuffing or dressing recipe, it can be made in advance and either kept in the fridge (4 days max!) or frozen for up to a month. My make-ahead celery and onion stuffing is a huge time saver for Thanksgiving. A week or two before the holiday I make it, as well as my cranberry sauce and freeze them.
To cook stuffing or dressing from frozen, let it thaw in the fridge for a day, then bake it as stated below.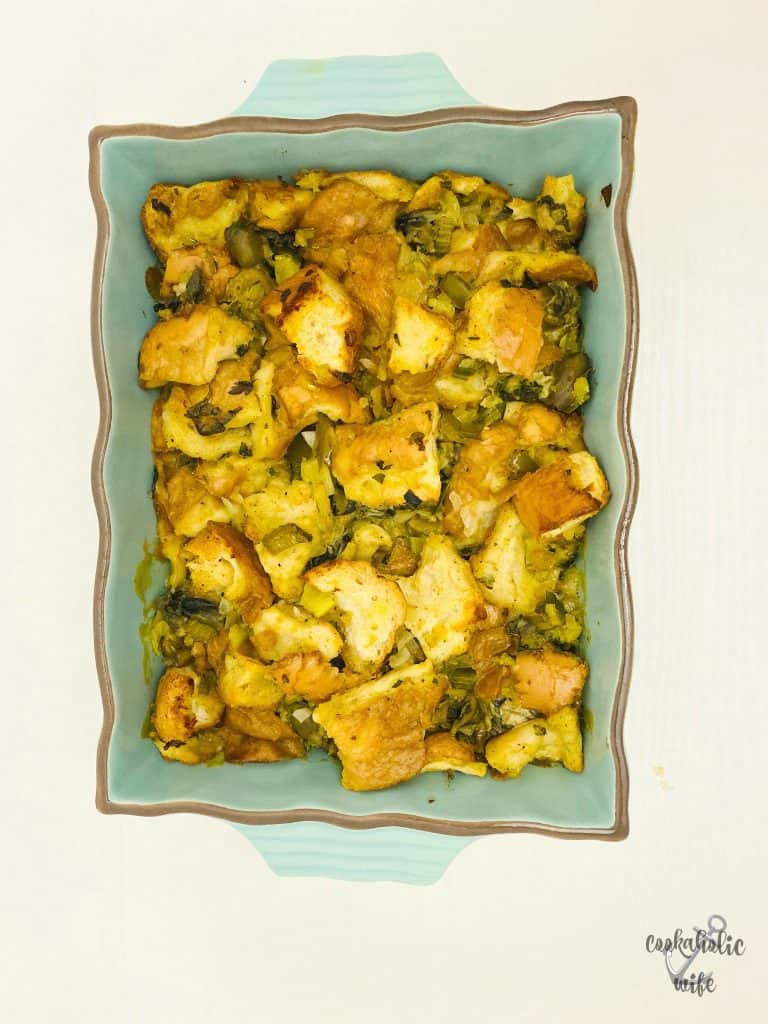 WHAT DOES OYSTER DRESSING TASTE LIKE?
The oysters add a slightly salty seafood flavor to the stuffing. Traditional stuffing can be plain unless you add a bunch of herbs to it for flavor. In this version, the oysters add the salt and amp up the flavor.
WHAT MAKES IT NEW ORLEANS STYLE OYSTER DRESSING?
The seasoning. This New Orleans Oyster Dressing is flavored with cajun seasoning as well as hot sauce. If you can't find cajun seasoning, or don't want to make your own, creole seasoning can usually be found in the spice aisle at the grocery store.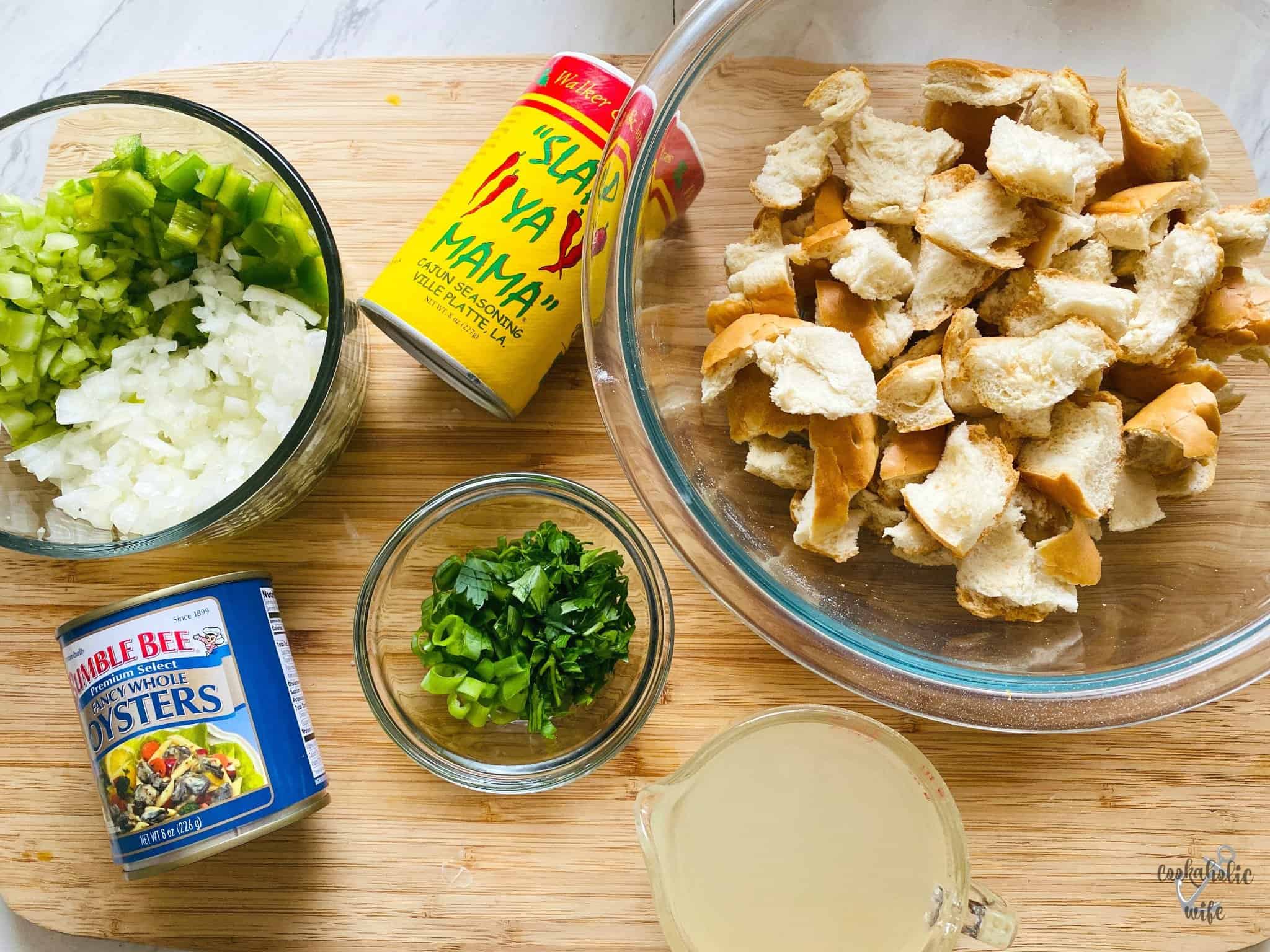 NEW ORLEANS OYSTER DRESSING INGREDIENTS
cubed bread, lightly toasted (or slightly stale)
butter
celery
onions
green pepper
oysters (fresh or canned), chopped
chicken broth
hot sauce
cajun seasoning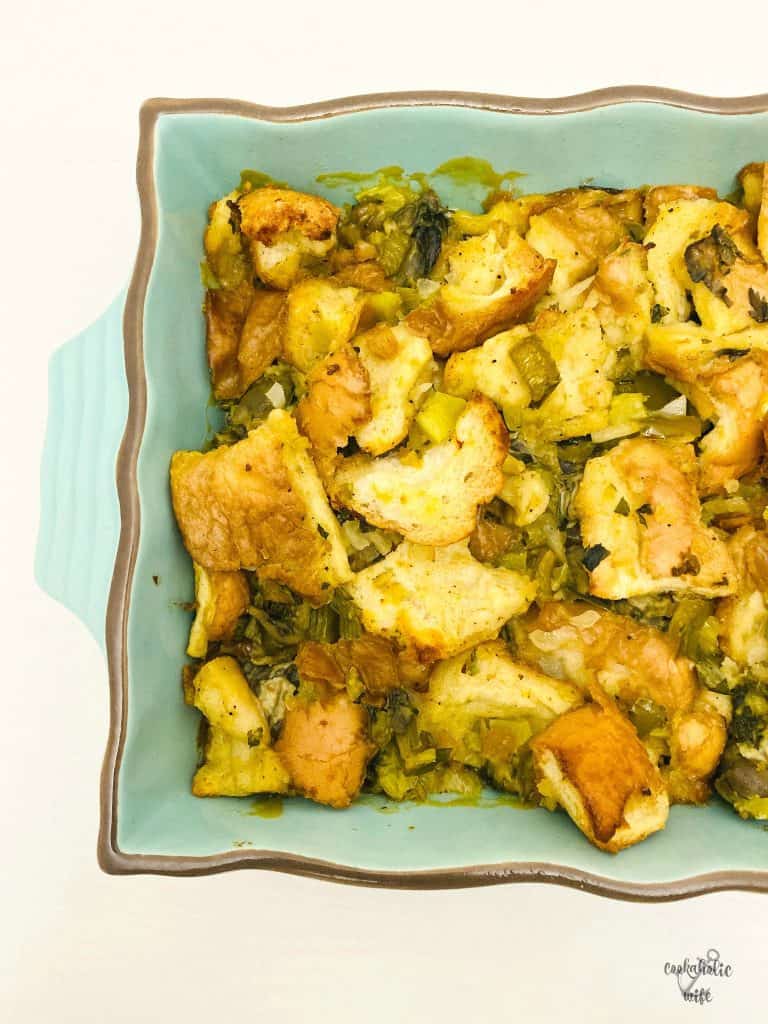 HOW TO MAKE NEW ORLEANS OYSTER DRESSING
Melt butter in a large skillet and cook celery, onions and green pepper until softened.
Add in the oysters with their juice, chicken broth, hot sauce and cajun seasoning.
Stir in the bread until coated.
Press into a 2 quart baking dish.
Cover with foil and bake 40 minutes.
Remove foil and bake 10 minutes.
WANT TO TRY THIS RECIPE? SAVE IT TO YOUR FAVORITE PINTEREST BOARD.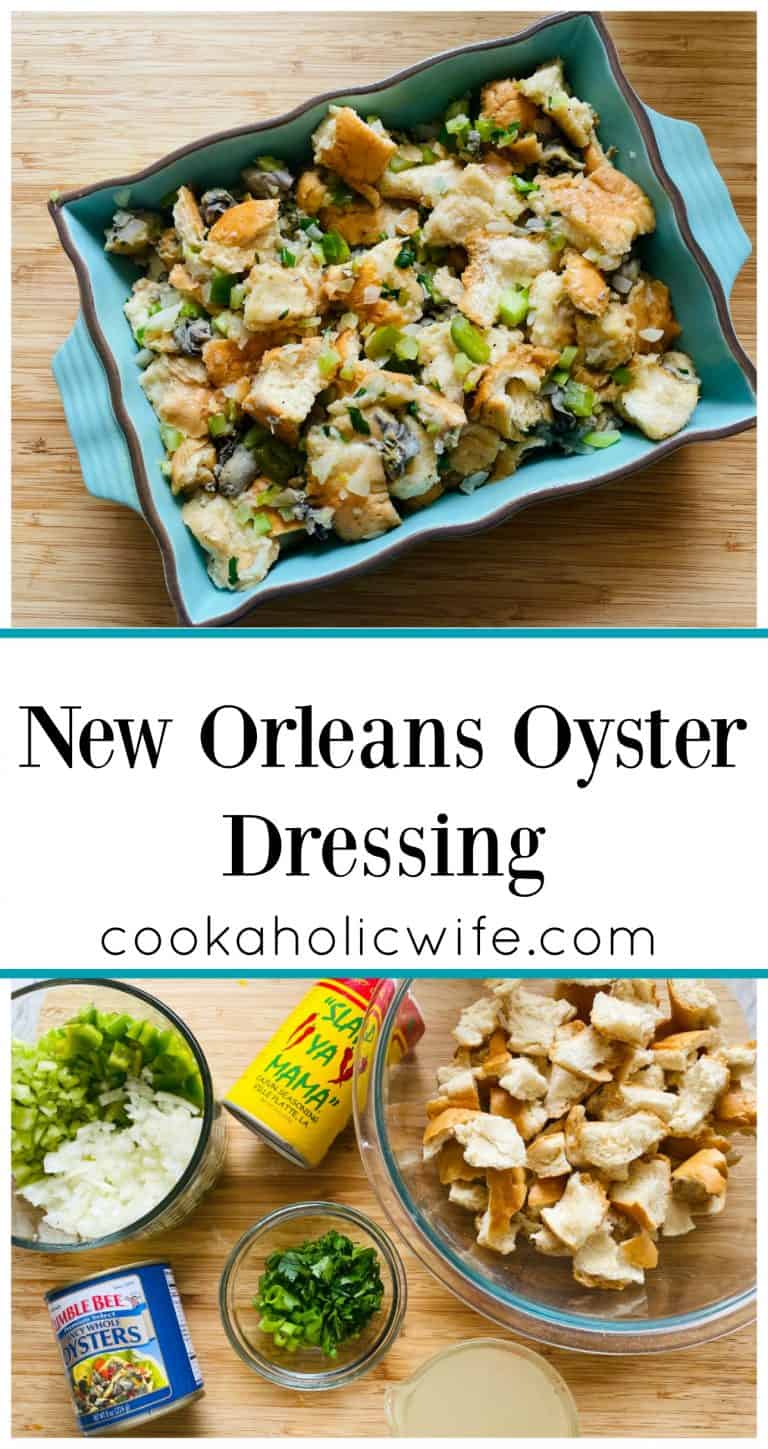 Recipe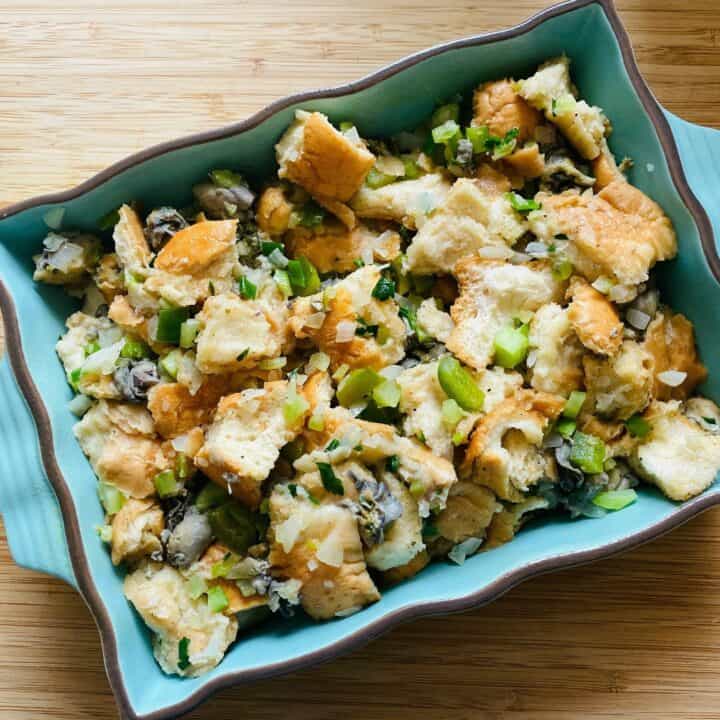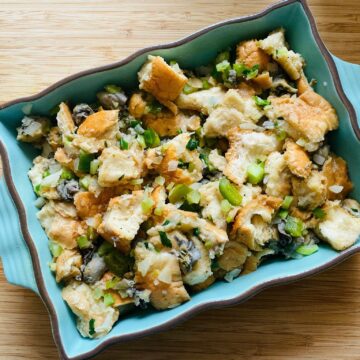 New Orleans Oyster Dressing
New Orleans Oyster Dressing is a hearty dressing (stuffing) made with bread, cajun seasonings, veggies and oysters. It's a great savory side dish for Thanksgiving or Christmas. 
Ingredients
3

cups

cubed bread

lightly toasted or slightly stale

½

cup

celery

chopped

½

cup

onion

chopped

½

cup

green pepper

chopped

2

tablespoon

unsalted butter

1

cup

oysters

chopped (juice reserved)

1

cup

chicken broth

1

tablespoon

hot sauce

1

tablespoon

cajun seasoning

salt and pepper

to taste
Directions
Preheat the oven to 375. Spray a 2 quart baking dish with cooking spray.

In a large skillet over medium-high heat, melt the butter. Add the celery, onions and green pepper and cook for 4-5 minutes, stirring occasionally, until barely softened.

Add in the chopped oysters and their juice, chicken broth, hot sauce and cajun seasoning.

Cook for 1 minute more, then stir in the bread until fully coated.

Taste and then season to taste with salt and pepper.

Press the mixture into the prepared baking dish and cover with foil. Bake for 40 minutes.

Remove the foil and bake for another 10 minutes to allow the edges of the bread to get slightly crispy.
Notes
Bread: any type of bread can be used. I bought a loaf of Italian bread, cubed it and toasted it at 350 for 10 minutes. Prepared bags of stuffing mix or even lightly salted croutons can be used. Salt and Pepper: the oysters and their juice can easily make the dressing too salty, so taste it before you bake it. The hot sauce and cajun seasoning also add salt to the recipe. We like things pretty salty and I added ½ teaspoon salt and 1 teaspoon pepper. Note: nutritional value is based off 6 servings.
Nutrition
Serving:
6
-8
Calories:
125
kcal
Carbohydrates:
5.9
g
Protein:
9.1
g
Fat:
6.9
g
Saturated Fat:
3.2
g
Cholesterol:
73
mg
Sodium:
73
mg
Fiber:
0.4
g
Sugar:
0.7
g
Recipes on Cookaholic Wife are for information purposes only. Nutritional Data provided has not been evaluated by a nutritionist.