Old Bay Corn Pie is the perfect summer side dish, made with fresh corn on the cob, melted cheese and Old Bay seasoning. 
Disclosure: This post contains affiliate links. Please read my Disclosure Page for more information. 
You can't be from Maryland and not love Old Bay seasoning. That's just the way it is here. Not only do we put it on seafood, but on vegetables, salads, popcorn and well, basically just about everything. A lot of us eat steamed corn along with our steamed crabs that are covered in Old Bay, so it only makes sense that Old Bay would be a perfect pairing for corn.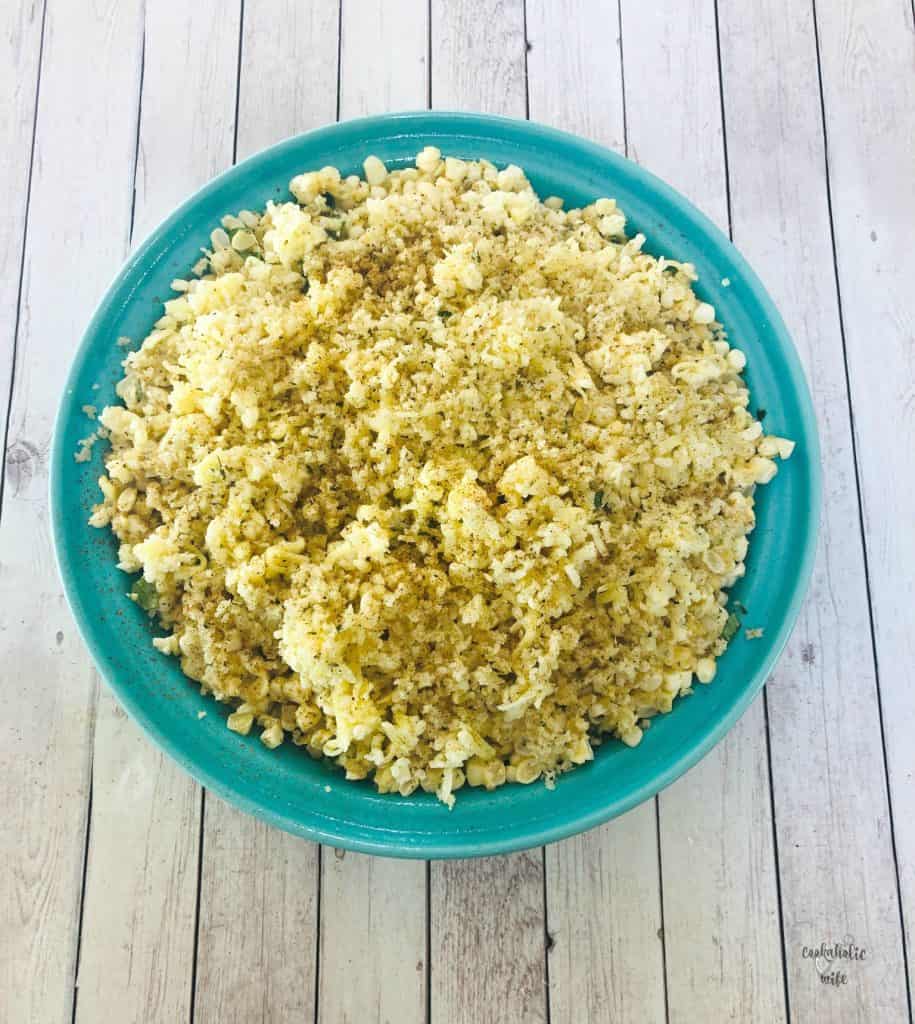 I made this dish at my aunt's house, as part of a farmers market dinner party we decided to have when I visited them the other weekend. The smell of this dish cooking was making all of our mouths water and then trying to wait until it cooled off enough to slice and serve was definitely something we failed at! The sweet corn mixes with the spicy flavors of Old Bay and then with the melted cheese, and let me tell you, this recipe is one that I'm going to make again and again! We used all cheddar in this pie, but I think next time I'm going to use half cheddar and half mozzarella. Those stringy cheese pulls you get from mozzarella would be divine in this pie!
WHAT IS OLD BAY?
Simply put, Old Bay is the standard Maryland spice. It's a combination of 18 spices and was invented by a German refugee back in 1939 when he came to Maryland. Currently, McCormick Spices manufacturers it and it does have a wider market than just the Maryland area, but it is not always easy to find. The can only lists a few of the ingredients; celery seed, red pepper, black pepper, and paprika to name a few.
We always use Old Bay to season crabs and shrimp before they're steamed. We put it in crab cakes, on chips, over vegetables and really, just about anything else you can think of. To try and describe it to someone who hasn't had it, I'd say that it's similar to a Cajun spice.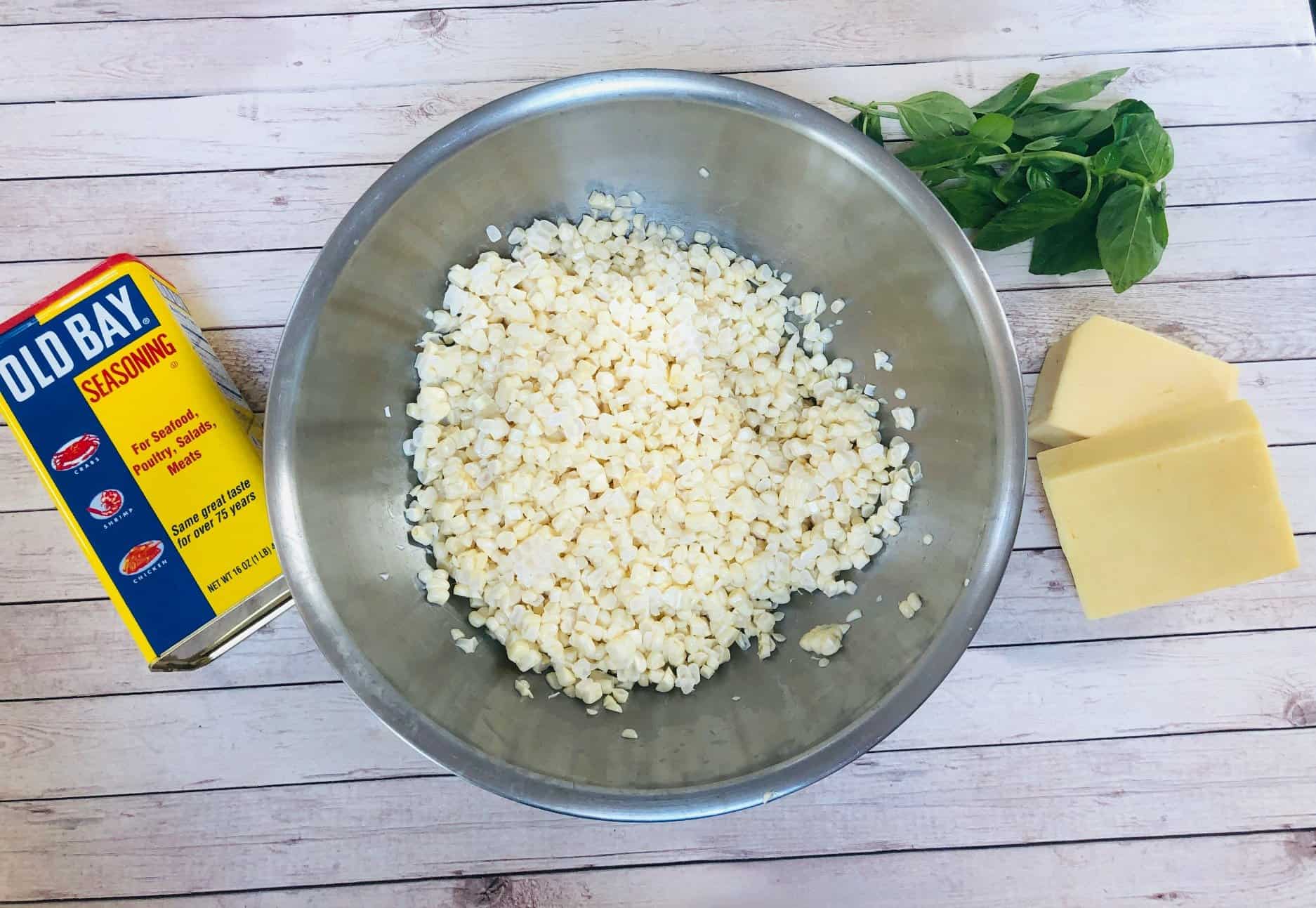 WHAT IS CORN PIE?
Corn pie varies widely by region and/or country that is making it, but for this recipe it is freshly shucked corn kernels binded together with eggs, cheese and breadcrumbs and baked in a pie plate. Old Bay and fresh herbs make up the seasonings on this dish.
OLD BAY CORN PIE INGREDIENTS
6 ears corn on the cob, shucked and kernels cut off
3 cups mild cheese
3 eggs
1 cup Panko
1 cup onion, diced
⅔ cup milk
1 garlic clove
¼ cup Old Bay seasoning
2 tablespoon butter
fresh herbs, like parsley or basil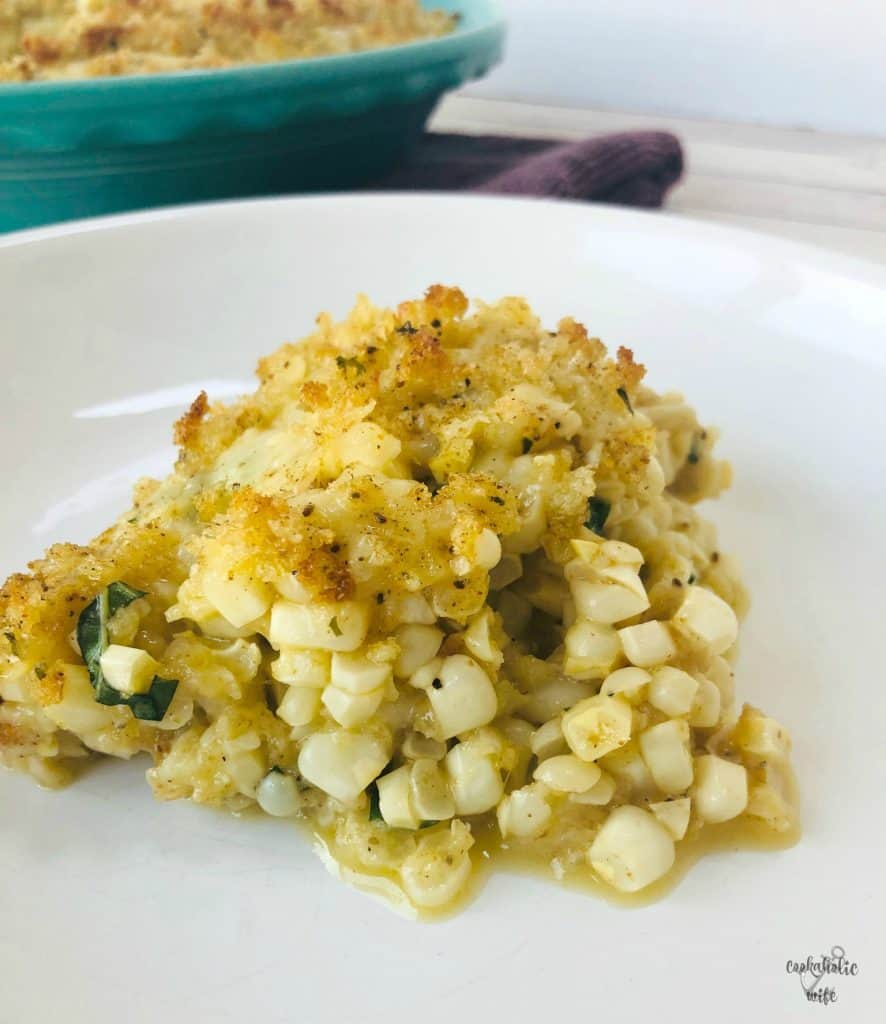 HOW TO CUT CORN OFF THE COB
Cutting corn off the cob can make a real mess. But this tip will save you a lot of time and clean up.
Get a large bowl. Put a small bowl (like saucer or finger bowl sized) upside down inside it.
Rest the ear of corn on the small bowl and slice down.
The kernels will fall directly into the bowl.
Or, place the corn cob into the open center of a Bundt Pan and slice down. The kernels will fall into the bowl.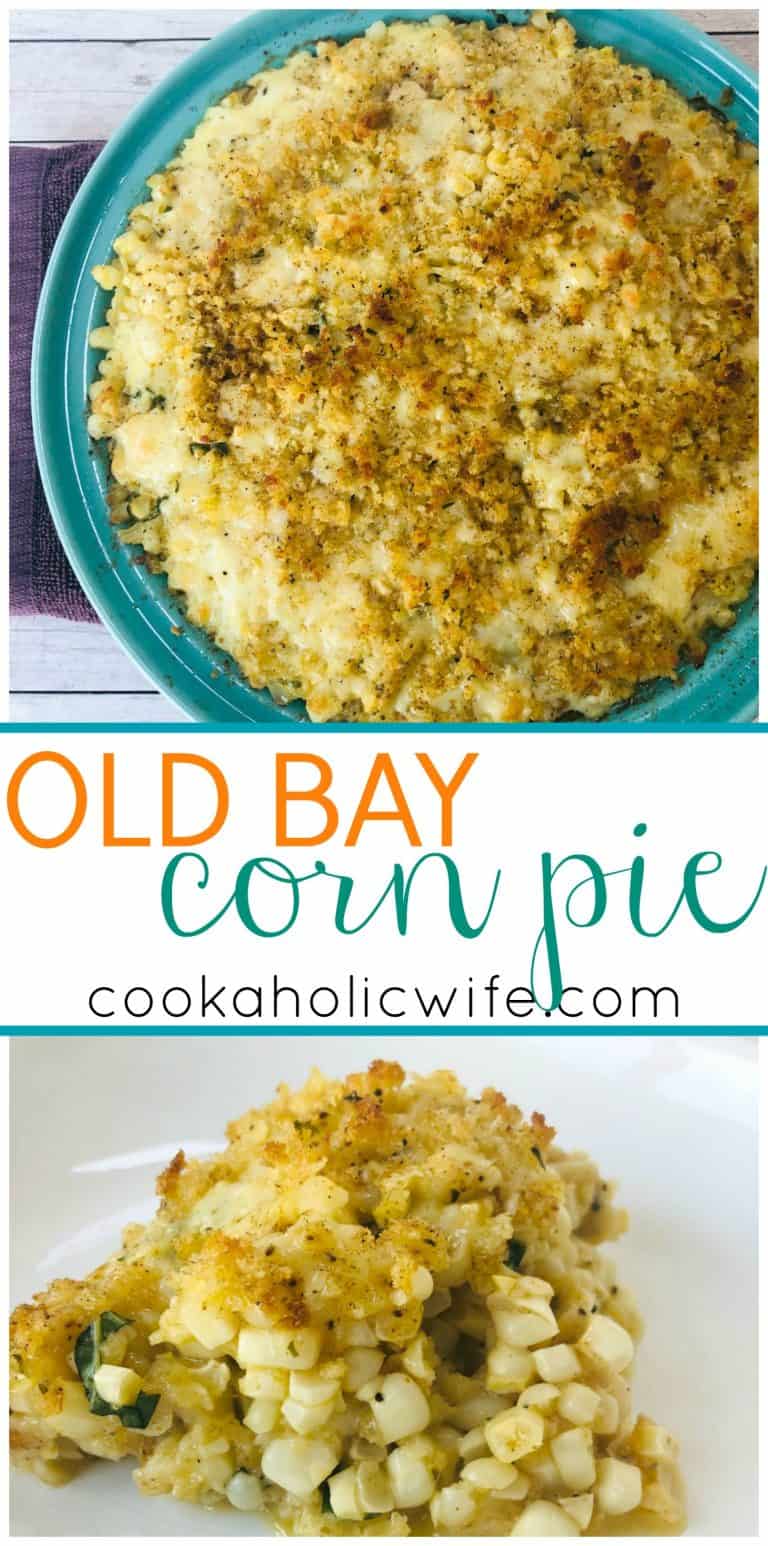 Recipe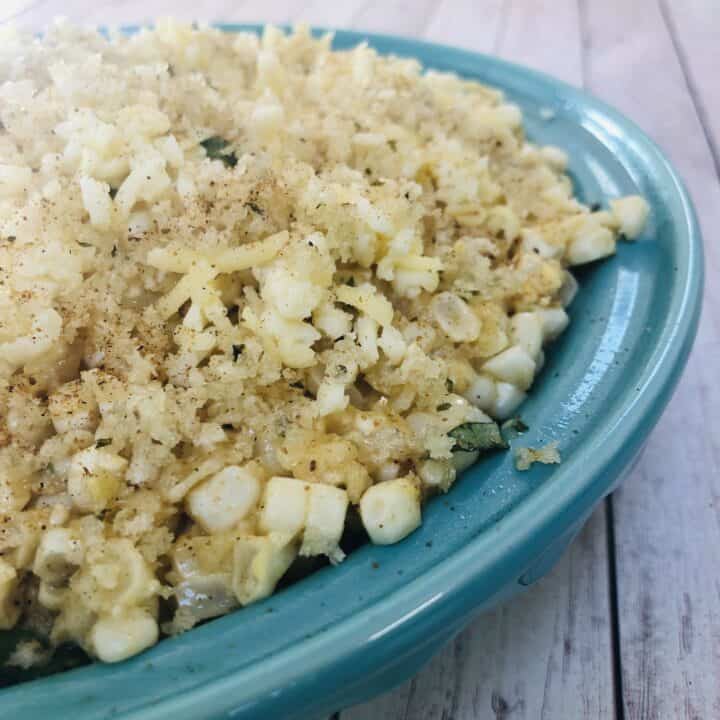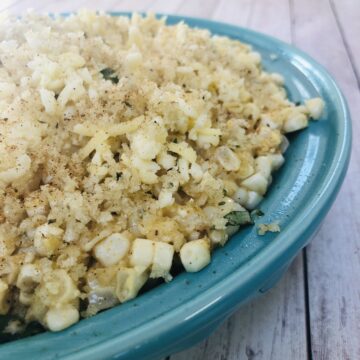 Old Bay Corn Pie
Old Bay Corn Pie is the perfect summer side dish, made with fresh corn on the cob, melted cheese and Old Bay seasoning. 
Ingredients
6

ears of corn

sliced off the cob

2

tablespoon

butter

1

cup

Vidalia onion

diced

1

clove

garlic

minced

3

cups

mild cheese

shredded (mozzarella, cheddar, fontina)

⅔

cup

milk

1

cup

Panko

3

eggs

whisked

¼

cup

Old Bay seasoning

1

tablespoon

fresh chopped herbs

liked parsley or basil
Directions
Preheat the oven to 375 and spray a deep dish pie plate with cooking spray.

Melt 1 tablespoon of butter in a saucepan with the onion, over medium heat, and cook until softened about 5 minutes. Add the garlic and cook for 1 minute more, until the garlic is fragrant.

Add the onion and garlic mixture into a large bowl, followed by the corn kernels, shredded cheese, milk, ¾ cup of the Panko, eggs, and Old Bay seasoning.

Stir to combine, making sure to coat the corn kernels with the seasoning and cheese.

Pour into the prepared pie plate.

Melt the remaining tablespoon of butter and mix it together with the remaining ¼ cup of Panko. Sprinkle on top of the corn pie.

Bake for 35 minutes, then let cool for 10 minutes before slicing and serving.

Sprinkle fresh herbs on top for garnish just before serving.
Notes
The pie can be made in advance and served warm or at room temperature.
Recipes on Cookaholic Wife are for information purposes only. Nutritional Data provided has not been evaluated by a nutritionist.
For this recipe, I used my deep dish turquoise pie plate by Fiesta.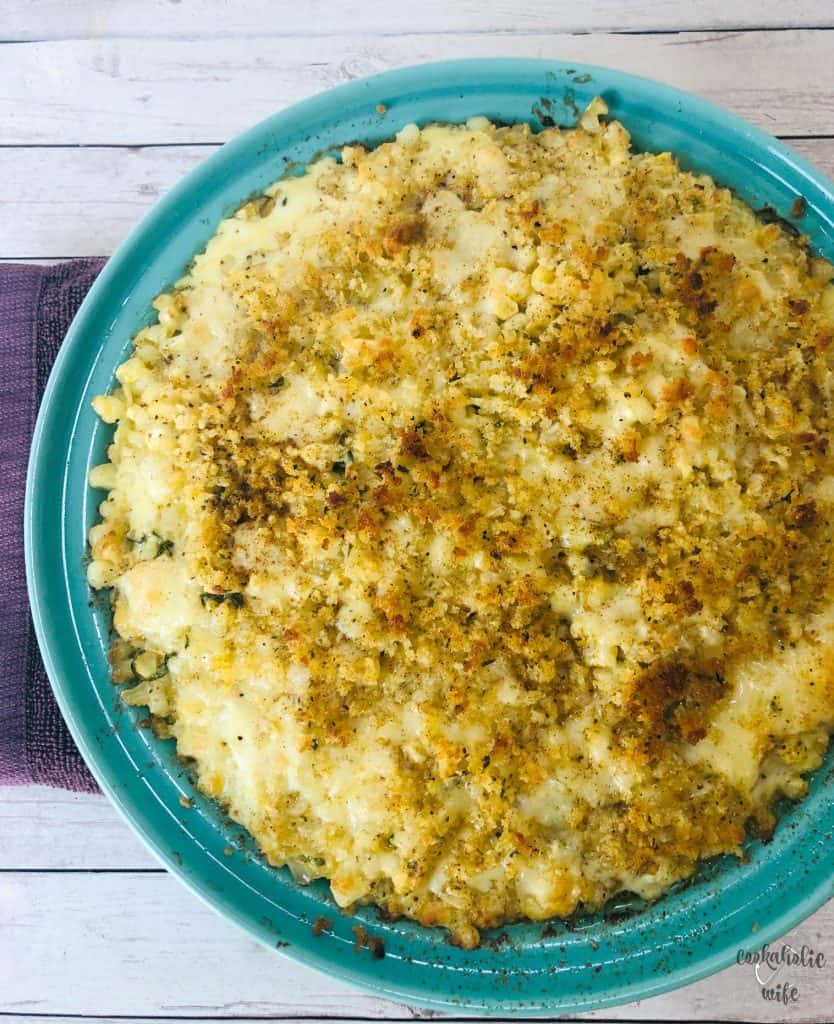 Thanks Ellen from Family Around the Table and Christie from A Kitchen Hoor's Adventures for hosting our Farmer's Market Event!
Tuesday's Farmer's Market Week Recipes