I was sitting in my hair salon the other day and the woman next to me and her stylist were talking about what to make for Christmas. The woman mentioned that this was one of the years where the number of days between Thanksgiving and Christmas was the shortest.
Well, that explains why I feel as though I'm not at all prepared for the holiday that is just a week away. Usually I've made dozens upon dozens of cookies and various other holiday treats, but that simply hasn't happened this year.
I've only managed to pull off 4 cookies (three of which are being shared with you this week) and the required recipes for the blogging events I participate in. So much for a month full of recipes to share with you!
Peanut Butter Blossoms or Peanut Butter Kiss Cookies really weren't something that I had as a kid. We made chocolate chip and sugar cookies and that was about it. But how can you go wrong with a peanut butter cookie topped with a chocolate kiss? Spoiler: you can't.
When I made them for work last year they were inhaled quicker than the other cookies and I found out that everyone there loves them. Seeing as they are so easy to whip up, I made another batch this year.
Recipe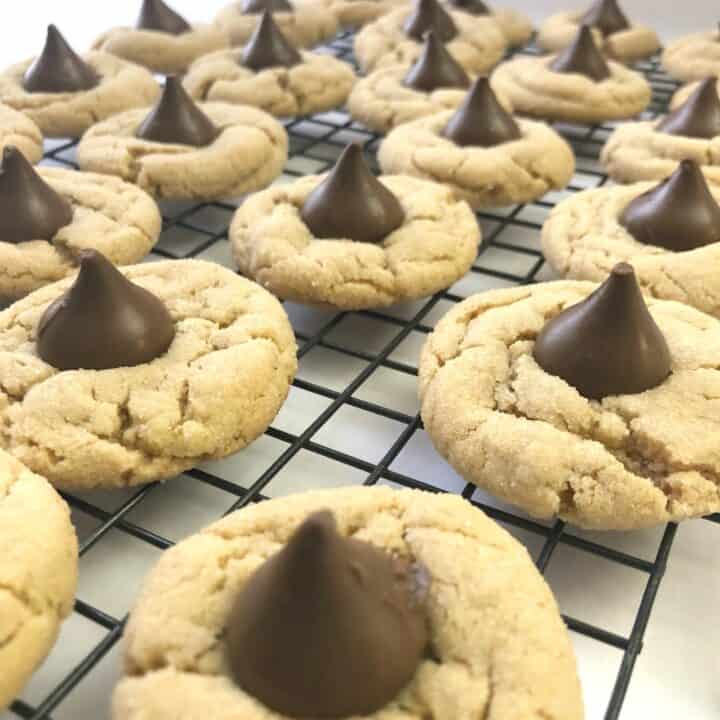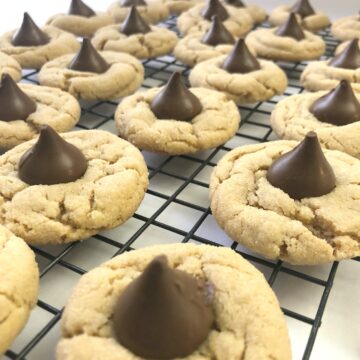 Peanut Butter Blossoms
A favorite of everyone, the classic peanut butter cookie is topped with a kiss candy.
Ingredients
For the Cookies:
1

stick unsalted butter

at room temperature

½

cup

brown sugar

½

cup

sugar

1

cup

peanut butter

1

egg

1

teaspoon

vanilla

1 ½

cups

all-purpose flour

1 ¼

teaspoon

baking powder
To Top:
36

unwrapped Hershey's kiss candies
Directions
Preheat the oven to 350 degrees. Line baking sheets with Silpats or parchment paper.

In the bowl of a stand mixer, beat the butter on medium speed for 2 minutes. Add the brown sugar and sugar and beat until light and fluffy.

Add in the egg, peanut butter and vanilla and mix until combined.

Whisk together the flour and baking soda in a small bowl. Slowly pour into the wet ingredients, mixing until a soft dough forms.

Place the ⅓ cup of sugar in a bowl for rolling.

Roll tablespoon sized balls of dough with your hands, then toss in the sugar. Place on the prepared baking sheet.

Bake for 8-10 minutes or until lightly golden. Remove from the oven and allow to rest for 2 minutes before placing the candy kiss in the center.

Allow to cool on the cookie sheet for 5 minutes more before transferring to a wire rack to cool completely.
Recipes on Cookaholic Wife are for information purposes only. Nutritional Data provided has not been evaluated by a nutritionist.
There are a lot of versions of this recipe that uses half butter and half shortening, which I've tried before, but I like the taste and texture of using all butter instead. How about you?