Happy October! Is it just me or is this year completely flying by? But now that it's October, it's time for me to participate in a new blogging event called #PumpkinWeek.
It's hosted by Terri of Love and Confections and pretty simple: 35 bloggers are gathering this week to share pumpkin related recipes with you. They're all linked up at the bottom of each post every day.
For the first day of #PumpkinWeek, I decided I wanted to go savory. It's fascinating to me how many recipes you can include canned pumpkin in. Or how many recipes where you can use it as a substitute for another ingredient. Anyway, I haven't made focaccia bread in ages and I decided that it was the perfect choice to start off the week of all things pumpkin related!
Recipe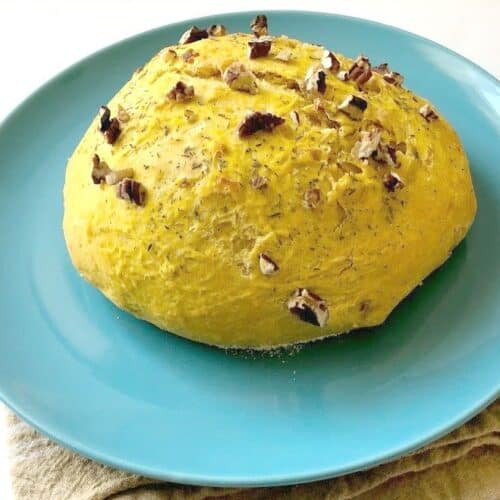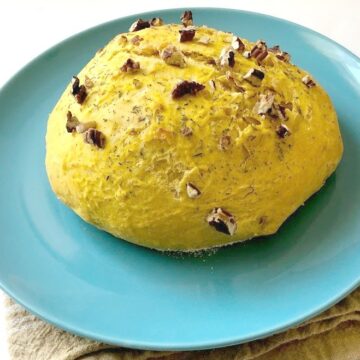 #PumpkinWeek: Pumpkin Focaccia Bread
Pumpkin Focaccia Bread is savory pumpkin bread topped with toasted pecans and smoked gouda cheese.
Ingredients
½

cup

sugar

1

packet dry active yeast

⅓

cup

brown sugar

¾

cup

warm water

110 degrees

3

tablespoon

unsalted butter

melted

3 ½

cups

all-purpose flour

divided

1

teaspoon

pumpkin pie spice

1

teaspoon

salt

1

cup

canned pumpkin

⅔

cup

grated smoked gouda cheese

divided

⅓

cup

toasted chopped pecans

2

tablespoon

cornmeal

2

tablespoon

dried thyme

1

tablespoon

sea salt
Directions
1. Combine yeast, sugar and water in the bowl of your stand mixer and set aside for 5 minutes or until yeast is foamy. Then add the butter and 1 cup of flour, mixing with the paddle attachment until combined.

2. Cover and let rise for 30 minutes in a warm place.

3. Add pumpkin pie spice, salt and canned pumpkin to the bowl and stir until combined. Switch to the dough hook and add in ½ cup of the cheese and the flour ½ cup at a time, leaving ¼ cup remaining. Mix on low speed until combined and then increase until the dough begins to pull away from the bowl.

4. Turn out the dough onto a lightly floured surface and knead until smooth and elastic, adding in the remaining ¼ cup of flour as needed.

5. Spray a bowl with non-stick spray and place the dough inside, turning once to coat. Cover with a towel and let rise for 1 hour or until doubled.

6. Punch down the dough, then let rest for 5 minutes. Divide dough in half and shape each piece into an 8-inch round circle.

7. Sprinkle the cornmeal onto a large baking sheet and place each dough circle on top.

8. Sprinkle the remaining cheese and the toasted pecans on top. Sprinkle the time and the sea salt on top as well. Cover and let rise for 20 more minutes.

9. Preheat the oven to 400 degrees. Bake the dough uncovered for 30-35 minutes or until the bottoms are lightly golden brown. Transfer to a wire rack to continue cooling then slice and serve.
Recipes on Cookaholic Wife are for information purposes only. Nutritional Data provided has not been evaluated by a nutritionist.
This bread is light and airy with a hint of pumpkin flavor and made super delicious with the smokey cheese and crunchy toasted pecans.
Here are today's #PumpkinWeek recipes:
Pumpkin Drink Recipes:
Pumpkin Pie Moscow Mule from Love and Confections.
Savory Pumpkin Recipes:
Chicken Enchiladas with Pumpkin Sauce from Hardly A Goddess.
Goat Cheese and Sage Pizza with Pumpkin Crust from The Spiffy Cookie.
Kaddo Bowrani (Afghan Pumpkin with Yoghurt Sauce) from Caroline's Cooking.
Pickled Pumpkin with Sage and Autumn Spices from Culinary Adventures with Camilla.
Pumpkin Beer Bread from Forking Up.
Pumpkin Beer Cheese Soup with Herbed Croutons from The Crumby Kitchen.
Pumpkin Chili from A Kitchen Hoor's Adventures.
Pumpkin Corn Chowder with Shrimp from Kudos Kitchen by Renee.
Pumpkin Focaccia Bread from Cookaholic Wife.
Pumpkin Ravioli with Parmesan Sage Cream Sauce from Rants From My Crazy Kitchen.
Pumpkin Rosemary Hummus with Sizzled Garlic from Amy's Cooking Adventures.
Pumpkin Stew with Chicken and Black Beans from Palatable Pastime.
Sweet Pumpkin Recipes:
Brown Butter Pumpkin Oatmeal Cookies from The Redhead Baker.
Cheesecake Stuffed Pumpkin Bundt Cake from Cooking with Carlee.
Easy Pumpkin Pie Cheesecake from Daily Dish Recipes.
Jumbo Pumpkin Spice Muffins with Pecan Streusel Topping from Family Around The Table.
Pumpkin Blondies from It Bakes Me Happy.
Pumpkin Cheesecake Bars from The Bitter Side of Sweet.
Pumpkin Coffee Cake from The Chef Next Door.
Pumpkin Madeleines from Mildly Meandering.
Pumpkin Pie Energy Bites from Making Miracles.
Pumpkin Pie Oatmeal from Seduction in the Kitchen.
Pumpkin Pie Tassies from Cindy's Recipes and Writings.
Pumpkin Scones from The Freshman Cook.
Pumpkin Spice Donuts from A Day in the Life on the Farm.
Pumpkin Spice Donuts from Hezzi-D's Books and Cooks.
Pumpkin Zucchini Streusel Bread from An Affair from the Heart.
Ridiculously Good Dark Chocolate Pumpkin Cake from Bacon Fatte.