For Christmas my aunt brought over lasagna. Prior to that, I honestly don't know how long it has been since I've had lasagna. A few years at least. 🙄
It's not that I don't like it, it's just the combination of being lactose intolerant and trying to eat less carbs has taken me away from foods such as lasagna, which is why I was excited that the theme for January's #BakingBloggers was baked pasta. Baking Bloggers is a monthly blogging event hosted by Sue of Palatable Pastime where we vote on a theme and then share those recipes on a designated day.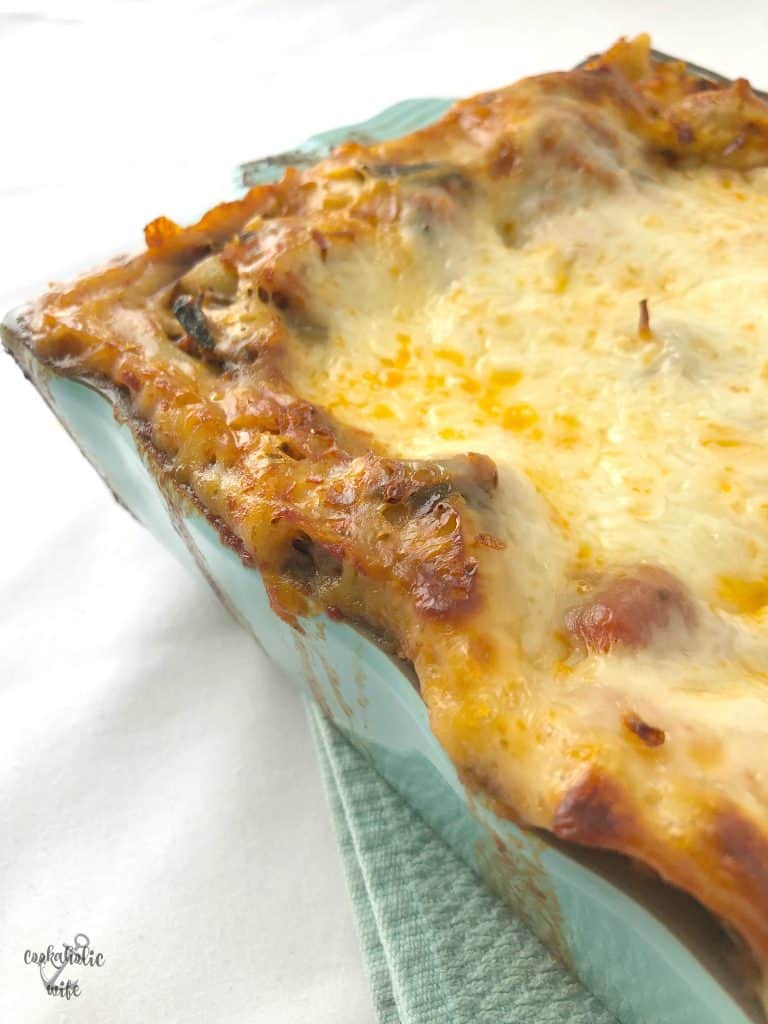 I had a little bit of the lasagna on Christmas and then I took some more to have as leftovers, but it didn't really satisfy the lasagna craving it had created. I needed more!
My aunt had used Italian sausage in her lasagna and I decided to go the same route, mainly because it what was what we had in the freezer. I knew Tom was going to complain about the spinach, but a small amount of green stuff in a casserole surely isn't going to kill him. Plus, I had half of a package of frozen spinach leftover from an appetizer I had made recently and wanted to clean out the freezer. 🤷
I even pointed out to him, that ages ago I had made a green gobbler lasagna that he really enjoyed. Like the adult that he is, he pretended that never happened. 😜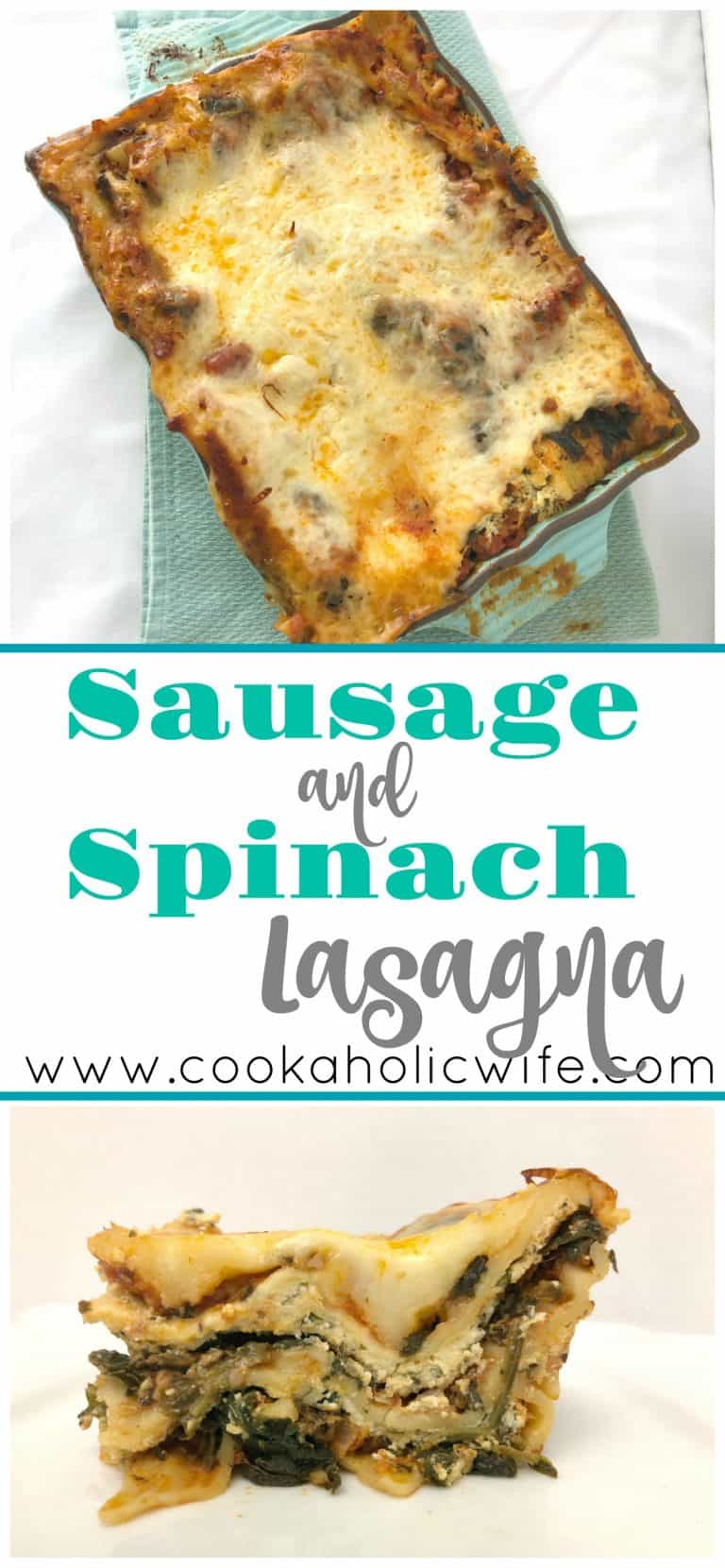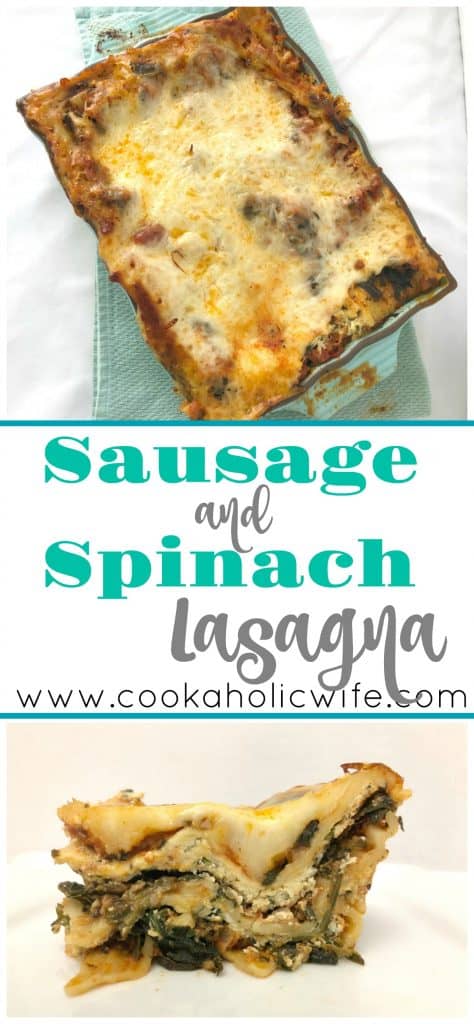 Recipe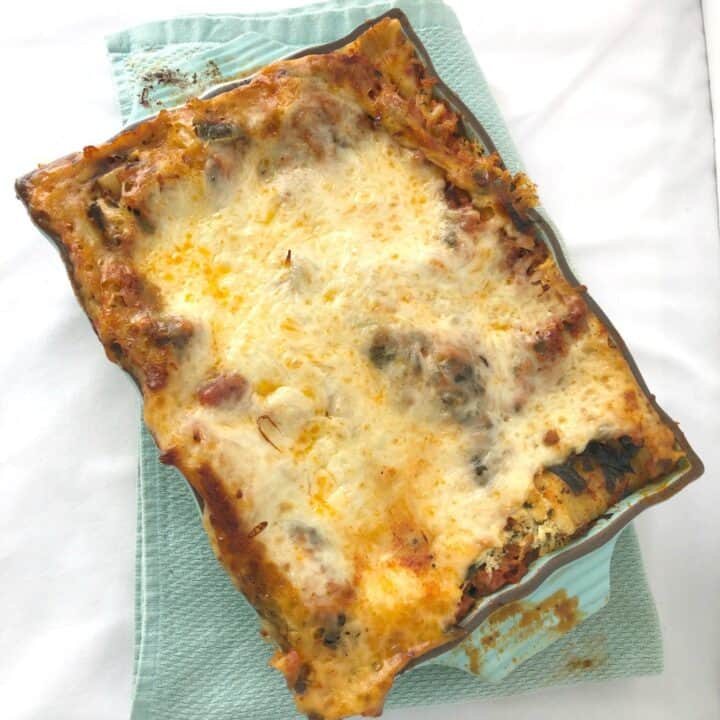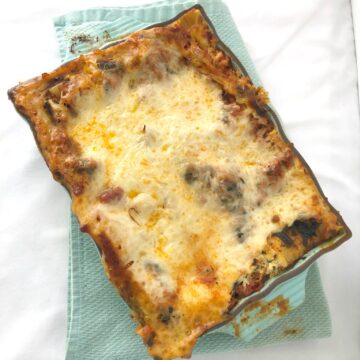 Sausage and Spinach Lasagna
A smaller portion of the classic, this sausage and spinach lasagna is full of flavor and cheese and feeds 4-6 people.
Ingredients
6-8

oven-ready lasagna noodles

3

cups

shredded mozzarella cheese

divided
For the Meat Sauce:
¾

lb.

hot Italian sausage

1

medium onion

diced

2

cups

spinach

chopped (fresh or frozen)

15

oz.

jar spaghetti sauce

8

oz.

can tomato sauce

¼

cup

fresh parsley

chopped

salt and pepper
For the Cheese Mixture:
15

oz.

container ricotta cheese

1

large egg

lightly beaten

¼

cup

shredded Parmesan cheese

1

tablespoon

Italian seasoning

1

tablespoon

fresh parsley

chopped

½

teaspoon

salt

½

teaspoon

pepper
Directions
Preheat the oven to 400 degrees. Spray an 8x8 baking dish with non-stick spray.

Heat a medium skillet over medium high heat and add the sausage. Crumble and cook for 5 minutes or until browned. Add in the onion and cook until softened, about 3 minutes more.

Add the spinach, spaghetti sauce, tomato sauce and parsley and cook for 2 more minutes. Taste, and add salt and pepper as needed. Remove from the heat.

In a medium bowl, whisk together the ricotta cheese, egg, Parmesan, Italian seasoning, parsley, salt and pepper.

Spread about ¼ - ½ cup of the meat sauce on the bottom of the prepared dish. Layer lasagna noodles on top, breaking the noodles to fit if necessary.

Spread half of the ricotta cheese mixture on top of the noodles followed by 1 cup of the mozzarella cheese. Spread ⅓ of the meat sauce mixture on top of that.

Add another layer of noodles, followed by the remainder of the ricotta cheese mixture. Then add another cup of mozzarella, followed by another ⅓ of the meat sauce mixture.

Add the final layer of noodles, then the last of the meat sauce mixture. Sprinkle the remaining 1 cup of shredded mozzarella cheese on top.

Cover with foil and bake for 35 minutes, then remove the foil and bake for an additional 10 minutes or until the cheese is golden brown and bubbly.
Notes
Make Ahead:
Assemble lasagna as stated above, cover with foil and refrigerate for up to 1 day. Place on the counter 30 minutes before baking and bake as directed above.
To Freeze:
Assemble lasagna as stated above. Cover tightly with plastic wrap then foil. Cook from frozen for 90-110 minutes or allow to thaw in the refrigerator overnight and cook as stated above.
Recipes on Cookaholic Wife are for information purposes only. Nutritional Data provided has not been evaluated by a nutritionist.
Substitutions:
Ground beef or mild Italian sausage
28 oz. can of tomatoes instead of spaghetti sauce and tomato sauce
grated Parmesan instead of shredded
cottage cheese instead of ricotta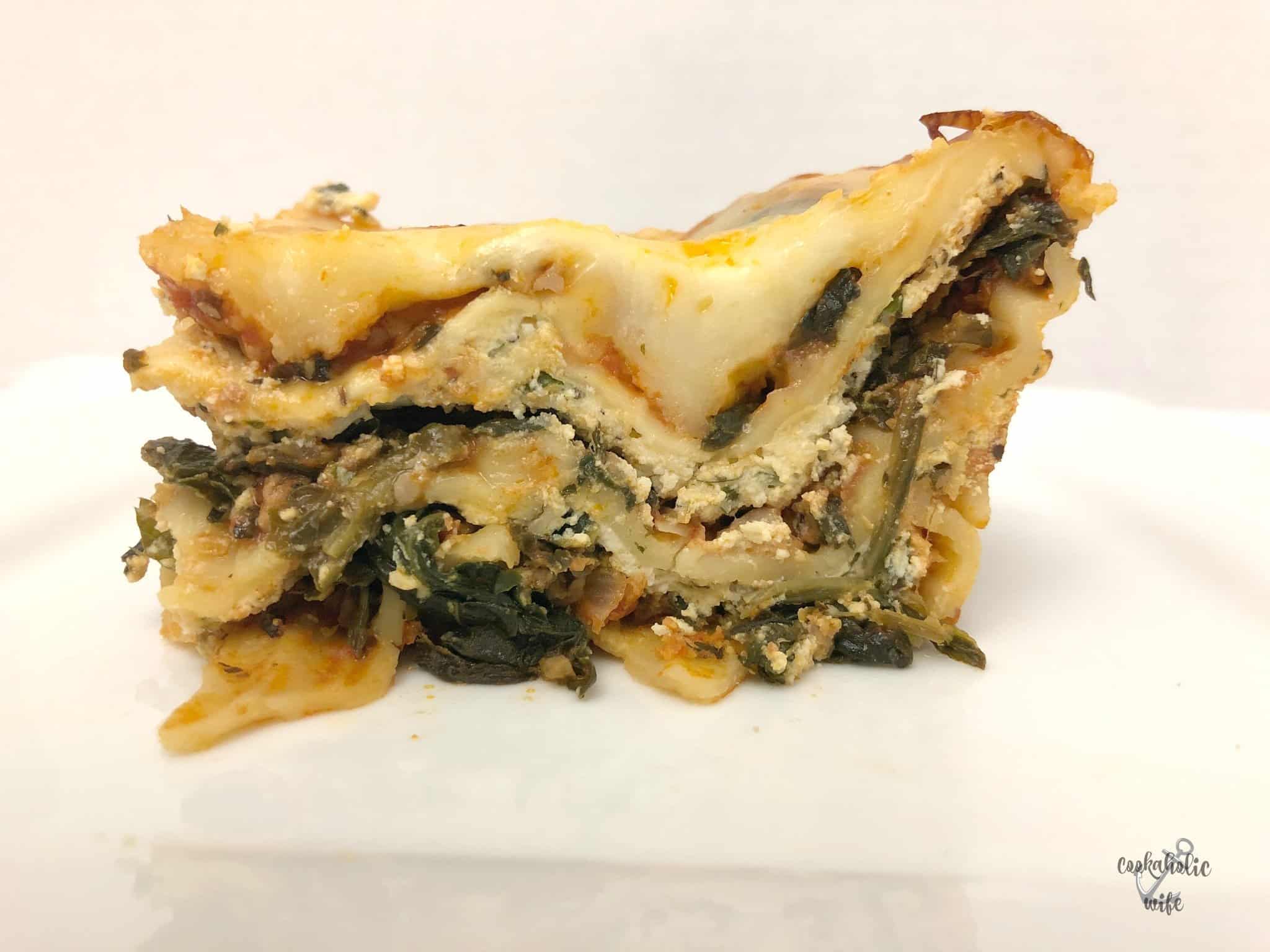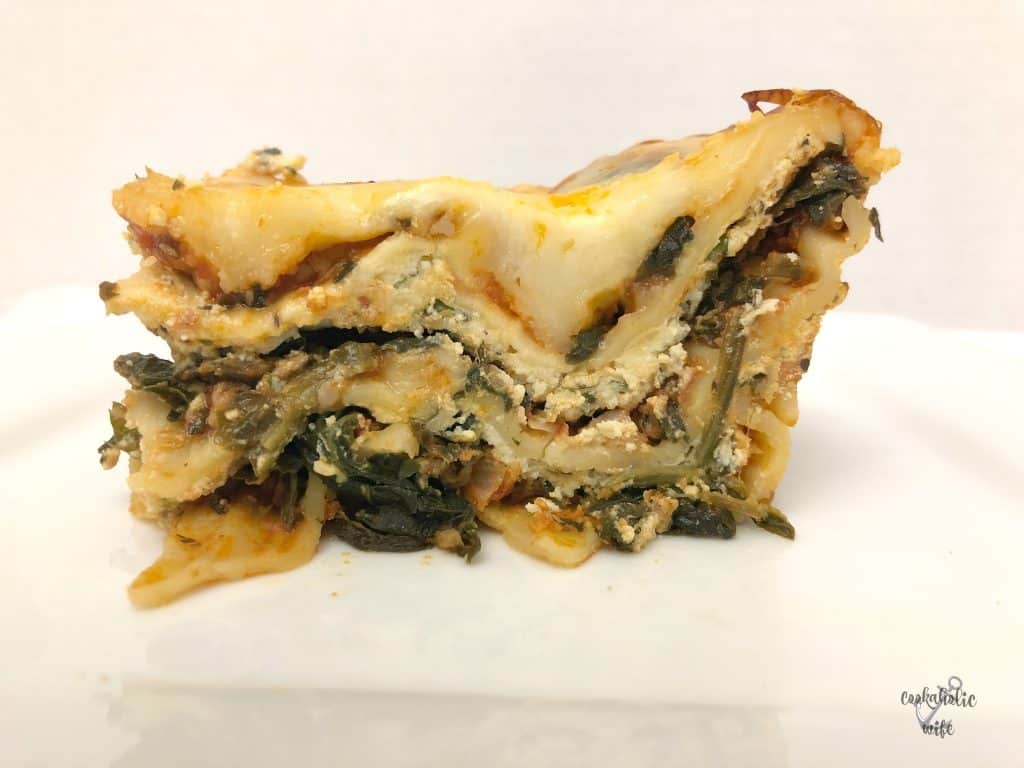 Knowing I had a lot to accomplish the day I made this, I prepared and cooked the lasagna early in the morning, let it cool and then refrigerated it until dinner time. I think lasagna tastes better leftover anyway, and this allowed for us to heat up a portion of it as we were hungry for dinner, which turned out to not be at the same time.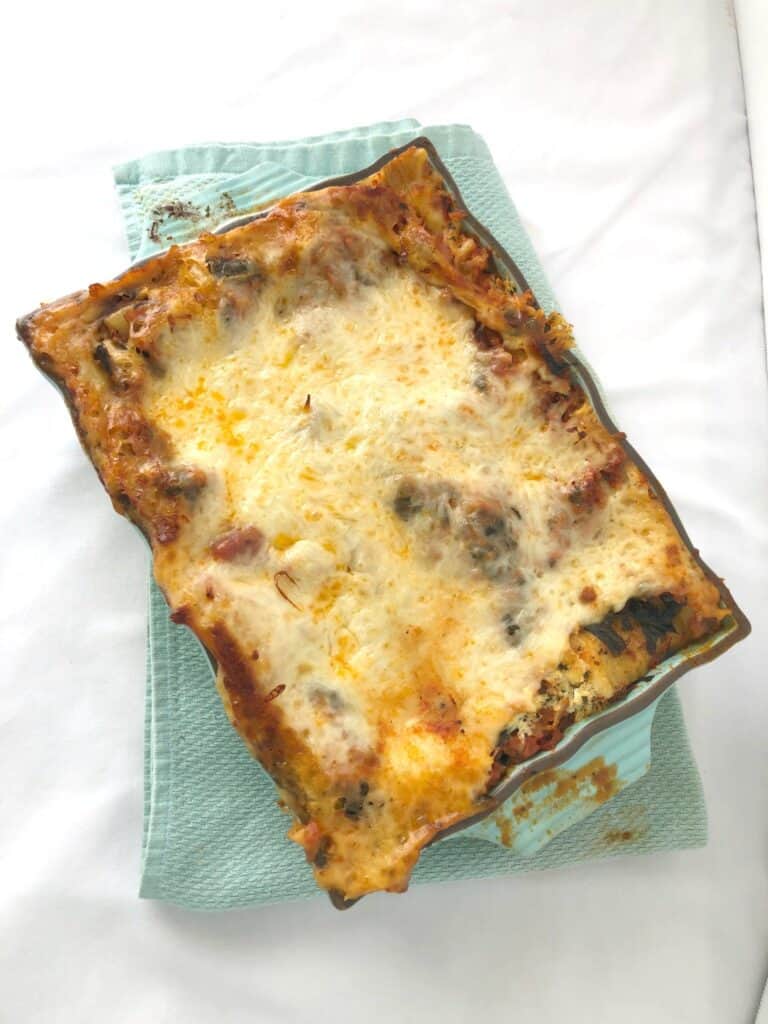 This definitely satisfied my lasagna craving as I had it more than once. The browned cheese on the top and around the edges has always been my favorite, but something special happened with this lasagna. The noodles shifted and the cheese sunk down into a v-shaped well in the first piece I had. Is there anything more delicious than a well of melted cheese? I think not. That, my friends, is pure cheesy beauty.
Baking Bloggers
Baked Pasta