Would you believe that I'm not really a fan of biscuits? Its probably because the first biscuit I had came from KFC and was greasy, slathered in butter and lukewarm. So I figured a homemade biscuit is obviously the best way to determine if you like them. Then I realized that I had buttermilk biscuits on my list of recipes to make before I'm 30. Score! It's not very often I can accomplish two things by only doing one.
Recipe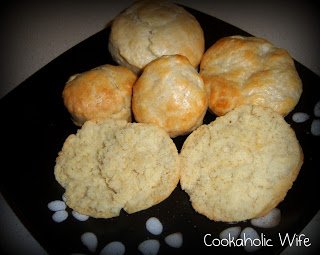 Secret Recipe Club: Buttermilk Biscuits
Ingredients
2

cups

all-purpose flour

plus extra for dusting

2

tbs.

sugar

2

tsp.

baking powder

½

tsp.

baking soda

½

tsp.

coarse salt

I used sea salt

¾

cup

buttermilk

plus more for brushing

1

stick unsalted butter

cold and cut into cubes
Directions
1. Preheat the oven to 425. Line a baking sheet with a silicone mat or parchment paper.

2. In a large bowl, combine the flour, sugar, baking powder, baking soda and salt.

3. Add the cubed butter and mix in until it resembles coarse crumbs. Pour in the buttermilk and stir until combined and dough has formed a ball.

4. Sprinkle flour onto a flat surface and turn the dough out. Knead the dough a few times and then roll out to ½ inch thickness.

5. Using a biscuit cutter, glass, or cookie cutter, cut out rounds of dough. Place the dough onto the baking sheet.

6. Brush the tops of the dough with buttermilk and bake for 12-15 minutes or until lightly golden brown.

7. Transfer the biscuits to a wire rack to continue cooling.
Recipes on Cookaholic Wife are for information purposes only. Nutritional Data provided has not been evaluated by a nutritionist.
I think I rolled out my dough a bit too thin because my biscuits didn't rise as much as I expected them to, but they were still high enough to cut in half and slather with your desired amounts of butter or jelly. When I went to cut out the biscuits I managed to misplace my regular round cookie cutter. At first I thought the size glass we have would be too big but it wasn't. So I ended up with regular sized and mini-sized biscuits. If you turned the mini biscuits into sandwiches I'm sure they'd be adorable for a party.
I know that biscuits and English muffins aren't the same thing, but with as easy and quick as these biscuits are to make, I doubt I'll ever buy English muffins again. These biscuits would be the perfect home to hold some scrambled egg and bacon or whatever you put on your breakfast sandwich.