Previously a secret recipe, the Doubletree Hilton Chocolate Chip Cookie recipe has been revealed! Overflowing with chocolate chips and chopped walnuts, these enormous cookies will soon become your favorite! 
There's a bar in a Doubletree Hilton hotel that Jenn and I visit every time we are at the beach. (Marlin Moon, the one I did a restaurant review on) On one of our visits, we were asked if we had ever tried the chocolate chip cookies that they give out upon arrival. Cookies upon arrival? What was this genius? We hadn't and two were managed to be snagged for us.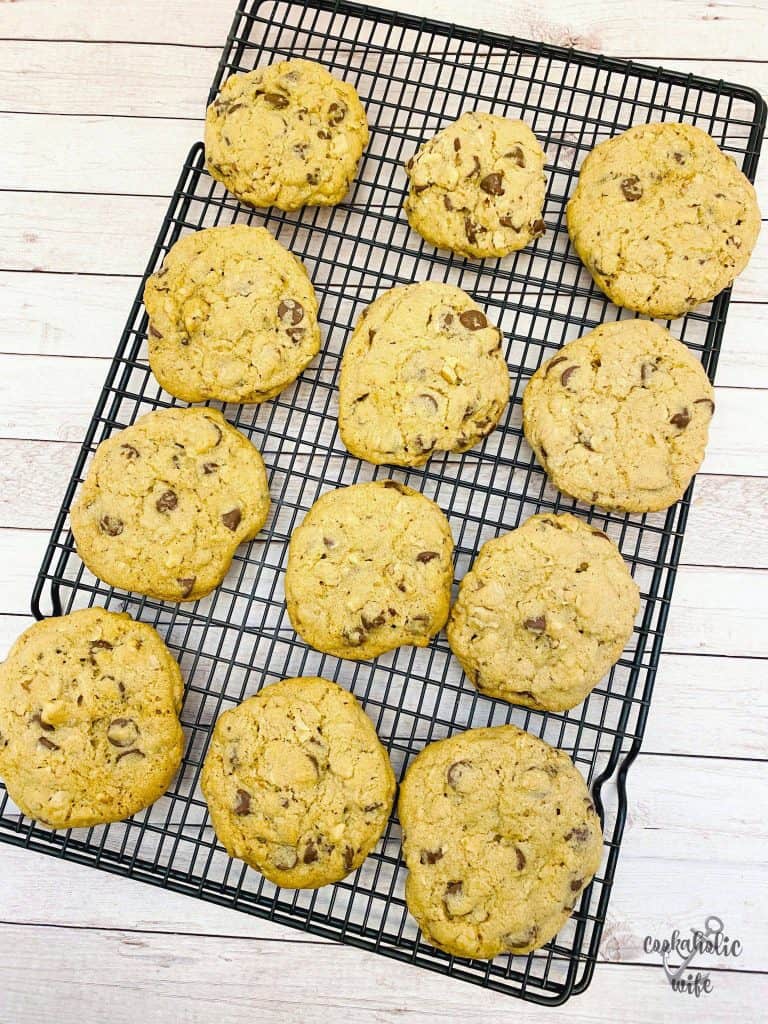 I'm sure we made quite the sight with our first cookies. Our eyes widened impossibly that the cookies were kept in a warmer so you weren't just handed a chocolate chip cookie, you were handed a warm chocolate chip cookie. Like straight out of the oven. And then there was the actual cookie. This bad boy was like the size of my hand. Hilton doesn't skimp on their cookies, that's for sure.
And then I took a bite.
It was warm. The chocolate chips were melty. There was a crunch from the walnuts. There was a chewiness from the oats. And we both maybe kind of fell in love with this cookie.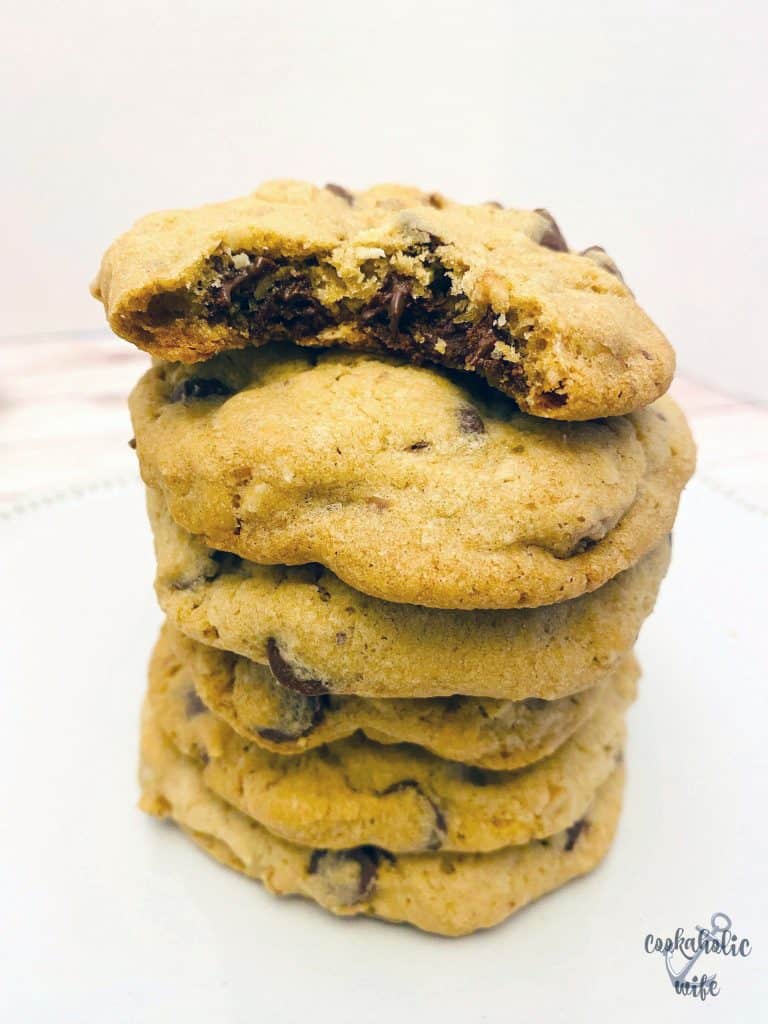 We kept visiting the bar but never would ask the front desk for the cookies. I mean, we weren't staying at the hotel as a guest. It felt wrong. But one night, after a considerable amount of bourbon, we decided it was a good idea to ask for cookies. And thus the phrase "bourbon up" referring to having enough bourbon to ask for cookies, became a thing.
Doubletree Hilton released their cookie recipe one day before my birthday. This past weekend was supposed to be my first trip to the beach this year. Inevitably there would have been bourbon. Perhaps cookies. But the universe has decided against that.
I had to make the cookies though. I mean, what are the odds they'd release the recipe in time for my birthday and I'd be able to make them the weekend I was supposed to get one? Cookie fate, I call it.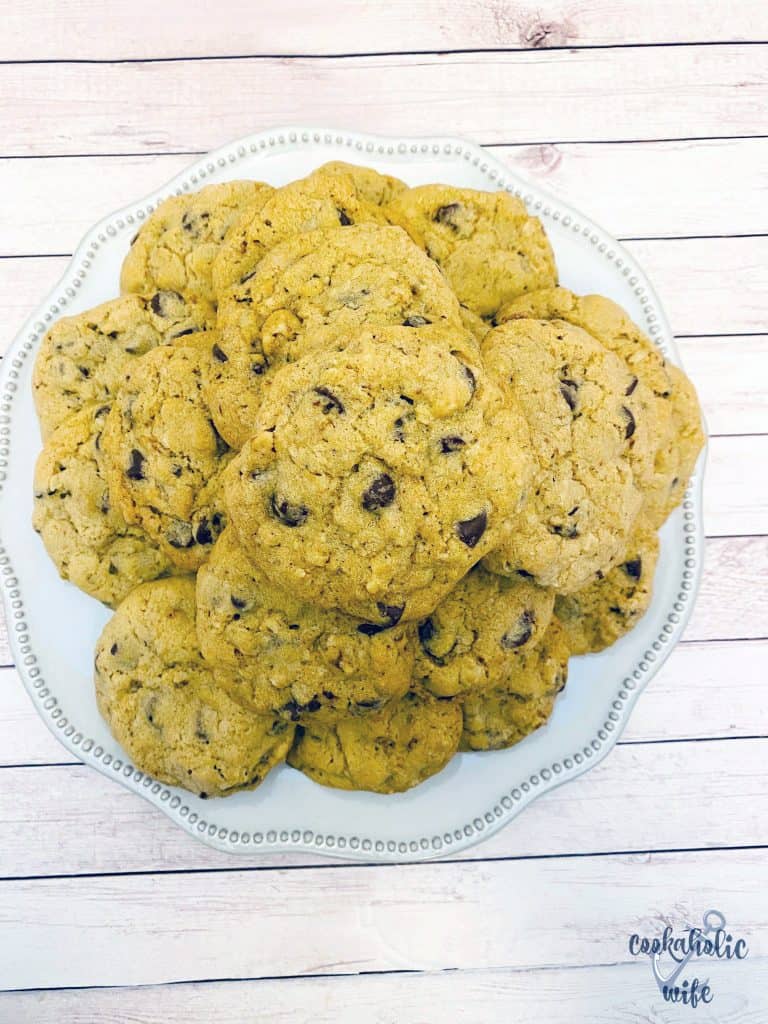 WHAT MAKES THIS DOUBLETREE HILTON CHOCOLATE CHIP COOKIE SO SPECIAL?
Well, it surely doesn't hurt that the cookie is huge. Like seriously, it's about 5 inches in diameter. And they use a ton of chocolate chips in the recipe so every bite is full of melty chocolate. Then there is the crunch from the walnuts. But the real kicker? It's totally that it's served warm.
While copycat recipes of this cookie have been around for a while, they finally decided to share the recipe because "A warm chocolate chip cookie can't solve everything, but it can bring a moment of comfort and happiness." according to their senior vice president. You can find their exact recipe on their site.
I'm pretty sure that the cookie dough is made somewhere and then shipped frozen to the individual hotels to bake it up. The cookies we had definitely had more oats than their recipe calls for so I added more. I also slightly reduced the amount of chocolate chips and increased the vanilla.
These cookies are typically enormous, but I decided to make 2 tablespoon sized cookies, which is only slightly smaller than their version. The bake time needed to be increased for these, so I'd guess it would also need to be done if you made the larger cookies.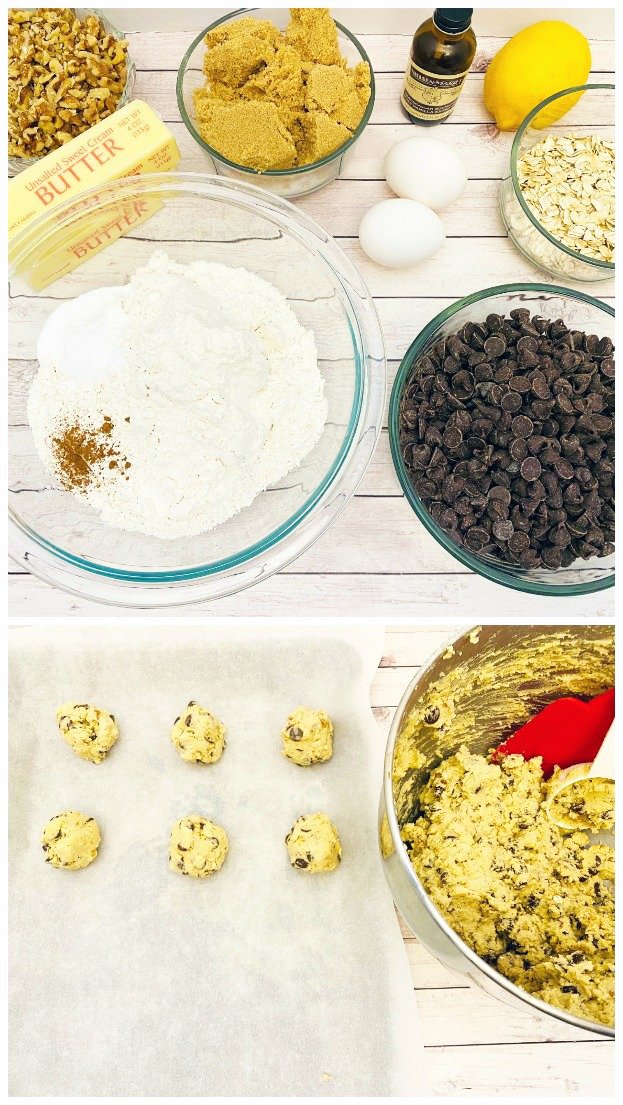 CHOCOLATE CHIP COOKIE INGREDIENTS
wet ingredients: butter, eggs, vanilla, lemon juice
dry ingredients: brown sugar, granulated, flour, baking soda, salt, cinnamon, rolled oats
mix ins: chocolate chips, chopped walnuts
HOW TO MAKE THE CHOCOLATE CHIP COOKIES
Beat the butter and sugars together until light and fluffy
Add in the eggs, vanilla and lemon juice
Add in the flour, baking soda, salt, cinnamon and oats
Stir in the chocolate chips and chopped walnuts
Roll into balls on a parchment lined baking sheet
Bake at 300 for 25-27 minutes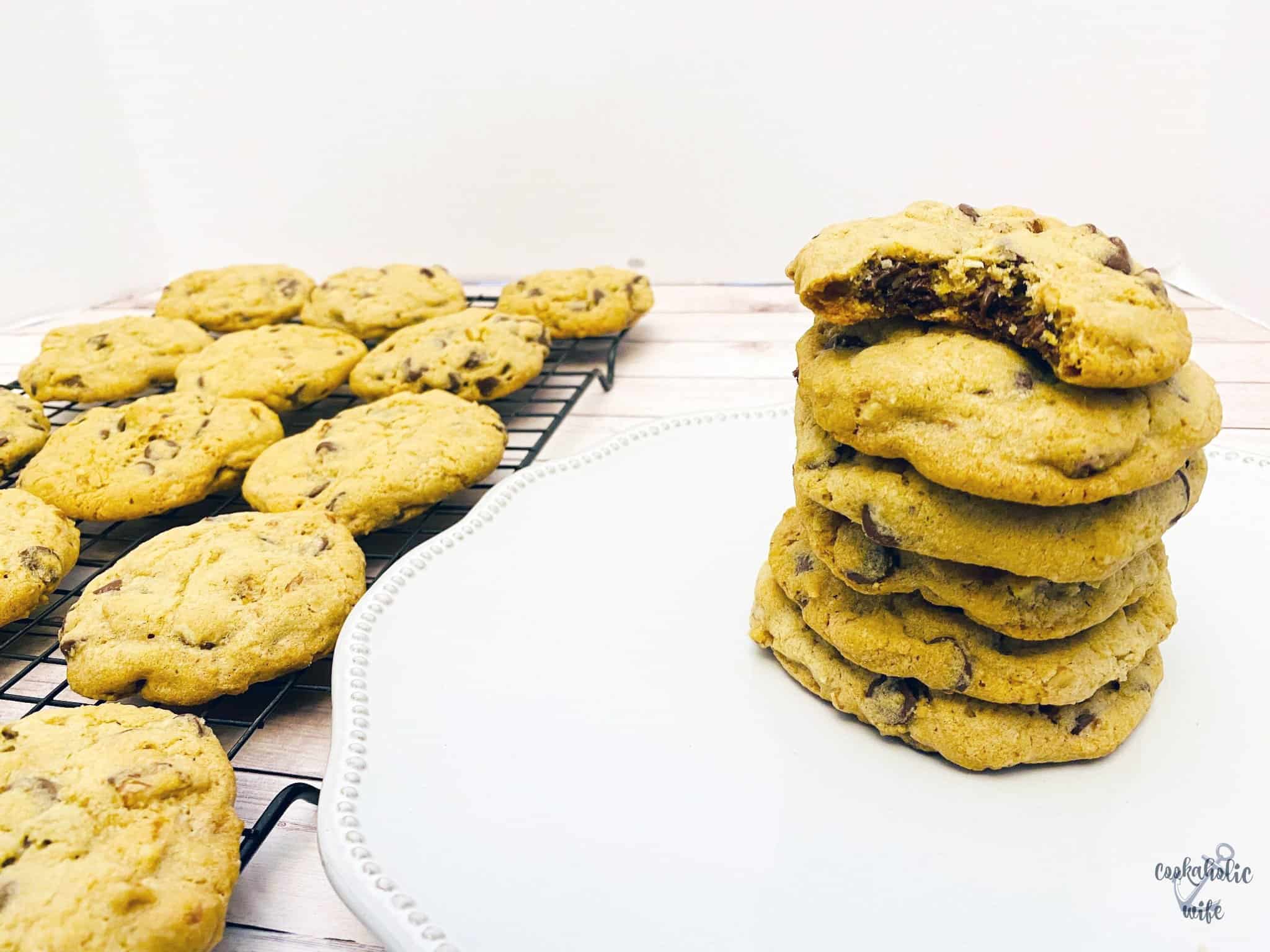 CAN I FREEZE THE COOKIE DOUGH?
Absolutely! Make up the cookie dough  and roll out the cookies. Flash freeze them on a sheet pan until they are no longer sticky, then transfer them to a ziptop bag or container and freeze completely. To Bake: Place frozen cookies on a baking sheet and bake at 300 for 30-35 minutes, or until the cookies are golden.
WANT TO SAVE THIS RECIPE FOR LATER? PIN IT TO YOUR FAVORITE PINTEREST BOARD AND FOLLOW ME AT COOKAHOLIC WIFE FOR MORE DELICIOUS RECIPES!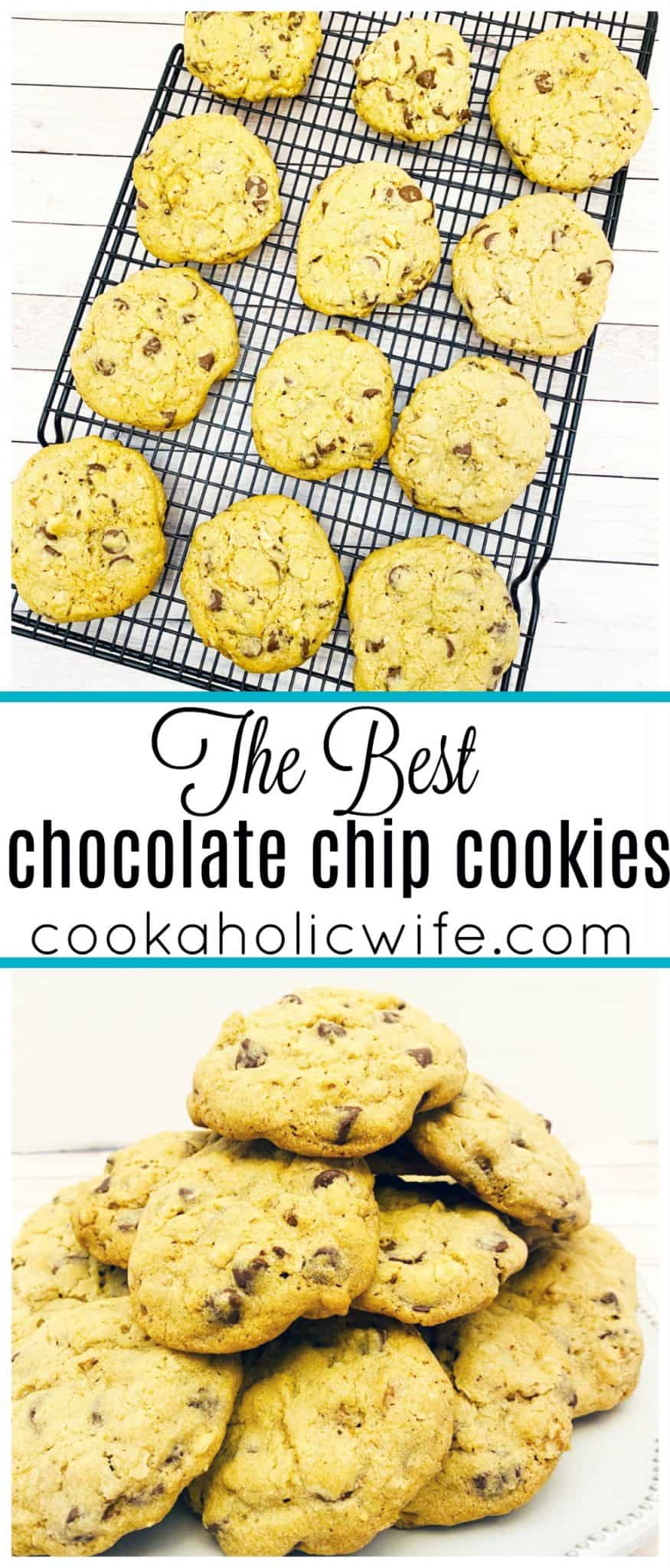 Recipe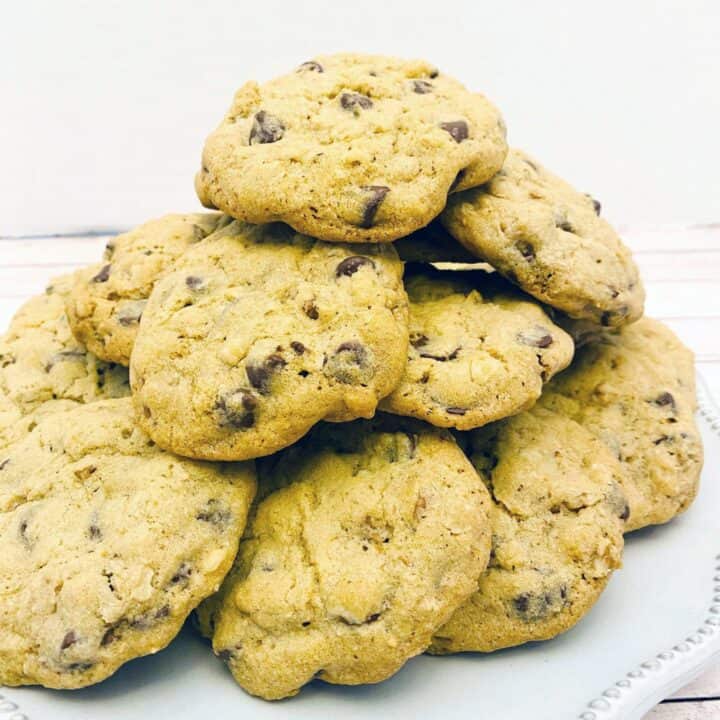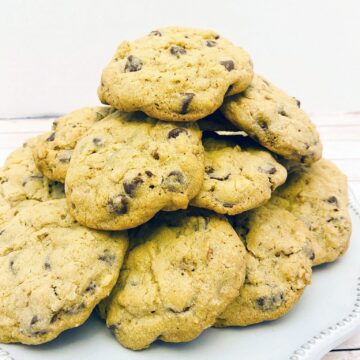 The Best Chocolate Chip Cookies
The Doubletree Hilton Hotels serve a warm, enormous chocolate chip, walnut studded cookie when you arrive. After the release of their recipe, I made some slight adjustments to give you my version of the cookie. Slightly smaller, but just as tasty. 
Ingredients
2 ¼

cups

all purpose flour

1

teaspoon

baking soda

1

teaspoon

kosher salt

¼

teaspoon

cinnamon

2

sticks unsalted butter

softened

¾

cup

brown sugar

¾

cup

+ 1 tablespoon granulated sugar

2

eggs

1

tablespoon

vanilla

¼

teaspoon

lemon juice

¾

cup

rolled oats

quick cooking, not old fashioned

2

cups

chocolate chips

1 ½

cups

walnuts

chopped
Directions
Preheat the oven to 300 degrees. Line two large baking sheets with parchment paper.

Combine the flour, baking soda, salt and cinnamon together in a bowl. Set aside.

Add the butter, brown sugar and granulated sugar to the bowl of a mixer. Beat on medium speed until light and fluffy. Add in the eggs, one at a time, followed by the vanilla and lemon juice.

Slowly add the flour into the mixer, followed by the oats.

Fold in the chocolate chips and walnuts by hand.

Use a 2 tablespoon scoop to form balls of dough. Place on the prepared baking sheet 2 inches apart.

Bake for 25-27 minutes or until lightly golden.
Notes
Original Recipe: The original recipe uses a pinch of cinnamon, regular salt, a teaspoon of vanilla, an additional ⅔ cup of chocolate chips and an additional ¼ cup of walnuts. The cookies are formed into 3 tablespoons sized balls of dough and baked for 20-23 minutes. Yield: 26 cookies
Nutrition
Serving:
1
cookie
Calories:
194
kcal
Carbohydrates:
20.4
g
Protein:
3.4
g
Fat:
11.4
g
Saturated Fat:
5.5
g
Cholesterol:
25
mg
Sodium:
150
mg
Fiber:
1.1
g
Sugar:
12.1
g
Recipes on Cookaholic Wife are for information purposes only. Nutritional Data provided has not been evaluated by a nutritionist.