Can you believe that it is already the middle of December? I once said that years that end in an event number fly by at an alarmingly fast pace, but years that end in an odd number go by at a much more reasonable pace. I feel like that was proven this year. I barely remember the beginning of it because it went by so quickly! Do you feel that way too?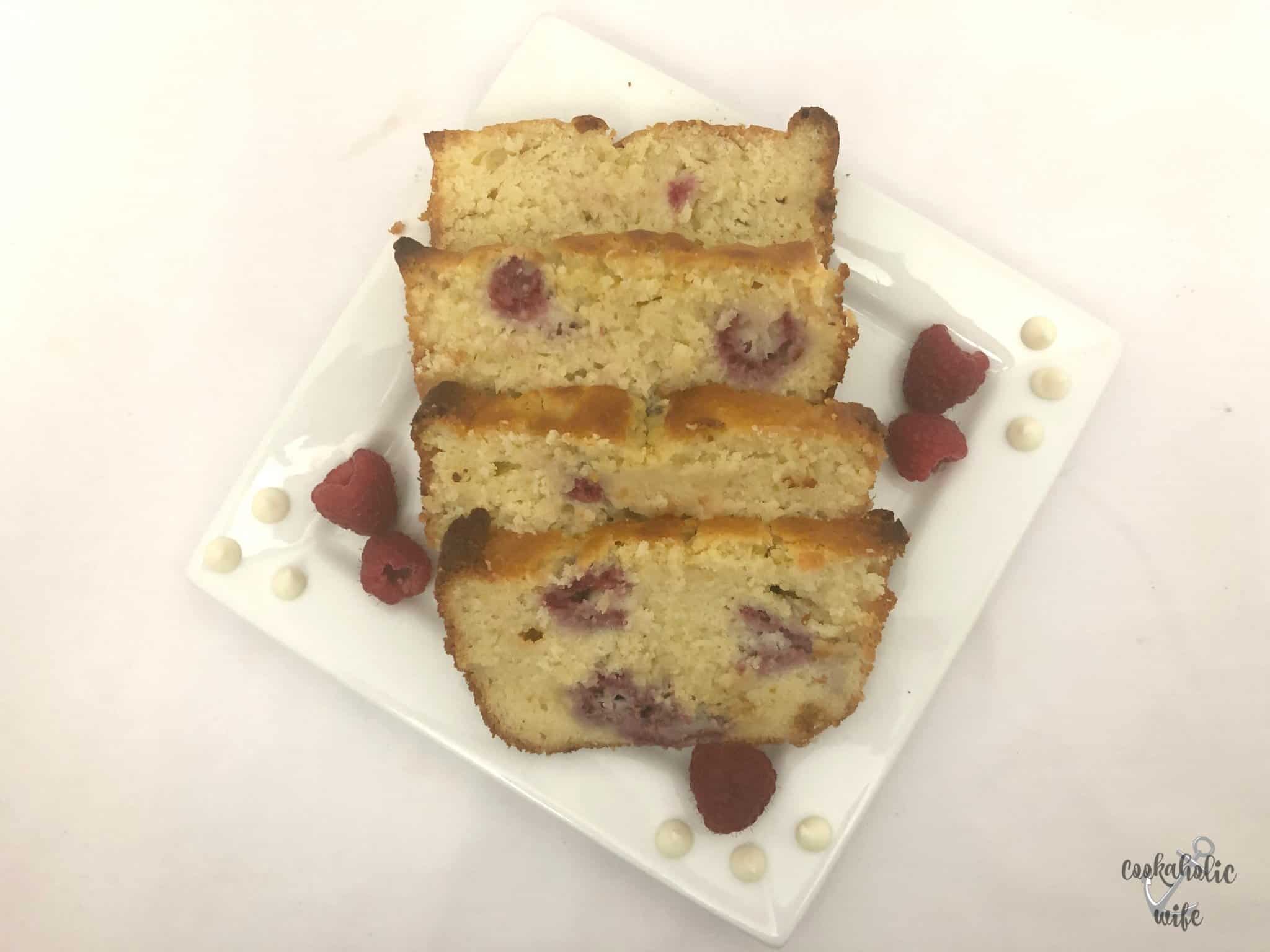 Anyway, this is the last Improv Cooking Challenge for 2018 and our ingredients this month were raspberries and  chocolate. If you haven't read one of my blog posts before, a monthly blogging event where two ingredients are assigned to a month. Bloggers can make any recipe they like as long as it features the two ingredients. If you are a blogger and would like to join us, please visit our Facebook page.
You can also read more about the event on our our home page and if you'd like to see previous creations, check out our Pinterest board.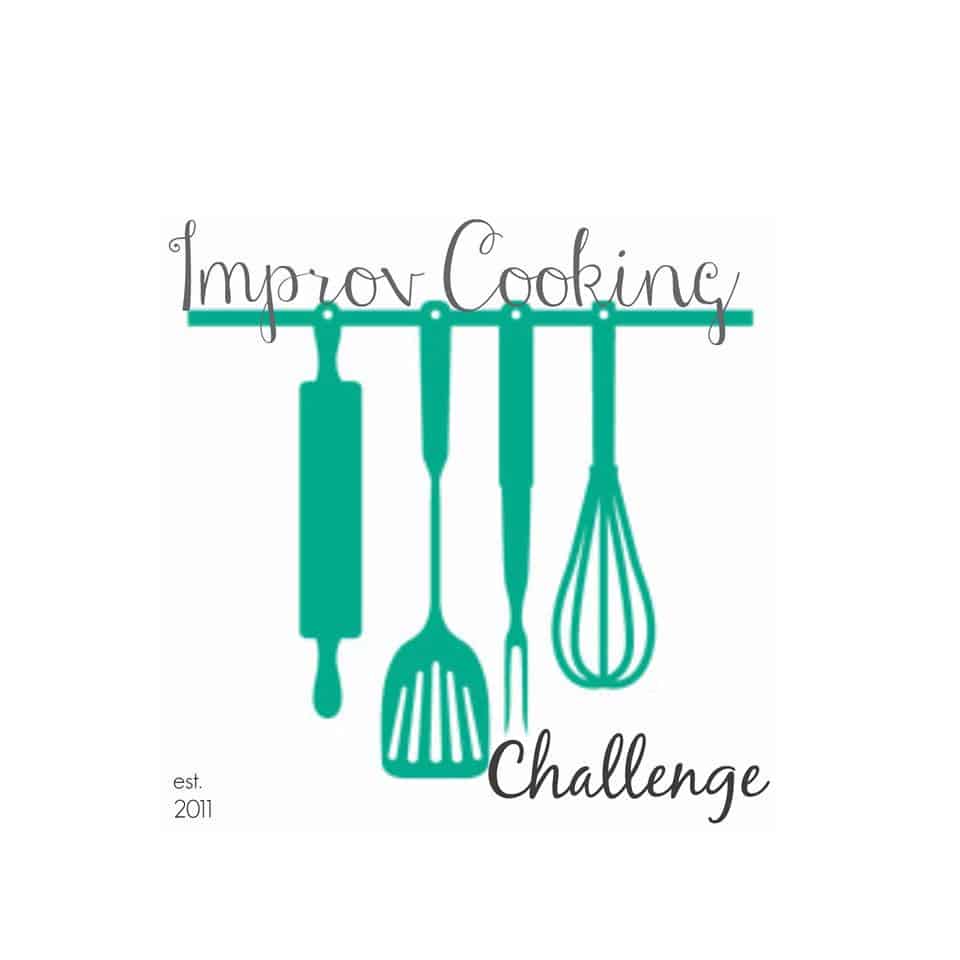 One of my coworkers loves white chocolate and another coworker absolutely despises it saying that it isn't even chocolate at all and gets on the first coworker every time he asks me to make something with white chocolate. It's actually kind of funny as the conversation is nearly the same every single time. We're totally creatures of habit. Point being, I knew that one of my coworkers was going to love whatever I made for this month.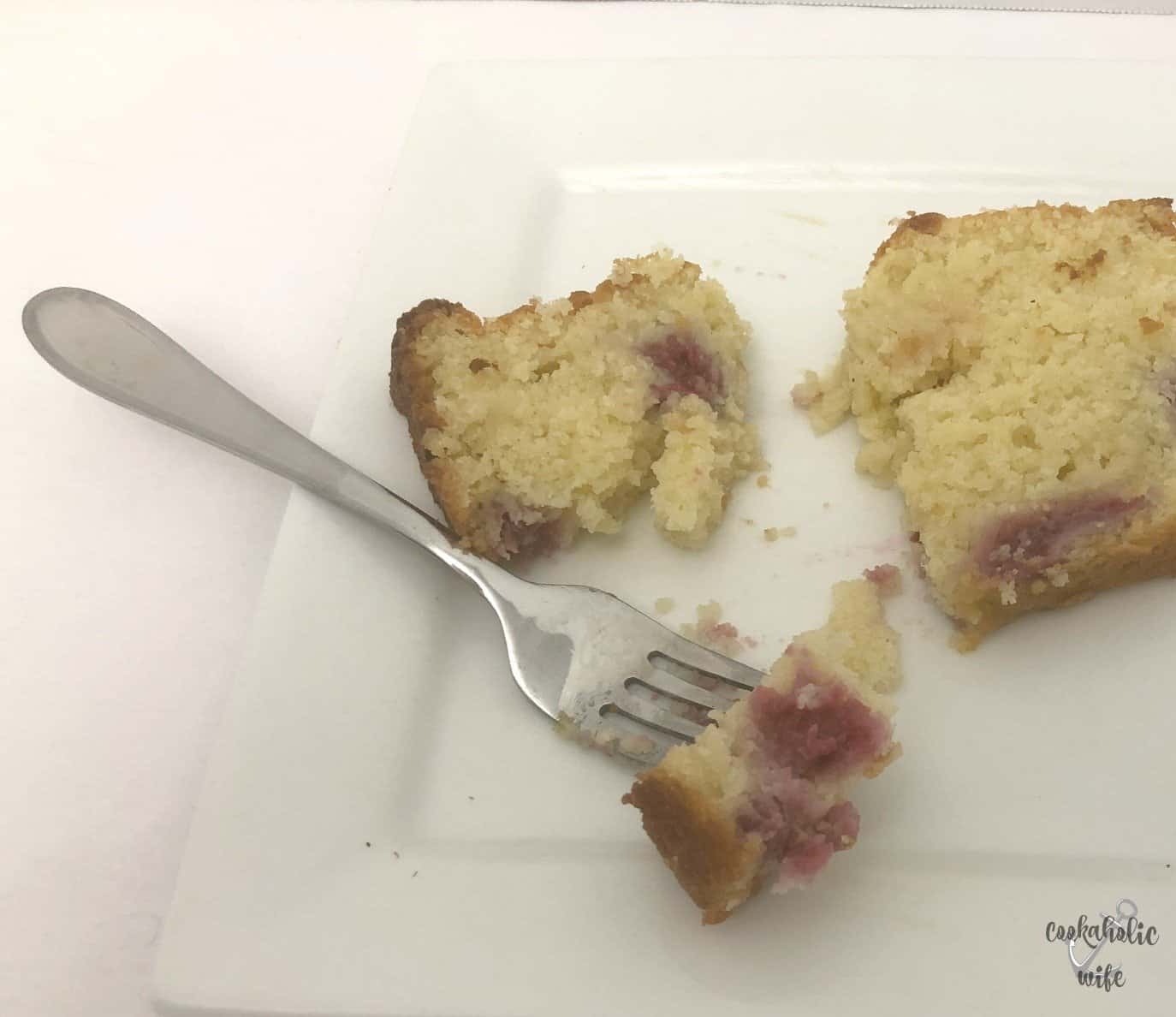 I first thought about sweet rolls because all of my coworkers love sweet rolls, but to be honest, I'm kind of tired of making them. While I haven't even blogged any new ones this year, I've definitely remade some sweet rolls from years past, like the Pumpkin Cinnamon Rolls and the Raspberry Sweet Rolls. So I needed something different.
Muffins? Nah, I just made those last week.
Cupcakes? No, I was running low on butter and didn't have enough to make buttercream.
Scones? Nichole, you work with all men that wouldnt' know what to do with a scone if it hit them over the head.
Cake? Meh, same thing with the buttercream.
Bread? Yes, bread!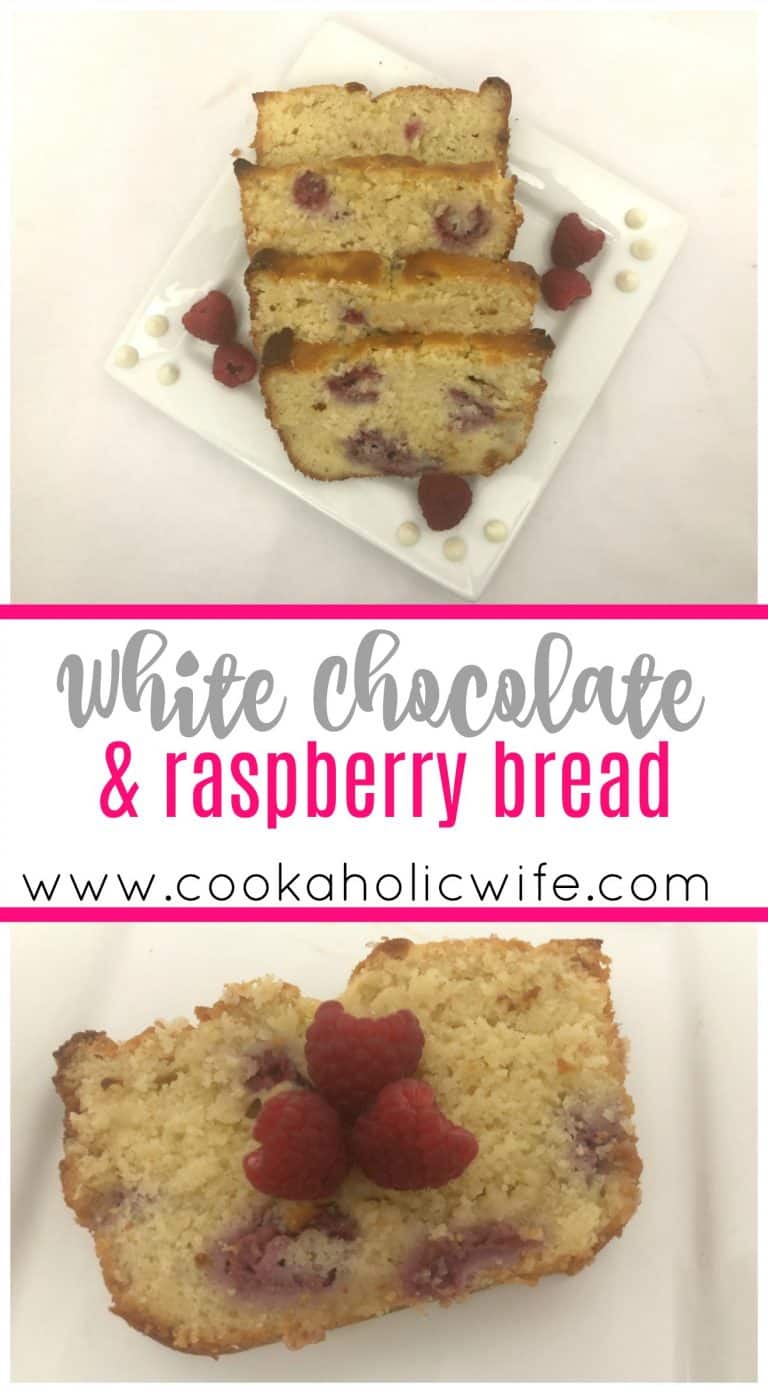 Recipe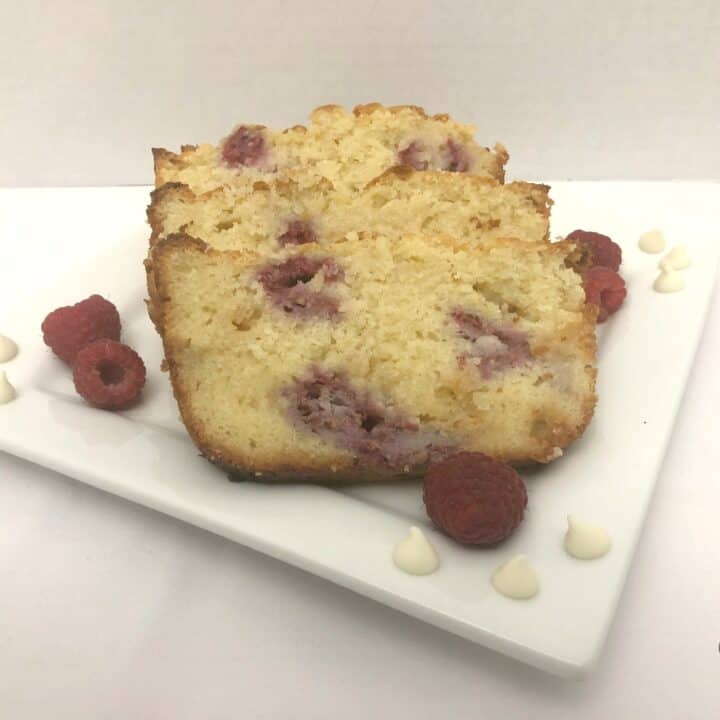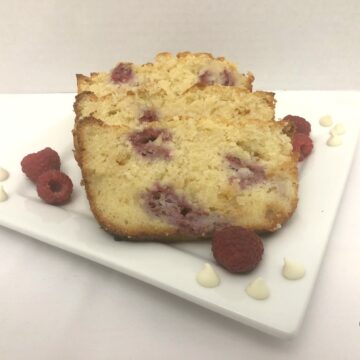 White Chocolate Raspberry Bread
If you're a fan of chocolate and raspberry, you'll love this light and fluffy quick bread filled with fresh raspberries and studded with white chocolate chips.
Ingredients
1

stick unsalted butter

melted

1

cup

vanilla yogurt

1

cup

sugar

3

eggs

beaten

1

teaspoon

vanilla extract

½

teaspoon

almond extract

2

cups

all-purpose flour

2

teaspoon

baking powder

½

teaspoon

salt

1

cup

raspberries

rinsed and dried

1

cup

white chocolate chips

1

teaspoon

all-purpose flour
Directions
Preheat the oven to 350. Spray a 9x4x5 loaf pan with cooking spray.

In a medium bowl, whisk together the butter, yogurt, sugar, eggs, vanilla and almond extract. In a large bowl, whisk together the flour, baking powder and salt.

Stir the wet ingredients into the dry ingredients until just combined. Add in the white chocolate chips and fold in. Add in the raspberries and fold in until just combined.

Pour the batter into the prepared loaf pan and bake for 60-65 minutes or until a toothpick inserted in the center comes out clean.

Transfer to a wire rack to cool completely before slicing.
Recipes on Cookaholic Wife are for information purposes only. Nutritional Data provided has not been evaluated by a nutritionist.
One thing that has always cracked me up about bread recipes is that anything not containing yeast, and therefore not needing to rise, is considered "quick bread" which is a bit of a stretch. I mean, how many meal prep companies and bloggers are out there creating recipes that you can pull together in 30 minutes, 20 minutes or even less? Tons, right?
While this bread is considered quick in the sense that it doesn't need one or multiple rises, it still is not quick, like a 20 minute or less dinner. It's going to take you 10-15 minutes to get the batter created and in the bowl and then this hangs out in the oven, making your house smell incredible for at least an hour.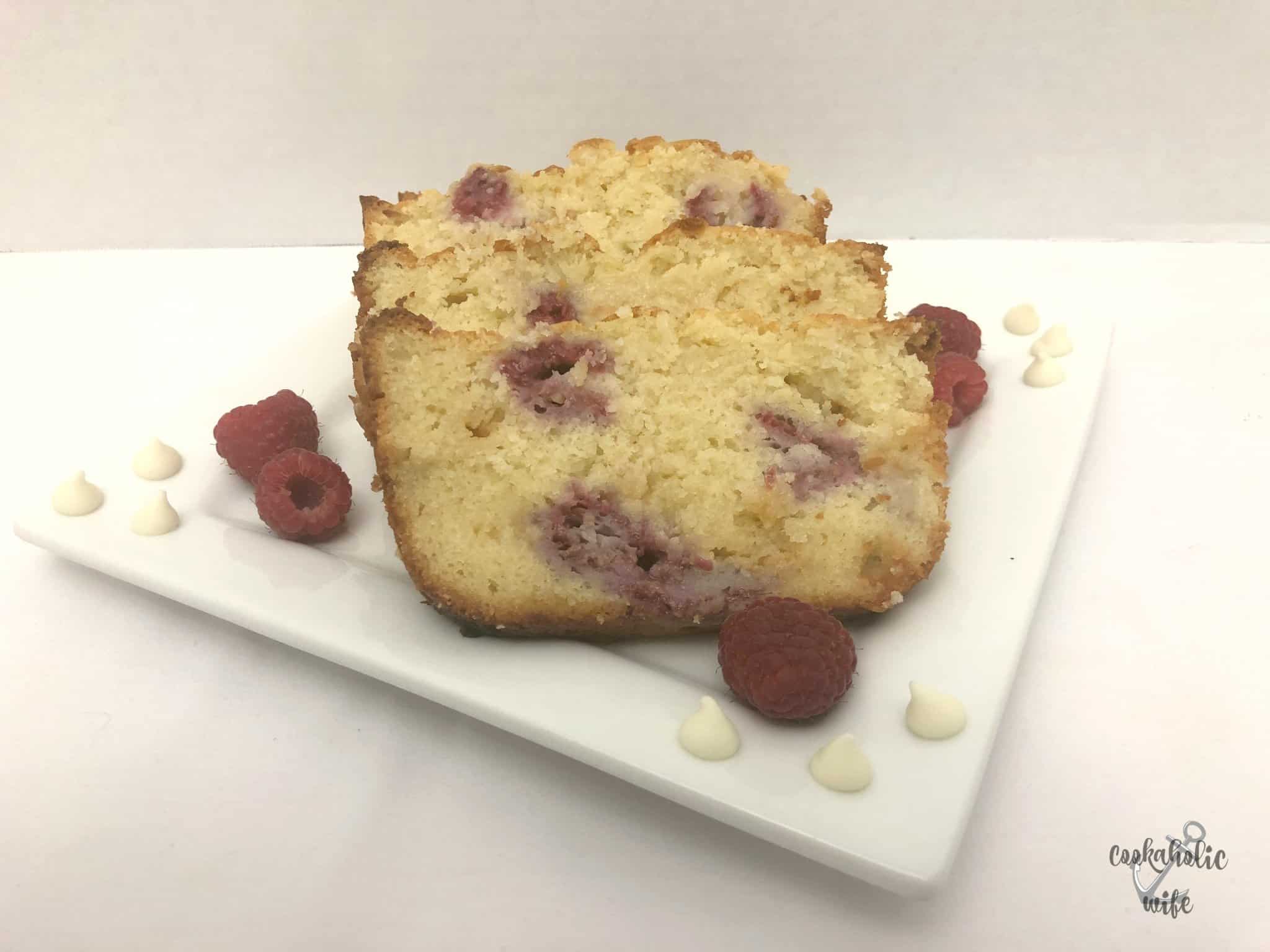 Of course, it's not a recipe where you constantly need to check on it for doneness, or stir it or anything. Just pop it in the oven, set the timer and go about your day, but to me, I feel like we need to revise calling recipes like these "quick breads". Maybe "no yeast bread" ? Or "no rise bread" ? I don't know.
No matter what you call it or whether you think it's a fast recipe or not, it doesn't change the fact that this bread is delicious! There's just something about the way white chocolate chips melt differently in a batter than their other chip counterparts. It's light, its fluffy, its bursting with fresh raspberry flavor and somehow equally mellowed out with the rich, butteryness of the white chocolate chips. What more do you want from a slice of bread?