I don't know why I've never thought to add a cheeseburger to a salad before. It's so simple! I typically eat my burgers with lettuce and tomato, so why not use a bed of vegetables for the burger instead of a bun?
Recently I've realized that if I pick and choose my carb consumption carefully (ex. saving them for the things I really want and skipping on things like burger buns) I can keep slightly better control of the number on the scale.
And honestly, after completing Whole30's multiple times, I'm really only a carb-craving person when it's absolutely freezing outside or that one PMS day a month where I'd kick you for a bowl of mashed potatoes or pasta with butter and chives.
Recipe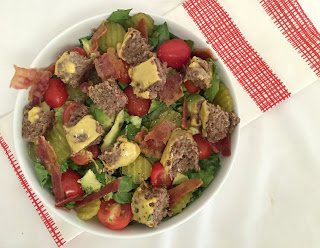 Bacon Cheeseburger Salad
Who needs a bun when you can have a bacon cheeseburger salad?
Ingredients
For the Burgers:
1 ¼

lb

lean ground beef

1

tablespoon

worcestershire sauce

1

tablespoon

panko breadcrumbs

1

garlic clove

minced

1

teaspoon

onion powder

1

teaspoon

kosher salt

1

teaspoon

pepper

4-6

slices

cheese of your choice
For the Salad:
6

cups

mixed greens

½

cup

cherry tomatoes

halved

1

avocado

chopped

½

cup

dill sandwich pickles

4-6

slices

bacon

cooked
For the Dressing:
½

cup

ketchup

¼

cup

dijon mustard

2

tablespoon

mayo

1

tablespoon

dill pickle juice
Directions
1. Preheat a grill or grill pan over medium high heat.

2. Combine the ground beef, worcestershire sauce, Panko, garlic, onion powder, salt and pepper. Form into 4-6 evenly sized patties.

3. Grill the patties for 3-4 minutes on each side or until cooked to your desired temperature. Add a slice of cheese to each and cook for 30 seconds to 1 minute more, allowing the cheese to melt.

4. While the burgers are cooking, divide the lettuce, tomato, avocado and pickle slices among the bowls/dishes. Cut each slice of bacon into quarters and add to the bowl/dish.

5. In a small bowl, whisk together the ketchup, dijon mustard, mayo, and pickle juice until combined.

6. When the burgers are cooked, transfer to a plate and cut into pieces. Add to each bowl/dish.

7. Drizzle the dressing on top and enjoy!
Recipes on Cookaholic Wife are for information purposes only. Nutritional Data provided has not been evaluated by a nutritionist.
Seriously, who needs a bun when you have a salad as gorgeous as this? The pictures show 1 ½ burgers and I was absolutely stuffed after eating this salad.
The combination of ketchup, mustard, mayo and pickle juice really bothers some people (and I understand that) so you could easily chose your own dressing for this. The one created is similar to a Thousand Island in flavor and ingredients. You can also pretty much never go wrong with ranch!