Bakery Style Blueberry Muffins are moist and sweet oversized muffins like you can find in a bakery, studded with fresh blueberries.
I can't believe that I've been blogging for nearly a decade and not once have I shared a blueberry muffin recipe with you. I've probably made them at least 50 times and not once have they ever made it to the blog. But with it being Blueberry Week, when better of a time to share them with you?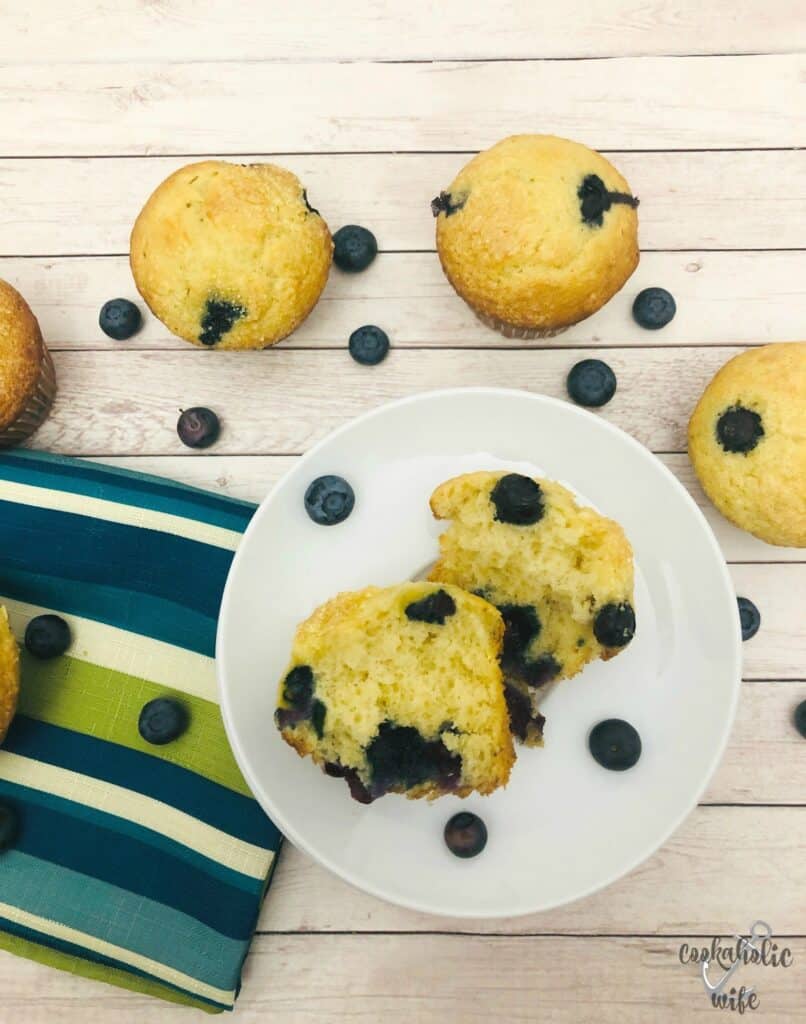 Bakery style muffins are my favorite type of muffin. They're bigger than a usual store-bought muffin, with a nicely domed top and because they're bigger, there's more room for ingredients, like fresh blueberries! Everyone loves the top of a muffin, right? "Muffin top" is now really just a slang term for when your belly hangs over the waistband of your pants and while I can't guarantee that won't happen if you eat the whole batch, I can guarantee that these are delicious!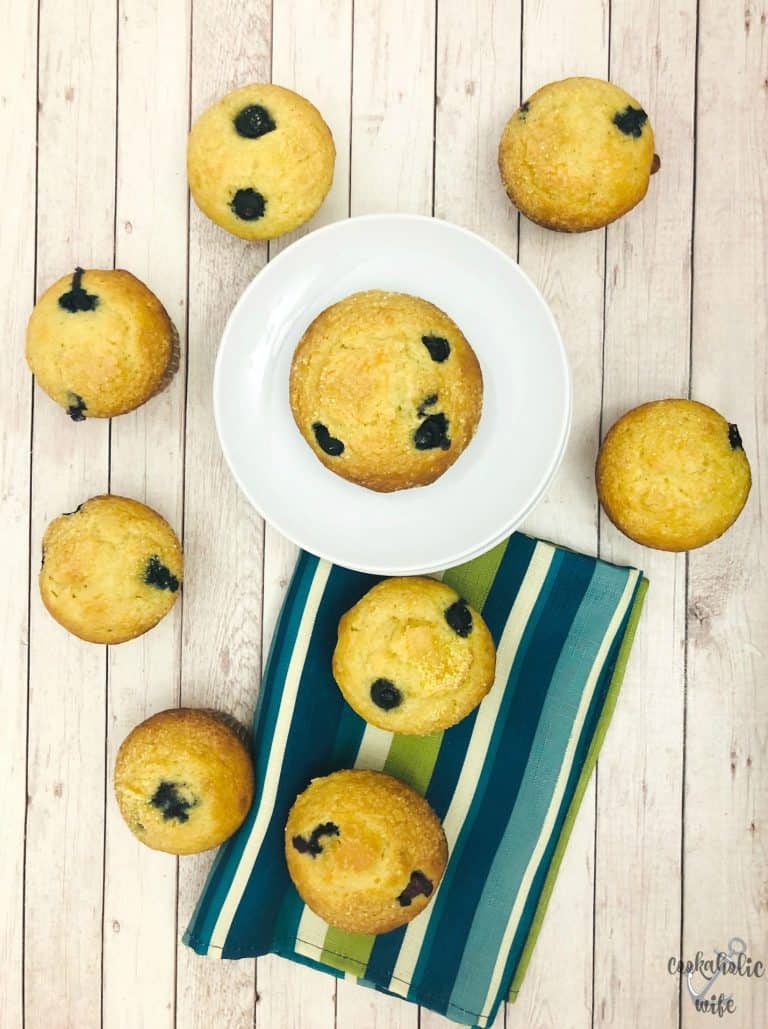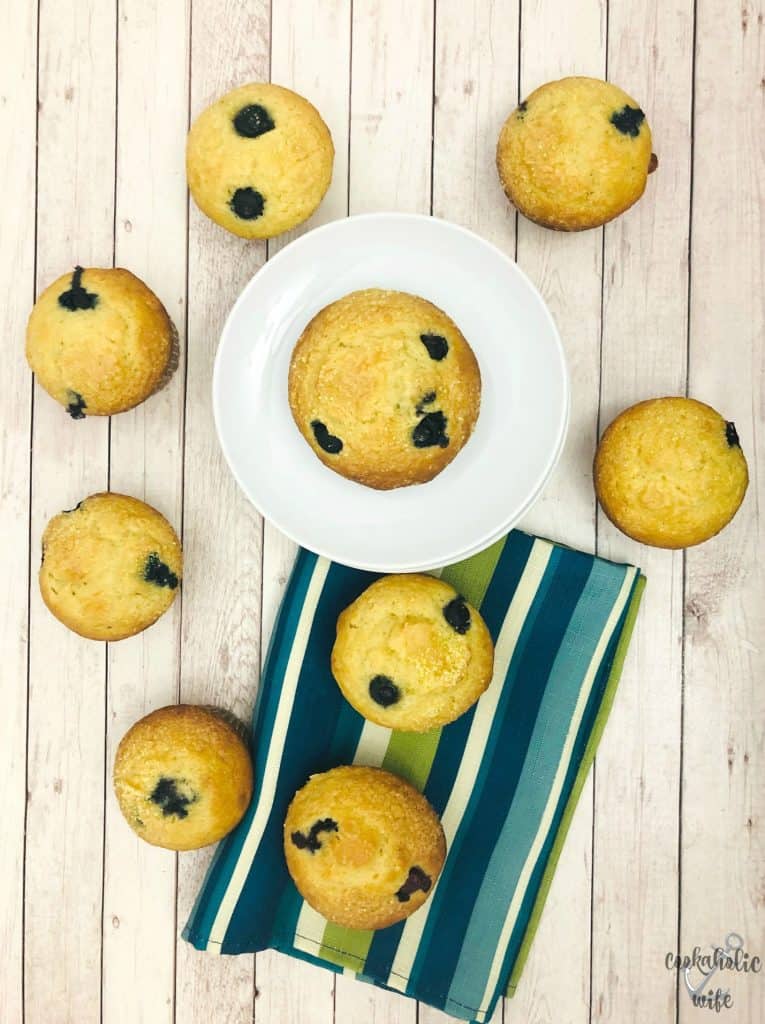 HOW DO YOU GET A TALL, DOMED TOP MUFFIN?
Baking powder. Make sure yours is not near or past the expiration date.
Oven temperature. You want to start out at a higher temperature and then reduce it down.
Filling the liner to almost full. If this scares you, put a large baking sheet lined with foil under the muffin pan. If anything overflows, your clean up is minimal.
Room temperature ingredients. Your butter and eggs really do need to sit out to reach the right temperature.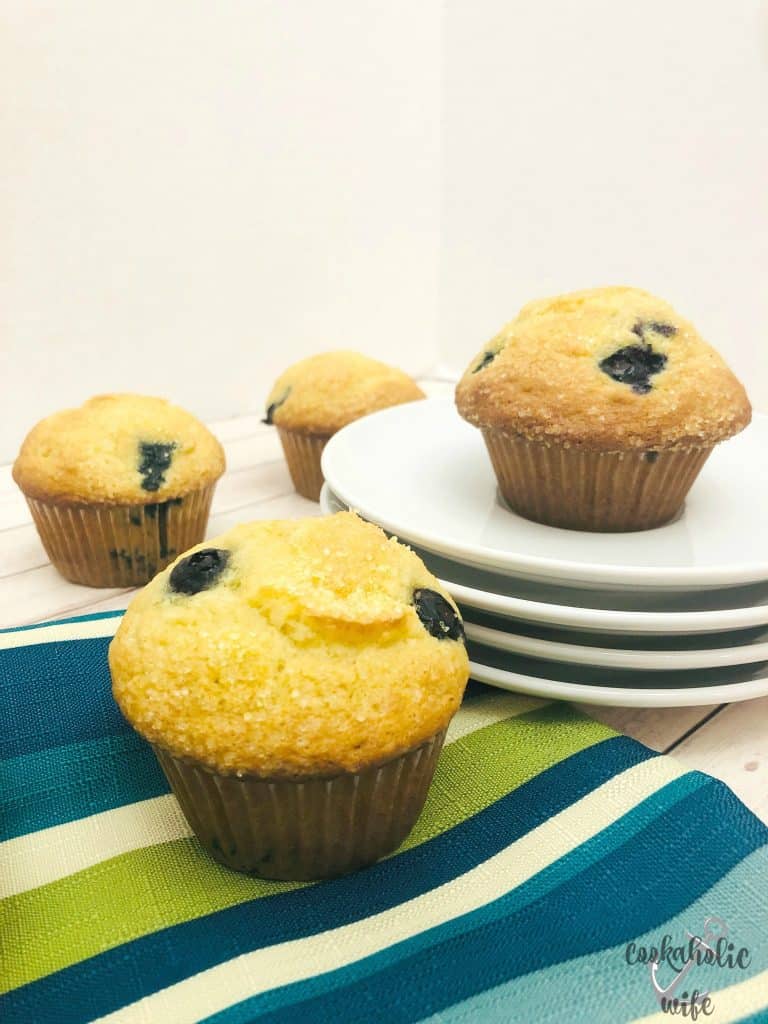 DOES THIS WORK ON ANY TYPE OF MUFFIN?
I haven't tried every recipe, but I can confirm it works on my Bakery-Style Chocolate Peanut Butter Muffins, these blueberry muffins, and a banana chocolate chip muffin that I haven't blogged yet. As long as your ingredients aren't too dense, I believe it would work. (I think a muffin filled with apple might have trouble rising, but don't quote me on that)
BAKERY STYLE BLUEBERRY MUFFIN INGREDIENTS

WHAT IF I ONLY HAVE FROZEN BLUEBERRIES?
You don't need fresh blueberries to make blueberry muffins, but when you use frozen the blue color tends to spread in the batter. If you are using frozen, don't let them sit out while you are preparing the other ingredients. Wait until the rest of the batter is mixed together and you're ready to put it into the pan. Then toss the frozen blueberries with 1-2 tablespoon of flour and then mix them in. The flour helps prevent them from turning the batter blue and will also stop them from sinking to the bottom of the muffin.
I tried this recipe using melted and cooled butter versus beating the butter and sugar together with room temperature butter. Larger muffins have a tendency to dry out quickly and I think using the melted butter helped with that. These were best the day of, but still really tasty on the the second day. I can't attest to anything past that, as they had disappeared by then.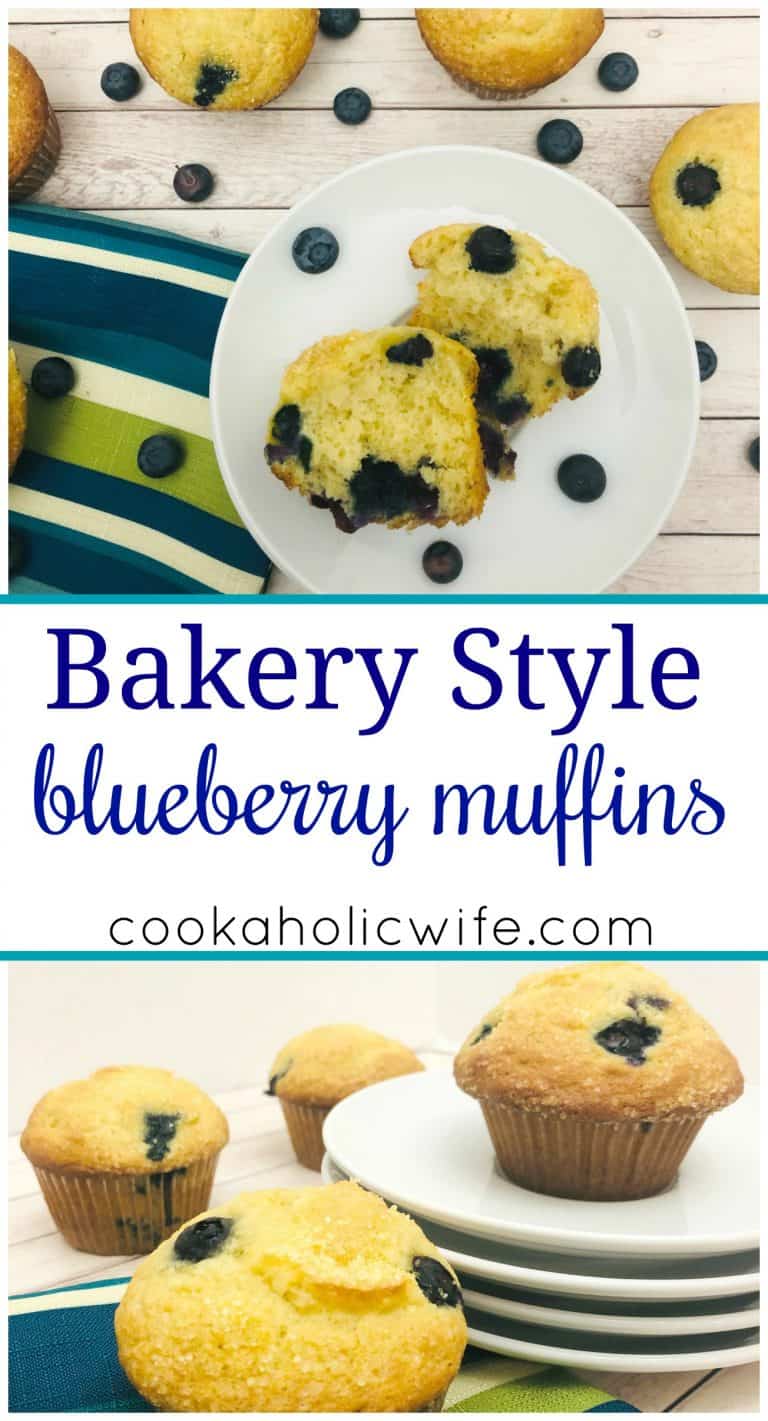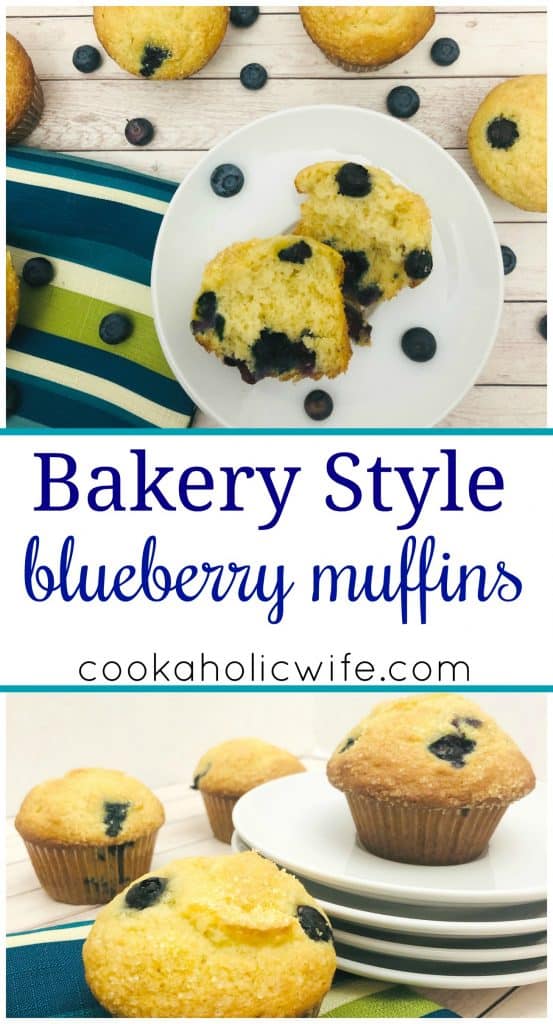 Recipe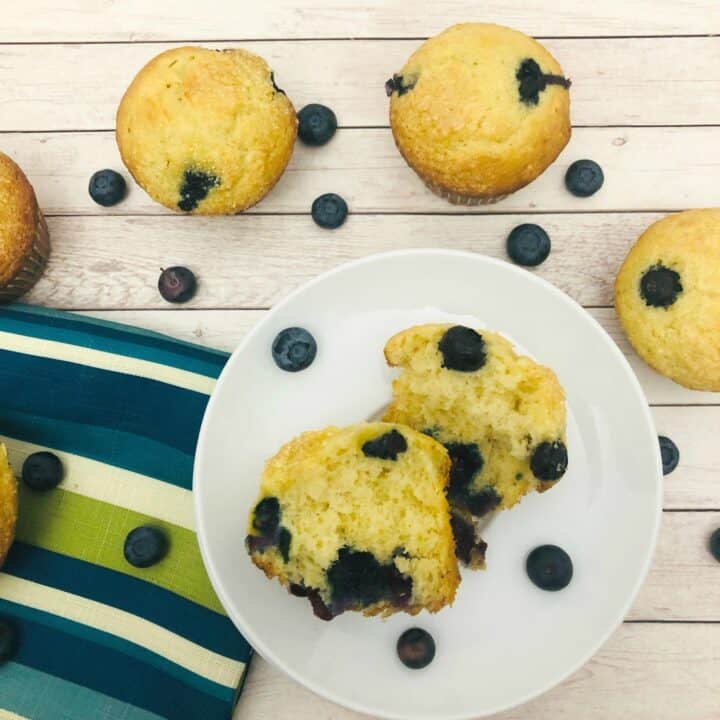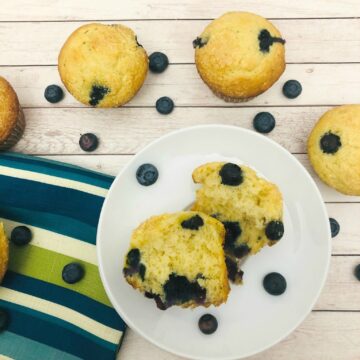 Bakery Style Blueberry Muffins
Bakery Style Blueberry Muffins are moist and sweet oversized muffins like you can find in a bakery, studded with fresh blueberries.
Ingredients
2 ½

cups

all purpose flour

1

tablespoon

baking powder

½

teaspoon

baking soda

½

teaspoon

salt

1

stick unsalted butter

melted and cooled

1

cup

sugar

1

egg

1

cup

buttermilk *see note

1

tablespoon

vanilla

1 ½

cups

blueberries *see note

Optional: sanding sugar
Directions
Preheat the oven to 425 degrees. Line a muffin pan with liners and spray the tops of the pan with cooking spray.

In a medium bowl, whisk together the flour, baking powder, baking soda and salt.

In the bowl of a stand mixer, combine the butter and sugar and beat on medium speed for 1-2 minutes. Add in the egg and mix until combined.

Alternate between the buttermilk and flour mixture until combined, then add in the vanilla.

Fold in the blueberries by hand.

Fill each muffin cavity to almost full. Sprinkle sanding sugar on top of each muffin.

Bake for 5 minutes and then without opening the oven, reduce the temperature to 350 degrees and bake for an additional 12-15 minutes or until a toothpick inserted in the center comes out clean.

Remove from the oven and let cool in the muffin pan for a few minutes before transferring to a wire rack to cool completely.
Notes
*If you don't have buttermilk, you can make it by adding 1 tablespoon white vinegar to 1 cup milk, or use any other type of milk you have. The less fat in the milk, the more dry the muffin will be.
*If using frozen blueberries, toss in 1-2 tablespoon of flour before mixing into the batter.
Recipes on Cookaholic Wife are for information purposes only. Nutritional Data provided has not been evaluated by a nutritionist.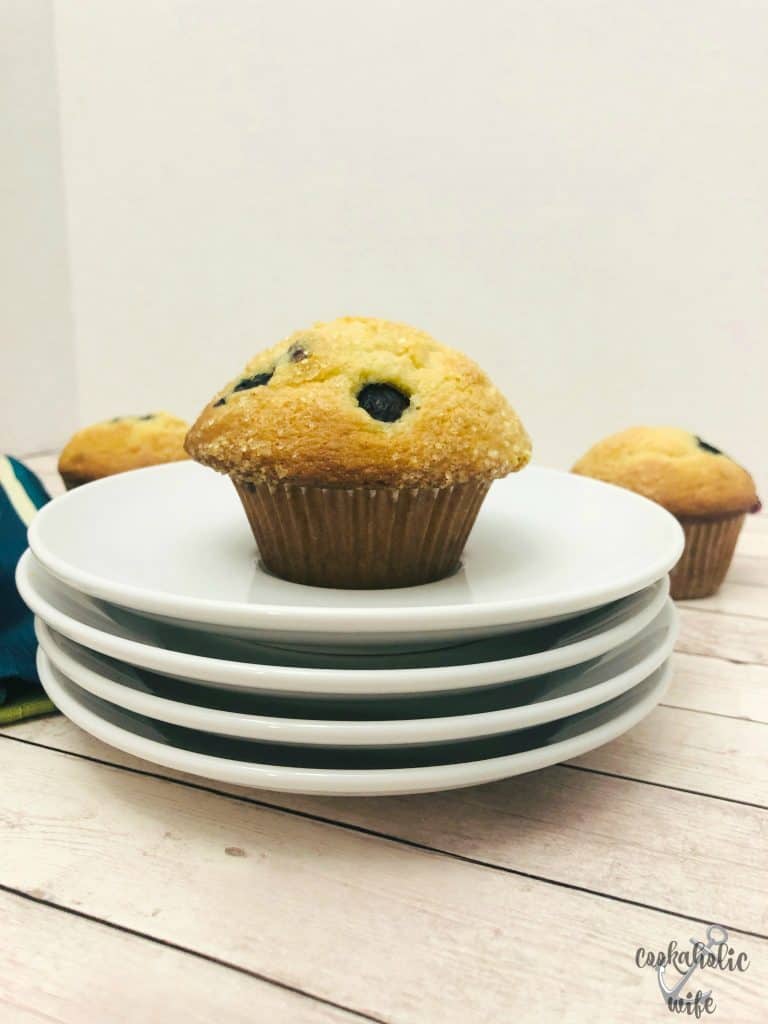 Thank you to Ellen from Family Around the Table and Christie from A Kitchen Hoor's Adventures for hosting #BlueberryWeek. More than 20 top notch bloggers are sharing a variety of blueberry recipes from breakfast to dessert. Follow #BlueberryWeek on social media so you don't miss one delicious recipe.
Breakfast
Drinks & Appetizers
Dinner
Dessert