The other week I asked my coworkers "what do you want me to make?" and one of them said chocolate chip muffins. I realized I don't even have a chocolate chip muffin recipe on my blog, which is kind of baffling, as I went through a huge muffin making phase and thought I made just about every combination in existence.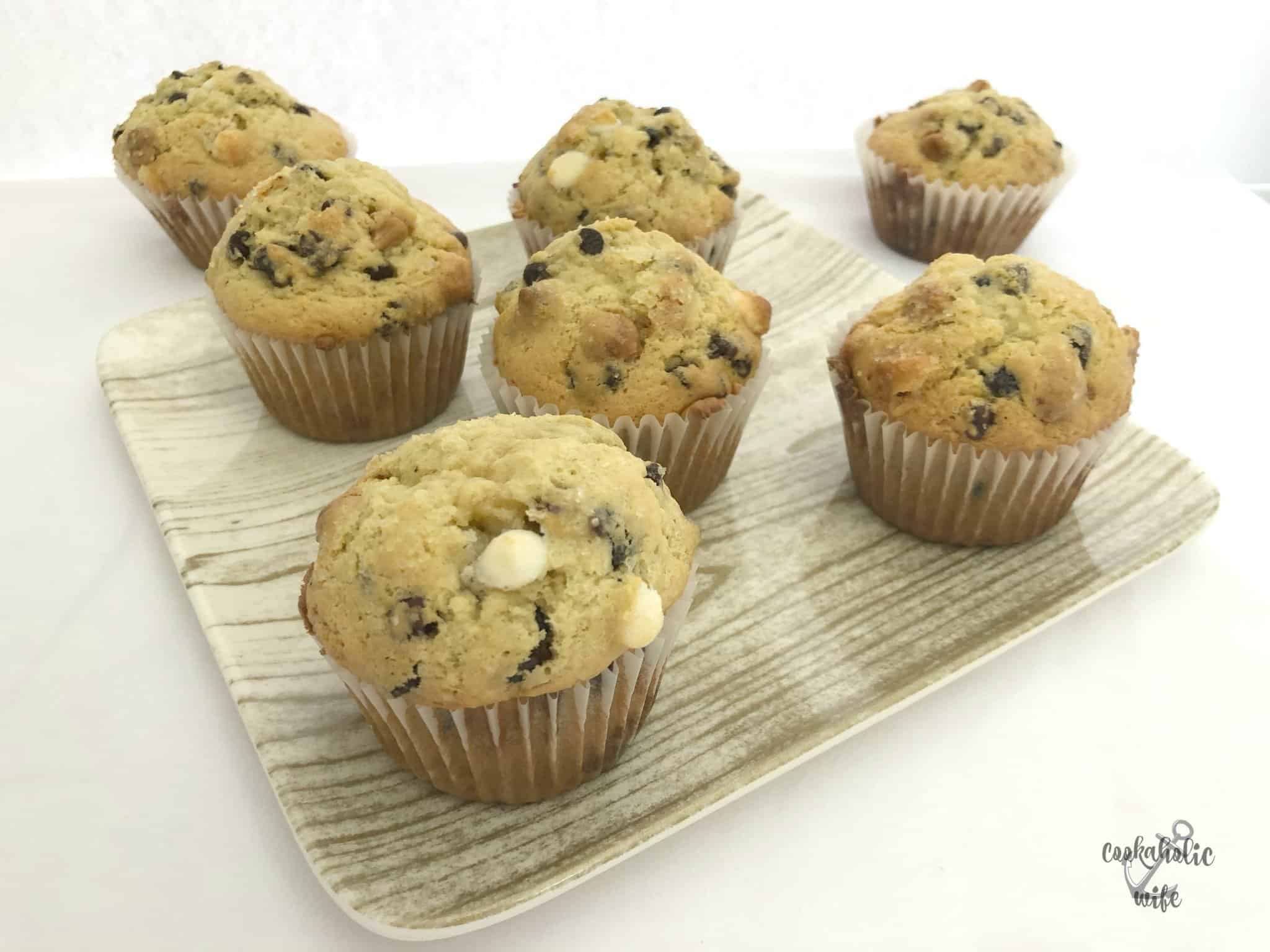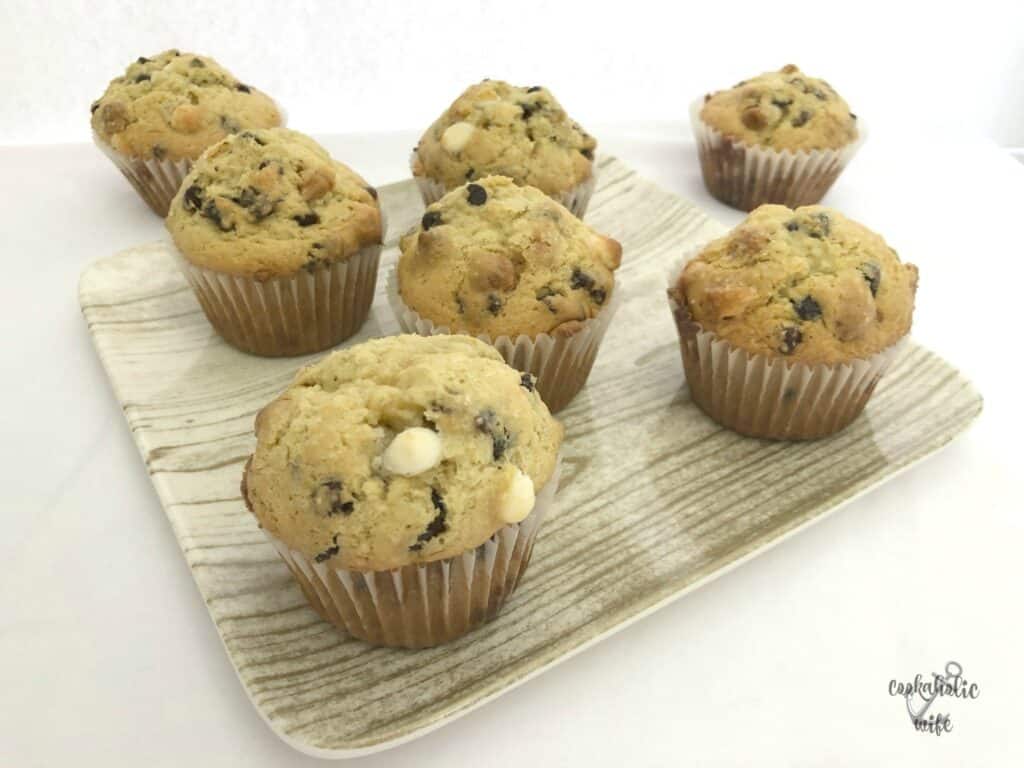 I actually intended to make chocolate chip muffins, but when I looked at the stack of baking chip options I have in my pantry, I knew that wasn't enough. I think I've told you before, I hoard mini chocolate chips. I prefer the mini ones to the regular sized ones and sometimes they can be really hard to find. So when they're out around the holidays, I purchase them in bulk. Of the containers of baking chips I have, the mini chocolate chips one is the largest container. Then there is regular chocolate chips, white chocolate chips, peanut butter chips, butterscotch chips, mint chocolate chips, caramel filled chocolate chips and then dark chocolate chunks. I think this is where I'm supposed to say I have a problem...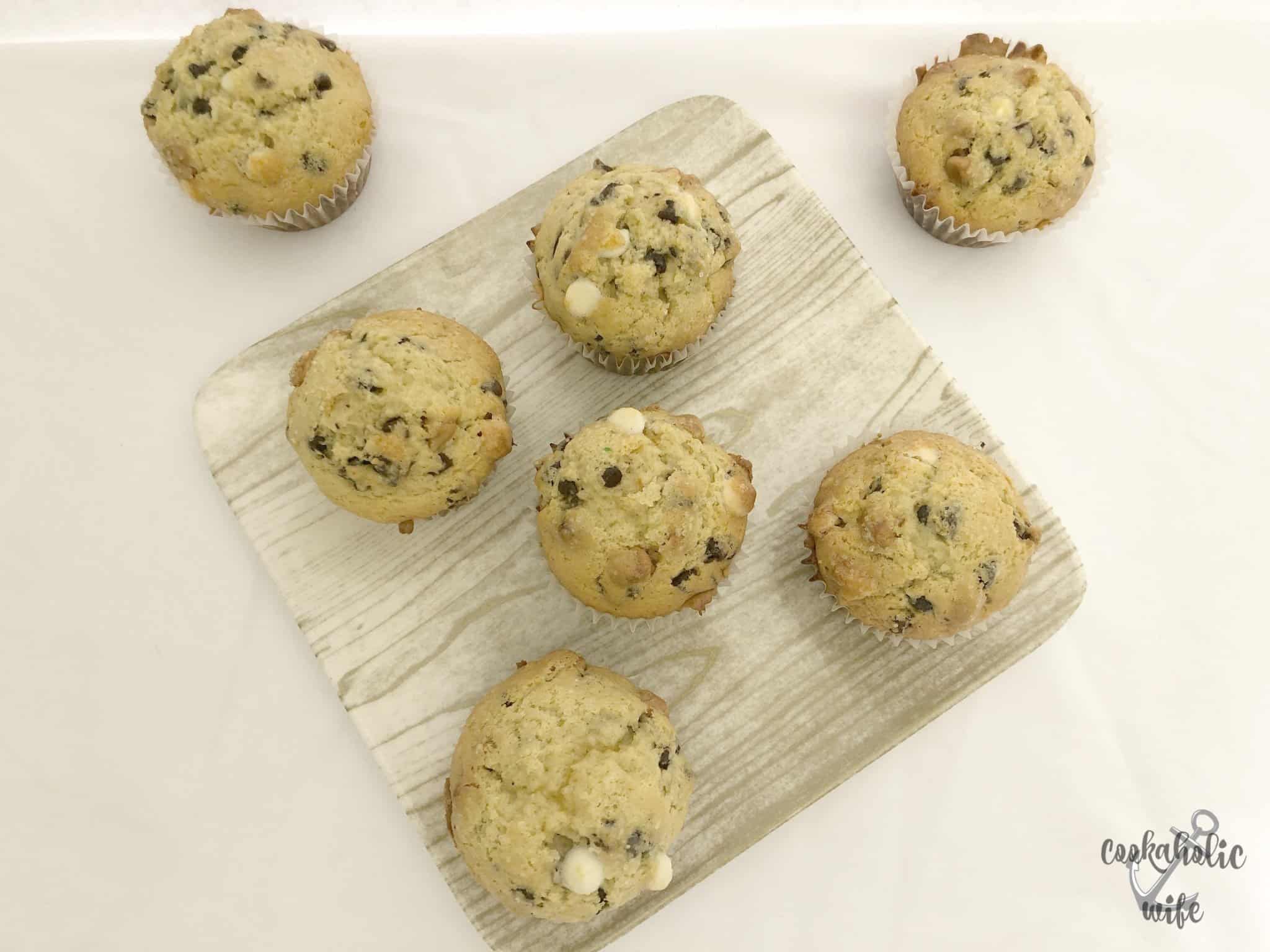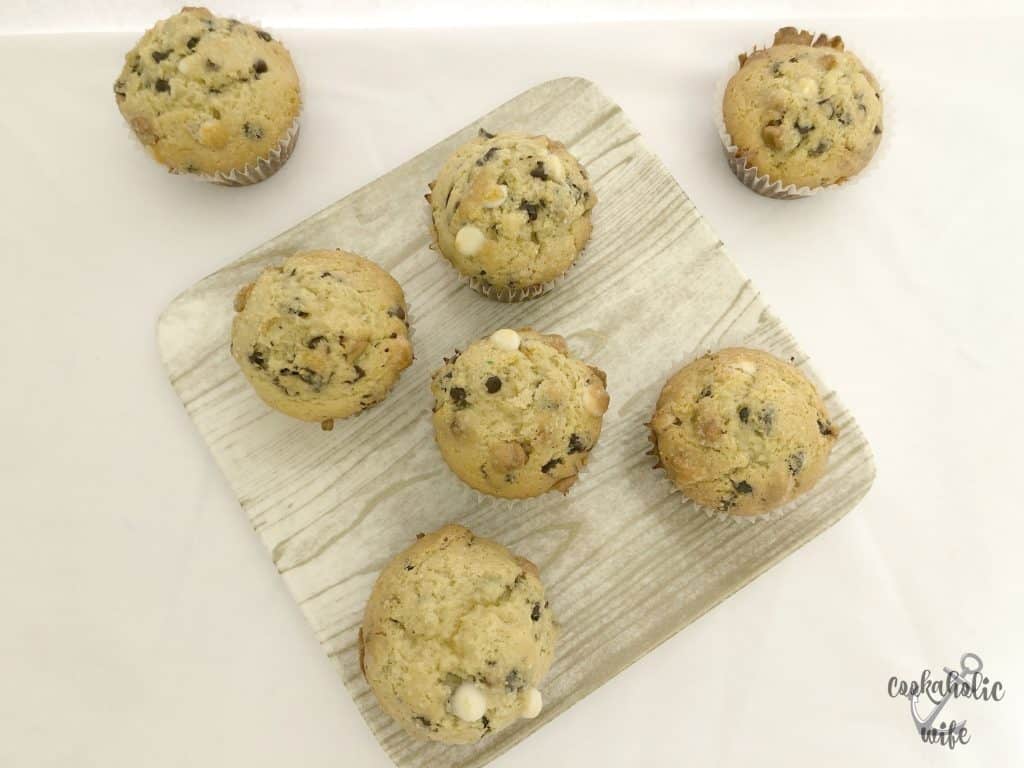 Anyway, I thought "what if I add in white chocolate chips and peanut butter chips?" and so this recipe was born. Bakery-style muffins are my favorite because of how they look. A huge domed muffin is much more appealing to me than a flat, sad muffin. Those should just be covered in frosting and called cupcakes. You get those tall domed muffins by using the right ratio of baking powder and baking soda and by starting the muffins in a higher temperature oven at first and then dropping it down.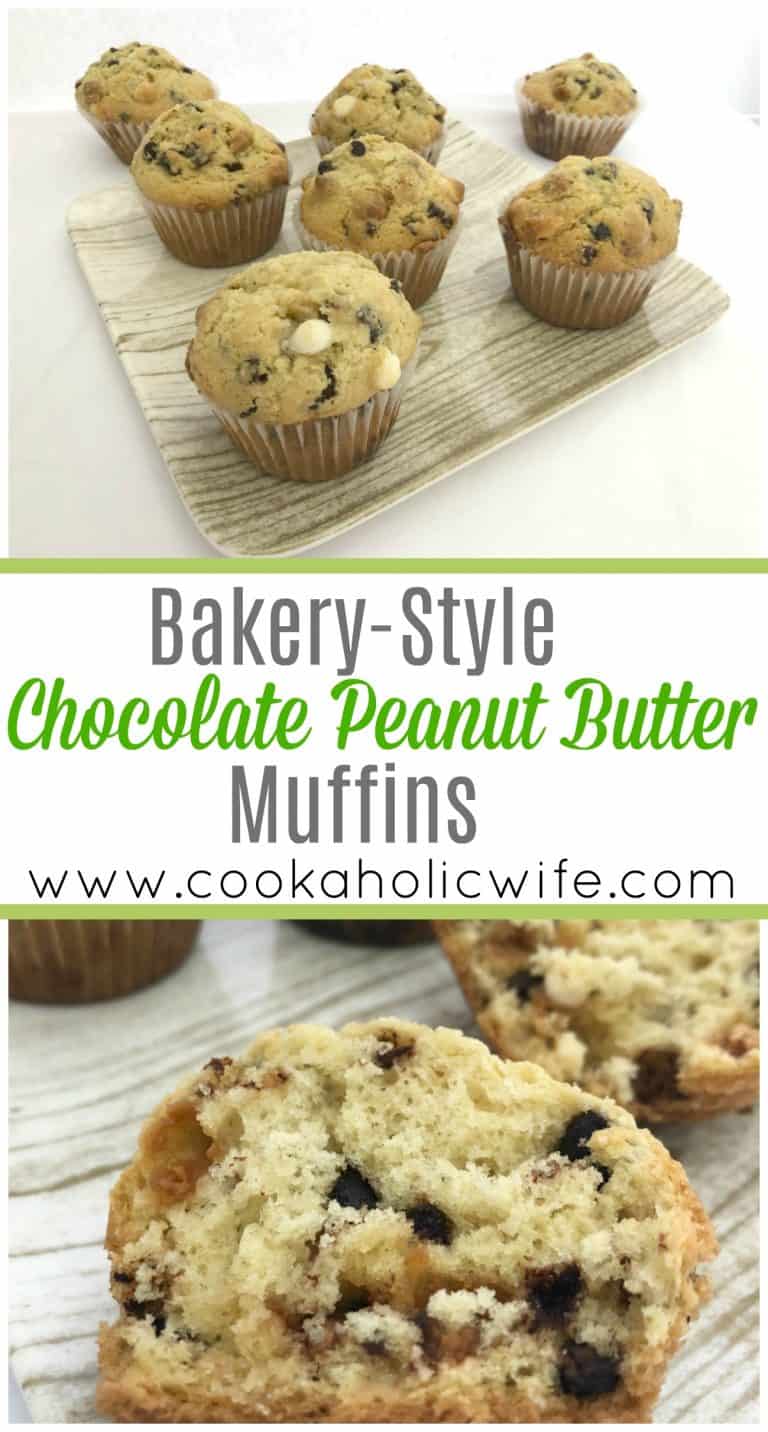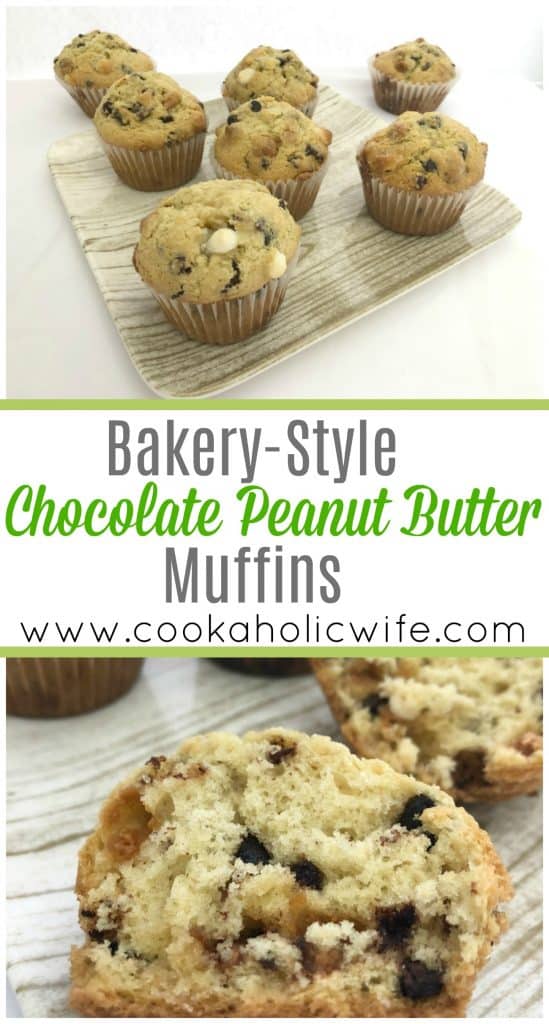 Recipe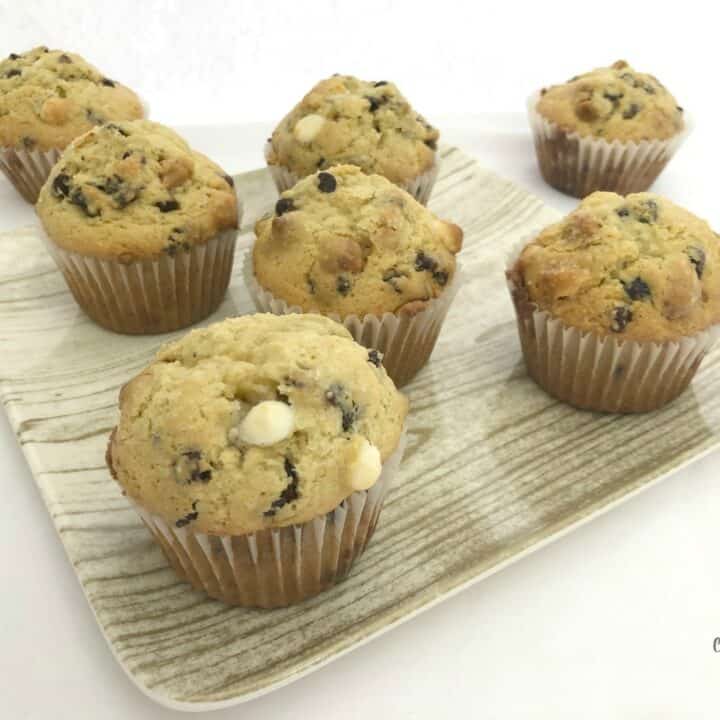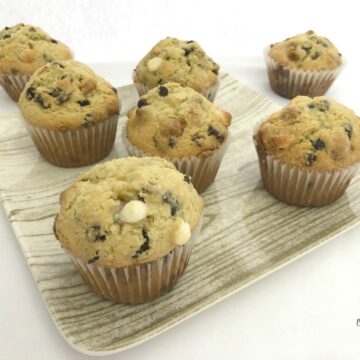 Bakery-Style Chocolate Peanut Butter Muffins
A super-tall domed muffin stuffed with mini chocolate chips, white chocolate chips and peanut butter chips is the perfect choice for breakfast or brunch.
Ingredients
1

stick unsalted butter

melted and cooled

2

eggs

at room temperature

1

cup

sugar

1

cup

buttermilk*

1

tablespoon

vanilla extract

2 ½

cups

all purpose flour

1

tablespoon

baking powder

1

teaspoon

baking soda

½

teaspoon

salt

¾

cup

mini chocolate chips

½

cup

white chocolate chips

½

cup

peanut butter chips
Directions
Preheat the oven to 425 degrees. Line 2 muffin pans with paper liners.

In a medium bowl, whisk together the melted butter, eggs, sugar, buttermilk and vanilla extract.

In a large bowl, whisk together the flour, baking powder, baking soda and salt.

Add the wet ingredients to the dry ingredients and then add in the chocolate, white chocolate and peanut butter chips. Mix until just combined.

Divide the batter into the muffin pans and bake for 5 minutes.

Reduce the oven temperature to 375 and bake for 13-14 minutes more.

Cool for 5 minutes on a wire rack before serving.
Notes
*If you do not have buttermilk, add 1 tablespoon white distilled vinegar to 2% or whole milk and let sit for 5 minutes.
Recipes on Cookaholic Wife are for information purposes only. Nutritional Data provided has not been evaluated by a nutritionist.
I was so pleased when I pulled these muffins out of the oven and saw how tall they were! I could barely wait until they cooled down enough to pull off the wrapper and eat one, which made me even happier. Muffin batter is easy to overmix and can end up dry, but when you just incorporate all of the ingredients to not have lumps and no more, you end up with a fluffier, moister muffin.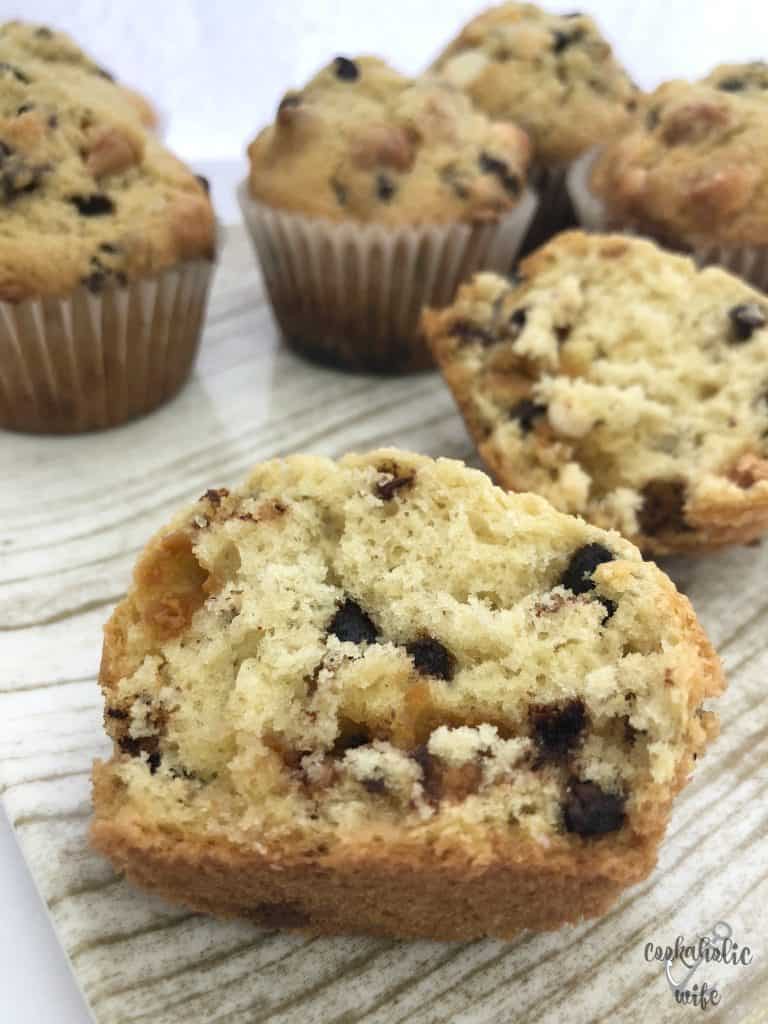 I took these into work and within an hour they were gone. That's how I judge how good my recipes are, the length of time it takes them to disappear at work. So I'd consider these quite tasty!