The theme for July's #BakingBloggers was baking with small appliances. This is something I am completely unfamiliar with. I know people use their slow cookers and instant pots to make desserts, but I'd never even thought to try it. (Confession: my instant pot has only been used for hard boiled eggs because I'm kind of scared of it) Panini presses and toaster ovens were also smaller appliances that we could use. Basically, a dessert you wanted to cook when it was too hot to have your oven going on.
#BakingBloggers is a group of bloggers who love to bake and each month we share recipes based off a theme that we've voted on. Our host is Sue of
Palatable Pastime
.
I did think about taking the easy route and making something on my panini press but then I told myself that I had a chance to step out of my comfort zone with this recipe so I might as well do it. And then I promptly chickened out on using the instant pot. Maybe next time? But the slow cooker and I are good old friends and I figured I could find something to make using it.
And then there was this cake. I made it a few weeks ago before my brother in law's birthday when my in laws were here visiting. None of us could get over how good this cake was and how there simply weren't enough adjectives in the English language to describe how good it was.
Recipe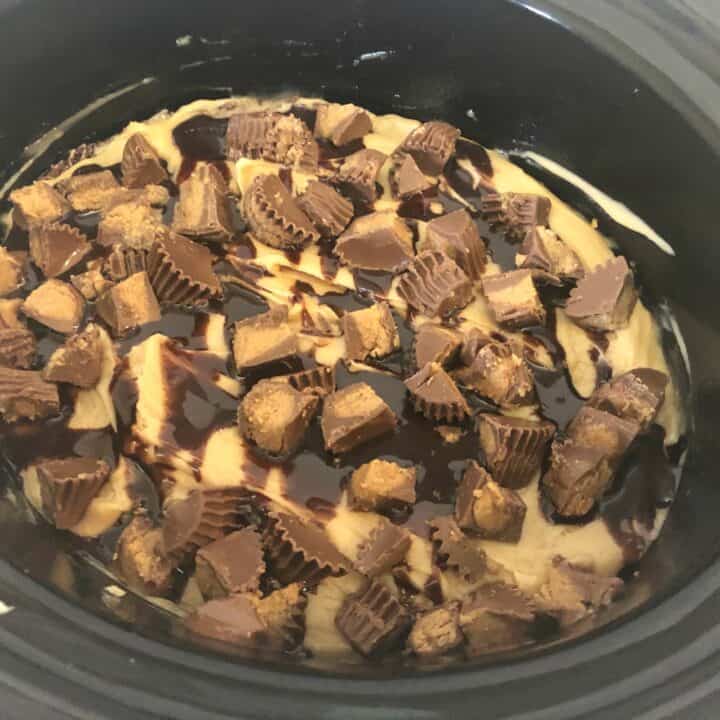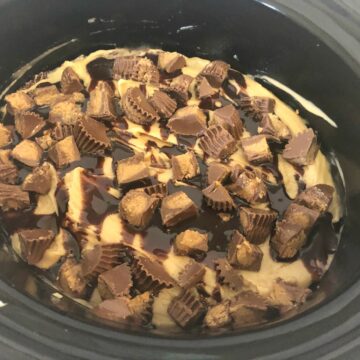 #BakingBloggers: Slow Cooker Reese's Cake
Rich and dense, this chocolate and peanut butter cake is one decadent dessert that requires very little effort as it all comes together in your slow cooker.
Ingredients
For the Cake:
1

box butter or yellow cake mix

1

cup

water

3

eggs

⅓

cup

butter

1

tablespoon

vanilla extract

½

cup

chocolate syrup

½

cup

peanut butter
For the Topping:
3

tablespoon

creamy peanut butter

2

tablespoon

milk

1

cup

powdered sugar

20

miniature Reese's cups

cut into quarters
Directions
1. Spray an oval-shaped 6 quart slow cooker with baking spray.

2. In the bowl of your stand mixer, combine the cake mix, water, eggs, butter and vanilla and mix until combined.

3. Add in the peanut butter and mix until smooth and fully incorporated.

4. Pour the batter into the prepared slow cooker and then drizzle the chocolate syrup on top and use a butter knife to swirl it through the cake.

5. Cover and cook on high for 2 hours to 2 hours and 15 minutes. Cake will be cooked through when a toothpick inserted in the center comes out clean.

6. Remove the slow cooker insert and place on a wire rack to cool. Let cool for 15 minutes.

7. Meanwhile, prepare the topping by adding the peanut butter, milk and powdered sugar to a bowl and whisking until smooth and thick. Add an additional tablespoon of milk if the mixture is too thick.

8. Use a silicone spatula to spread the peanut butter frosting on top of the cake.

9. Sprinkle the chopped Reese's on top.
Recipes on Cookaholic Wife are for information purposes only. Nutritional Data provided has not been evaluated by a nutritionist.
The peanut butter and the chocolate taste are strong in this cake but it the taste is somewhere between a brownie and fudge but is still somehow a really light cake. If that sounds like it's right up your flavor profile alley, I definitely suggest making this cake. It's very rich too so it almost handles portion control for you!