If I'm making a meatless dish, I usually have to be pretty creative about it. Like me, Tom grew up where dinner consisted of meat and potatoes. Variances were rare. Unlike me, he still can't get it out of his head that dinner doesn't need to be that way.
I try to make one meatless dish each week. The week I had planned on making this, it would have been mushroom and spinach lasagna. For whatever reason I didn't get to make it that week. The next week I already had a meatless meal so I figured I'd just make this a really hearty lasagna and include the meat and veggies.
Recipe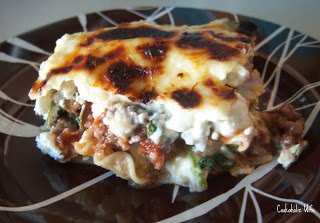 Beef, Mushroom and Spinach Lasagna
Ingredients
6-8

lasagna noodles

1

lb.

ground beef

10

oz.

jar spaghetti sauce

6

oz.

tomato paste

8

oz.

mushrooms

1 10

oz.

package frozen spinach

2

cups

cottage cheese

2

cups

mozzarella cheese

½

cup

Parmesan cheese

2

eggs

1

tbsp.

parsley

1

tbsp.

garlic

1

tsp.

crushed red pepper flakes
Directions
1. Bring a large pot of salted water to a boil and cook lasagna noodles according to directions for al dente. Once cooked, space the noodles out on a sheet of aluminum foil to keep them from sticking.

2. Cook the spinach according to the directions on the package. Drain. Dice the mushrooms.

3. In a skillet, brown the ground beef and drain the grease.

4. Preheat the oven to 375.

5. Pour the spaghetti sauce and tomato paste into a bowl. Stir until combined. Add in the mushrooms and stir again.

6. In another bowl, mix together the cottage cheese, eggs, Parmesan cheese, parsley, garlic and crushed red pepper flakes.

7. In a 9x13 baking dish, layer 3-4 noodles on the bottom. Layer in this order: ground beef, tomato mixture, spinach, cottage cheese mixture, 1 cup mozzarella cheese. Repeat.

8. Cover with foil and bake for 30 minutes. Remove the foil and bake for another 5-10 minutes or until the cheese is lightly browned on top. If you like really brown cheese and your broiler is on the top of your oven, switch it to broil and broil for 1 minute.

9. Let cool for 10-15 minutes before serving.
Recipes on Cookaholic Wife are for information purposes only. Nutritional Data provided has not been evaluated by a nutritionist.
I thought this lasagna was pretty good. You could taste each ingredient without it being overwhelming or too heavy of a lasagna. Tom didn't like it all, but he couldn't pinpoint why.