It's time for #BakingBloggers again! The theme for this month is choux pastry.
The first time I ever made choux pastry was when I decided I was going to make a croquembouche many, many years ago for another blogging event that has since closed. It turned out so well I had no idea that it could be temperamental and not turn out.
You know, until I had to make two recipes in order to get one to turn out for this event! 😜
Thankfully the second recipe turned out and I was able to participate this month. I first tried to make eclairs, but I made the pastry too small and thin to fill properly, and then my custard didn't set up. So eclairs will move back onto my to-make list and instead you get good old Boston Cream Puffs.
Boston Cream donuts are one of my favorite donuts so it only seemed fitting to make a smaller version nestled in choux pastry. This recipe also only makes about 12 cream puffs so if you're trying to hop on that diet bandwagon but still want something sweet, you could make these, eat 2 and pass off the rest to family, friends or coworkers.
Recipe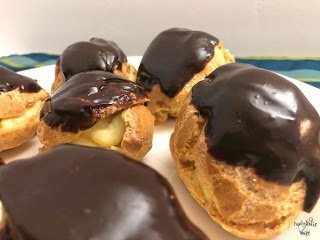 #BakingBloggers: Boston Cream Puffs
Boston Cream Puffs are light and fluffy pastry filled with a rich vanilla cream custard and topped with a decadent chocolate ganache.
Ingredients
For the Vanilla Bean Custard:
½

cup

sugar

2 ½

tablespoon

cornstarch

¼

teaspoon

salt

4

egg yolks

at room temperature

1 ⅓

cup

whole milk

2

tablespoon

unsalted butter

1

tablespoon

vanilla bean paste

or vanilla extract
For the Choux Pastry:
½

cup

water

4

tablespoon

unsalted butter

½

cup

all purpose flour

¼

teaspoon

salt

2

eggs

at room temperatures
For the Chocolate Topping:
½

cup

chocolate chips

¼

cup

heavy cream
Directions
Prepare the custard by whisking together the sugar, cornstarch and salt together in a medium saucepan. Add the egg yolks and ⅓ cup of the milk. Whisk until fully combined and then whisk in the remaining milk.

Heat the saucepan over medium heat and cook for 8-10 minutes, whisking constantly, until the mixture thickens enough to coat the back a spoon. Remove from the heat and whisk in the butter and vanilla bean paste.

Transfer mixture to a glass bowl and cover with plastic wrap, pressing the plastic wrap against the custard so it does not create a skin. Refrigerate for at least 1 hour or until fully chilled.

Preheat the oven to 400 degrees and line a baking sheet with parchment paper.

Prepare the pastry by adding the water and butter to a medium saucepan over medium-high heat, whisking to melt the butter. When the mixture come to a slow boil, add in the flour and salt, and whisk constantly until the dough forms into a smooth ball.

Remove from the heat and allow the mixture to rest and cool for 5 minutes.

Cooling the mixture will stop the egg from cooking when it hits the hot pan. Once cooled, add in one whole egg and stir with a wooden spoon until the egg is incorporated. The mixture will become glossy and stiffer. Add in the second egg, stirring until all lumps are removed.

Use a cookie scoop or spoon to drop heaping tablespoon and a half sized dollops of the pastry on the prepared baking sheet, placed 2 inches apart.

Wet your fingers and press down any of the pastry that has tips or lumps to allow it to cook more evenly. Bake for 30 minutes or until puffed up and golden brown.

Remove from the oven and transfer immediately to a wire cooling rack. Poke a slit into each to allow the steam to escape. When they are cool enough to handle, slice each in half and remove any gooey dough still inside.

Prepare the ganache by adding the heavy whipping cream to a small saucepan and heating over medium-high heat.

Place the chocolate chips in a glass bowl. When the whipping cream comes to a simmer, remove it from the heat and pour over the chocolate chips. Allow to sit for 1 minute before whisking until all of the chocolate has melted.

Add a heaping tablespoon of the vanilla bean custard to one half of the choux pastry. Swirl the top of the pastry in the chocolate ganache and then place on top of the custard bottom.

Serve immediately or refrigerate until ready to eat. Cream puffs will keep in the fridge for up to 3 days.
Recipes on Cookaholic Wife are for information purposes only. Nutritional Data provided has not been evaluated by a nutritionist.
OMG these are delicious! The pastry are light and crispy, the vanilla custard is rich and full of flavor and you can just never go wrong with chocolate ganache. Cream puffs aren't as hard to make as you may think. I'm fairly confident if you follow these steps you'll be able to make super tasty Boston Cream Puffs too.
Check out what everyone else made below:
#BakingBloggers
Choux Pastry