Bursting with brown sugar and bananas, this Brown Sugar Banana cake, a light and moist cake topped with a brown sugar buttercream frosting.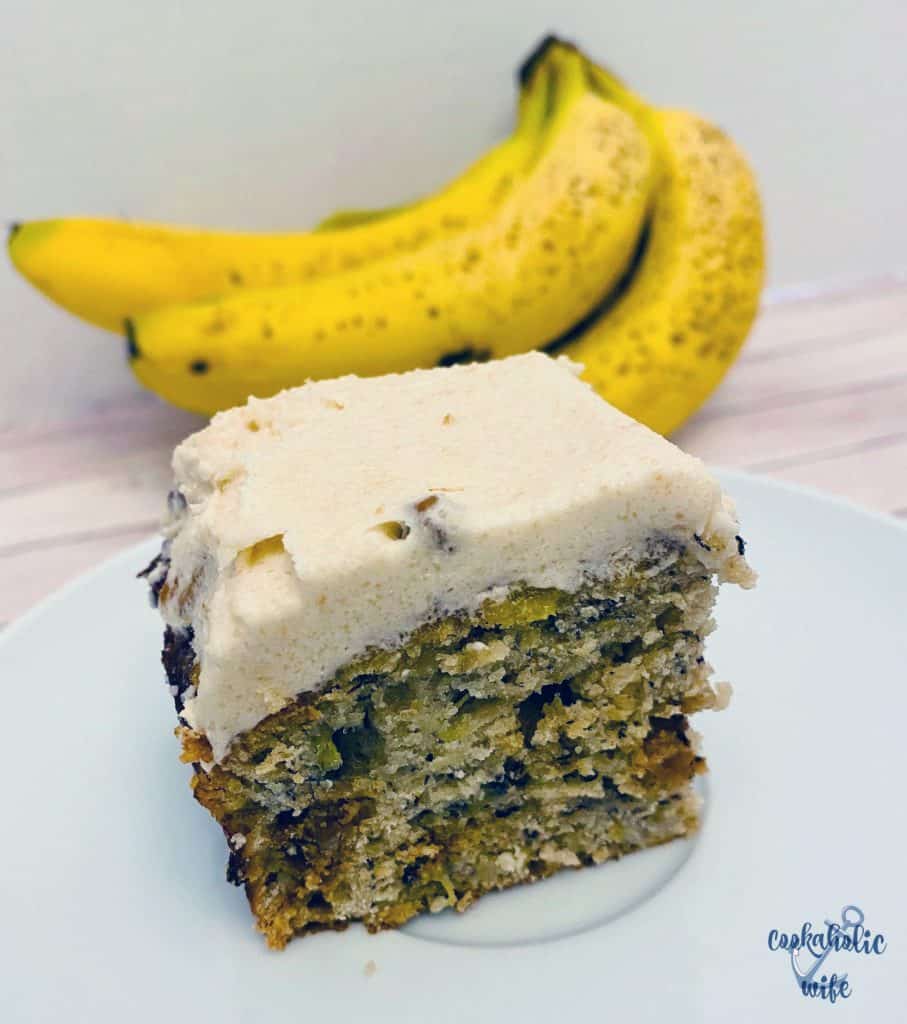 You know how they say that you're taste change after a few years? That was definitely the case with me and bananas. As a kid I would eat them but during my teens and early twenties I cringed at the sight of them. And then one day I really, really wanted a banana again. Now they are a staple of my grocery ordering, but like most people, I tend to not be able to eat the entire bunch in time and I'm left with a few really ripe bananas.
Insert this brown sugar banana cake. What is one to do with 4 ripe bananas and an abundance of brown sugar? Make a cake that highlights both of them! Another great thing about this recipe is that it calls for melted butter. I can't be the only one who has a desire to make something and then realizes they have no softened butter at all. Of course, there are tips and tricks out there for softening butter but maybe I'd old school. I'd rather wait for it to soften naturally.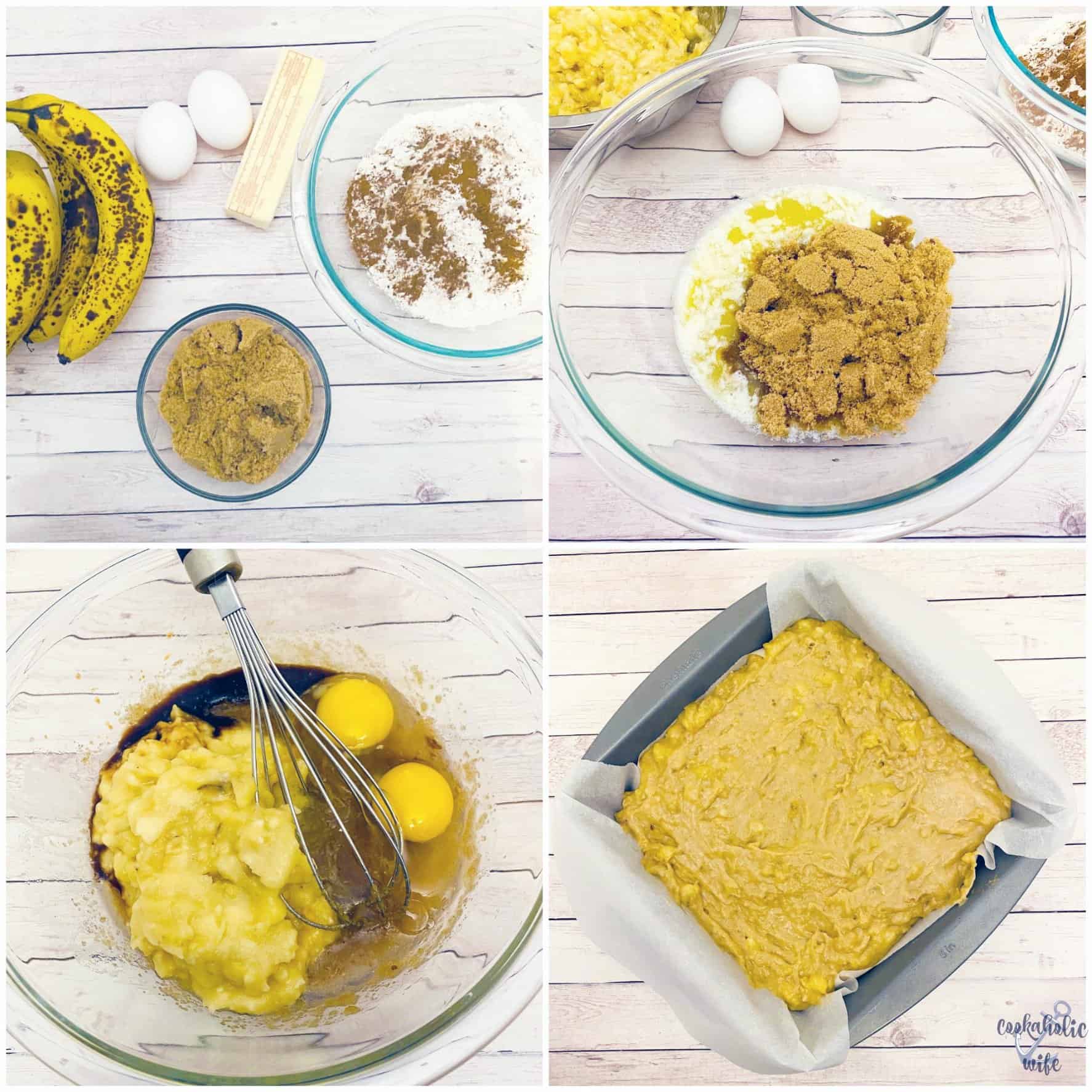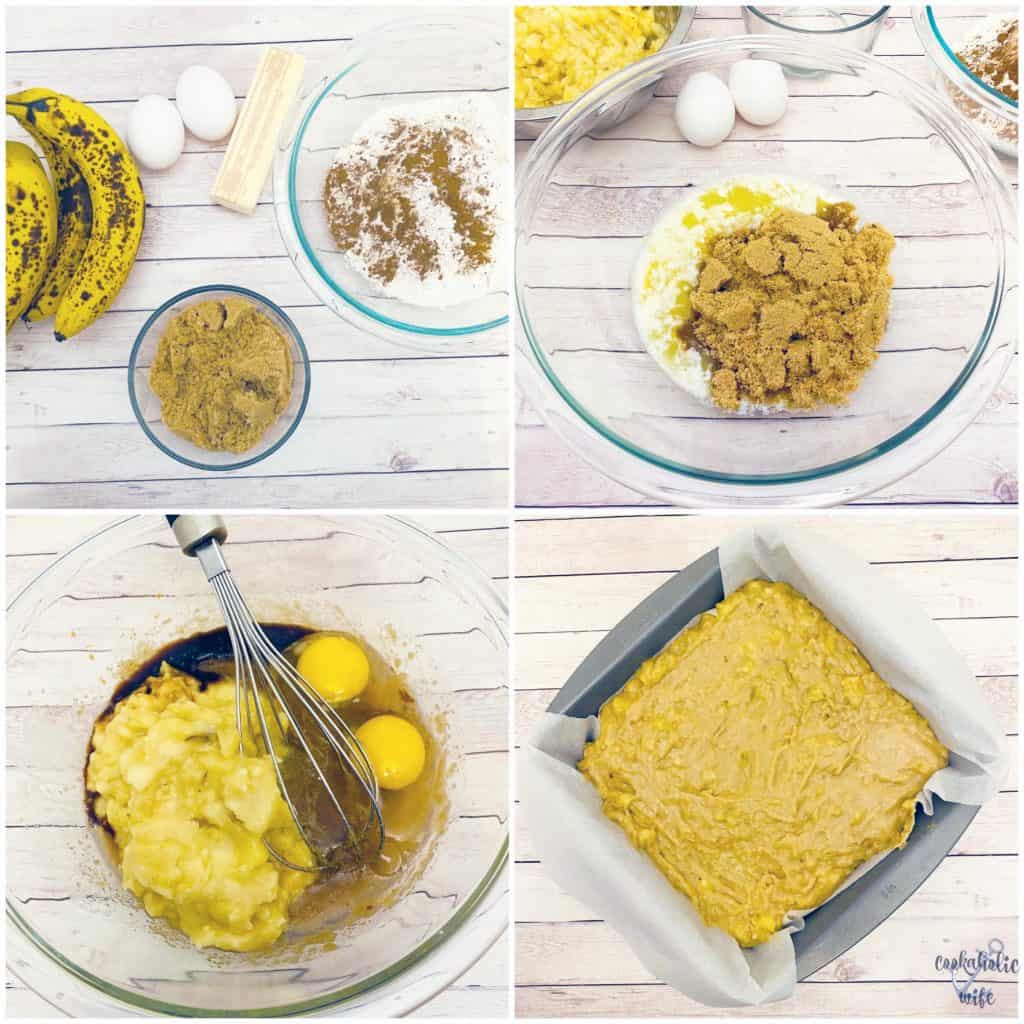 BROWN SUGAR BANANA CAKE INGREDIENTS
brown sugar
ripe bananas, mashed
eggs, vanilla and cinnamon
flour, salt, baking soda
melted butter
Frosting: softened butter, brown sugar, salt
WHY IS MY BANANA CAKE DRY?
The batter may be overmixed. It's best to mix until the ingredients are just incorporated and not any more. But, if you accidentally overmix this bread, the brown sugar buttercream frosting disguises it very well.
Also, make sure that your bananas are really ripe. The riper the banana, the more moisture it adds to the cake. You can speed up the ripening process by placing them in a paper bag for a day or so.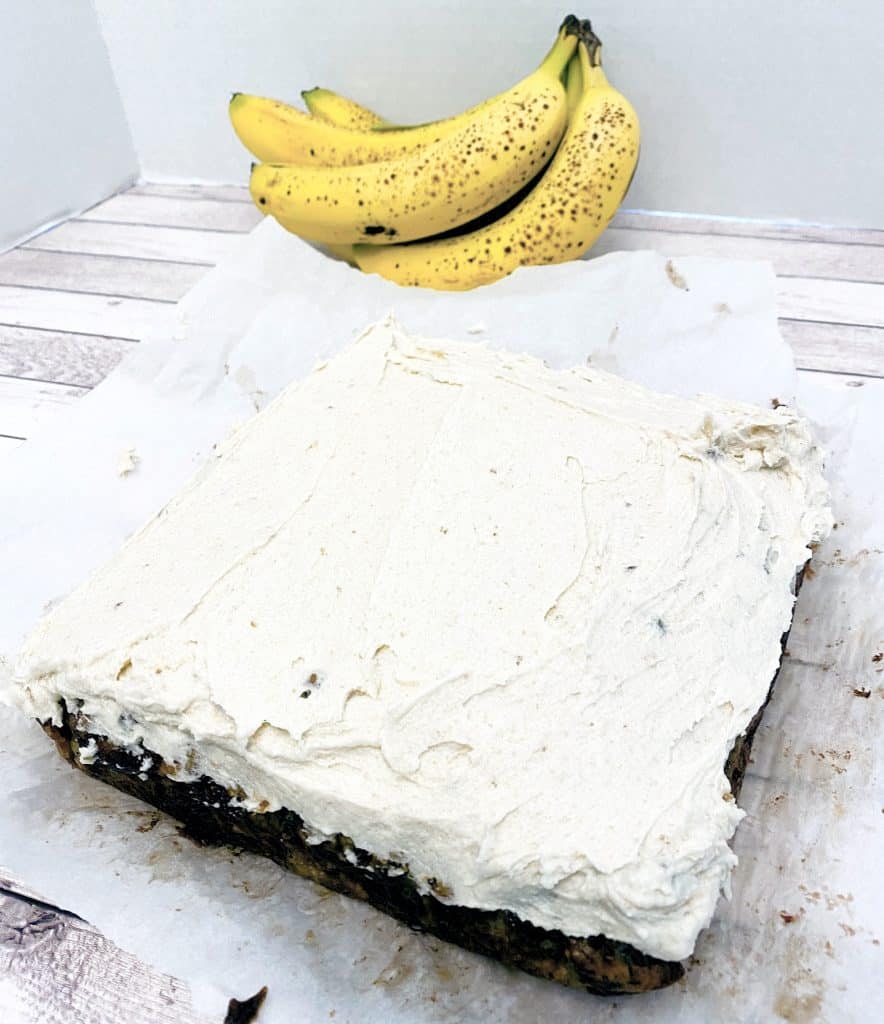 CAN YOU FREEZE BANANA CAKE?
Yes. If you don't think you can eat all of this cake, or pass it along to someone who will, the cake can be frozen. However, I would not freeze the buttercream in this recipe. Simply scrape off the frosting and tightly wrap the cake in plastic wrap. It will keep in the freezer for a few months.
MIXINS FOR BANANA CAKE
chocolate chips
butterscotch chips
peanut butter chips
walnuts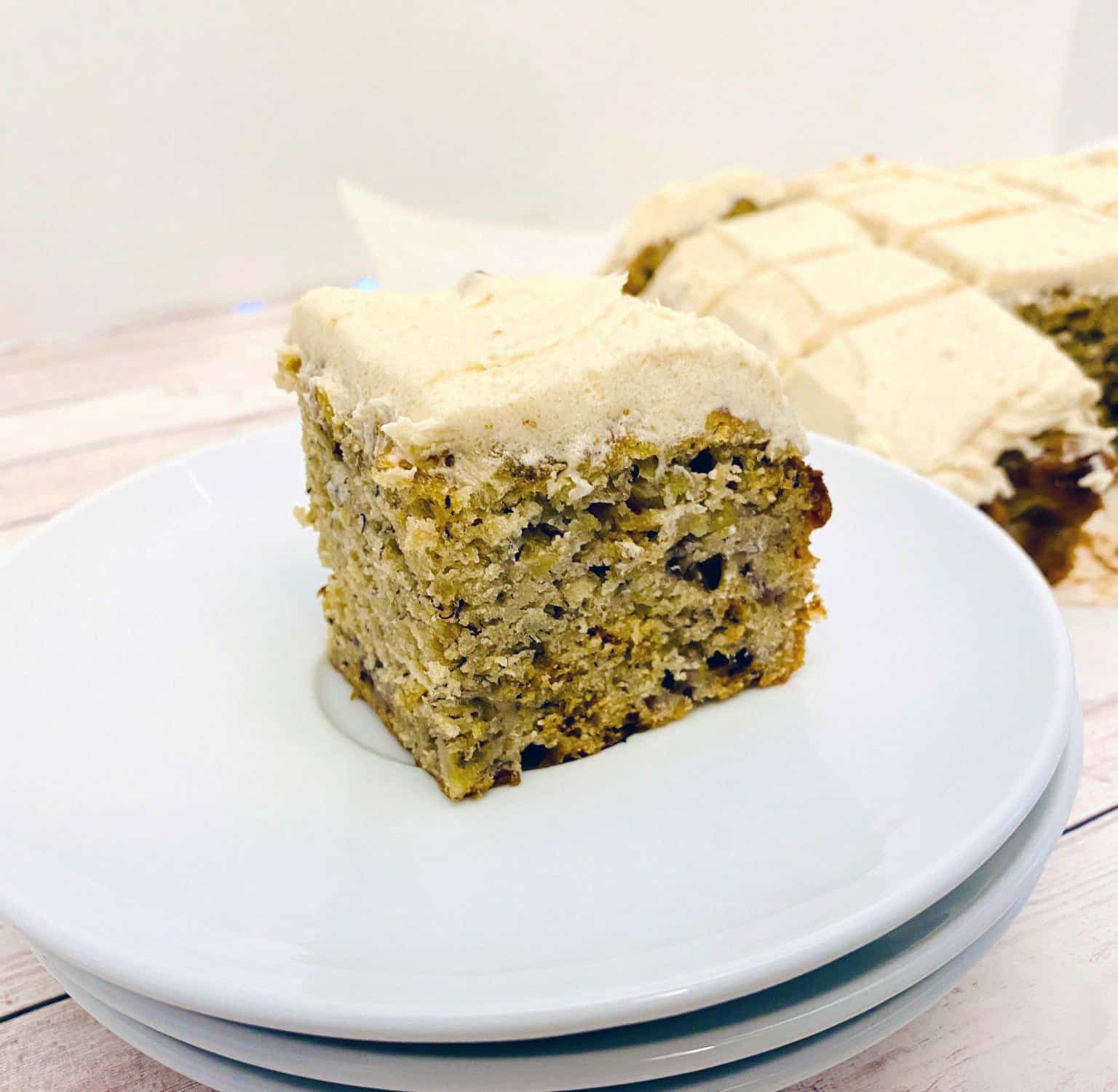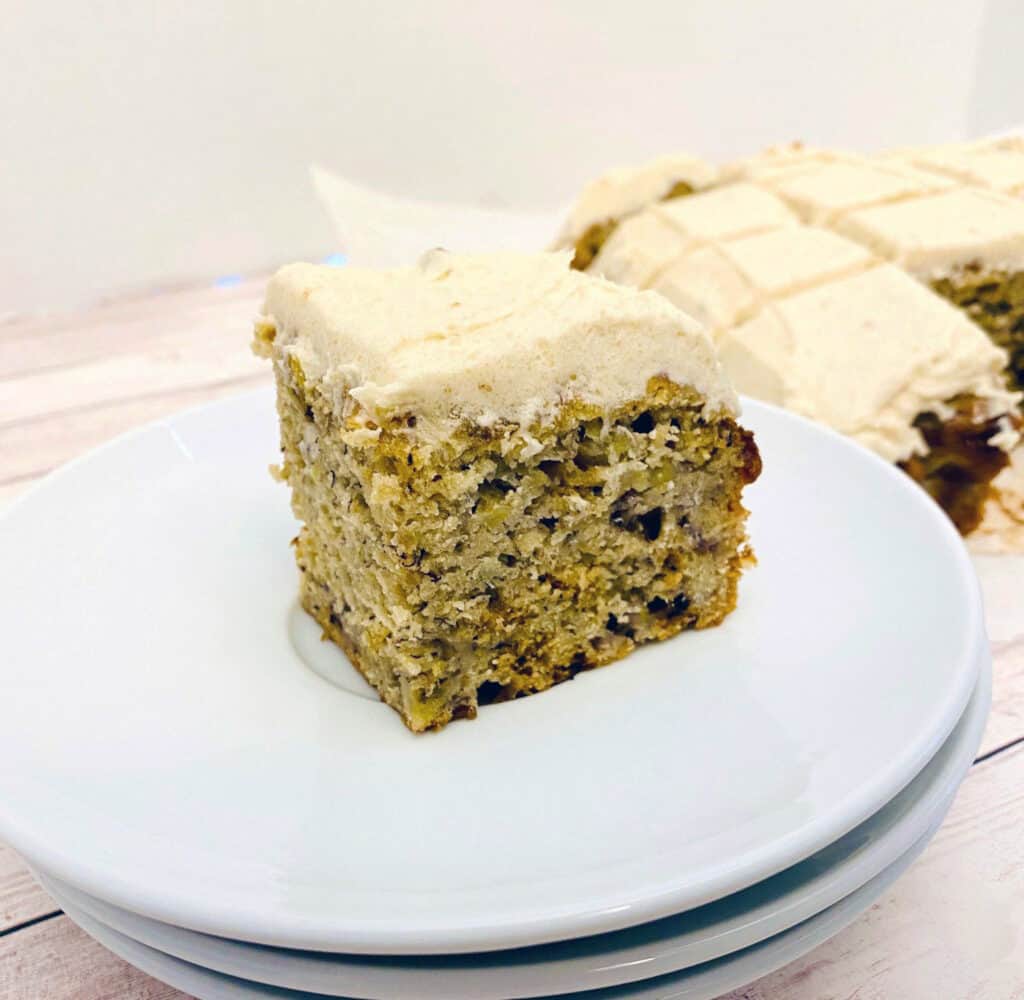 CAN I USE THIS RECIPE FOR MUFFINS OR CUPCAKES?
Yes, this recipe can work for either.
muffins - line a muffin pan with paper liners and divide the batter evenly into the muffin pan. Bake for 15-18 minutes. Skip the frosting.
cupcakes - same as the muffins, but double the recipe for the frosting and pipe it on top of the cupcakes once they're cooled.
The theme for Baking Blogger's this month is bananas. Check out what the other bloggers have made!
Baking Bloggers
June 2020: Let's Go Bananas!
WANT TO SAVE THIS RECIPE FOR LATER?

PIN IT TO YOUR FAVORITE PINTEREST BOARD AND FOLLOW ME AT COOKAHOLICWIFE FOR MORE GREAT RECIPES!

Recipe

Brown Sugar Banana Cake

Bursting with brown sugar and bananas, this Brown Sugar Banana cake, a light and moist cake topped with a brown sugar buttercream frosting.

Ingredients

For the Banana Cake:

1 ¾

cup

all purpose flour

1

tablespoon

cinnamon

1

teaspoon

baking soda

¼

teaspoon

salt

2

eggs

lightly beaten

4

ripe bananas

mashed

1

tablespoon

vanilla

1

stick unsalted butter

melted

¾

cup

brown sugar

divided

For the Frosting: 

1

stick unsalted butter

softened

¼

cup

brown sugar

2

cups

powdered sugar

½

teaspoon

cinnamon

½

teaspoon

salt

1-2

tablespoon

milk

Directions

For the Banana Cake:

Preheat the oven to 350 degrees. Spray an 8x8 baking dish and line with parchment paper. Set aside.

Whisk together your flour, cinnamon, baking soda and salt together in a medium bowl.

In a large bowl, beat combine the beaten eggs, mashed bananas and vanilla together.

In a small bowl, melt the butter and whisk in ⅔ cup of the brown sugar.

Pour the brown sugar mixture over the banana mixture and then gently fold in the flour mixture until no lumps of flour remain.

Pour into the prepared baking dish. Sprinkle the remaining brown sugar on top.

Bake for 40-45 minutes or until a toothpick inserted into the center of the cake comes out clean.

Remove from the oven and let cool entirely on a wire rack.

For the Frosting:

Beat the butter in the bowl of a stand mixer until light and fluffy. Add in the brown sugar until combined.

Slowly add in the powdered sugar, ½ cup at a time, until fully incorporated. Add in the cinnamon and salt, and then add in milk if needed.

Spread the frosting over the cooled cake and cut into 12 squares to serve.

Nutrition

Serving:

1

bar

Calories:

298

kcal

Carbohydrates:

35.5

g

Protein:

3.5

g

Fat:

16.4

g

Saturated Fat:

10

g

Cholesterol:

68

mg

Sodium:

421

mg

Fiber:

1.8

g

Sugar:

16.9

g

Recipes on Cookaholic Wife are for information purposes only. Nutritional Data provided has not been evaluated by a nutritionist.