For the past couple of months, I've tried to participate in #BundtBakers, but my recipes have just not turned out and I didn't leave myself enough time to find a new one to make.
Finally, for the July theme of unusual bundts, I've managed to get a recipe that not only worked and turned out right the first time, but tasted great! I could easily eat this once a week. If I took out the green peppers and onions, Tom likely could too. 😊
#BundtBakers is a group of Bundt loving bakers who get together once a month to bake Bundts with a common ingredient or theme. You can see all our of lovely Bundts by following our Pinterest board. We take turns hosting each month and choosing the theme/ingredient.
Updated links for all of our past events and more information about BundtBakers, can be found on our home page.
Our host for this month is Colleen of Faith, Hope, Love & Luck Despite a Whiskered Accomplice. I cracked up the first time I read the name of her blog, considering I have two of my own whiskered accomplices. Luckily, mine aren't nearly as involved in my recipe making as her Bengal, Brenna.
The recipe I chose for my unusual bundt was a cheese steak. Thinly shredded beef, cheese, bell peppers and onions all baked up inside of a pizza style dough. Yum!
Recipe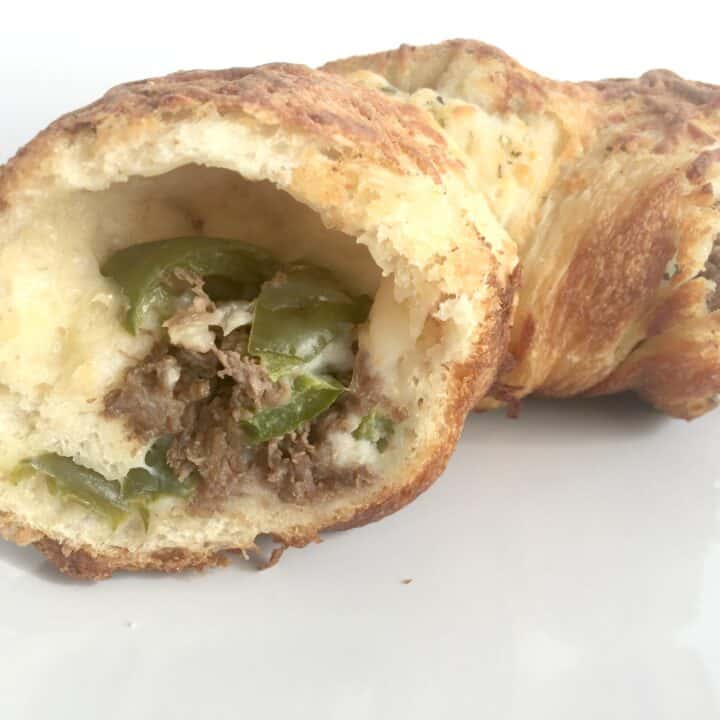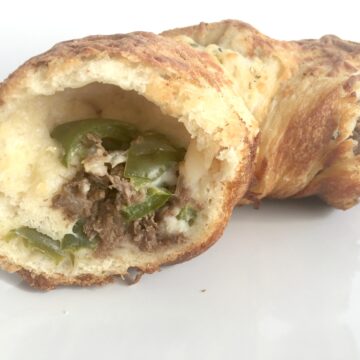 #BundtBakers: Cheese Steak Bundt
Use your bundt pan for something savory like this Cheese Steak bundt, made with pizza dough, thinly shredded beef, peppers, onions and cheese.
Ingredients
1

package thin-crust refrigerated pizza dough

or homemade

12

oz.

thinly shredded beef

2

cups

shredded mozzarella cheese

4

slices

provolone cheese

1

green pepper

diced

1

medium onion

diced

2

tablespoon

melted butter

1

tablespoon

garlic powder

1

teaspoon

onion powder

1

tablespoon

Italian seasoning
Directions
1. Preheat the oven to 425 degrees. Spray a bundt pan with cooking spray.

2. Heat a medium skillet over medium high heat. Add the thinly sliced beef and cook until browned, about 7 minutes. Transfer to a plate.

3. Add the bell peppers and onions to the skillet and cook for 5-7 minutes or until softened. (If there is not enough fat from the beef to cook them without sticking, add 1 teaspoon oil.)

4. Return the meat to the pan and reduce the heat to low. Sprinkle the shredded mozzarella cheese on top and stir until melted in.

5. Roll out pizza dough into a 9x13 rectangle. Place two slices of provolone cheese on the dough at the long end. Spread the beef mixture on top and then top with the 2 remaining slices of cheese.

6. Starting from the long end, roll up the pizza dough into a log and then fold into a circle, tucking the ends in on each other.

7. Carefully place into the prepared baking pan. Brush with melted butter then sprinkle the garlic powder, onion powder and Italian seasoning on top. (If using homemade pizza dough, all dough to rest 20 minutes before baking.)

8. Bake for 20 minutes or until golden brown and the dough is cooked through. Slice into servings and enjoy!
Recipes on Cookaholic Wife are for information purposes only. Nutritional Data provided has not been evaluated by a nutritionist.
You could easily serve this along with a marinara dipping sauce to make it more pizza-like.
And don't forget to take a peek at what other talented bakers have baked this month: