I haven't been able to participate in #BundtBakers in a few months so I'm really glad I managed to get a recipe made in time for this month!
#BundtBakers is a group of Bundt loving bakers who get together once a month to bake Bundts with a common ingredient or theme. We take turns hosting each month and using the theme or ingredient. The host for this month is Sue of Palatable Pastime and our theme is Punt the Bundt.
Tailgating for football games is a huge event here (and across the US) which is where our theme comes from. I've only been tailgating a few times and have been incredibly impressed at some of the set ups and amount of food that people do at these events.
Depending on the start of the game, tailgating can start really early, like before you've had your morning coffee. While there is nothing wrong with tossing back a beer and chowing down on a hot dog in the early morning hours, I wanted to find a cake that could serve as a filling enough breakfast. Adding coffee to it really just sets it over the edge. You can grab a slice of this while you're loading up the car and boom, breakfast and coffee in one! Or eat a slice as you're setting up your tables and waiting for the grill to get hot. Or if it's a late night game, enjoy a slice with a hot chocolate as a little pick me up of sugar and caffeine.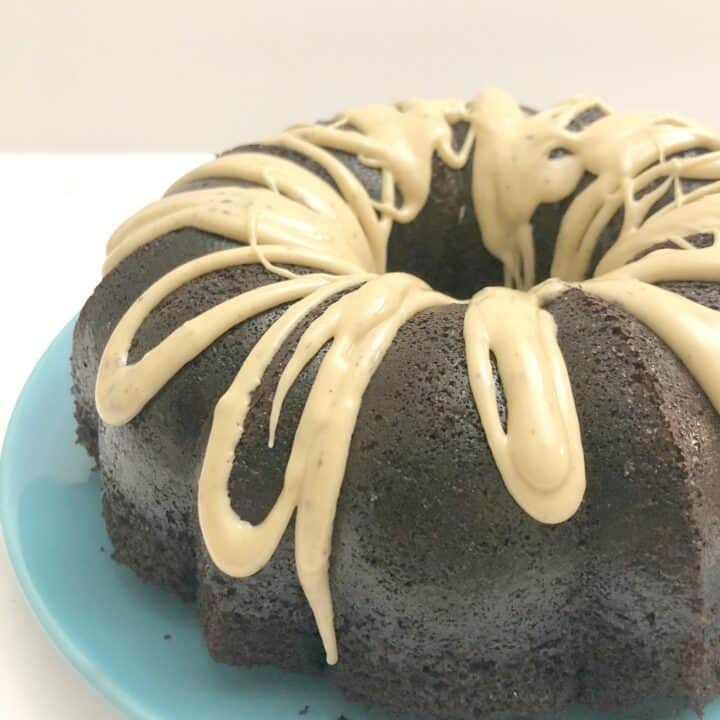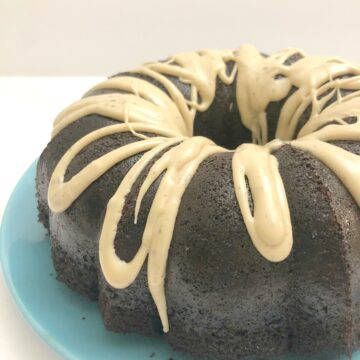 #BundtBakers: Chocolate Coffee Bundt Cake with Espresso Glaze
A rich, chocolate cake made with espresso powder and topped with an espresso glaze is sure to give you your morning jolt.
Ingredients
for the cake:
2

cups

all purpose flour

1 ½

cups

sugar

¾

cup

cocoa powder

2

tsp

baking soda

2

tsp

baking powder

1

tsp

salt

1

cup

buttermilk

1

cup

unsweetened applesauce

2

teaspoons

espresso powder dissolved in 1 cup boiling water

1

tbsp

vanilla bean paste
for the glaze:
¼

tsp

espresso powder

3

tbsp

water

½

tsp

vanilla extract

2

cups

powdered sugar
Directions
1. Preheat the oven to 350 degrees. Butter and flour or spray with baking spray a Bundt pan.

2. In a medium bowl, whisk together the flour, sugar, cocoa powder, baking soda, baking powder and salt.

3. In the bowl of your stand mixer with the paddle attachment affixed, add the buttermilk, applesauce, coffee and vanilla. Mix on medium speed until combined, then slowly add in the flour mixture until fully mixed in. (The batter will be thin.)

4. Pour the batter into the prepared pan and bake for 50-55 minutes or until a toothpick inserted in the center of the cake comes out clean. Transfer to a wire rack to cool for 10 minutes.

5. Gently loosen the cake from the edges of the pan. Invert a plate on top of the pan and flip over, removing the cake from the pan. Allow to finish cooling completely.

6. Prepare the glaze by adding the espresso powder, water and vanilla extract to a bowl. Whisk in the powdered sugar until a thick glaze forms. Adjust with more water or powdered sugar to reach your desired consistency if needed.

7. Drizzle the glaze over the cooled cake and cut into slices to serve.
Recipes on Cookaholic Wife are for information purposes only. Nutritional Data provided has not been evaluated by a nutritionist.
If you've ever watched the 90's movie Matilda, there is a scene where one of the boys is forced to eat a massively large dark chocolate cake. As soon as I pulled this cake out of the oven, that was exactly what it reminded me of. I believe the cake in the movies had a fudge frosting though.
Rich, dense and decadent is the best way to describe this cake. My coworkers made it disappear in about 90 minutes.
You can see all our of lovely Bundts by following our Pinterest board. Updated links for all of our past events and more information about #BundtBakers, can be found on our home page.