As I mentioned in a previous post, Tom and I are cheese and cracker type of people and we quickly found out that asiago cheese just isn't a cheese we're willing to eat alone on a cracker. I didn't want to throw away the cheese so I began searching for recipes to use up the rest of the cheese.
Recipe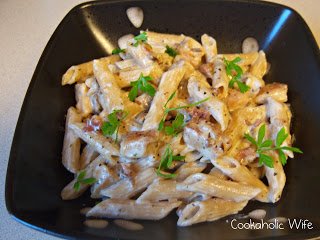 Chicken and Pasta with Asiago Cream Sauce
3 boneless, skinless chicken breasts
1 box whole wheat penne pasta
1 tbsp. olive oil
1 ½ cups asiago cheese, shredded
2 cups heavy cream
¼ cup milk
¼ cup chicken broth
1 tsp. salt
½ tsp. cornstarch
2 tbsp. water
¼ cup proscuitto, diced
½ cup mushrooms, diced
2 cloves garlic, minced
2 tbsp. unsalted butter
1 tbsp. fresh parsley, chopped
salt and pepper
Ingredients
Cut the chicken breasts into cubes and season with salt and pepper.

2.

Bring a large pot of lightly salted water to a boil. Cook the penne according to package directions. Drain and place a towel over the pasta to keep warm.

3.

Pour the olive oil into a medium-sized skillet over medium-high heat. Add the chicken and cook until the chicken is lightly browned on all sides. Transfer the chicken to a plate and cover with foil to keep warm.

4.

Lower the heat of the skillet to medium-low and add the butter. Once the butter has melted

add the proscuitto, mushrooms and garlic. Cook for 3-5 minutes or until the mushrooms are tender.

5.

Meanwhile

combine the heavy cream and milk together in a pot. Bring to a simmer. Add the chicken broth and asiago cheese and whisk until the cheese has melted. In a small bowl, whisk together the cornstarch and water and whisk into the cheese mixture. Lower the heat to low and stir occasionally.

6.

Add the chicken to the skillet with the proscuitto

mushrooms and garlic and cook for 1-2 minutes, just until the chicken is heated through.

7.

Pour the pasta into a large bowl. Add the chicken mixture and the cream sauce. Toss well to combine.

8.

Serve in bowls and top with fresh parsley. Season with salt and pepper to taste.
Recipes on Cookaholic Wife are for information purposes only. Nutritional Data provided has not been evaluated by a nutritionist.
I really liked this recipe. I did end up adjusting the amount of cheese from the original recipe because it didn't have a cheesy enough flavor for me. I think next time I'll go with more of a cheese sauce than a cream sauce. The flavors of the mushrooms and the proscuitto were unfortunately covered up with all of that cream.