Cowgirl Chicken Sandwiches feature a BBQ chicken breast, crispy bacon, cheddar cheese and caramelized onions.
Update: This recipe was originally shared in June 2013. The recipe and photos have been updated and republished in November 2023.
Anytime I can make a sandwich for dinner, I consider it a win. Don't get me wrong, I love cooking but sometimes you just need those easy nights where everything comes together quickly. These delicious Cowgirl Chicken Sandwiches allows you to move from step to step without a lot of waiting and down-time, with the total recipe coming together in a little over 30 minutes.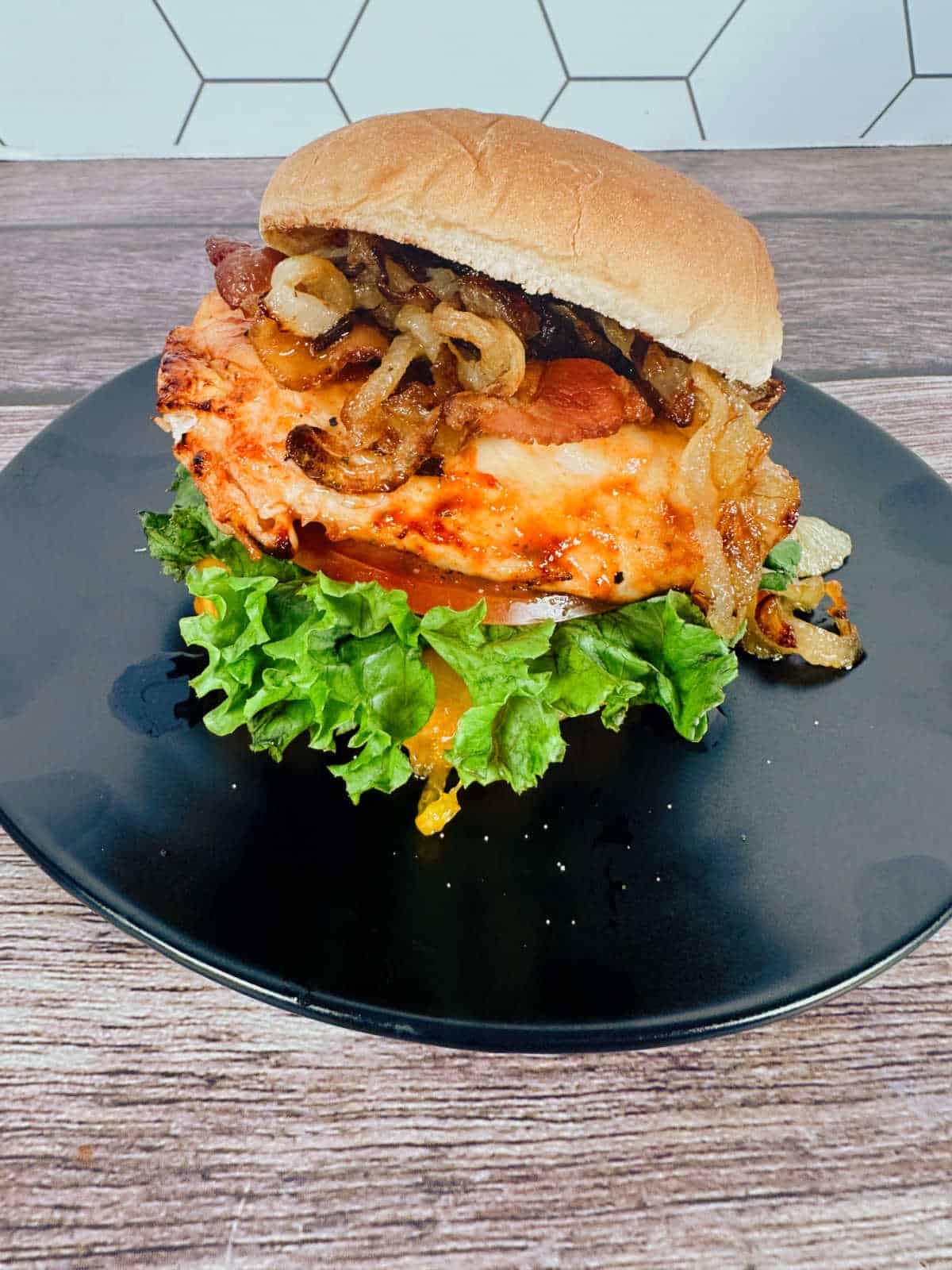 What are Cowgirl Chicken Sandwiches?
The "Cowgirl" part of this sandwich comes from the ingredients - combining BBQ sauce, bacon and cheese (typically cheddar). I added sauteed/caramelized onions, lettuce and tomato for the my idea of the perfect sandwich. You can grill, air fry or bake the chicken in this recipe - for this version I chose to use the air fryer.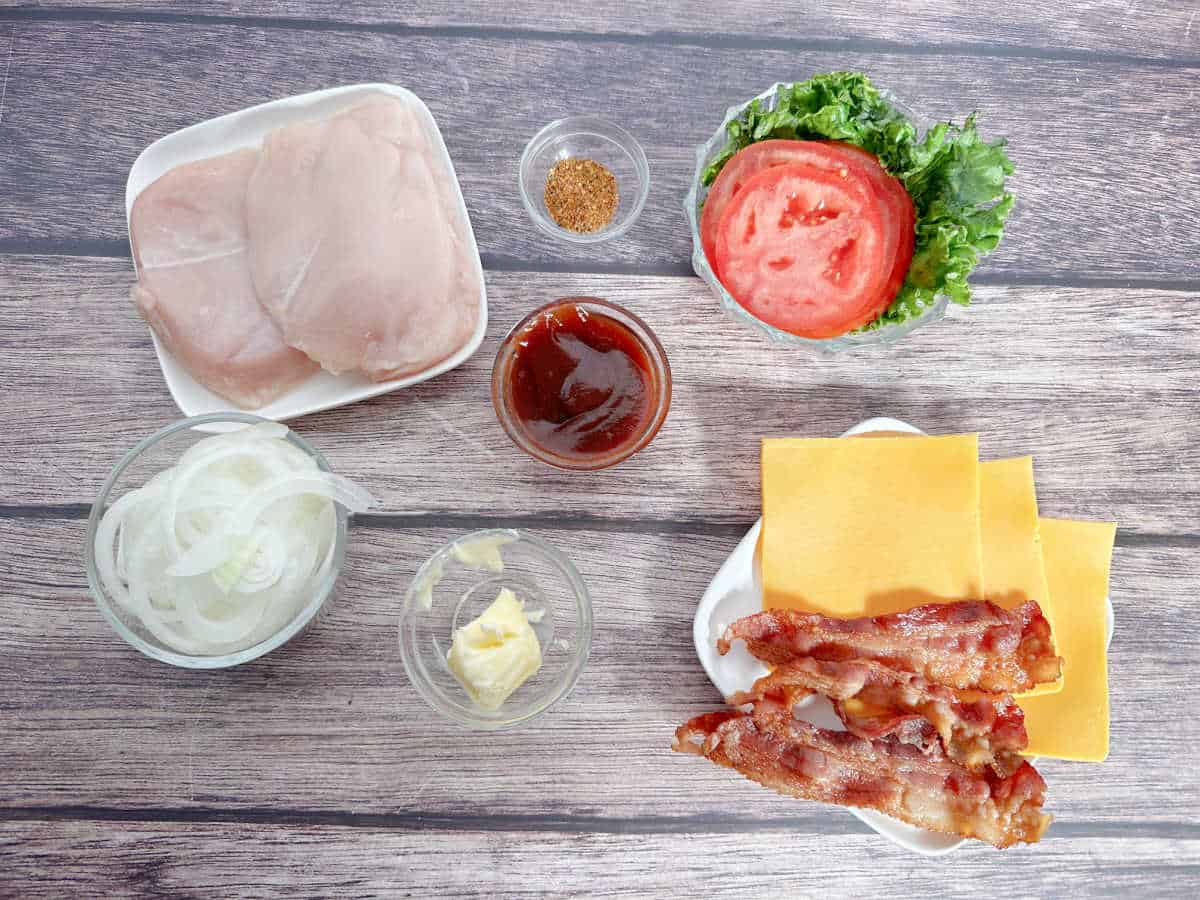 Ingredients
sweet onion
unsalted butter
chicken cutlets, or breasts sliced thin
BBQ Sauce
BBQ rub or similar seasoning
bacon
cheddar cheese
lettuce
tomato
sandwich buns
Instructions
First, start off by sauteeing/caramelizing the onions. Melt the butter in a small saucepan over medium heat and then add in the onions. Once softened, lower the heat to medium low. Cook for 25 minutes, stirring every 5 minutes to ensure they don't burn or stick. (Note: true caramelized onions take 40+ minutes. This is a more-caramelized-than-sauteed quick version I make.)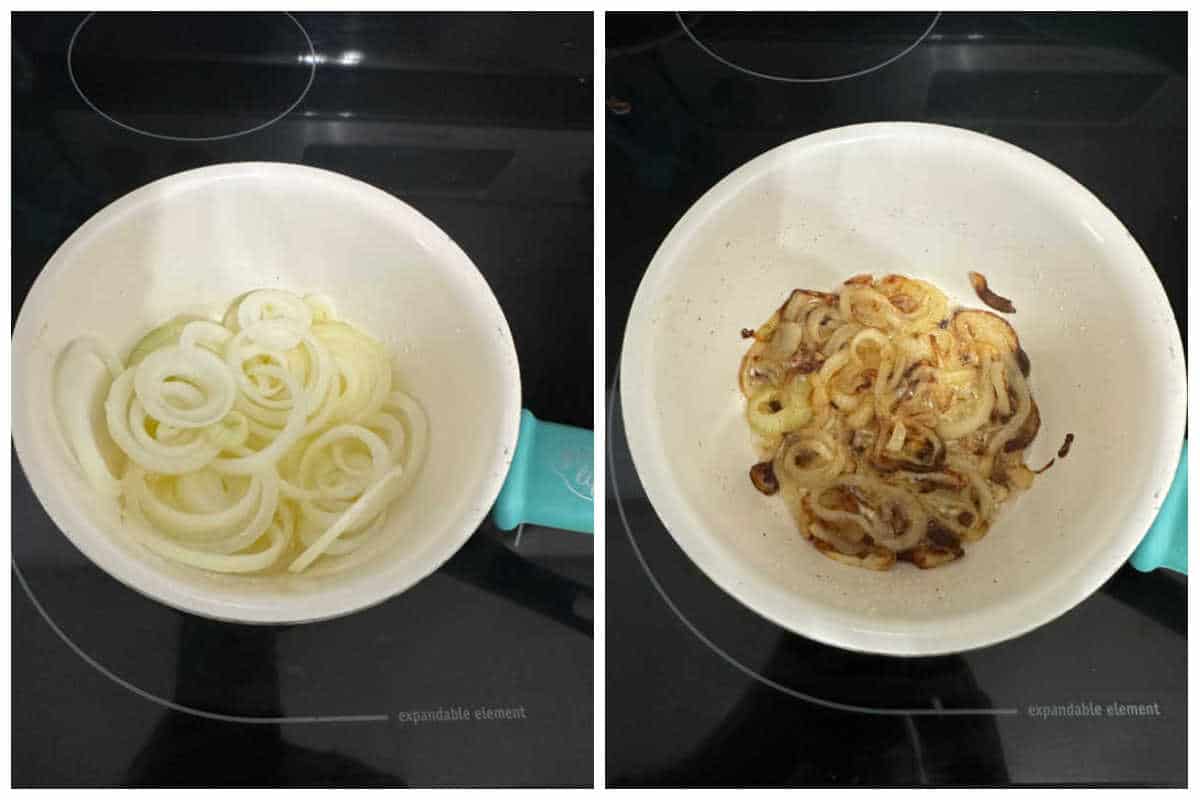 Meanwhile, cook the bacon and prepare the chicken. Cook bacon in a skillet or microwave until it reaches your desired level of crispiness. Blot excess grease with papers towels and set aside. Sprinkle BBQ Rub on both sides of each chicken cutlet and then brush with BBQ sauce.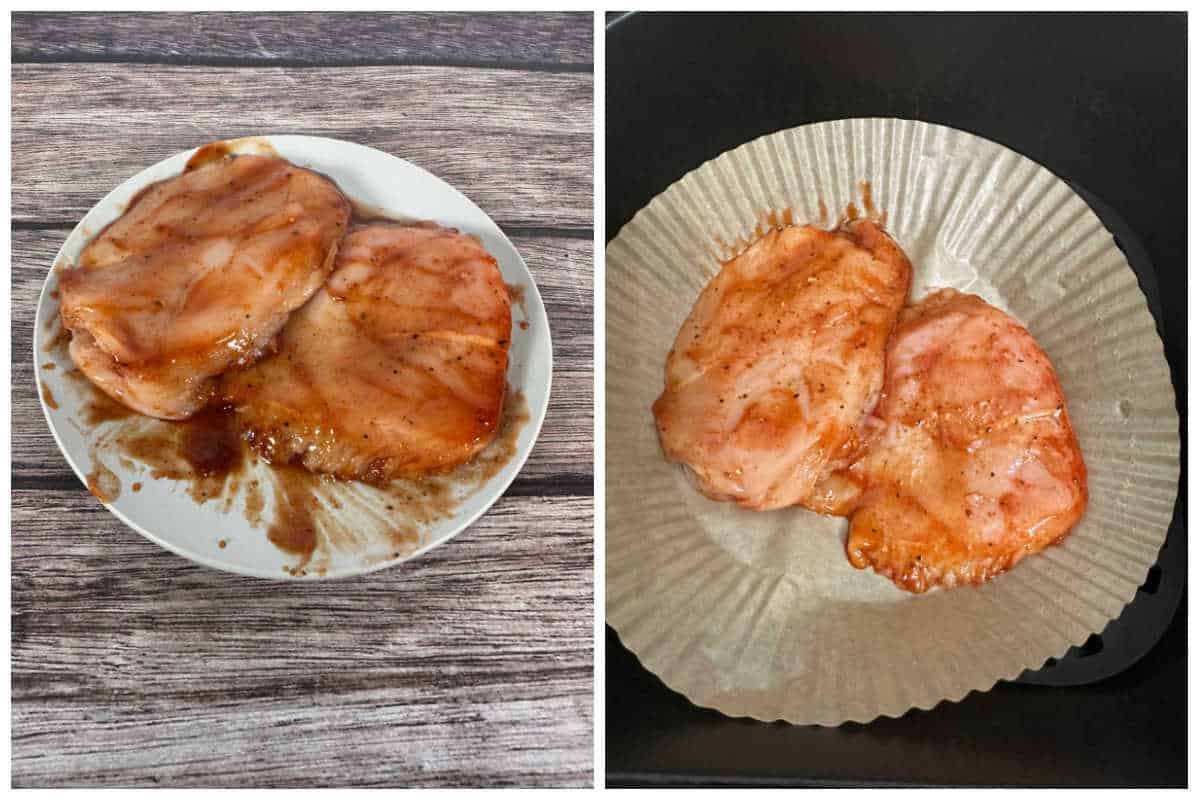 Then cook the chicken. Air fry chicken cutlets at 400 degrees for 15-18 minutes until it reaches an internal temperature of 165 degrees F. Remove chicken from air fryer and set aside.
Next, prepare the buns. Brush BBQ sauce on the top and bottom insides of the buns. Place a slice of cheddar cheese on the top part and secure with a toothpick. Air fry (or toast in oven or toaster oven) for about 2 minutes until cheese has melted.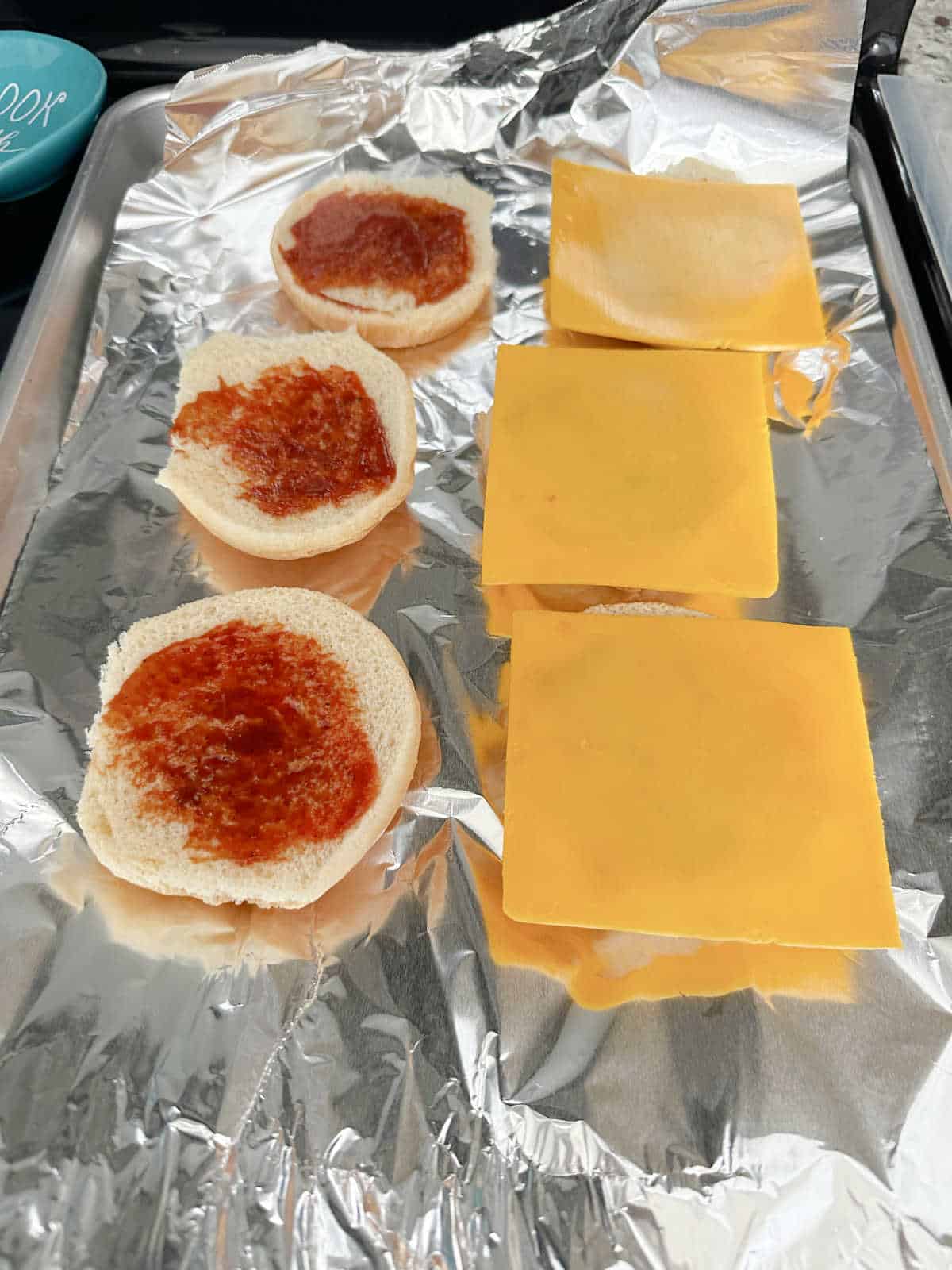 Finally, prepare your sandwich. Place lettuce and a slice of tomato on the bottom part of a sandwich bun. Add the chicken cutlet, followed by a slice of bacon broken in half and a scoop of caramelized onions. Place other half of sandwich bun on top and enjoy immediately.
FAQ
What is a cowgirl chicken sandwich?
The name of this sandwich comes from the ingredients - the combination of bacon, cheddar cheese and BBQ sauce on chicken = cowgirl or cowboy.
How long do you cook chicken cutlets in the air fryer?
When cooking at 400 degrees , chicken cutlets should take 15-18 minutes. The thickest part of the cutlet needs to reach an internal temperature of 165 degrees F to be safe to eat.
What's the difference between caramelized and sauteed onions?
Time. To truly caramelize onions, you'll need at least 30 minutes. Caramelized onions are cooked low and slow, stirred frequently until they're dark brown and sweetened. Caramelized onions are cooked quicker, over high heat until golden brown. They'll be softened but not as sweet as caramelized.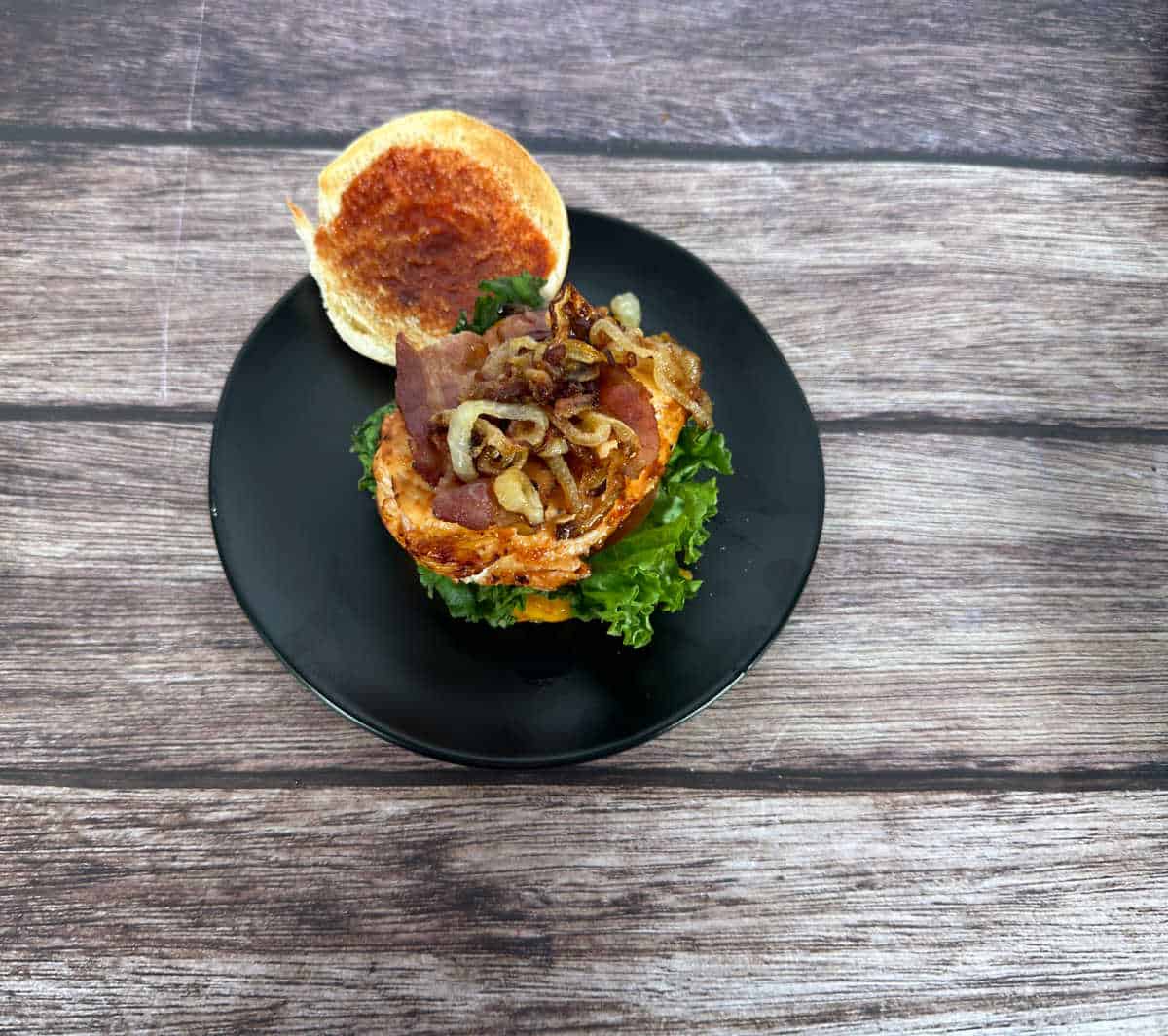 Substitutions and Serving Suggestions
Cooking Techniques: a grilled chicken breast/cutlet would be more fitting with the theme of this sandwich. Ensure chicken is fully cooked through. Chicken can also be pan-fried or baked if desired.
Caramelized Onions - I prefer to caramelize sweet onions instead of yellow or cooking onions.
BBQ Sauce - Sweet Baby Ray's Sweet & Spicy is what I used for these sandwiches
Bacon - for a healthier option, use turkey bacon instead.
Cheese - not a fan of cheddar? American, Provolone or Swiss would all be delicious
Buns - a hearty bun like a brioche bun would be amazing on this sandwich
Add ons - guacamole, pickles, candied jalapenos or even onion rings/straws would be delicious on this sandwich
Serve these delicious BBQ Chicken Sandwiches with chips, fries, Amish Potato Salad, Cherry Chipotle Bourbon Baked Beans or any of my other delicious Potato or Vegetable sides!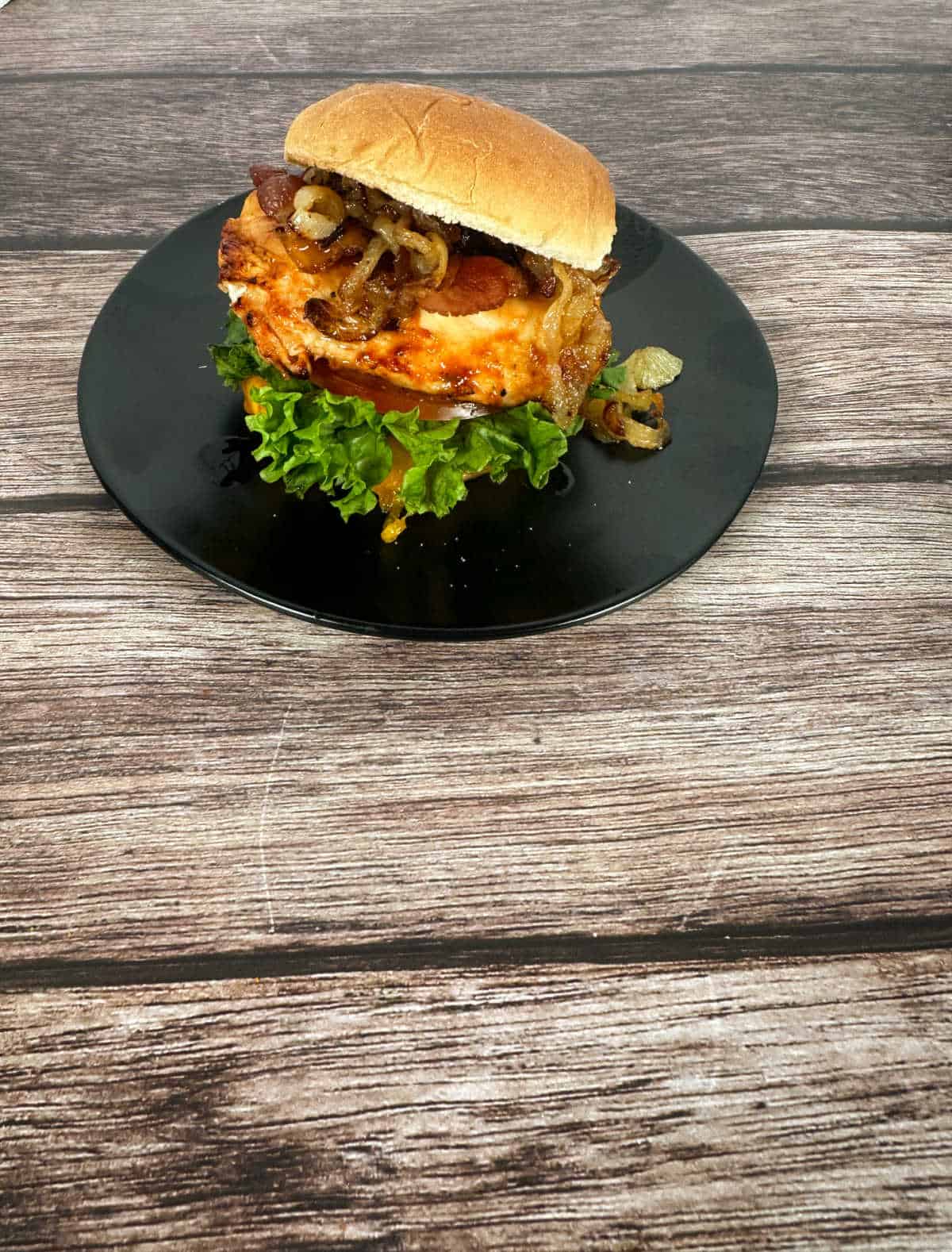 Efficient Cooking Tips
Melt the butter while you slice the onion. Start cooking onions first, completing all other steps as you stir them every 5 minutes. Preheat air fryer, season chicken cutlets with BBQ rub and sauce while it's heating up. While the chicken is cooking, cook the bacon, (Microwave is the fastest - paper towel on plate, wax paper on top) slice the tomato and lettuce. Spread BBQ sauce on buns, add cheese, toast buns/melt cheese and then assemble, leaving the onions for last so they can cook the longest.
Want to save this recipe for later? Follow me on Pinterest! Rather watch a video? See if I've made this recipe by following me on Tiktok!
Recipe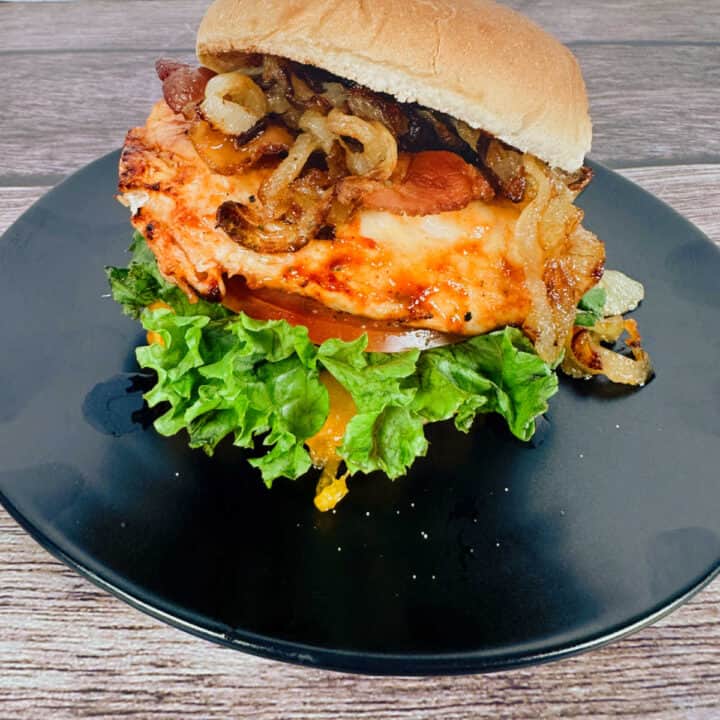 Cowgirl Chicken Sandwiches
Cowgirl Chicken Sandwiches feature a BBQ chicken breast, crispy bacon, cheddar cheese and caramelized onions.
Equipment
Air fryer

optional - sandwiches can be grilled or baked
Ingredients
2

chicken cutlets

1

tablespoon

BBQ rub

2

tablespoon

BBQ sauce

1

large

onion

thinly sliced

2

tablespoon

unsalted butter

2

slices

bacon

2

slices

tomato

2

leaves

lettuce

2

slices

cheddar cheese

2

burger buns
Directions
Melt butter in a medium saucepan over medium heat, then add in the onions. Once softened, reduce the heat to low and stir every 5 minutes so they don't burn. Cook at least 25 minutes, but up to 40 minutes for fully caramelized onions.

1 large onion,

2 tablespoon unsalted butter

Meanwhile, season both sides of the chicken cutlets with BBQ rub and then brush BBQ sauce on both sides. Preheat air fryer to 400 degrees and cook chicken for 15-18 minutes, until it reaches 165 degrees F.

2 chicken cutlets,

1 tablespoon BBQ rub,

2 tablespoon BBQ sauce

Cook bacon (microwave, oven or stovetop) and pat off excess grease. Break each piece in half.

Brush BBQ sauce on both sides of the burger buns and toast for 2-3 minutes. Then add a slice of cheddar to the top part of each bun and toast until cheese has melted.

2 burger buns,

2 slices cheddar cheese

Drain excess butter from caramelized onions.

Assemble the sandwich by placing the lettuce and tomato on the bottom part of the bun. Add the chicken cutlet, bacon pieces, caramelized onions and top of burger bun. Serve immediately.

2 slices tomato,

2 leaves lettuce
Video
Nutrition
Serving:
1
sandwich
Calories:
565
kcal
Carbohydrates:
39
g
Protein:
46
g
Fat:
25
g
Saturated Fat:
12
g
Polyunsaturated Fat:
2
g
Monounsaturated Fat:
6
g
Trans Fat:
0.5
g
Cholesterol:
157
mg
Sodium:
710
mg
Potassium:
937
mg
Fiber:
3
g
Sugar:
13
g
Vitamin A:
930
IU
Vitamin C:
12
mg
Calcium:
241
mg
Iron:
3
mg
Recipes on Cookaholic Wife are for information purposes only. Nutritional Data provided has not been evaluated by a nutritionist.